BBG Watch Commentary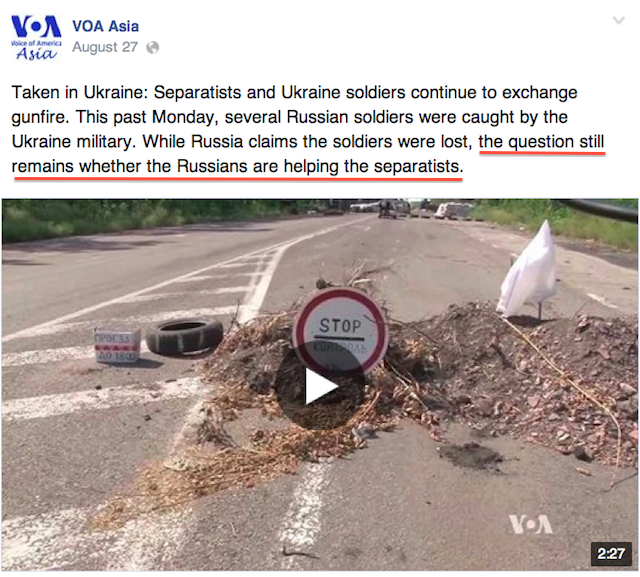 Voice of America says 'the question still remains whether the Russians are helping the separatists'
In what may be one of the most astounding Facebook post intros, U.S. taxpayer-funded Voice of America's (VOA) VOA Asia Facebook Page seems to question whether Putin's soldiers, i.e. "the Russians," are helping the separatist rebels fighting the Ukrainian government forces in eastern Ukraine.
We can presume that Voice of America is not sure about the actual involvement of Russian soldiers in the fighting on the Ukrainian territory. It is not clear whether VOA is also not sure about the presence of Russian military equipment on Ukrainian territory.
Perhaps Voice of America would like to clarify this.
The VOA Asia Facebook Page shows the following entry:
VOA Asia: "Taken in Ukraine: Separatists and Ukraine soldiers continue to exchange gunfire. This past Monday, several Russian soldiers were caught by the Ukraine military. While Russia claims the soldiers were lost, the question still remains whether the Russians are helping the separatists."
These days, one can never be sure what one will find on the Voice of America website.
On Saturday, VOA TOP STORIES headline read: "PUTIN ASKS RUSSIA TO STOP MILITARY OPERATIONS IN UKRAINE."
VOA may have meant "NATO to Russia: Stop 'Illegal' Military Operations in Ukraine," but one never knows what this once proud but now mismanaged news organization really says and means.