BBG Watch EXCLUSIVE Commentary
The Spanish Service of scandal-ridden, U.S. taxpayer-funded Voice of America (VOA) failed to broadcast live on its Facebook page or its news website President Trump's speech today in Miami, FL on new U.S. policy toward communist Cuba despite making an announcement that VOA would transmit the speech live. Most of Latin America, including free media-restricted Venezuela, could not rely on the Voice of America to watch President Trump's major foreign policy address live with Spanish translation.
While President Trump was speaking in Miami, the VOA Spanish Service Facebook Page was continuously showing the announcement: "En pocos minutos, visite la página de la Voz de América, que transmitirá en vivo el discurso del presidente Trump sobre los cambios de política hacia Cuba." ("In a few minutes, visit Voice of America page which will transmit live President Trump's speech about policy changes toward Cuba.")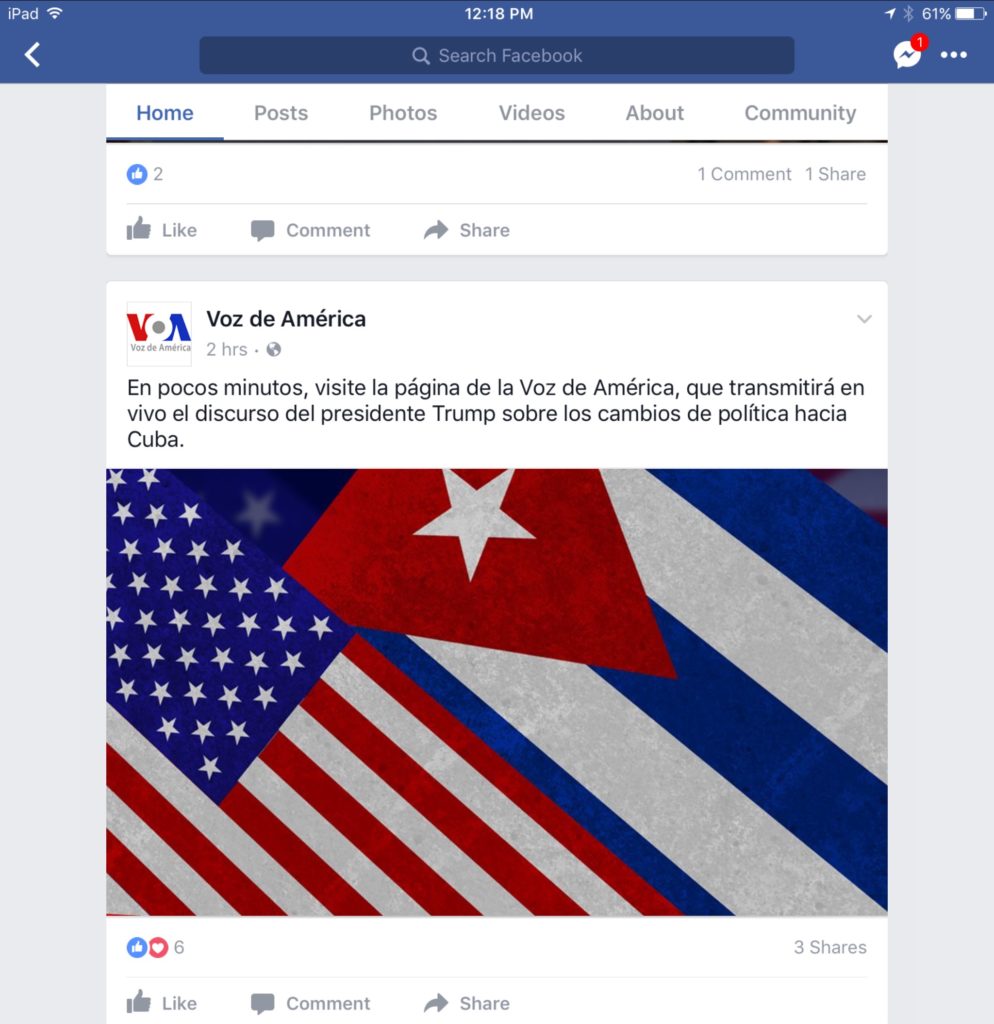 Even after two hours on Facebook, the outdated VOA Spanish Service post with a false or at least misleading promise was showing only six likes, only two shares, and no comments from Facebook users.
The VOA News English Facebook page did carry President Trump's Cuba speech live in English, but the number of live Facebook viewers at any one time was embarrassingly low, ranging at any one time from about 50 to slightly over 400. That is the usual VOA English News performance under its own management and the management of the Broadcasting Board of Governors (BBG)
By comparison, BBC News had between 4,000 and 5,000 live Facebook views for President Trump's Cuba speech during any one time; Russia's RT English had between 500 and 700; CNN English had about 4,000; Fox News about 10,000; Washington Post about 1,800.
Radio and TV Marti Facebook Page with Spanish news service to Cuba did carry President Trump's speech live. It was showing about 1,700 live Facebook views at any one time.
VOA Persian Service also carried Trump's Cuba speech live on its Facebook page showing about 400 live views at any one time.
However, VOA's other major services, VOA Russian and VOA Chinese, did not carry President Trump's speech live with translations on their websites or Facebook pages. Radio Farda broadcasting to Iran, which is part of poorly-managed Radio Free Europe / Radio Liberty (RFE/RL), also did not carry President Trump's Cuba speech live and did not provide a link to VOA Persian Service's live transmission with Farsi translation.
Both VOA and RFE/RL are managed by the Broadcasting Board of Governors. Both VOA and RFE/RL have been accused by media freedom critics of censoring news deemed too offensive to governments in China and Russia, but in this case it appears that most likely lack of proper planning and coordination was responsible for the VOA Spanish Service's failure to carry live a major foreign policy speech by the U.S. president dealing with the Spanish-speaking region of the world and the failure of other BBG-managed services to transmit the speech live in translation or to promptly update their social media pages and websites during the speech.