BBG Watch
U.S. taxpayer-funded Voice of America (VOA), part of the $777 million Broadcasting Board of Governors (BBG) federal agency, was the only one among major international broadcasters and probably the only one among major news media outlets anywhere in the world with no Facebook activity in English on a major U.S. news story during the critical hours of the shootings crisis in Dallas, TX.
As incredible as it may seem, the Voice of America was not updating its VOA English News Facebook page with the Dallas story Thursday evening or early Friday morning, as consecutive screenshots taken of the VOA Facebook page show. It seems that any instructions that may have come from the VOA director Amanda Bennett to improve coverage were not enough to get the VOA Facebook page updated for many hours during the unfolding crisis in Dallas. The image posted here shows VOA Facebook Page Screen Shot at 3:12:08 AM ET, Friday, July 8, 2016
[4:00 AM UPDATE: The first VOA Facebook post on the Dallas situation was uploaded at about 3:30 AM ET Friday, many hours after the shooting started and police officers were killed. RT had four Facebook posts on Dallas before 3:30 AM and a fifth one at about 4:00 AM. BBC had four Facebook posts on Dallas during the same time. DW had one. RFI in French had two.]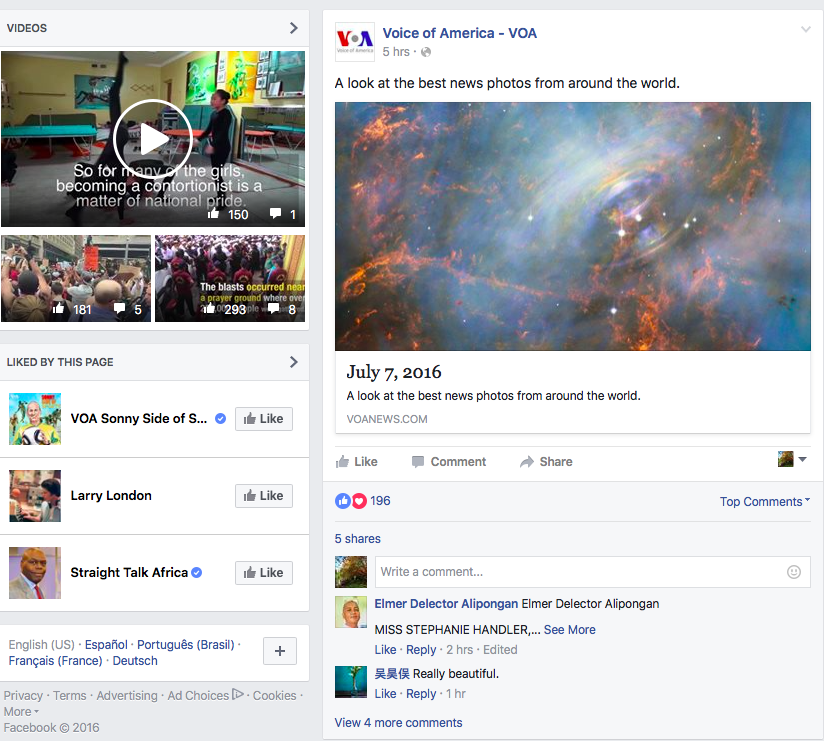 Unlike the Voice of America which failed to update its VOA News Facebook page for many hours, BBC, DW, and RT have been posting to Facebook photos, videos and updates on the Dallas situation all evening Thursday and Friday night, with RT and BBC being most active.
"From my perspective, the agency's coverage of news events has not 'improved,' per se," a former VOA staffer told BBG Watch. "Interventions by Bennett indicate wholesale, systemic problems throughout the agency, particularly in the newsroom," the former staffer added. "If she has to intervene, repeatedly, then she shouldn't be VOA director. She should be managing the newsroom because it is so bad that it requires full time supervision," the staffer said.
A Voice of America journalist working there currently said Friday morning, "I'm pleased, but mortified that such direction [to advance the story and improve coverage] had to come from outside." "How is it the newsroom could NOT have led with this [the earlier shootings of African American men story Thursday afternoon]?," the reporter asked. "[VOA director]Bennett now knows, and should react by making changes in the newsroom," the reporter added.
The VOA reporter went on to say: "I know there are limits to our resources, and the newsroom has been decimated, but we have consistently exhibited poor news judgment and poor deployment of our resources and that is not a resource issue."
Several thousand employees and contractors work for the BBG, but over the years many programming positions have been turned into highly-paid administrative jobs while other programming positions were eliminated. Those occupying these positions only work 9 to 5 hours on weekdays. It's not unusual for the VOA newsroom to be almost completely deserted on weekends and at night.
Meanwhile, Voice of America employees are seeing more and more bureaucratic positions being created and posted in recent months since VOA director Amanda Bennett and BBG CEO John Lansing came on board. Many Broadcasting Board of Governors employees have concluded that business as usual still prevails at VOA under the BBG and VOA bureaucracy which takes care of its own.