BBG Watch Commentary
UPDATE, 7PM EST Sun. Feb. 23, 2014: Many hours after Deutsche Welle (DW), Voice of Russia and RT had already reported on Susan Rice's "Meet the Press" warning against Russia's intervention in Ukraine, VOA finally posted a news report sometime between 4 and 7 PM EST Sunday. However, a VOA English radio newscast heard online after 7PM EST, still made no mention of Susan Rice's interview. It also did not present any other U.S. reactions.
VOA English 7PM EST Online Radio Newscast
There is still no report on the VOA English website or in VOA radio newscasts about Secretary Kerry's phone call Sunday with Russian Foreign Minister Sergei Lavrov. Voice of Russia and RT had reported on the phone call earlier in the day.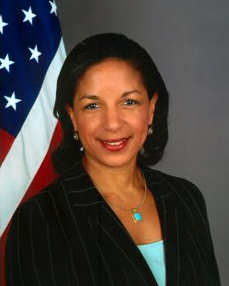 U.S. taxpayer-funded Voice of America (VOA) is again late in reporting on the Obama Administration foreign policy statements on Ukraine, leaving it to Voice of Russia to inform international audiences about latest U.S. views.
Voice of America management apparently did not make arrangements to cover U.S. television Sunday interview programs, while Voice of Russia reported on U.S. President Barack Obama's national security adviser, Susan Rice, saying that it would be a "grave mistake" for Russia to send military forces into Ukraine and that it is not in the interest of Russia, Europe or the United States to see Ukraine split apart.
Speaking on the NBC program "Meet the Press," Rice was asked about a possible scenario in which Russia would send forces into Ukraine to restore a government more friendly to Moscow, Voice of Russia reported.
As of 12:30 PM EST Sunday, there were no reports on Rice's comments on Ukraine and Russia on the Voice of America English news website.
Meanwhile, Voice of Russia also reported Susan Rice as saying that the United States believes that President Victor Yanukovych has resigned. "We believe he has resigned… He no longer leads the country as its president," Rice said — Voice of Russia reported.
Not reporting promptly Sunday on Susan Rice's statements is one of many recent news reporting failures by the Voice of America with regard to Ukraine and many other major news stories under VOA Director David Ensor and VOA Executive Editor Steve Redisch.
Many similar Obama Administration statements from the White House, the State Department or the Pentagon were not reported at all by VOA English News, or were reported late and superficially while in many cases Al Jazeera, BBC, China's CCTV, and Russia's RT and Voice of Russia reported on these U.S. policy statements faster in in greater detail.
Similarly, VOA failed to report on many Ukraine-related statements from key members of the U.S. Congress.
Voice of America Director David Ensor made a comment late last year that VOA's news reporting problems are a "resource issue," but critics point out that VOA posts dozens or even hundreds of reports in English and in various other languages on such less serious news stories as the British royal wedding, the British royal baby christening, drunken driving charges against Canadian pop star Justin Bieber, and dog shows.
On the 2011 British royal wedding, the VOA English news website alone had close to 30 separate news reports. Recently, it had six reports on Justin Bieber and two reports on a dog show in New York. While posting dog show reports, VOA English News was not reporting on anti-government protests in Bosnia and Vice President Biden's phone conversation with President Yanunovych.
The Voice of America Charter (U.S.Public Law 94-350) says that "VOA will present the policies of the United States clearly and effectively, and will also present responsible discussions and opinion on these policies."
VOA is supervised by the bipartisan Broadcasting Board of Governors (BBG).
Sun, Feb 23, 2014
Source: Voice of Russia (Russia)
Sun, Feb 23, 2014
Source: Voice of Russia (Russia)