BBG Watch Media
A congressional hearing, entitled "Confronting Russia's Weaponization of Information," was convened Wednesday in Washington by U.S. Rep. Ed Royce (R-CA), Chairman of the House Foreign Affairs Committee. Rep. Royce said that the agency expected to manage U.S. response to Kremlin propaganda and disinformation – the Broadcasting Board of Governors (BBG) – "is far behind." He added that "this isn't a matter of resources. U.S.-broadcasters are laboring under a flawed bureaucracy." After mentioning the resignation of BBG's first CEO Andy Lack and the announcement of the resignation of Voice of America director David Ensor, Rep. Royce said that "our international broadcasting is in disarray."
Ranking Democrat on the House Committee on Foreign Affairs, Rep. Eliot Engel (D-NY), said that the Obama Administration is working on solving problems associated with U.S. international media outreach. "I've been told that our State Department is now working full-tilt toward a plan to address this problem. This can't come soon enough," Rep. Engel said.
There were three expert witnesses testifying at the hearing: Peter Pomerantsev, a senior fellow at the Legatum Institute, Helle C. Dale, a senior fellow for public diplomacy at the Heritage Foundation, and Elizabeth Wahl, a former RT TV anchor who resigned on the air from Russia's state broadcaster in protest against RT's propaganda.
Peter Pomerantsev said in his opening statement that "it is important for the USG to realize that the 21st century will be defined by new forms of information conflict. A comprehensive approach is urgently needed to deal with this- the West, including the US, is behind the curve."
PETER POMERANTSEV: "In this effort, Russia is not acting alone. The Kremlin is now partnering up with other anti-Western regimes to create international networks of information- psychological operations. RT shares stories with Assad's Syrian TV, and is rebroadcasting with the Argentine state broadcaster. Other rising authoritarian states and non-state actors are developing their own versions of information- psychological war. ISIS' use of media has transformed the Middle East. China is also using a mix of media, legal and psychological warfare to stamp its authority in Asia. In the 21st century the question of whose story wins can be more important than the question of whose army wins."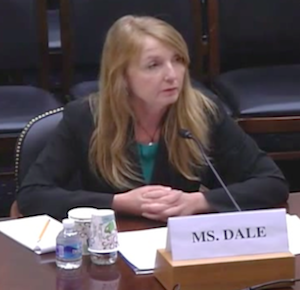 Helle Dale described a 2012 incident at the Voice of America in which she was involved. It was self-censorship of a program to Russia imposed on VOA journalists by the management.
HELLE DALE: "In one case I personally recall, I had been invited to participate in a VOA foreign policy discussion on an English language program. The program has a global audience and is not aimed specifically at Russian listeners. But it was contracted to be rebroadcast in Russia by Voice of Russia, a state owned service. It was right before the Russian presidential election in March, 2012, and the election would have been an obvious topic for discussion. However, in a particularly shocking example of self-censorship as a consequence of foreign pressure, employees of Voice of America were told by VOA managers to cancel plans for coverage of the Russian presidential election on the day prior to and the day of the Russian vote. The reason? Voice of Russia was threatening to tear up its rebroadcasting agreement with the BBG unless the U.S. government's broadcasters complied with limitations on election coverage imposed by Russian legislation. Russian demands were meekly accepted by the same VOA management that fiercely resists any interference from the U.S. government in the name of editorial independence."
In her opening statement, former RT anchor Elizabeth Wahl said that "conspiracy theories are given a platform at the channel, along with guests with viewpoints that range from unconventional to deranged." Speaking about Russia's military intervention in Crimea and eastern Ukraine, she noted that "through denial, deception, omission of critical facts, conspiracy theories, and outright lies, Russia was able to shape reality or at least make it difficult to find out what the reality is."
Elizabeth Wahl also noted that those who expose Putin's propaganda are subject to attacks by the Kremlin's supporters.
ELIZABETH WAHL: "Those that challenge any narrative against Russia are branded CIA agents, of being puppets for neo-conservatives intent on reigniting a cold war, and face the ire of seemingly countless online trolls or hecklers on the internet that hijack online discussions. I was accused of being all of these things and faced the constant stream of Internet hate for being perceived as such. This is just a minor example of this new propaganda technique in action."
Videos and statements from today's hearing can be accessed HERE.