BBG Watch Commentary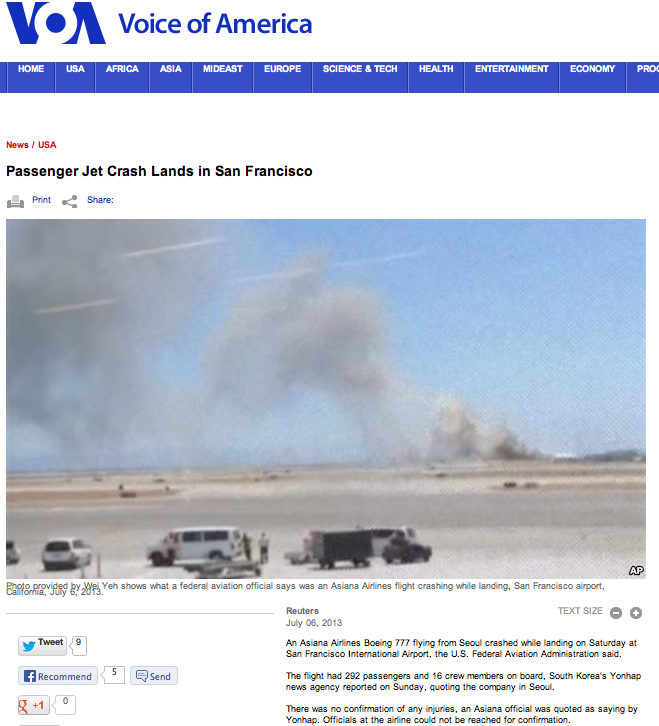 When a South Korean airliner crash-landed at the San Francisco International Airport, Al Jazeera, BBC and Russia Today highlighted the news on their home pages and provided information from several sources, adding multiple photos and videos to reach out immediately to thousands of readers and social media users. America's international news media outlet, Voice of America (VOA), offered very limited coverage of the crash which failed to attract any sizable online and social media audience. Decimated VOA English Newsroom did not update the story for at least three hours and probably much longer than that.
The English news website of the U.S. taxpayer-funded VOA, voanews.com, had a small barely noticeable headline in the second place on its home page without any photos or videos. The story VOA posted inside its website was a brief report from Reuters (218 words) with only one blurry still photo from AP that showed smoke at a distance.
As of 2:56 PM San Francisco time, VOA English news report on the San Francisco plane crash showed only 8 Tweets, 5 Facebook "Likes/Recommends" and 0 Google+ — a social media disaster that has been a pattern for VOA English news stories.
It is not know when VOA posted the Reuters story and how long it has not been updated because its website does not show the time of posting in hours and minutes. Critics suspect that VOA management, which has cut news reporting and newsroom positions, decided not to show when reports are posted online as it would become obvious that VOA is often hours behind in reporting on major news developments.
Compared to VOA's 9 Tweets and 5 Facebook "Likes," BBC had 2,424 Tweets for its San Francisco plane crash story and 5,893 Facebook "Likes."
Al Jazeera had 259 Tweets, 599 Facebook "Likes" and 4 Google+
Russia Today had at 2:50PM 1,410 Tweets, 4,800 Facebook "Likes" and 90 Google+ (at 2:45PM, RT had 1,535 Tweets, 5,300 Facebook "Likes" and 101 Google+
Initial social media statistics for all websites were collected within several minutes shortly before 3:00PM CA time. At 3:48PM, VOA news story, an old Reuters news item, was still not updated with new information and still had 9 Tweets, 5 Facebook "Likes" and 0 Google+. There were no updates, no new photos, no videos from Voice of America and no additional social media interest.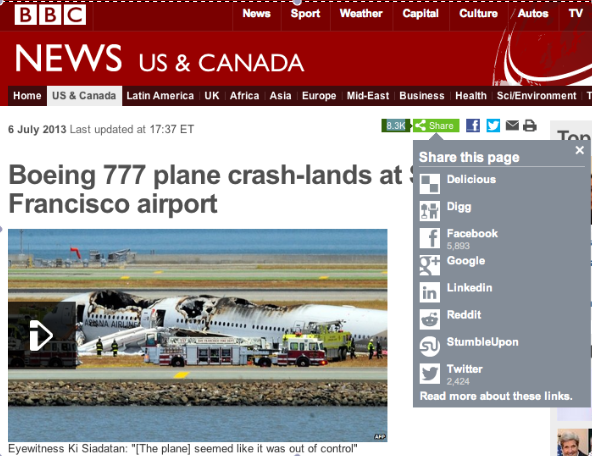 At 4:03PM, BBC story has been updated and showed 2,670 Tweets and 7,589 Facebook "Likes."
At 4:05PM, VOA story (Reuters) still has not been updated and still showed only 9 Tweets and 5 Facebook "Likes."
Al Jazeera, BBC and Russia Today beat VOA English news in social media engagement multiple times on almost every story. For example, on the breaking news of President Morsi's ouster in Egypt, Al Jazeera English beat VOA English news in social media engagement by a factor of 43 to 1 and Russia Today English beat VOA by a factor of nearly 27 to 1.
Using today's Facebook statistics, BBC beat VOA 1,517 to 1, Russia Today beat VOA 1,160 to 1, Al Jazeera beat VOA 119 to 1.
Another example from today is a VOA English news item "Turkish Police Repel Protesters With Tear Gas, Water Cannons." It has only 126 words and is attributed to "VOA News." As of 7:15PM Washington time, this VOA News item had 8 Tweets, 0 Facebook "Likes" and 0 Google+.
Russia Today story "Turkish police fire teargas, water cannon to disperse Gezi park protesters (PHOTOS)" included significant amount of information, numerous photos and Tweets from observers on the ground. It had 482 Tweets, 655 Facebook "Likes" and 28 Google+.
In addition, the Russia Today story already had 34 comments from readers. VOA had none and did not invite comments.
Russia Today's running LIVE UPDATES on Turkish protests since May 31, "Turkish police clamp down on anti-government protests: LIVE UPDATES" have 15,100 Tweets, 17,000 Facebook "Likes" and 176 Google+. There are 209 comments from readers.
VOA Director David Ensor and his top managers decided not to send a VOA staff reporter to Turkey in early June. Ensor defended VOA's coverage of the Turkish protests as being balanced and responsible, even though a review of what was largely condensed wire service reports showed that VOA English News leaned toward quoting statements from Prime Minister Erdogan. At that time, VOA had no on the ground access to protesters and its coverage reflected this imbalance, while Russia Today reporters in Istanbul were covering the protests on a daily basis.
Displaced in the Middle East long ago by Al Jazeera and worldwide by Russia Today and in some parts of the world by China's CCTV, VOA can't provide adequate coverage of news stories happening in the United States because of staff shortages and greatly reduced funding. Many international audiences now get news coverage of these U.S. stories largely from Al Jazeera, Russia Today, BBC and other foreign media outlets, not from Voice of America.
The Voice of America management, which consists of at the very top of VOA Director David Ensor and International Broadcasting Bureau (IBB) Director Richard Lobo, has diverted resources from news coverage to expanding IBB and VOA bureaucracy and to pay for various unnecessarily expensive but largely ineffective technology projects. Lobo promised that these projects would greatly expand VOA's engagement with audiences through social media. They did not because in the process the management team destroyed VOA's ability to cover news and to generate multimedia content for its website and for social media platforms.
The money went to bureaucrats and contractors. Voice of America no longer has enough people or resources to cover almost any major developing news story in the United States that is of great interest to foreign audiences. No doubt many passengers on the plane that crashed in San Francisco were non-Americans. Such news stories attract a lot of attention, as do major protests in Turkey and Egypt. VOA can't afford decent news coverage of any of these stories, domestic or international. The VOA Central Newsroom is largely empty on most days. VOA English Facebook page is not being updated.
Meanwhile, Director Ensor attends events such as Aspen Ideas Festival while VOA broadcasts were being banned by the Cambodian government. Rather than making any management changes, both Ensor and Lobo kept and rewarded discredited executives who for years placed the agency at the very bottom of employee morale and management skills statistics as released by the Office of Personnel Management.
A highly respected former VOA senior correspondent who reported from Pakistan and Afghanistan and was VOA national security analyst, outlined some the problems with news production and management at VOA in a recent article published by Columbia Journalism Review. Director Ensor's spokesperson responded with a Soviet-style attack on the journalist in a fashion reflecting what has been VOA and IBB management culture for many years.
We heard that around the 4th of July Director Ensor went on an extended vacation. Director Lobo was in Europe. If Mr. Ensor and Mr. Lobo want to find out what happened today at the San Francisco airport, we can only advise them to go to Al Jazeera, BBC or Russia Today websites — nearly everybody in the world who wanted more information did and thousands shared these news stories on Facebook and Twitter.
As of 5:22PM California time, VOA English story — which was not in fact a VOA story but an old and very short Reuters report — still has not been updated and still had only 5 Facebook "Likes." Russia Today story has been updated several times; its headline changed to "2 dead, 130 injured as Boeing 777 crash lands at San Francisco intl airport (PHOTOS)." It now had 5,800 Facebook "Likes."
For balance's sake we will quote what IBB Director Lobo said at a recent Digital Innovation Expo on Capitol Hill during which he was praising VOA's ability to engage audiences through social media: "Today we are reaching and engaging audiences like never before." Apparently, not too many people bought it, because IBB-produced press release had 0 Facebook "Likes" and only 1 Tweet. VOA journalists, those who are still left, certainly were not fooled.
How long can Director Ensor, Executive Editor Steve Redisch, IBB Director Lobo and IBB Director Jeff Trimble continue this charade?
Screen shot of VOA story at 5:22PM, CA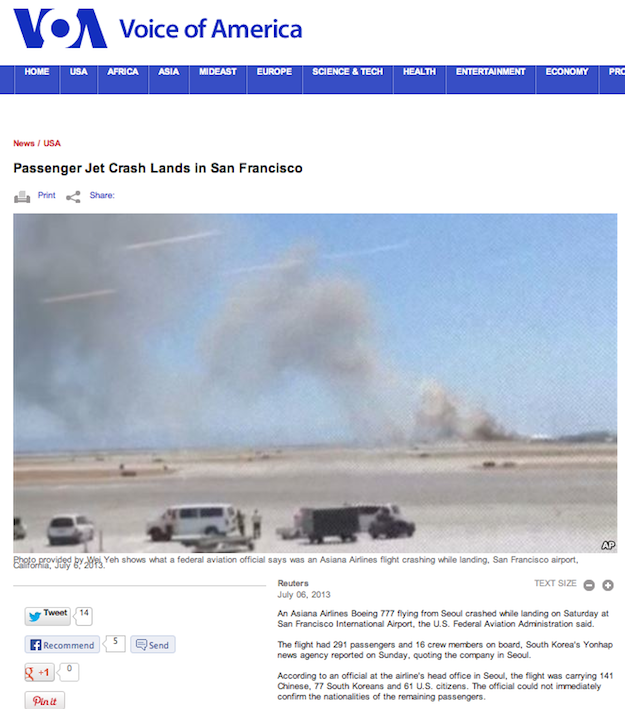 Screen shot of Russia Today story at 5:22PM, CA