BBG Watch Commentary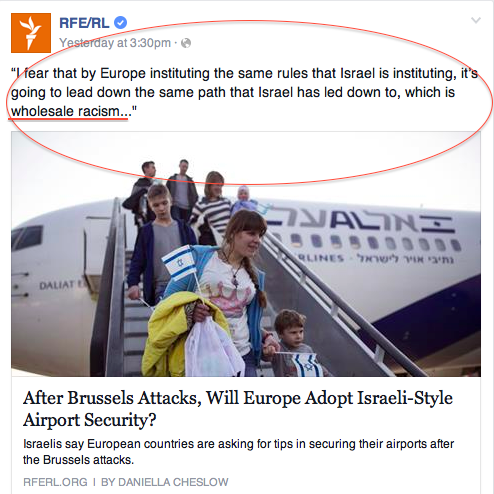 U.S. taxpayer-funded Radio Free Europe / Radio Liberty (RFE/RL) has included a message in the introduction to its Facebook post in which Israel is accused of "wholesale racism." ISIS and Hamas terrorists are known to be heavy users of social media. Such Facebook messages from U.S. government-funded media outlet could potentially inspire more terrorist bombings and knifing murders of innocent Israelis.
The RFE/RL Facebook post with the troubling one-sided and unchallenged false message links to a RFE/RL report on airport security in Europe after the Brussels terror attacks: "After Brussels Attacks, Will Europe Adopt Israeli-Style Airport Security? | RFE/RL. The report was listed on the RFE/RL website on Saturday, March 26, 2016, as the most-read and most-emailed RFE/RL English-language article.
The RFE/RL Facebook message is in quotes, but the RFE/RL Facebook post introduction does not attribute it to anyone.
RFE/RL is 100% funded by U.S. taxpayers. Its FY2017 budget request is for $121,138,000. The multimedia broadcaster is overseen by the Broadcasting Board of Governors (BBG). The Broadcasting Board of Governors is both the name of the independent federal agency that oversees all U.S. civilian international media and the name of the bipartisan board that governs those broadcasts.
BBG Watch has learned that one concerned area scholar in Washington has alerted at least one BBG board member to the RFE/RL Facebook message as "unimaginably bad."
The BBG board is composed of nine members (currently eight): Jeff Shell is the chair, Matthew Armstrong, Dr. Leon Aron, Ambassador Ryan Crocker, Michael Kempner, Ambassador Karen Kornbluh, Secretary of State John Forbes Kerry, and Kenneth Weinstein.
RFE/RL FACEBOOK POST INTRO: "I fear that by Europe instituting the same rules that Israel is instituting, it's going to lead down the same path that Israel has led down to, which is wholesale racism…"
John Lansing, Broadcasting Board of Governors Chief Executive Officer and Director oversees all aspects of U.S. international media and provides day-to-day management of BBG's operations. He has been with the agency only since September 2015.
Nenad Pejic serves as Vice President and Acting Chief Executive Officer of Radio Free Europe/Radio Liberty. RFE/RL has not had a permanent CEO and president since the departure of former chief executive Kevin Klose in March 2014.
In a recent article published on the Public Diplomacy Council (PDC) website, scholar and writer Martha Bayles asked BBG board members to look to qualified outside candidates for the job of permanent president of Radio Free Europe/Radio Liberty and criticized the current management for "poor judgment, and a degree of secretiveness, that is the exact opposite of what RFE/RL stands for."
In the RFE/RL report, the "wholesale racism" in Israel quote is attributed to Diana Buttu. RFE/RL identifies her as "a lawyer and Israeli citizen of Palestinian descent" who "holds dual Canadian citizenship" (sic).
A Wikipedia article on Diana Buttu identifies her as "a Palestinian-Canadian lawyer and a former spokesperson for the Palestine Liberation Organization." According Wikipedia, "In a 2008 CNN interview, Buttu insisted that Palestinian rockets do not have explosive warheads, and suggested that Hamas is a result of the Israeli occupation.

BUTTU ON CNN, December 29, 2008: "The reason that these rockets have been launched — and I think it's important to add that none of these rockets actually have an explosive head on them, unlike the Israeli weaponry — the reason that they have been launched is because of the fact that Israel has maintained a siege and a blockade against the Gaza Strip for the past three years, in addition to military operations in the Gaza Strip."


WIKIPEDIA: In a July 2014 interview with CNN, Buttu downplayed Hamas's alleged use of human shields and said it was not true, would be a war crime if it was, and suggested it was racist to assume many Palestinians would act as human shields. CNN host Jake Tapper said video of two senior Hamas officials calling for civilians to act as human shields to protect buildings targeted by Israeli airstrikes proved that it was a common tactic by the militant group.


"PLO's Diana Buttu goes SPEECHLESS in Al Jazeera debate with Hillel Neuer": In a July 2014 debate, Buttu responded to Hillel Neuer's request that Buttu should renounce Hamas because it is "anti-woman, anti-gay, anti-human rights" with "if you want me to renounce [Hamas] because they are anti-woman, anti-everything then I will also renounce Israel which is also anti-woman, anti-free speech, anti-gay, anti-everything." To which Hillel replied "Diana, what you are saying is preposterous. In Tel Aviv there's a gay parade every year." Buttu explained her comment was in reference to "Israel deflecting blame from its war crimes" by blaming Hamas.


The RFE/RL Facebook introduction, in quotes but without any attribution, is completely one-sided, false, inflammatory and may very well inspire more violence among those who are prone to believe that there is "wholesale racism" in Israel. The RFE/RL article includes balancing views from Israelis and others on profiling and airport security issues, but it does not challenge the wholesale condemnation of Israel as an allegedly racist society.

RFE/RL REPORT: …Arab travelers, journalists, pro-Palestinian activists, and others have complained Israeli security policy is too rigorous and rests on racial profiling.

Diana Buttu, a lawyer and Israeli citizen of Palestinian descent, said security officers always take her aside for about two hours of extra questioning. They carefully examine the contents of her luggage, usually subject her to a strip search, and inquire about her life and work before continuing on to examine her hair, ears, and mouth, she said.

Buttu, who holds dual Canadian citizenship, said she has never faced such checks in other airports outside of Israel.

"I fear that by Europe instituting the same rules that Israel is instituting, it's going to lead down the same path that Israel has led down to, which is wholesale racism," she said. "I am profiled in Israel because I am not Jewish in what is classified as a Jewish state."

Airports Authority Spokesman Lefler said "every action we take here is for one goal: the securing of passengers and aircraft.

"The check is equal for all, without a difference of religion, color, race, or gender," Lefler added.

Schiff, the former security head, acknowledged that Israel profiles passengers for more intensive searches. "Profiling as we do it in Israel — we can't copy it to Europe because of the number of passengers, but it can be done in other ways."

In 2014, an Israeli parliament panel inquired into complaints that the airport was too invasive in its security checks, which can include reading passengers' e-mails and entering their Facebook accounts. At the time, the airport authority's legal adviser, Aryeh Shaham, told AP that fewer than 5 percent of Arab travelers are inspected in Ben-Gurion Airport, and said the authority receives more complaints from Jewish travelers than Christian or Muslim Arabs.

Nothing in this RFE/RL report refutes the blanket accusation of "wholesale racism" in Israel, although some of the other statements challenge Diana Buttu's views on airport security profiling. The most objectionable, however, is the introduction message on the Facebook post, which is what most social media users will remember: Israel and "wholesale racism."
It is an "unimaginably bad." message to send to terrorists and potential terrorists through social media and someone within the RFE/RL and BBG leadership should be held accountable. It seems, however, that the Broadcasting Board of Governors thinks so little of RFE/RL that it has left it without a chief executive for two years, even while several highly-qualified candidates are available and have made their interest clear.
RFE/RL posted this unfortunate and dangerous Facebook message one day before President Obama devoted his Weekly Radio Address to "Defeating ISIL." In his address, President Obama did not mention the Broadcasting Board of Governors, but he said that "Our determination [is] to win the battle against ISIL's hateful and violent propaganda – a distorted view of Islam that aims to radicalize young Muslims to their cause." Tainting Israel with "wholesale racism" in U.S. government-managed and U.S. taxpayer-funded Radio Free Europe / Radio Liberty Facebook post is not going to help win the battle against hateful and violent propaganda of terrorism.
President Obama does not mention the Broadcasting Board of Governors in connection with confronting violent terrorist propaganda for a good reason. The agency, in the words of his former Secretary of State Hillary Clinton is "practically defunct." The current BBG board disagrees. "It's a whirlwind of positive change" is how the acting chairman of the board for the February 26, 2016 open meeting, Michael Kempner, described the work of BBG media outlets and asked for applause. A few days later, U.S. taxpayer-funded Voice of America (VOA), also overseen by the BBG, received an unprecedented rebuke from the Nigerian Minister of Information and Culture Alhaji Lai Mohammed for what he described as accusations of slanted coverage in favor of Boko Haram terrorists. A BBG official pointed her finger at the minister, as she was visiting him in Abuja, and called these accusations "absurd."
The Nigerian government minister "noted that there had been allegation that the Hausa Service of the VOA's reporting of the war is being skewed in favour of the insurgents, and urged the international broadcaster to correct the perception."
A few days earlier, Nigeria's Daily Trust newspaper published an open letter to President Obama from an Nigerian, in which the author accuses the VOA Hausa Service of lacking professionalism, tact and objectivity.
The author stated that "in the last three to four years, during the time when BH [Boko Haram] vehemence was at its highest and severest, VOA Hausa clearly appeared to celebrate the 'exploits' of the insurgents." "In fact, its reporting of events seemed to exaggerate BH's 'successes' and to downplay our military's accomplishments," the author of the open letter to President Obama added.
President Obama clearly needs to call the current BBG board on the carpet and demand explanations and reforms. While some BBG programs may be helping in the war on terror, others have become a danger to national security. Innocent lives may be lost if nothing is done to reform the agency.
There are two bills currently pending in Congress which could reform the BBG. Agency officials and bureaucrats vigorously resist these reforms. In a possible violation of the Anti-Lobby Act, they have been lobbying against the bipartisan H.R. 2323 bill introduced by Rep. Ed Royce (R-CA), Chairman of the House Foreign Affairs Committee and its Ranking Democrat, Rep. Eliot Engel (D-NY).
Another excellent bipartisan bill, focused less on reforming the BBG but designed to counter foreign government propaganda, was introduced in the Senate by Senator Rob Portman (R-Ohio) and Sen. Chris Murphy (D-Conn.). It recognizes that in the digital age, the U.S. government is not always the best broadcaster of news abroad. Independent media and NGOs are more efficient and more credible, both in Russia and in the Muslim world.