BBG – USAGM – Watch Commentary
In January 2018 former U.S. Agency for Global Media (USAGM) CEO and Director John Lansing (he is now running NPR) and his then top USAGM aide, former Chief Strategy Officer Haroon Ullah (he was convicted last year on federal charges of felony theft of U.S. government funds and is going to prison) had announced with great fanfare the social media initiatives behind the Voice of America's (VOA) countering violent extremism project.
Miracle 900,000 Followers
Not too long before or shortly afterwards, the VOA Extremism Desk Facebook Page was suddenly listing hundreds of thousands of "Followers."
Members of Congress and taxpayers might have thought that it was a great achievement for the government agency in charge of U.S. media outreach abroad and for the Voice of America.
They were told by VOA and agency officials that the VOA Extremism Watch was "the main source of news and information on extremism from around the world."
But was it?
Were these claims of effectiveness and audience engagement true?
No. They were not. Not by a long shot.
1 to 7 "Likes on Posts
If one takes a look at the VOA Extremism Desk Facebook Page now, it still lists 919K "Followers" or individuals who like this page.
The great U.S. Government surprise from this $800 million federal agency comes when one looks at the number of "Likes" for individual posts.
They usually range on Facebook between one and five (1 and 7) and rarely go to more than 10.
On Twitter, the VOA Extremism Desk usually gets zero or one "Like."
There are almost no comments on the VOA Extremism Desk Facebook Page posts or on Twitter posts.
It does not matter whether these posts have been on Facebook or Twitter for only a few hours or for several days. The number of "Likes" still almost never goes over 10 on Facebook and over one or two on Twitter.
In December 2018, the former chairman of the House Foreign Affairs Committee, former Rep. Ed Royce (R-CA), had accused the agency and the Voice of America of buying illegal Facebook ads to target Americans with U.S. taxpayers' money.
After being caught red-handed, VOA may no longer be buying Facebook "Likes," which may explain how it got many "Followers" for its VOA Extremism Desk Page before but can get hardly any "Likes" for its individual posts now.
How Followers Were Recruited and Why There Is No Audience Engagement?
Nearly one million followers on Facebook and just one to five "Likes" on single posts.
How could that be that individual posts get only on average less than 10 "Likes" and almost zero comments?
Are these Facebook followers for this all-important VOA platform to counter extremism all dead?
Some of the reports in posts on the VOA Extremism Desk social media pages do get more "Likes" on regular Facebook and Twitter pages for VOA English News, but even there the numbers are usually in the hundreds rather than thousands or tens of thousands. Many of VOANews.com 11M Facebook Page followers were almost certainly purchased and do not interact with the page or interact only in response to ads.
The numbers on Twitter for the VOA Extremism Desk are even more dismal.
Most of its Twitter posts have no "Likes," no re-tweets and no comments.
The Twitter Page shows that Voice of America Director Amanda Bennett is one of its followers.
It also seems that the U.S. Agency for Global Media and the Voice of America management can't quite agree what its Facebook and Twitter Pages and the project are called.
The Facebook and Twitter names are "VOA Extremism Desk." The project's logo displayed on Facebook and Twitter reads "VOA Extremism Watch."
It seems that nobody is watching the Desk or watching over the Watch.
Anybody who knows anything about how social media can be manipulated knows that this is a deceptive fantasy being played on American taxpayers and U.S. lawmakers.
The question that should be asked is how those 919K VOA Extremism Desk Facebook Page "Followers" were bought or recruited?
Even if they were enticed to sign up and/or were merged from somewhere, they are for all practical purposes fake because they do not follow or interact with this VOA Facebook Page or its website. Many other audience claims made by USAGM bureaucracy are equally suspicious.
How Much Does It Cost?
How much money did it cost to launch the project and to create its website and social media pages with no audience engagement?
According to information on the VOA Public Relations website, the project was launched in October 2015 and has a staff of nine employees.
The VOA Public Relations Office announcement says that "The Desk has a permanent place on VOANews.com where content is curated and disseminated to a worldwide audience in English."
When we clicked on the link on January 8, 2020, it showed a VOANews.com report dated June 25, 2019. The title of the report was: "Kurdish Official Calls for Stronger US Role in Syria After IS."
There is, however, a different VOANews.com Extremism Watch Page with more current content. The right page still does not show any audience engagement for its posts.
How much money does it still cost to run this project that has absolutely no traction?
Who initially got the money to design and run this project under John Lansing's watch?
Who gets paid to run this Voice of America project, its website and social media pages under the watch of VOA Director Amanda Bennett who has been in her job since 2016 and was selected by John Lansing, as was Haroon Ullah?
Press Freedom
Another Voice of America project, this one associated more closely with VOA Director Amanda Bennett, is called VOA Press Freedom and has a separate page on the VOANews.com English website.
The "Press Freedoms" Twitter Page for this the project has not seen new tweets since July 15, 2019.
The @dfrontiers VOA Press Freedoms Page lists VOA Director Amanda Bennett as one of its 1,336 Followers as seen on January 8, 2020.
Even when the VOA Press Freedoms Twitter Page was being updated before July 15, 2019, it had hardly any "Likes," re-tweets or comments.
At least one Voice of America editor working on these projects who was highly praised and promoted by the VOA Director was exposed in outside media reports as being among several VOA English Newsroom journalists–also U.S. federal government employees–who for several years have been posting, some until very recently, highly offensive and in some cases obscene anti-Trump comments and memes on their own personal social media pages in violation of agency regulations and the VOA Journalistic Code.
One wonders how much biased impact VOA News has on U.S. voters at U.S. taxpayers' expense.
Why was having a Twitter account for the VOA Press Freedom page important before July 15, 2019 but is not important now?
Why is the VOA Director following for many months a dormant VOA Press Freedom Twitter newsfeed?
Only Amanda Bennett can answer these questions.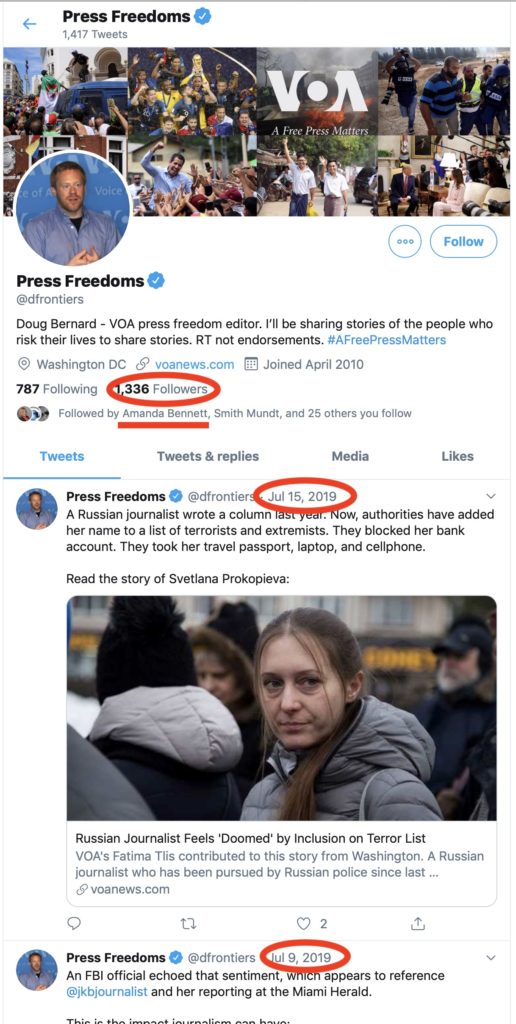 These are not the only such deceptive, ineffective and costly USAGM/VOA social media initiatives. There are many other examples, especially at the Voice of America under its current leadership, going back to 2016.