BBG – USAGM Watch Commentary
A Voice of America VOA English News report, "Iranian Americans Show Support for Protests at Home," included a comment by an Iranian-America which could be interpreted as critical of President Trump, but the VOA report mentioned no comments from Iranian-Americans critical of House Democratic Speaker Nancy Pelosi or Democratic U.S. Congresswoman Ilhan Omar even though Twitter has been full of such critical Iranian-American comments in recent days.
VOA News has been ignoring such critical Iranian-American comments, even though some of them come from VOA Persian Service's most famous freelance woman journalist Masih Alinejad @AlinejadMasih. Masih Alinejad who works for a number of media outlets as an independent journalist has accused Rep. Ilhan Omar (D-MN) of sharing "a defamatory article about me on social media by a Koch-Brothers funded 'think tank' co-founded by a known sympathizer of the Iranian regime." She also criticized some of the recent statements on Iran from Speaker Pelosi. VOA English News did not report on these tweets from Masih Alinejad.
MPORTANT THREAD ⬇️⬇️⬇️

1-Earlier this week, Rep Ilhan Omar shared a defamatory article about me on social media by a Koch-Brothers funded "think tank" co-founded by a known sympathizer of the Iranian regime.

Here's my response to @IlhanMN pic.twitter.com/t7iiEgJvAx

— Masih Alinejad 🏳️ (@AlinejadMasih) January 10, 2020
These words by @SpeakerPelosi are worrisome. Corrections:

1) Iranians indeed want to change this regime

2) Pro-Soleimani rallies were orchestrated while anti-Soleimani views aren't allowed

Why are Dems abandoning Iranian people?

We must have a human rights-centred approach pic.twitter.com/NJQr3mMinm

— Masih Alinejad 🏳️ (@AlinejadMasih) January 13, 2020
VOA English News did not report on Rep. Omar's sharing of the article about Masih Alinejad, which she said represents a threat to her as a journalist and her to her family in Iran. VOA English News also did not report on Masih Alinejad's critical tweets about Omar and Pelosi or on multiple tweets by Iranian-Americans expressing their support for President Trump's policy toward the Iranian regime.
Despite assertions from Masih Alinejad that she feels threatened, VOA News and VOA Director Amanda Bennett did not come to the defense of the journalist who does freelance work for VOA's Persian Service.
VOA Director Amanda Bennett's most recent tweet was about defending press freedom and stopping harassment of journalists in Iran, but the tweet is from December 2, 2019 and does not mention Masih Alinejad.
Bennett and the Voice of America Persian Service have come under severe criticism from Iranian-Americans and other Iranian refugees, including Iran-born American journalist Mahtab Farid, @MahtabFarid, who used to work for both VOA and RFE/RL's Radio Farda and as a State Department's public diplomacy specialist in Afghanistan. She is now an independent journalist for an Iranian radio station based in Los Angeles, CA.
Amanda Bennett's latest Facebook post was not about the ongoing crisis in Iran and ongoing persecution of journalists by the Iranian regime but about her current official visit as the VOA Director to Costa Rica.
Bennett's deputy, Sandy Sugawara @slsugawara, also did not come to Masih Alinejad's defense following the posting of Rep. Omar's tweet.
Sugawara's own latest tweet was a recommendation to check out a VOA English News report "Why EU Powers Rejected Trump's Call to Leave Iran Nuclear Deal," which VOA said "originated in VOA's Persian Service."
Check out this story https://t.co/3jjdEPYp3V

— Sandy Sugawara (@slsugawara) January 12, 2020
VOA English News ignored tweets from other Iranians and Iranian-Americans critical of Rep. Omar and Speaker Pelosi, as well as their tweets defending Masih Alinejad.
House Speaker Nancy Pelosi should apologize to the Iranian people. Beside the lack of empathy she displayed, her words downplayed the struggle of Iranians for a free and democratic Iran and their demands for their basic human rights. pic.twitter.com/TT1tlqyscO

— Sheema Kalbasi (@IranianWoman) January 13, 2020
It is an attack on Masih Alinejad's intellect and it is doubting her ability to think independently and critically to even suggest that a mediocre salary from VOA has influenced her thoughts and opinions.

This is all because she is a woman.

— Maryam Nayeb Yazdi (@maryamnayebyazd) January 9, 2020
Many Iranians and Iranian-Americans have also been tweeting their criticism of the management in charge of the Voice of America Persian Service.
One of the best moral assistance of Trump's government to the Iranian is changing the management of the VOA Persian.Autonomous management which can reflect the true voice of protestors.The voice of the demonstrators which are silenced for the last four decades.#IranProtests2020

— Aidin Sadeghi (@Id_Strong) January 13, 2020
VOA Director Amanda Bennett could have posted something in defense of Masih Alinejad on the Voice of America Press Freedoms Twitter feed @dfrontiers, where she is listed as one of its followers, but the feed has been dormant since July 2019 and has not been updated.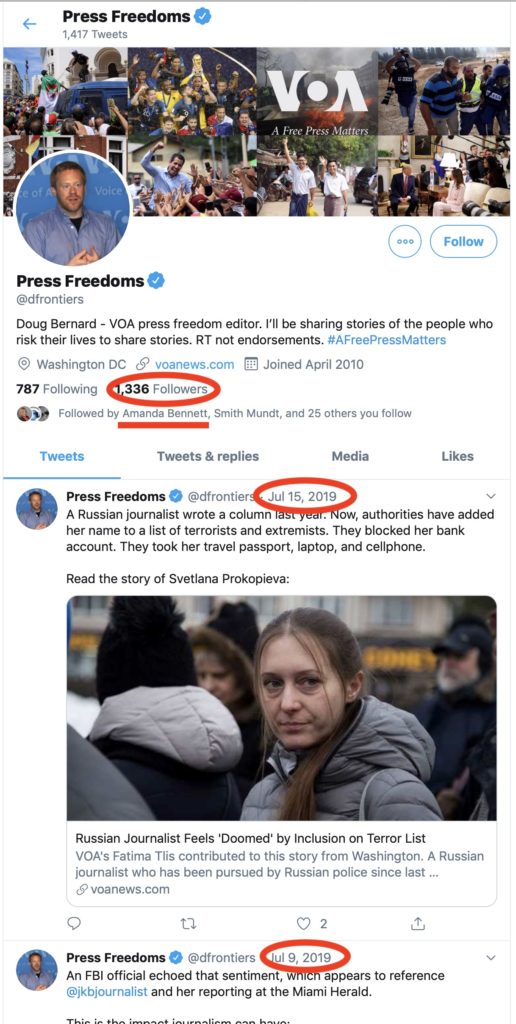 Lack of accurate and balanced news reporting by VOA English News about Donald Trump, Rep. Ilhan Omar, Speaker Nancy Pelosi, Trump's other critics in the Democratic Party, his supporters, and Iranian-Americans is not surprising since several VOA News editors and reporters have been documented posting highly partisan and offensive comments on social media about Trump and his supporters in violation of the VOA Charter, the VOA Journalistic Code and U.S. government laws and regulations. All of these federal government employees still have their reporting jobs at the taxpayer-funded Voice of America, which by law is prevented from engaging in partisan journalism. These posts and memes have been deleted, but most for them remained on social media for many months and in some cases for several years.