BBG Watch Commentary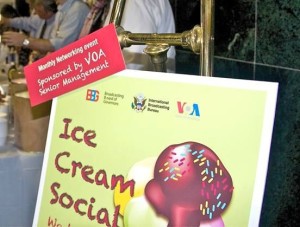 The management of the U.S. taxpayer-funded Voice of America has announced recruitment for a Managing Editor position, which pays from $124,994 to $157,500 per year in salary plus all the benefits of permanent federal government employment.
The job announcement on USAJOBS.gov was posted on Thursday, September 11, 2014 and will remain open until Tuesday, October 14, 2014.
The position's series and grade is: GS-1082-15
The incumbent serves as Managing Editor of the VOA News Center with responsibility for news produced in the English language that is used in programs, affiliate feeds, or published online by the Voice of America.
Internal and external critics say that the Voice of America is in the midst of a major management crisis. The organization already has numerous executives, advisors, managers, program coordinators and senior editors holding SES or GS or GM 15 and 14 positions, yet VOA English news reporting, its main website and social media outreach have been a disaster, with important news, often from Washington, not being posted, posted late or not updated.
Because of job security that comes with federal employment and poor senior management, failed executives and managers are moved from position to position and new job openings are created. The agency has the lowest employee morale among federal government agencies of similar size. Instead of carrying out reforms and making changes, VOA's upper management organizes Bingo Nights and Ice Cream Socials for employees and themselves. These efforts are not working and some of the most talented VOA correspondents have left the organization in frustration despite good pay.
Andy Lack, Chairman of the Bloomberg Media Group for the past year, has just been named by the Broadcasting Board of Governors (BBG) to become the BBG's first CEO with management responsibilities for the Voice of America. But his appointment has not been finalized and he had nothing to do with the posting of this VOA Managing Editor position.
While VOA does not have enough journalists to cover news, many former VOA journalists now occupy high-paying bureaucratic and program support jobs. VOA and the entire federal part of the Broadcasting Board of Governors (BBG) agency have experienced a tremendous growth in the number of bureaucratic positions in recent years while numerous journalistic positions and media programs were cut by the management. The BBG's International Broadcasting Bureau (IBB) has seen a 37 % growth in its bureaucratic positions in the last seven years.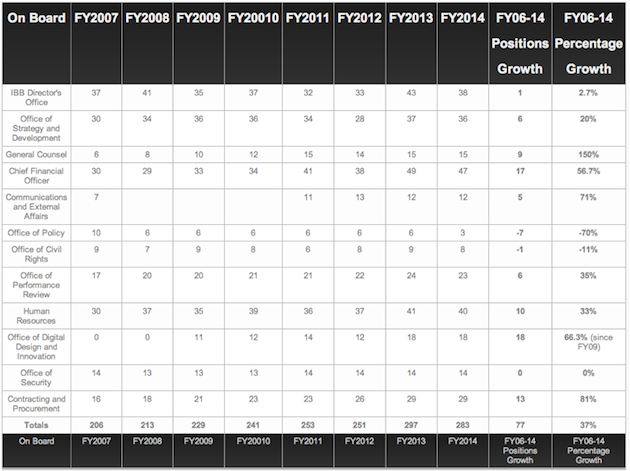 Positions and salaries at the Broadcasting Board of Governors can be checked at this database. (For agency, type Broadcasting Board of Governors.)
The Voice of America Managing Editor position was posted several days before the Broadcasting Board of Governors announced Tuesday that it intends to hire respected journalist and media executive Andrew Lack as Chief Executive Officer of the federal agency that oversees the five networks and broadcasting operations of U.S. international media. Those networks include Voice of America, Radio Free Europe/Radio Liberty, Radio and TV Martí, Radio Free Asia, and the Middle East Broadcasting Networks.
Presumably, Andy Lack would want to have something to say about who would fill the $157,500 Managing Editor job at Voice of America, but government regulations may prevent him from actually making the selection. At this point, he is not even a government employee as his appointment has not been finalized. The sooner, the better.
###
Managing Editor
Publication or Company
Voice of America
Industry
TV/Cable
Job Duration
Full Time
Job Location
Washington, DC
Job Requirements
Applicants must have substantial experience leading a multimedia news center within an international and/or major market reach agency; providing editorial direction for radio, television, and Internet content on U.S. and international issues/events; experience in leading, motivating, and supervising journalistic teams, and familiarity of international broadcasting media environments and trends.
About Our Company
The Voice of America (VOA), the U.S. Government's largest international news operation, seeks a Managing Editor who will be responsible for VOA's English language products for Internet, radio and television. The ideal candidate will be a highly competent manager, an accomplished journalist, and be capable of steering an organization tasked with presenting a balanced and comprehensive view of American thought, institutions, and the policies of the United States. This position is located in Washington, D.C.

The salary range for this position is $124,994 to $157,500 per year.

The U.S. Government offers highly competitive benefits, including health insurance, life insurance, vacation and sick leave, and retirement benefits.

Applications will be accepted from U.S. citizens.

Applicants should apply to vacancy announcement DE-14-153, located athttps://www.usajobs.gov/GetJob/ViewDetails/380866800 which provides full details on the job listing, application requirements, and qualifications.