BBG Watch Commentary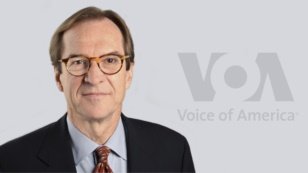 Acting Ukrainian Foreign Minister Andrey Deshchytsya meet with Voice of America Director David Ensor on Tuesday. As of 5:25 PM EDT Tuesday, this news was not reported by the Voice of America on its main English news website or on news websites of VOA Ukrainian and Russian Services, but was reported by Voice of Russia.
VOA director's meeting with Ukrainian acting foreign minister was mentioned in one sentence in the middle of a VOA press release posted online this afternoon Washington time: "VOA Grant Will Bring Ukrainian Journalist to USA," VOA Press Release, June 10, 2014 Washington DC 4:45 PM. The VOA press release also mentioned Director Ensor's recent visit to Poland. "It has been useful to talk directly with key people here in Kyiv and in Poland," Ensor said. Voice of America did not cover the Wroclaw Global Forum 2014, in which Director Ensor participated, as well as many U.S. and European leaders, including a U.S. congressional delegation.
"While in Kyiv, Ensor met with the Ukrainian Foreign Minister, leaders of several major broadcasting organizations and media sector activists, as well as U.S. Ambassador Geoffrey Pyatt," the VOA press release said.
According to the Voice of Russia news report, "During meeting, Deshchytsya and Ensor exchanged opinions on condition and prospects of informational cooperation between the governments of Ukraine and the US," Ukrainian Foreign Ministry said in statement.
Voice of Russia, but not Voice of America, reported that "Deshchytsya praised the efforts the US Broadcasting Board of Governors is making to support independent public media outlets in Ukraine."
"The parties agreed to further expand cooperation and exchange experiences through pursuing joint information projects aimed at increasing Ukraine's presence in the world informational environment," Ukrainian Foreign Ministry statement said as reported by Voice of Russia.
Acting Ukrainian FM meets Voice of America director, Voice of Russia, June 10, 2014.
VOA Director Ensor has been criticized for going on an extended European trip without making arrangements for the coverage of the visit to Kyiv by Vice President Biden and a bipartisan congressional delegation for the inauguration Saturday of Ukraine's President Petro Poroshenko.
Claiming lack of funding, VOA did not send a staff correspondent with the Vice President to Kyiv. A VOA video report from President Poroshenko's inauguration Saturday did not show or mention Vice President Biden or the congressional delegation. VOA English barely mentioned Biden's meetings and details of new U.S. aid to Ukraine, Georgia and Moldova, which he announced during his visit. There were no photos or tweets about the U.S. visit on the VOA English website although they were available online.
Supporting Ukraine's democratic reforms & sovereignty, VP Biden attended the inauguration of President Poroshenko. pic.twitter.com/i04X2BfZ3O

— Vice President Biden (@VP) June 9, 2014
In recent years, Voice of America has often missed significant U.S. foreign policy news stories and has been often late and superficial in its news reporting, particularly in English, but these problems also affect many VOA language services. Critics blame it on mismanagement at the senior level.
U.S. sources reported that during his visit to Poland Director Ensor lobbied American officials against the passage of the bipartisan Royce – Engel U.S. International Broadcasting Reform Legislation, H.R. 4490, claiming that it would undermine VOA's journalistic independence.
The bill is designed primarily to force management reforms, but it has wording about VOA programs being consistent with the broad goals of U.S. foreign policy.
The bill also includes key elements of the VOA Charter, which already requires VOA to "present the policies of the United States clearly and effectively, and … also present responsible discussions and opinion on these policies," but allowing and even requiring reporting on criticism of U.S. foreign policy. According to critics, the Voice of America is failing to report adequately on both, U.S. policies and criticism of these policies.
Broadcasting Board of Governors Chairman Jeff Shell reportedly asked heads of BBG media entities not to comment about the bipartisan reform bill, either in support of it or against it, an instruction apparently ignored by Director Ensor.
Critics point out that rather than to produce a separate multimedia report on Vice President Biden's visit to Kyiv, VOA posted a long multimedia report on wigs: "Elaborate Wigs Top Off Broadway's Winning Looks – VOA, June 9, 2014, but one of the photos had nothing to do with the story (it was later replaced).
In response to criticism, VOA English News later added a few more sentences to its already late and short text on Vice President Biden's and congressional delegation's visit to Kyiv, but never produced a separate news report with its own headline and never offered any multimedia content.
After 24 hours online, "Elaborate Wigs Top Off Broadway's Winning Looks – VOA" shows only 1 Facebook "Share," 10 Tweets, 0 Google+ and 0 comments, as of 6:00 PM EDT Tuesday.
The effort that went into producing this report could have been applied to offer multimedia coverage of Vice President Biden's visit to Kyiv.
We can guarantee that such coverage by VOA would have resulted in much greater audience engagement through social media than reporting that wigs play a central role in a play based on a real American resort that "in the 1960s catered to heterosexual men who enjoyed dressing as women." We're not saying that VOA should not report about it if it also reports on other aspects of American society and American culture, but it should take care of the news first.
Best-Kept Secret Tops Off Broadway's Winning Looks
Biden, U.S. Congress Delegation Not Mentioned in VOA Video Report from Ukraine
###
VOA PRESS RELEASE
June 10, 2014 Washington DC 4:45 PM
Media Relations / Press Releases
June 10, 2014
WASHINGTON, D.C. — With a fellowship grant from Voice of America, a Ukrainian television correspondent will travel to Washington soon to work alongside staffers of VOA's Ukrainian Service for several months and report about American life, views and values.
The grant was offered to the Ukrainian television company ICTV in Kyiv by VOA Director David Ensor during his visit to discuss the changing media landscape with Ukrainian broadcasters and government officials.
"ICTV with appreciation accepts the VOA proposal," said Oleksandr Bohutsky, the company's director and president, adding that he looks forward to the reports the ICTV journalist will send from the United States.
VOA has been providing customized reports for ICTV for some time, but the number has increased substantially during the recent crisis. VOA Ukrainian also produces a daily news program called Chas-Time that is seen on Channel 5, one of the top stations in Ukraine, as well as a weekly TV magazine show, Window on America, for Ukrainian state television. The service has also just launched a daily Russian-language news segment on U.S. and Ukrainian news called Studio Washington.
VOA Ukrainian had a strong following in the country before the crisis began in December, but its audience has grown dramatically since then. According to the latest polling information collected for VOA's parent organization, the Broadcasting Board of Governors (BBG), VOA reaches over 18 percent of Ukrainians each week, up from nine percent the year before the crisis began.
While in Kyiv, Ensor met with the Ukrainian Foreign Minister, leaders of several major broadcasting organizations and media sector activists, as well as U.S. Ambassador Geoffrey Pyatt. He also attended the Atlantic Council's annual meeting in Wroclaw, Poland.
"In the wake of the Russian invasion of Crimea, and the political changes in Ukraine, the media landscape is rapidly changing," Ensor said. "It has been useful to talk directly with key people here in Kyiv and in Poland."