BBG Watch Commentary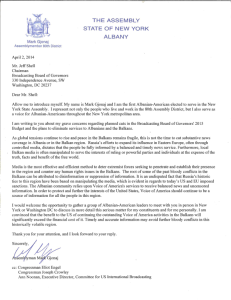 A decision by the U.S. Broadcasting Board of Governors (BBG) to end Voice of America (VOA) and Radio Free Europe / Radio Liberty (RFE/RL) broadcasts and other U.S.-funded media outreach to the Balkans is drawing strong criticism from Albanian Americans and other groups that support U.S. international broadcasting. In a letter to BBG Chairman Jeff Shell, member of the New York State Assembly Mark Gjonaj expressed concerns about the proposed elimination of U.S. news services to Albanians and others in the Balkans.
As global tensions continue to rise and peace in the Balkans remains fragile, this is not the time to cut substantive news coverage in Albania or in the Balkan region," Assemblyman Mark Gjonaj wrote to the BBG Chairman.
"Russia's efforts to expand its influence in Eastern Europe, often through controlled media, dictates that the people be fully informed by a balanced and timely news service. Furthermore, local Balkan media is often manipulated to serve the interests of ruling or powerful parties and individuals at the expense of the truth, facts and benefit of the free world," Gjonaj wrote.
"Media is the most effective and efficient method to deter extremist forces seeking to penetrate and establish their presence in the region and counter any human rights issues in the Balkans. The root of some of the past bloody conflicts in the Balkans can be attributed to disinformation or suppression of information. It is an undisputed fact that Russia's historic ties to this region have been based on manipulating the media, which is evident in regards to today's US and EU imposed sanctions. The Albanian community relies upon Voice of America's services to receive balanced news and uncensored information. In order to protect and further the interests of the United States, Voice of America should continue to be a source of information for all the people in this region," New York Assemblyman Mark Gjonaj wrote to Broadcasting Board of Governors Chairman Jeff Shell.
Elimination programs to the Balkans was recommended by the BBG's executive staff working for the International Broadcasting Bureau (IBB), which over the years had recommended similar cuts and reductions in U.S. media outreach to strategic regions of the world.
The Office of the Inspector General (OIG) for the State Department and the Broadcasting Board of Governors reported that shortly before the latest crisis erupted in Ukraine VOA "reduced its presence in Ukraine from four contract journalists to one, and the RFE/RL news bureau in Kyiv experienced budget reductions." "Both VOA and RFE/RL expressed concern about the impact that expected future reductions may have on their ability to cover news events inside Ukraine," OIG reported.
IBB claims that they are adjusting to changing strategic priorities and media use habits, but critics argue that these recommendations are often wrong and designed largely to protect and expand IBB's own bureaucratic jobs in Washington. While numerous U.S. news programs have been eliminated or reduced to many countries, IBB's workforce has increased by 37% in the last seven years.
In some cases, members of Congress pressured the BBG to reject and reverse recommendations of the IBB staff, such as proposals to cut or reduce broadcasts to Tibet and China. In other cases, IBB had succeeded in eliminating or reducing radio, television, and other news programs to Russia, Ukraine and other nations, only to be proved wrong by subsequent events.
The Albanian American community has strong allies in the U.S. Congress who also support increasing rather than decreasing U.S. media outreach overseas. They include Congressmen Eliot Engel (D-NY) and Joseph Crowley (D-NY) who were copied on Mark Gjonaj's letter to the BBG Chairman. The independent NGO Committee for U.S. International Broadcasting (CUSIB – cusib.org) is also believed to be gravely concerned about International Broadcasting Bureau's staff recommendations to the BBG on news programs eliminations and reductions in the FY 2015 budget request.
CUSIB has been supportive of Chairman Shell's and BBG's efforts to reform the IBB bureaucracy, but these efforts appear to have stalled due to a delay in selecting a CEO to run the agency. CUSIB Executive Director Ann Noonan was also copied on New York Assemblyman Mark Gjonaj's letter to the BBG Chairman.
Under the current administrative set-up, the BBG chairman and the part-time BBG board have limited ability or resources to independently evaluate IBB's budget recommendations or to control its growing bureaucracy. A CEO reporting to to the board might be able to establish such control and place U.S. strategic interests ahead of bureaucratic interests, sources told BBG Watch, but they warned that the selection of a CEO may still be several months away.
IBB controls the largest portion (34%) of the BBG budget. Nine part-time BBG board members cannot manage such an enormous bureaucracy or even understand how it works. They need a strong manager who knows how this organization functions and can transform it from a bureaucracy that cuts critically important news programs into an effective U.S. international media outreach operation that also enjoys strong support from its domestic U.S. constituencies, such as Albanian Americans and others, one knowledgeable source told BBG Watch.