BBG Watch Commentary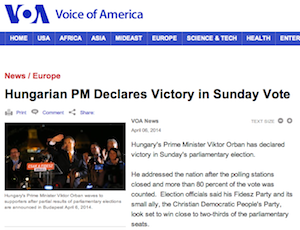 Voice of America's (VOA) brief news item (134 words) on the results of parliamentary elections in Hungary was short on facts and offered almost no analysis. International audiences would have little reason to rely on Voice of America's reporting because it was both brief and short on substance.
Other major foreign media outlets offered much more comprehensive coverage of the Hungarian vote results and focused on media freedom and human rights issues, which have been a matter of contention in relations between the U.S. government and the Hungarian government, as well as between Hungary and the EU.
Poor management and depletion of staff in the Voice of America newsroom are blamed for inadequate VOA news reporting, especially after business hours in Washington and on weekends.
Radio Free Europe / Radio Liberty (RFE/RL) posted a longer and more informative news report on the Hungarian vote results than Voice of America. VOA could have reposted the RFE/RL report on its news website since both are funded by U.S. taxpayers and report to the same oversight board in Washington, the Broadcasting Board of Governors (BBG), but VOA did not use this option. VOA had posted earlier a longer report while voting in Hungary was still in progress, but it was a report from Reuters, not a VOA originated news report that international audiences would regard as reflecting VOA or U.S. news reporting. Reuters is a UK-based news agency. The Reuters report covered some human rights issues, but it did not mention media freedom restrictions in Hungary. VOA news item on the election results did not link to the earlier Reuters report.
BBC and Germany's Deutsche Welle (DW) have posted much more comprehensive news reports than VOA on the voting results in Hungary.
Al Jazeera's report had 300 words and offered a longer analysis on how the vote might affect media freedom in Hungary, an issue ignored in the VOA news item.
Human rights issues were also explored to a much larger degree in a Vatican Radio report on voting in Hungary (333 words) before the final results were announced.
Among major international media outlets, Russia's RT offered the longest report on the Hungarian vote results (898 words). Even RT had a brief reference to the media freedom issue in Hungary, while VOA did not.
The U.S. State Department noted the deterioration of media freedom in Hungary in several of its Country Reports on Human Rights Practices. The 2013 State Department human rights report included the following observations:
Freedom House, for the second year in a row, rated the country's media as "partly free," a downgrade from the previous ranking of "free." On May 1, Freedom House published a report that noted "Conditions in Hungary, which was downgraded to Partly Free in 2011, remained steady in 2012, though there were persistent concerns regarding extensive legislative and regulatory changes that have tightened government control of the media. A series of rulings by the Constitutional Court and legal amendments adopted to meet objections from the European Commission in 2011 and 2012 have done little to curb the power of a new media authority controlled by the ruling Fidesz party."
The mission of the Broadcasting Board of Governors is "to inform, engage, and connect people around the world in support of freedom and democracy." The Voice of America Charter says that "VOA news will be accurate, objective, and comprehensive. [Emphasis added.]"
BBC report had 405 words.
Sun, Apr 06, 2014
Source: BBC World News (UK)
DW report had 471 words.
Sun, Apr 06, 2014
Source: DW (Germany)
RFE/RL report had 220 words.
Sun, Apr 06, 2014
Source: RFE/RL (US)
Al Jazeera report had 200 words.
Sun, Apr 06, 2014
Source: Al Jazeera News (Middle East)
Vatican Radio report had 333 words.
Sun, Apr 06, 2014
Source: Vatican Radio (Vatican)
RT report had 898 words.
Sun, Apr 06, 2014
Source: RT News (Russia)
VOA report had 134 words.
Hungarian PM Declares Victory in Sunday Vote
Sun, Apr 06, 2014
Source: VOA News (USA)

VOA News

April 06, 2014

Hungary's Prime Minister Viktor Orban has declared victory in Sunday's parliamentary election.

He addressed the nation after the polling stations closed and more than 80 percent of the vote was counted. Election officials said his Fidesz Party and its small ally, the Christian Democratic People's Party, look set to win close to two-thirds of the parliamentary seats.

"This was not just any odd victory. We have scored such a comprehensive victory, the significance of which we cannot yet fully grasp tonight," said Orban.

About one-fifth of the vote went to a far-right Jobbik opposition party which has been accused of anti-Semitism.

Many voters have credited Orban with improving the economy and lowering utility costs after eight years of Socialist mismanagement.

Critics have accused him of discouraging much-needed foreign investment.