BBG – USAGM Watch Commentary
In a constant stream of management and programming scandals affecting America's foreign media outreach in recent years, U.S. Agency for Global Media (USAGM) CEO John Lansing's former right-hand man pled guilty several days ago to federal charges of embezzlement while he worked for Lansing in 2018. Lansing hired him in 2017. It was only one of many scandals at the federal agency and its entities under Lansing's watch which don't seem to end.
On Wednesday, July 3, 2019, Spanish-language Cuba-focused news portal CiberCuba which has over 800,000 followers on Facebook reported under the headline, Suspenden de Radio y TV Martí al periodista Tomás N. Regalado tras acusaciones de posible fabricación de "fake news", that Tomás N. Regalado Jr., a Radio and TV Marti anchor and reporter who is the son of the Office of Cuba Broadcasting (OCB) director Tomás P. Regalado Sr. but was allowed by Lansing to continue to work for OCB despite the hiring of his father for the top position in June 2018, was escorted out of the broadcasting building in Miami by security guards under the suspicion that while reporting last year from Nicaragua he allegedly took part in a staged mortar attack.
The OCB cameraman, who in December 2018, was given the USAGM annual David Burke Distinguish Journalism Award for their reporting from Nicaragua, was also escorted out of the OCB building, according to CiberCuba. Apparently, the OCB director, Tomás P. Regalado Sr., father of the reporter Tomás N. Regalado Jr., was not involved in the decision to suspend his son, CiberCuba reported.
The father of the reporter, Tomás P. Regalado Sr., had a distinguished journalistic career and served as the Mayor of Miami from 2009 to 2017 before being appointed to the OCB director's position. He is well-regarded by such prominent Cuban American politicians as Senator Marco Rubio (R-FL) and Ileana Ros-Lehtinen, former Chairwoman of the House Foreign Affairs Committee from 2011–2013. Tomás N. Regalado Jr. also enjoyed a good reputation as a reporter, according to one former OCB manager who knew him. The former OCB manager called him "a valuable asset" because of his contacts with the Cuban Americans who want to see democracy restored in Cuba.
BBG – USAGM Watch could not find any public responses from Tomás N. Regalado Jr. to Spanish-language media reports about him and the alleged incident in Nicaragua. His Facebook page, as seen on July 4, was last updated on May 24. The latest tweet on Tomas N. Regalado Martinoticias @Tomas_EnMarti Twitter account appears to be from October 2018.
CiberCuba Noticias
ÚLTIMA HORA: Suspenden de Radio y TV Martí al periodista Tomás N. Regalado tras acusaciones de fabricación
USAGM CEO John Lansing, who earlier recruited a now admitted felon Dr. Haroon Ullah to chart the agency's future and allowed him to bring on board to the agency some of his friends and former associates, has tried to distance himself from previous disasters at the agency, which unlike the current one have already been confirmed by subsequent outside investigations, as not being in any way responsible for any scandals despite accusations from employees that mismanagement and nepotism have flourished under his watch at the USAGM and at its various entities.
A record number of scandals happened under the direct watch of executives who were appointed to their positions by Lansing since he was given his top job at USAGM in 2015 during the Obama administration. While the Haroon Ullah scandal is not related to scandals at OCB, the Voice of America (VOA) or Radio Free Europe/Radio Liberty (RFE/RL), they all happened under John Lansing's watch at the agency and under the watch of executives and managers appointed by him to run the agency's media organizations–all fully funded by U.S. taxpayers through the U.S. Congress and U.S. administrations.
It is hard not to blame a leadership vacuum and not setting the right example by the top agency executive when a large number of his senior-level managers are directly or indirectly involved in a constant stream of scandals. Lansing's top aides and executives have also refused to take responsibility for their lack of effective leadership and for not taking preventive actions to avoid most of such scandals. While not all abuses can be anticipated and prevented even by the best leader, they certainly can be minimized by good executives in well-run organizations. USAGM under John Lansing is not one of them. Journalists at the Voice of America were also punished after a 2017 incident at the VOA Mandarin Service, for which critics attributed most if not all of the blame to VOA's senior management led by VOA director Amanda Bennett. She was appointed to her position by John Lansing in 2016.
An earlier scandal, which included allegations of anti-Semitic statements in a TV Marti report about American billionaire George Soros, happened under a temporary management team put in place at OCB by Lansing. He did not acknowledge any responsibility for the earlier OCB incident. Lansing later announced the firing of several OCB journalists, some of whom, according to critics, apparently did not have any direct link to the anti-Semitic content in the TV Marti report.
TV Marti employees reportedly have provided outside media with a short video which appears to show the alleged staging of a mortal attack with what looked like a firework rocket near the OCB reporter in Nicaragua. BBG – USAGM Watch volunteer reporters have seen the video but could not authenticate it.
A screenshot from Radio Television Marti Noticiero Antena Live June 27, 2018 broadcast, which can still be seen on the OCB website, shows a TV Marti Reporter and what appears to be a small explosion on the ground right behind him.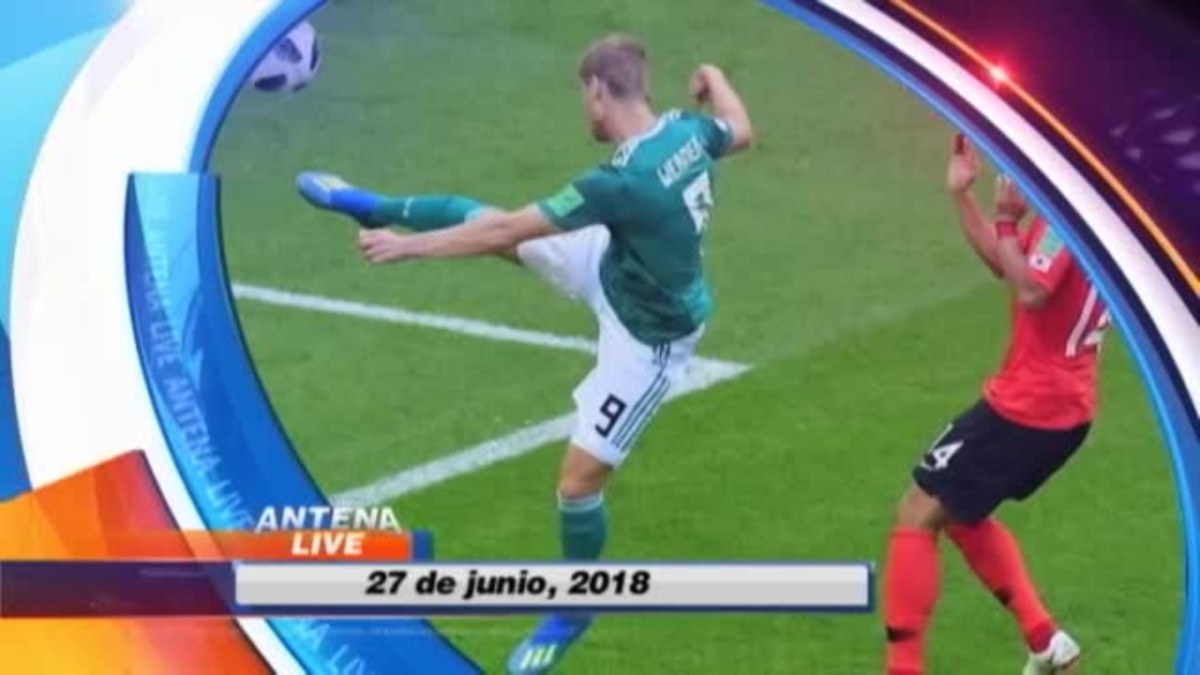 Antena Live
RadioTelevisionMarti.com es un portal digital informativo con la misión de promover los principios de libertad y democracia en la sociedad cubana. Nuestra página se complementa con transmisiones de radio y televisión a través de Radio Martí y TV Martí, respectivamente.

The unauthenticated video provided to media by OCB journalists who want to remain anonymous shows what appears to be the alleged staging of the mortar explosion for the TV Marti camera using what appears to be a device similar to a firework rocket.

In a message reported to have been sent to OCB employees following media disclosure of the latest scandal, a high-level OCB manager urged TV Marti journalists not to talk to outside media and avoid "gossip and speculation." This is from the agency that claims credit for promoting press freedom and countering government censorship in countries like Cuba. A former OCB journalist who claims that she was unjustly fired after the Soros scandal despite having no role in preparing the program, described the language of the OCB message as "intimidating."
"…you may have heard, some claims have recently surfaced challenging the veracity of an OCB report filed from Nicaragua last year. Under the circumstances, the Agency has initiated an investigation. Such investigations are common tools for Agency management to gather the facts to get to the bottom of a matter. Such an investigation may ultimately refute or substantiate some or all of the claims in a particular case.

USAGM/OCB take seriously any accusations of wrongdoing, including violations of journalistic standards, or data security or policy violations. We also believe in withholding judgment until all of the facts are in. We are not jumping to conclusions about this matter, and ask that our staff do the same. Anything less would be unfair to the professional reputations of our colleagues and OCB writ large.

As this investigation unfolds, I urge staff to stay focused on their work and our shared commitment to professionalism. Gossip and speculation should be avoided; remember that all individuals involved in the investigation have a right to privacy under law. As well, it is unfair to such individuals or to the organization to assume anything until the facts are in, or speculate about what the investigation may find. Also, please remember that any and all press inquiries regarding the investigation, or the allegations underlying it, should be sent immediately to Nasserie Carew, who is the only person authorized to issue communications, on or off the record, on behalf of USAGM and OCB.

Investigators may begin to conducti [sic] on-site interviews as soon as Monday, July 8. If you have any questions about this process, please do not hesitate to contact me.

I appreciate your understanding and your willingness to provide whatever assistance to the investigators that they may require. Wishing you and your families a happy and safe 4th of July holiday."
A former OCB manager, who requested not to be named, told BBG – USAGM Watch: "What I have heard multiple times from people I consider reliable is that Tomás P. Regalado Sr. is basically running OCB like he owns it and hiring … his friends as contractors, making his son a superstar when frankly he should just be a field reporter (and he does well with that)."
"This pains me greatly. They are both good guys," the former OCB manager added without passing judgement on the latest "fake news video" allegations. The former OCB manager primarily blames John Lansing for bringing chaos to the entire agency and for making it dysfunctional.
There have been many complaints that friends and associates of various executives who have been recruited by Lansing since 2015 are also being hired as contractors or permanent federal employees into the USAGM bureaucracy and the Voice of America. Some were brought on board to the USAGM headquarters in Washington by Lansing's former top aide Haroon Ullah who later pled guilty to federal fraud charges. Lansing continued to follow Ullah on Twitter even after his guilty plea. Lansing's poor judgement and insensitivity have offended many USAGM employees.
According to OCB employees, Tomás N. Regalado Jr., the TV Marti reporter linked with the Nicaragua allegations, was made a news program anchor since his father became the OCB director. Some TV Marti journalists, many of them women, have complained bitterly of a hostile work environment at OCB, as do rank-and-file employees at USAGM and VOA. According to annual surveys conducted by the Office of Personnel Management (OPM), the USAGM agency has had some of the lowest employee morale ratings in the entire federal government. As much as John Lansing may try to distance himself from the latest scandal at OCB and claim that he is taking strong actions to address it, he is ultimately responsible for the management meltdown at the federal agency he has been in charge of since 2015.