BBG – USAGM Watch Commentary
In an affront to taxpayers and his U.S. government agency employees, John F. Lansing (@johnlansing), the embattled CEO of the U.S. Agency for Global Media (USAGM, is still listed as a Twitter follower of his former right hand man Haroon Ullah (@haroonullah) who last week pled guilty to federal charges of stealing money from the U.S. government while serving directly under Lansing as his Chief Strategy Officer. Several days after Ullah admitted in court to defrauding American taxpayers, Lansing also failed to take effective action to remove Ullah's long bio from the USAGM official U.S. government webpage where only the word "former" was added before his former agency title. On some of the other pages on the USAGM website, Ullah is still identified as the agency's Chief Strategy Officer.
Photos, a full bio of Haroon Ullah, and several of his articles were still posted on the USAGM official U.S. government website as of 1:00 AM EDT July 2, 2019.
By defrauding the federal government for the amount of about $40,000, Ullah brought discredit to the agency and to its honest rank-and-file employees. Lansing, who allowed the fraud to happen right under his eyes but could not see it while ignoring warnings, is adding to the shame and discomfort many employees feel by continuing his public online association with his former favorite senior assistant.
A longtime Voice of America foreign and domestic correspondent and a former VOA language chief commented:
FORMER VOA REPORTER: "They still have Ullah's page up on the USAGM site.

How stupid and dense can they get?"
Commenting on Lansing still being Ullah's follower on Twitter, the former VOA correspondent wrote:
FORMER VOA REPORTER: Yes, USAGM CEO Lansing following an admitted felon on Twitter looks really bad. I have to wonder what they're thinking, or IF they're thinking at all. But remember other examples, where they [other senior USAGM and VOA executives under Lansing] linked with the fake Iran account, and [VOA senior managers under Lansing] linked with the person who posted sexually-explicit comments, etc"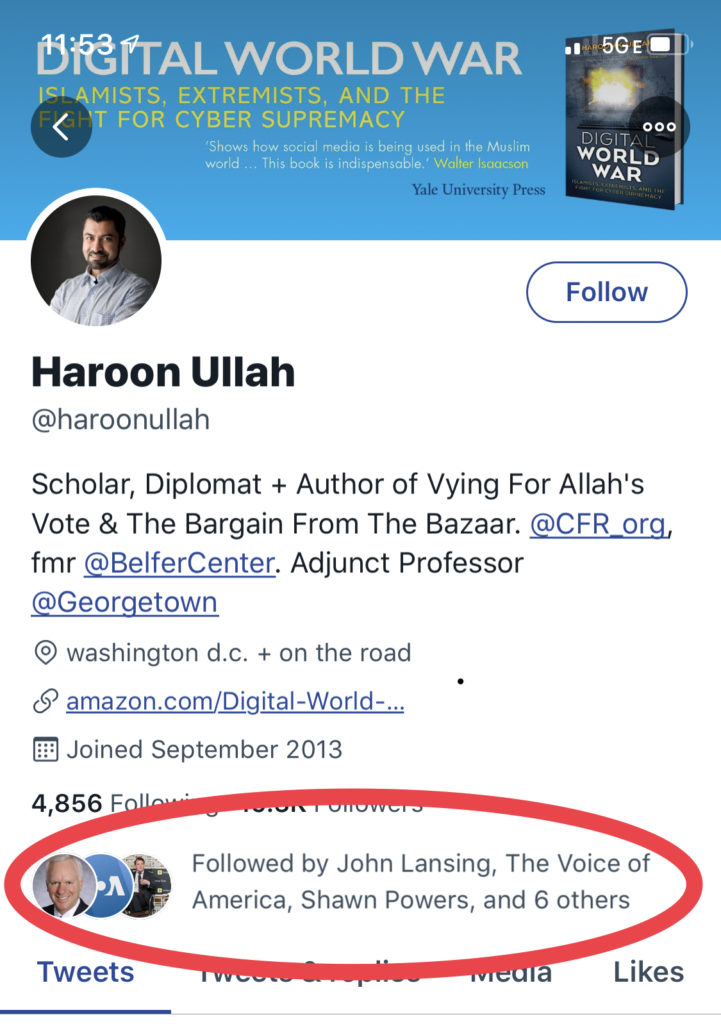 It is important to point out Lansing, who has been in charge of the agency since 2015, did not inherit Ullah on his senior staff. He had recruited Ullah for a senior position in 2017 as his chief strategic planner, promoted him to employees, members of Congress and media, and was reportedly grooming him to be his top deputy.
By continuing to be listed as a Twitter follower of his ex-aide who was being investigated for fraud and even after Ullah had admitted to stealing money, Lansing is sending a terrible signal to USAGM employees who already have the lowest morale in the federal government and have been exposed under Lansing and the key executives he selected to one scandal after another.
Lansing's current Acting Chief Strategy Officer Shawn Powers is also listed as a Twitter follower of Haroon Ullah's account. Haroon Ullah is also still being followed on Twitter by the official Voice of America (VOA) account giving legitimacy to a person who has admitted to abusing his government position for self-promotion and enrichment.
Some of the current Broadcasting Board of Governors (BBG) Board members (it is now called the USAGM Board), among them both Republicans and Democrats, are also still listed as Twitter followers of the now admitted felon.
Following someone's Twitter feed does not necessarily indicate endorsement in all cases, but it does create an appearance of endorsement if it is done by an important public figure, a federal official who is the head of a government agency. The only USAGM agency employees who could and in some cases perhaps should openly follow Haroon Ullah's Twitter news feed are VOA editors and reporters who have a legitimate news interest. VOA reported last week on Ullah's case although it failed to mention Lansing's role in bringing him on board and the prominent role assigned to him by the agency CEO. The VOA report also failed to mention that Ullah brought to the agency several of his friends of associates as highly-paid contractors, some of whom later secured permanent senior level federal government positions with the agency.
The agency head and his top deputies should not be still public followers of Ullah's Twitter account because it gives him legitimacy, sends a wrong signal to the staff and undermines employee morale which has already been largely destroyed.
This is especially bad since at least one former manager and some lower-ranking employees had complained about Ullah to Mr. Lansing and some of his senior staffers before he was investigated. Sources among Mr. Lansing's former and current associates said that he had rejected more general complaints about Mr. Ullah being bad news and proceeded to undermine and insult the manager who made them. This forced the manager to resign rather than tolerate the skirting of federal regulations, one source said.
Sources among Lansing's associates also said that when lower-ranking employees told his senior staffers about Ullah's fraudulent foreign and domestic travels, their initial complaints were dismissed as false. Some of them complained that they had experienced threats and intimidation for speaking up about Mr. Ullah and other violations of government rules by Lansing's senior staff.
Sources quoted Lansing's current top aide, USAGM Deputy Director for Operations Matthew Walsh, as saying initially to other staffers that he and other senior aides had checked into Ullah's travels and all thought that he was doing his travels by the books and within regulations.
These initial assessments by Lansing's senior staff turned out to be spectacularly wrong, which makes it even more disturbing that they and Mr. Lansing continue to follow Ullah on Twitter and keep his bio on the official USAGM U.S. government website.
Shame on you Mr. Lansing.
You should apologize to taxpayers and USAGM employees for bringing Haroon Ullah on board, for allowing him to defraud the U.S. government for many months and for bringing shame to the agency which has an important mission currently undermined by incompetent leadership.
UNITED STATES DEPARTMENT OF JUSTICE:
FOR IMMEDIATE RELEASE, June 27, 2019