BBG Watch Commentary
Independent U.S. journalist Matthew Russell Lee has renewed his accusations against executives in charge of U.S. taxpayer-funded Voice of America (VOA) of trying to ban him from covering the United Nations over a private dispute between him and a VOA reporter. In a post, which appears to be at times difficult to follow compilation of several of his previous posts as well as new allegations, Lee has repeated also his charges against the Broadcasting Board of Governors (BBG), the U.S. federal agency overseeing VOA, of ignoring his Freedom of Information Act (FOIA) requests for VOA and BBG government documents.
Lee made these renewed accusations in a new post on his independent blog, Inner City Press, in which he publishes news reports and commentaries related to the United Nations. He has exposed numerous cases of corruption and abuse of power by UN officials and personnel, as well as private U.S. banks. A 2006 Washington Post article said that Lee's "challenge persuaded Citigroup's CitiFinancial Credit Co. to pay a $70 million fine to settle Federal Reserve charges of impropriety in ladling out high-interest loans to the poor." A Wikipedia entry for Matthew Russell Lee describes him as "a public interest lawyer, author, and founder of two non-profit organizations, Inner City Press and Fair Finance Watch." Inner City Press at the U.N. and Matthew Russell Lee were profiled in a 2011 article in The New Yorker.
An attempt by a VOA executive in June 2012 to get the U.N. to lift Lee's press accreditation failed when a number of civil rights and media freedom organizations came to Lee's defense. Lee identified the VOA official who wrote an email to a UN official, asking him "to review Mr.Lee's status as an accredited U.N. correspondent," as Steve Redisch who is VOA Executive Editor and chief deputy to VOA Director David Ensor.
Lee published his latest post about Voice of America executives after the Broadcasting Board of Governors issued its press release condemning the raid and closure of the Radio Free Europe / Radio Liberty (RFE/RL) Baku bureau on Friday, December 26. In early December, authorities also arrested and jailed prominent Azerbaijani investigative reporter Khadija Ismayilova, a contributor to RFE/RL's Azerbaijani Service programming. Like VOA, RFE/RL is also funded by U.S. taxpayers and overseen by the Broadcasting Board of Governors.
Disturbing actions against free media in Azerbaijan represent a much higher level of official harassment of journalists, but they happened in a country ruled by an undemocratic regime. We assume that there is much more transparency and much greater media freedom in the United States. Matthew Russell Lee is not convinced of it as far as VOA and BBG are concerned.
Lee is not the only independent American journalist disliked by Voice of America officials who are U.S. federal government employees.
They may respond to critics in a different but hardly an appropriate way for government officials of a democratic nation like the United States.
For example, senior VOA staffers tried to smear the reputation of former VOA reporters after they had published articles in mainstream U.S. media critical of VOA management. At a recent holiday party for employees at VOA headquarters in Washington, Voice of America Director David Ensor lampooned media watch dog BBG Watch blog, a former BBG Governor, and three independent journalists.
Voice of America officials have been accused also of ignoring legitimate requests from journalists for information.
VOA had refused a request for answers to questions submitted by a former VOA senior correspondent Gary Thomas for an article he was writing for Columbia Journalism Review and tried to undermine his professional reputation. VOA officials also tried to undermine the reputation of another former VOA journalist who commented about a fake interview posted on the VOA website. Recently, VOA had to apologize to the government of Azerbaijan for an erroneous news report, but this issue is not directly linked to the harassment of RFE/RL journalists by the government in Baku, although it may have given the Azeri government an additional argument for justifying their actions against U.S. supported media.
According to our sources, several BBG members are expressing privately profound disappointment and frustration with senior executives in charge of the Voice of America over issues of management and news reporting. Some former BBG members also expressed similar concerns.
Raising the issue of a double standard on transparency and treatment of journalists, Lee made a reference in his article to David Ensor's recent controversial comment about independent bloggers.
Mr. Ensor's government holiday party skit, at which he made those comments, was supposed to be humorous. Some current and former VOA employees, however, found his making fun of independent bloggers and professional journalists who are private U.S. citizens inappropriate and offensive to taxpayers since it involved a senior government official appearing at a public function in a federal government office presumably on government time. Other current and former VOA reporters said it was holiday fun.
To our knowledge, no previous VOA director had engaged in an activity while in office that could be seen as ridiculing independent U.S. media NGOs or private citizens, not even at a holiday party. A few current VOA employees joined David Ensor in lampooning their former colleagues and their independent media blog. U.S. taxpayer-funded VOA and BBG have as a major part of their mission supporting freedom of expression and independent media abroad.
According to Matthew Russell Lee, VOA officials had made earlier dismissive comments about U.S. bloggers.
"There is much in the records BBG did release, before stonewalling, that refers dismissively to bloggers. And David Ensor has recently repeated just that, citing the 'standard definition of a blog — boring, lousy, obscure, gibberish'. Unlike VOA's derivative, often pilfered coverage?," Matthew Russell Lee wrote.
###
BBG PRESS RELEASE
BBG Denounces Harsh Treatment Of RFE/RL Baku Journalists, Calls For Bureau Reopening
DECEMBER 29, 2014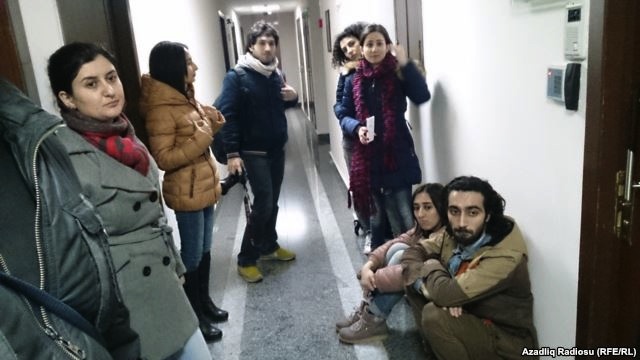 WASHINGTON – The Broadcasting Board of Governors today called on Azerbaijani authorities to cease their investigations of Radio Free Europe/Radio Liberty's (RFE/RL) Baku bureau journalists and to immediately permit the news bureau to reopen.
In the past three days 23 RFE/RL journalists were interviewed by Azerbaijan's state prosecutor's office. A lawyer representing the Baku bureau staff said people were being "dragged" to the prosecutor's office "by force and threats." Another 13 RFE/RL journalists are waiting to be summoned for questioning. Authorities also began to question family members of journalists. The investigations follow the raid and closure of the RFE/RL Baku bureau on Friday, December 26. In early December, authorities also arrested and jailed prominent Azerbaijani investigative reporter Khadija Ismayilova, a contributor to RFE/RL's Azerbaijani Service programming.
"This harsh treatment, including direct threats against our journalists, violates every principle of media freedom," said BBG Chairman Jeff Shell. "We again call on Azerbaijani authorities to permit RFE/RL's Baku bureau to reopen, to halt the investigations and harassment of RFE/RL journalists and their families, and to release Khadija Ismayilova."
In a related development, on December 26 a Baku court heard and rejected Ismayilova's appeal . She remains in prison after being sentenced to two months of pre-trial detention on charges of inciting a colleague to attempt suicide. Reporters Without Borders has called this "the latest example of the appalling harassment to which this trailblazer of investigative journalism has been subjected for years by [Azerbaijan's] government in its drift towards despotism."
RFE/RL's Azerbaijani Service is one of the last remaining independent media outlets in Azerbaijan. Several international organizations that support civil society, including IREX , the National Democratic Institute, and Oxfam have been forced to suspend their operations in Azerbaijan this year.