BBG Watch Commentary
The Voice of America (VOA) English news website has not been updating its homepage news lineup for hours Tuesday afternoon and evening while BBC provided updates and extensive coverage, including live coverage, of U.S. election results.
It appears that VOA no longer knows how to cover breaking news stories on its website. It also appears that VOA no longer has capabilities or a consistent policy on updating its main news homepage. This means that international audiences have no reason to go to the VOA website for breaking news stories, even if they are interested in U.S. politics.
These differences in news coverage can be seen in the screenshots of the VOA and BBC homepages taken at the same time at about 11PM ET.
The BBC homepage and its news lineup are clearly focused on the U.S. elections. The homepage shows a large U.S. elections news photo and links to three BBC elections-related reports, including a a link to live coverage, where results of both New Jersey and Virginia races were already reported.
A link to a short VOA report on the election results in Virginia was buried in the lower part of the homepage under "LATEST WORLD NEWS" and "USA NEWS." It can barely be seen.
Just one of BBC's U.S. election news reports, "Five reasons why the Virginia governor's race matters,"
by Tom Geoghegan, BBC News, Washington, is more than twice as long as the only VOA report on U.S. elections posted on the VOA homepage, "Democrat McAuliffe Elected Governor of Virginia," VOA.
BBC gave the results of the Virginia race in a separate report, "US election results: As it happened," BBC.
BBC was also showing on its homepage this report, Virginia governor race: McAuliffe and Cuccinelli campaign on election eve, BBC.
The VOA election report had 309 words. The main BBC news report had 776 words. All four BBC reports on U.S. elections had 4,676 words.
BBC reported that the Virginia elections results are important because: 1. It could shape Republican identity; 2. With Hillary Clinton braced to run in 2016, a McAuliffe win would be interpreted as a boost for her; 3. It's what the U.S. is going to look like in the future.
VOA did have two other more analytical reports on U.S. elections and a separate one on the New York mayor race, but they did not appear anywhere on the un-updated VOA homepage Tuesday night.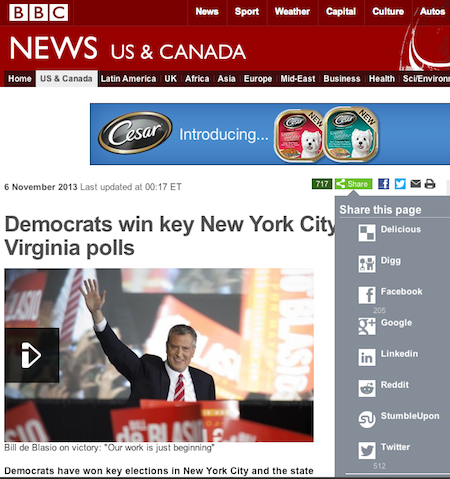 The main VOA election report, "Democrat McAuliffe Elected Governor of Virginia" showed only one (1) Facebook "Like" 90 minutes after it was posted and 13 Tweets. The BBC report showed at the same time 205 Facebook "Likes" and 512 Tweets. On many other news stories, BBC almost always beats VOA by hundreds and often thousands of Facebook "Likes." VOA news stories rarely get more than one or two dozen Facebook "Likes" on the VOA English website.
The BBC report, "Five reasons why the Virginia governor's race matters," posted on November 4, had 1,762 Facebook "Likes." The VOA report, "Virginia Vote Could Send National Message on Political Gridlock," posted on October 29, almost a week earlier, gathered only 27 Facebook "Likes" as of Tuesday night.
One international media expert pointed out that these social media results and images of both homepages taken on the U.S. election night are "most informative about how our friends across the Atlantic out-cover the VOA web site."
###
VOA News

VOA News
November 05, 2013

Democrat Terry McAuliffe has won the Virginia governor's race in a close victory over Tea Party conservative Ken Cuccinelli.

With 97 precincts reporting late on Tuesday, McAuliffe edged out Cuccinelli 47 to 46 percent.

The only other U.S. state selecting a governor Tuesday, the northeastern U.S. state of New Jersey, has chosen Republican and possible 2016 presidential contender Chris Christie.

Votes are still being counted, but exit polls give Christie a wide lead over his Democratic opponent, State Senator Barbara Buono. Christie has already given his victory speech, declaring himself "the luckiest guy in the world."

The popular Christie became a national figure when Superstorm Sandy devastated his state last year. He pleased liberals but angered conservatives when he became friendly with President Barack Obama in working to clean up storm damage.

Meanwhile, New York City is getting its first Democratic mayor in more than 20 years. New York's public advocate, Bill de Blasio, won by a large margin over Republican Joe Lhota, who is a former chairman of the city's transportation authority. Three-term Mayor Michael Bloomberg, an independent, is barred from a fourth term.

Voters in several other major cities, including Atlanta, Boston, Detroit, Houston and Miami, also elected mayors.

U.S. political analysts are looking for clues from Tuesday's results to help predict the outcome of next year's congressional elections, when all 435 seats in the House of Representatives and one-third of the nation's 100 Senate seats are up for grabs.

Americans also voted on a variety of ballot initiatives Tuesday.

In the western state of Colorado, which legalized recreational marijuana last year, voters approved a measure to impose a 25 percent tax on the drug. The money will go toward regulating the marijuana industry and building schools.

Voters in the state of Washington were asked whether to require genetically engineered food to be properly labeled.