BBG Watch Commentary
WARNING: This post contains a letter by an anonymous Radio Free Europe / Radio Liberty (RFE/RL) Russian Service journalist. In its body, there is a link to an offensive anti-Semitic image created by Russian nationalists. We present it only as journalistic evidence for the content of this post. Do not open the link if you could be offended by such images–vile images which the BBG Watch and the author of the letter strongly condemn.
For many months, many Radio Free Europe / Radio Liberty's Russian Service (Radio Svoboda) journalists have been telling privately their friends in the West about living in fear. It is not only because of threats and vile labels used against them by Russian ultra-nationalists and by other supporters of President Putin. It is also the fear of their own American-hired management. Some of these reporters were fired recently by Radio Liberty's Russian Service and others contemplate the real possibility of being left jobless in Russia where nationalists' websites call them "traitors" and "Jews."
These talented and versatile journalists are totally devoted to the RFE/RL's mission of defending freedom of expression in Russia, but they are afraid to speak out openly about their own predicament. The atmosphere of intimidation and fear, rather than respect and mutual trust which makes other media organizations successful, had been already introduced into RFE/RL in the previous decade. Later, some of its elements found their way through senior management to the Broadcasting Board of Governors (BBG) in Washington. Since then, its employees constantly rank their agency in the Office of Personnel Management (OPM) Federal Employee Viewpoint Surveys (FEVS) as one of the worst-managed and as one of the worst places to work in the federal government. Hundreds of contractors are also employed by the BBG's International Broadcasting Bureau (IBB), most of whom work for the Voice of America (VOA). Their employment was declared by the Office of Inspector General (OIG) to be in violation of U.S. law and regulations. They are even more exploited, underpaid and deprived of benefits and labor rights. But unlike foreign journalists working on contracts for RFE/RL in Prague and Moscow, they may have greater employment opportunities elsewhere and access to U.S. courts in cases of especially egregious mistreatment by managers. Agency managers responsible for improper contracting, waste of tax dollars and illegal hiring of full-time contract employees–abuses which were exposed in OIG investigations and reported on by the Washington Post and other media, will not leave their positions on their own.
The new BBG CEO and director, John Lansing, has been on the job only a few weeks. There is hope that he will reform the agency and put a stop to unfair treatment of RFE/RL journalists. Lansing is said to be searching for a good candidate to become RFE/RL president and CEO.
There have always been frictions within RFE/RL, conflicts between management and journalists, and accusation of poor performance, as there have been many praises of its work over many decades. While such conflicts and criticisms are not unusual, their current intensity and frequency are. This is especially troublesome in light of the Kremlin's propaganda offensive against the West and against the democratic opposition in Russia. The management crises at RFE/RL and the BBG during the last few years, including the most recent ones, are unprecedented. They have caused Hillary Clinton to conclude at a congressional hearing in 2013, when she was still Secretary of State and an ex officio BBG member, that the Broadcasting Board of Governors was "practically defunct." and that the U.S. is losing an "information war."
RFE/RL, a non-federal entity of the BBG, has its headquarters in Prague, the Czech Republic. Labor rights of some RFE/RL employees in Prague are also being restricted and violated by the management. Some BBG and RFE/RL executives justify such practices as necessary to maintain flexibility in hiring and firing to easily adjust to changing program needs. In reality, they have destroyed the trust and the former success of U.S. international broadcasting outreach by their callous behavior which ignores the real threats faced by BBG journalists. They care little that these journalists may find themselves without any job or protection in a country like Russia or Afghanistan.
Two former RFE/RL Prague employees, Snjezana Pelivan and Anna Karapetian who had been fired by RFE/RL several years ago, have complained to the European Court of Human Rights, alleging discrimination based on national origin. (RFE/RL's American and Czech employees enjoy greater employment rights and protections than the company's foreign journalists working in Prague.) The Czech Helsinki Committee and other human rights organizations, politicians and activists have written letters to the BBG and its chairman Jeff Shell calling for the end of discriminatory treatment of foreign journalists by RFE/RL management. Mainstream media in the Czech Republic and in some countries to which RFE/RL directs its news programs have reported on this, some pointing out the discrepancy between the message of human rights, including labor rights, being reported by RFE/RL and the treatment of its own employees.
According to employees and observers, former RFE/RL president Kevin Klose returned a measure of stability to the organization, improved performance, and righted some of the wrongs done to Radio Liberty staffers in Russia in 2012. He welcomed Russian human rights activist Lyudmila Alekseyeva, who is now once again defending RL journalists, when she visited Washington in March 2013 and invited her to attend Radio Liberty 60th anniversary observances. But Klose retired from RFE/RL in March 2014, and his position has not been filled by the BBG Board since then.
Despite the most recent crisis in the Russian Service, RFE/RL is still in a much better shape than the Voice of America (VOA), the BBG's flagship media outlet in Washington, which has experienced a drastic decline of its news reporting standards, has dismal social media audience engagement statistics, and was described in its current condition by former VOA director David Jackson as ignoring the VOA Charter. Individual RFE/RL journalists are highly capable. They produce needed and relevant programs. But the overall performance, according to critics including some former BBG members, has been far less than is needed and could be expected. They blame senior BBG executives and RFE/RL management. They also accuse some current BBG members of ignoring these problems and "drowning criticism in a torrent of over-inflated bombast trumpeting invisible successes."
"RFE/RL is in deep crisis," a former BBG Governor who requested anonymity, recently told BBG Watch. "It can't get powerful programming on the air in a timely fashion or of the quantity needed, due in no small part to having no senior leadership for more than a year in a half," this former presidential appointee to the BBG stated. "One hopes that new CEO John Lansing will come up to speed on international broadcasting," the former BBG Governor added.
Meanwhile, the Russian Service management has again antagonized some of the leading human rights activists in Russia and many of its own journalists. The following article about Radio Liberty's Russian Service is very timely. It was sent this week to BBG Watch through an intermediary, a highly respected journalist living in the West who is in frequent contact with numerous Russian Service reporters. The article was written by a still-employed Radio Free Europe / Radio Liberty journalist who wants to remain anonymous out of fear of retaliation by the Russian Service management.
Mistreatment of Radio Liberty Journalists in Russia — Management By Fear And Intimidation
By An Anonymous Radio Free Europe / Radio Liberty Journalist

With everything that is going on in Russia and in light of the Kremlin's propaganda offensive at home and abroad, incredibly in the last 12 months Radio Liberty's Russian Service has been operating under self-imposed staff shortages. Some Radio Svoboda Russian journalists have lost their jobs, while others had their permanent positions converted into free-lance contracts. Those affected include Radio Liberty Russian reporters who had been fired once before in the September 2012 sudden mass dismissal of about 40 staffers. When reporting for work in the morning as usual, these journalists found their entry into the Radio Free Europe / Radio Liberty (RFE/RL) Moscow bureau blocked by the company's security guards and told to go to the law firm retained by RFE/RL to learn about their future. They were fired.
This happened in 2012 under a former RFE/RL management which was replaced in 2013 (another management change took place in March 2014). Some of these journalists were later reinstated in 2013 by the then new RFE/RL president Kevin Klose. The Broadcasting Board of Governors (BBG) in Washington, the U.S. federal agency in charge of RFE/RL and other U.S. taxpayer-funed media outlets serving foreign audiences, had chosen Klose, a highly respected American journalist and media executive (NPR), to conduct management reforms and save RFE/RL's reputation. Klose later retired after a relatively short tenure. Since then, working conditions for RFE/RL journalists, particularly in the Russian Service, have again worsened. Some of the Radio Liberty reporters dismissed in 2012 and rehired in 2013 by Klose, are once again being abruptly fired in the last few months. They are being treated by the Russian Service management and RFE/RL Russian lawyers very much the same way as they were treated during the crisis of 2012.
By reinstating fired Radio Liberty reporters, Kevin Klose concluded that the mass terminations in the Moscow bureau had drastically weakened the media outlet's mission and that the the new team put in place by the previous Russian Service and RFE/RL management had failed to win the trust of the audience, including democratic and human rights leaders in Russia, and had failed to expand online reach as promised.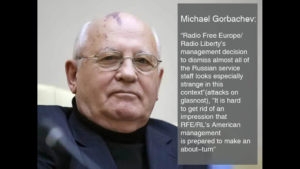 Mikhail Gorbachev, anti-Putin politician Boris Nemtsov, who was later assassinated in Moscow, and numerous other Russian democratic leaders and human rights activists had reached the same conclusion. They had protested against the 2012 mass firing of Radio Liberty journalists. These protests worked, but some of the former Russian Service staff members who were later offered an opportunity to return to work were reinstated under different conditions than previously: a few were rehired under long-term contracts, but some under short-term contracts to be renewed every six months. The reason provided by the new management of the Russian Service for this decision was a supposed shortage of BBG-provided funding and the need to save money. The selected candidates, dedicated to the Radio Liberty's mission, accepted these less-than-favorable conditions in order to continue their work for media freedom in Russia at a risk to themselves and their future professional employment in Russia. Attacked by Putin's media and Russian nationalists, they are not likely to find professional work in Russia outside of Radio Liberty. Being called traitors and hounded by pro-Putin media, they are not like American journalists who can move from an ABC affiliate to a NBC affiliate in another city.
One year later, after the sudden retirement of Kevin Klose, it has become clear that the Russian Service management and perhaps RFE/RL's interim top American management in Prague is abusing these temporary contracts to intimidate and manipulate the Russian Service team in a display of callousness and lack of respect for loyal employees under threat from Putin in Russia that approaches the previous treatment accorded to some of the same formerly mistreated journalists.
Let's enumerate the losses:

In the summer of 2014, the contracts of Lilia Palveleva and Tamara Lialenkova were converted into freelance agreements. Restrictions were introduced for award-winning film director and video journalist Mumin Shakirov (he is on a freelance contract) and Andrei Korolev (he accepted a cooperation agreement with "Current Time", a new joint TV venture between RL and the Voice of America – VOA).

Kristina Gorelik – Fired Twice by Radio Liberty, Vilified by Anti-Semites in Russia
In November of 2014, the Russian Service management made a truly ominous move: under the pretext of "inadequate performance," Kristina Gorelik, Radio Svoboda's premier human rights reporter and the long-standing moderator of the "Humans Have Rights" ("A Man Has A Right") program, was suddenly fired.
Gorelik and her many supporters within the Russian human rights community categorically reject the accusations made by the Russian Service management about her work. Leading Russian human rights activists, including 88-year-old but still very active Lyudmila Alekseyeva, a Russian historian and the legendary chair of the Moscow Helsinki Watch Group, wrote letters to the BBG in her defense. After one of such letters, Nenad Pejic, the acting president of RFE/RL in Prague, got in touch with Kristina but could not offer her a suitable job or a program devoted to human rights issues. Kristina, who has a family to support, filed a lawsuit, but her case was rejected by a Moscow court. The circumstances of the trial suggest to the management's critics familiar with the case that the court may have been inappropriately influenced by RFE/RL's legal representatives in Moscow. Russian human rights activists were present in court and witnessed what they described as questionable legal proceedings.
Kristina's human rights program, which is crucial for the mission of Radio Liberty in Russia and for other Russian-speaking audiences, is still off the air. "We are greatly concerned with the cancelling of Kristina Gorelik's human rights program 'A Man Has A Right' at the Radio Liberty (RL) Russian Service, which she had since 2003," Lyudmila Alekseyeva wrote to the BBG. "There is no substitute for the 'A Man Has A Right' on the air and on the website of the RL Russian Service," Alekseyeva noted.
There is also an appalling coincidence to this outrageous treatment of a highly-respected journalist and winner of the Moscow Helsinki Group 2012 Journalism Prize for her previous human rights reporting on Radio Liberty: the termination of Kristina occurred at the same time as she became the target of a truly vicious personal attack on a Russian anti-Semitic Internet site, where she was labeled as "an enemy of the Russian people," a member of Radio Liberty staff, and a Jew. It is not clear whether her enemies are aware that she was fired by Radio Liberty's Russian Service management.
[
Link
to an anti-Semitic image from a Russian nationalist website. (WARNING: This image is offensive — do not open if you could be offended.)]
Anastasia Kirilenko – Journalist Who Exposed Putin's Corruption Fired by Radio Liberty
Another no less disturbing treatment was accorded to Anastasia Kirilenko, an investigative reporter who then worked for Radio Liberty from Paris, and earlier had conducted a series of interviews with Marina Salye — a lawmaker who accused Vladimir Putin of corruption when they both worked in St. Petersburg. Her bio on the Perugia International Journalism Festival describes Kirilenko's 2010-2012 Putin investigation as "one of the best achievements of the Radio Liberty Russian Service in recent years." It also notes that in December 2012 "Kirilenko left Radio Liberty in solidarity with her colleagues, victims of the mass firings ordered by the station's American management." She was later rehired only to be fired again earlier this year.
Anastasia Kirilenko's recent interview with Maksim Freidzon, a businessman and a former friend of Vladimir Putin, also containing some compromising details about Russia's president, was rejected by the Russian Service director as "not meeting the Radio's standards." Anastasia was accused of negligence and her contract was rescinded. Her interview was later published in Russia, as well as in some Western media, and is enjoying high popularity online.

Vladimir Abarbanel – Mentor to Radio Liberty Regional Correspondents Fired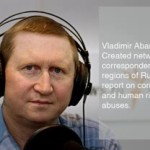 The latest termination at Radio Liberty's Russian Service is that of Vladimir Abarbanel. His six-month contract was ended only a few days ago. Vladimir is the person who is responsible for putting together a network of local correspondents in the various regions of Russia since 1998. Much of this network was lost after the terminations of 2012, when in protest against the mistreatment of employees some local Radio Liberty reporters refused to work for the organization. After he was brought back on a short-term, renewable contract, Vladimir managed to restore the bulk of the network. He is an irreplaceable producer of the regional input on Radio Liberty, as well producer of live online TV reports. In what sources described as a private conversation, the Russian Service manager is reported to have told him that the reason for his termination was that "Radio Liberty is moving forward, and you are behind."

Management By Fear And Intimidation

The procedure for the dismissals and termination of contracts of Radio Liberty journalists in Russia and the language in which the management communicates with them are identical and in many ways reminiscent of the 2012 mass firing. The Russian Service director makes a short phone call to the staff member with a six-month contract and informs her or him that the contract will not be renewed. In other cases, a staff member with a permanent contract is summoned by the company lawyer in Moscow who says that the employee should resign voluntarily because Radio Liberty must conduct staff reductions in Russia. The company lawyer offers a short term, part-time contract instead.
Radio Liberty's human rights reporter Kristina Gorelik on principle refused to take part in this scheme: there are no staff reductions being forced on Radio Liberty in Putin's Russia.
An important detail: the company's lawyer in Moscow who fired Kristina Gorelik and made threatening accusations, participated as a witness at the Moscow court hearings where Kristina's case against RFE/RL was being heard. He was not called by the court as a defendant. He is a well-connected person in Russia's legal circles. And he is the same lawyer who had conducted the terminations of Radio Liberty journalists in the Moscow bureau back in 2012.
Of course all decisions concerning the staff are within the area of responsibility of the current management of the Russian Service and RFE/RL's top management. An outside observer may think that they are dictated by the need to develop Internet outreach to compensate for radio broadcasting, which was largely lost in 2012. But these are in fact experienced journalists who are highly competent across all media, as they demonstrated these skills again and again. After the mass firing in 2012, they were brought back after the management under Kevin Klose verified their professional training, their abilities and dedication to Radio Liberty's mission.
The last point has become important, particularly during the last few years as the information war launched by Russia against the West has intensified. Possibly the most relevant and fine point in this whole story is this: the new Russian Service management lacks the ability to treat the staff — people who are absolutely devoted and loyal to Radio Liberty — with concern, compassion and empathy for their difficult status in Russia or to be able to show them the respect they deserve. Considering how already threatened any independent-minded journalists are in Putin's Russia, especially reporters employed by RFE/RL, a new wholly inappropriate management style has been introduced in Radio Liberty's Russian Service through questionable terminations, psychological pressure, and daily scandals on trivial grounds. Add to this the concealing and the distortion of information from the Broadcasting Board of Governors in Washington about staff dissatisfaction and poor employee morale which affects the quality of program content.
The current treatment of Radio Liberty journalists is not only a violation of decent work ethics, this is a violation of Radio Liberty's ideals of supporting labor rights and the rule of law. It is contrary to RFE/RL's media freedom mission. Such arbitrary behavior on the part of Radio Liberty's Russian Service management would be more expected from Putin's cronies than from an American company funded by U.S. taxpayers to provide uncensored information and to defend those who are denied the right to defend themselves. This includes now some of the best, the most loyal and the most vulnerable Radio Liberty's journalists in Russia. They are under threat from both sides.
### ### ###
BBG Watch
After being fired in September 2012 and falsely accused by the then management of lacking digital skills, Radio Liberty journalists in Russia launched an ultimately successful multimedia campaign to win back their jobs. They formed a media organization called "Radio Svoboda-in-Exile," a news website and a Facebook page.
The current Russian Service management reportedly tried to put pressure on Kristina Gorelik to make the site and the social media page disappear, but she is said to have responded that she was not in control of these sites, and even if she were, destroying historical record would be contrary to RFE/RL's journalistic principles.
At least one senior level RFE/RL executive who had participated in the selection of Radio Liberty Russian journalists to be fired in 2012 (they included some of the most popular reporters and commentators such as Mikhail Sokolov who has not been fired the second time) is believed to be still with RFE/RL. A Russian Service manager who is now in a key position sent a message in 2012 to an American journalist who tried to defend Radio Liberty reporters, chastised him for his efforts and urged him to stop. Several top-level BBG executives who had contributed to the 2012 crisis, or at least ignored it until it escalated and seriously damaged U.S. image in Russia and in the entire region, are still enjoying their high-paying BBG positions. They have not been put on six-month contracts, nor can they be, although they can be fired for poor performance after given a chance to improve. As high-level Senior Executive Service (SES) U.S. government employees, their employment rights are well protected, unlike the rights of Radio Liberty's journalists in Russia who can be fired at any time, for no reason at all. Some of these executives are also believed to have been responsible for launching a smear campaign against BBG members, now former, who tried to repair the damage at RFE/RL in 2012 and 2013.
This is a video fired Radio Liberty reporters in Russia produced in November 2012.
Radio Liberty in Exile
In a December 28, 2012 OnlineTV.ru interview with then fired Radio Liberty journalist Mikhail Sokolov, Russian opposition leader and former Deputy Prime Minister Boris Nemtsov discussed the importance of human solidarity in the face of injustice and repression. Boris Nemtsov said that many people had expressed their support for fired Radio Liberty journalists in Russia, just as in the spirit of solidarity they had supported pro-democracy demonstrators who were being arrested by the Russian police. Mikhail Sokolov who interviewed Boris Nemtsov was one of the Russian journalists suddenly fired by Radio Free Europe / Radio Liberty American management in September 2012. Most of the fired Radio Liberty journalists were rehired in 2013 by the new RFE/RL management headed by Kevin Klose who was appointed by the Broadcasting Board of Governors (BBG), a federal agency in Washington. RFE/RL is a media organization with an international outreach funded by U.S. taxpayers. It is overseen by the BBG.
The RFE/RL management in 2012 falsely asserted that fired Radio Liberty journalists were incapable of doing digital media, including TV
Some of the Radio Liberty journalists in Russia fired in 2012 and later rehired are now being again fired by the RFE/RL Russian Service management in a similarly callous fashion. Mikhail Sokolov is not among those who were recently fired.
Boris Nemtsov was assassinated in Moscow on February 27, 2015. Fired Radio Liberty journalists have little chance of finding decent paying journalistic jobs in Putin's Russia. Managers in Prague and Washington who have fired them or allowed it to happen enjoy safe and well-paying paying positions funded by U.S. taxpayers to promote respect for democracy and human rights in countries without free media.