BBG Watch Commentary
On Monday, May 1, supporters of press freedom in China and in the United States may have an opportunity to ask Broadcasting Board of Governors (BBG) CEO John F. Lansing about the recent censorship of a Voice of America Mandarin Service broadcast to China in which an interview with Chinese businessman turned whistleblower Guo Wengui was cut short on orders of VOA executives while he was discussing corruption among Chinese Communist Party officials.
VOA executives, VOA director Amanda Bennett and VOA deputy director Sandy Sugawara who are both Obama administration holdovers as is Mr. Lansing, took this action after the Chinese government protested against Mr. Guo being interviewed by VOA.
VOA executives deny that they caved in to pressure from Beijing and insist that they were only concerned with protecting journalistic standards, but many Chinese were appalled by this action and see it as censorship.
Journalists in the VOA Mandarin Service strongly opposed the management's decision to cut the interview short and tried everything they could to continue the live conversation with Mr. Guo. They were forced to interrupt the live interview at the beginning of the second hour.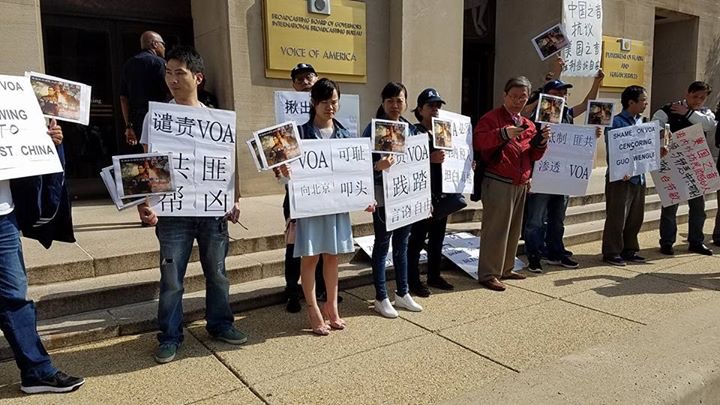 A protest demonstration by Chinese Americans, former Chinese dissidents and Chinese students was held in front of the VOA building in Washington, DC. They called the VOA director's decision shameful.
To participate in the event at which BBG CEO John Lansing is scheduled to speak, advocates of press freedom need to register following the instructions provided below.
###
BBG Announcement
Join the Broadcasting Board of Governors (BBG) and The George Washington University School of Media & Public Affairs for a conversation about the role of US international journalists, defending press freedom, and protecting journalists.
Date
Monday, May 1st, 2017
Time
8:15 AM – 9:00 AM (EDT): registration and networking breakfast
9:00 – 11:00 AM (EDT): program
Location
The George Washington University
Elliott School of International Affairs
City View Room, 7th Floor
1957 E Street, NW
Washington, DC 20052
Host
Frank Sesno, Director, GW's School of Media & Public Affairs
Keynote
Ambassador D. Bruce Wharton, Acting Under Secretary for Public Diplomacy and Public Affairs, Department of State
Panelists include:
John F. Lansing, CEO & Director, Broadcasting Board of Governors
Elise Labott, Global Affairs Correspondent, CNN
Michael Oreskes, Senior VP of News and Editorial Director, NPR
David Smith, Washington Correspondent, The Guardian
Maryam Bugaje, Multimedia Broadcaster, Voice of America Hausa Service
Setareh Derakhshesh, Director, Voice of America Persian Service
Mike Eckel, Senior Washington Correspondent, Radio Free Europe/Radio Liberty
Bay Fang, Executive Editor, Radio Free Asia
Omar Fekeiki, Managing Editor, "Raise Your Voice" Digital, Middle East Broadcasting Networks
Nada Alwadi, Assignment Editor of Community Managers, "Raise Your Voice" Digital, Middle East Broadcasting Networks
This #BBGWPFD event is free, but registration is required:
We hope you can join us.
For questions or further information, contact the BBG's Office of Public Affairs at
202-203-4400, publicaffairs@bbg.gov.
Broadcasting Board of Governors
330 Independence Ave., SW
Washington, DC 20237
END OF BBG Announcement