BBG Watch Commentary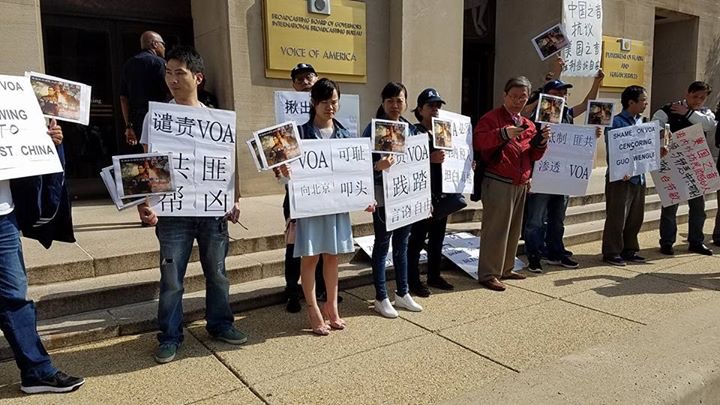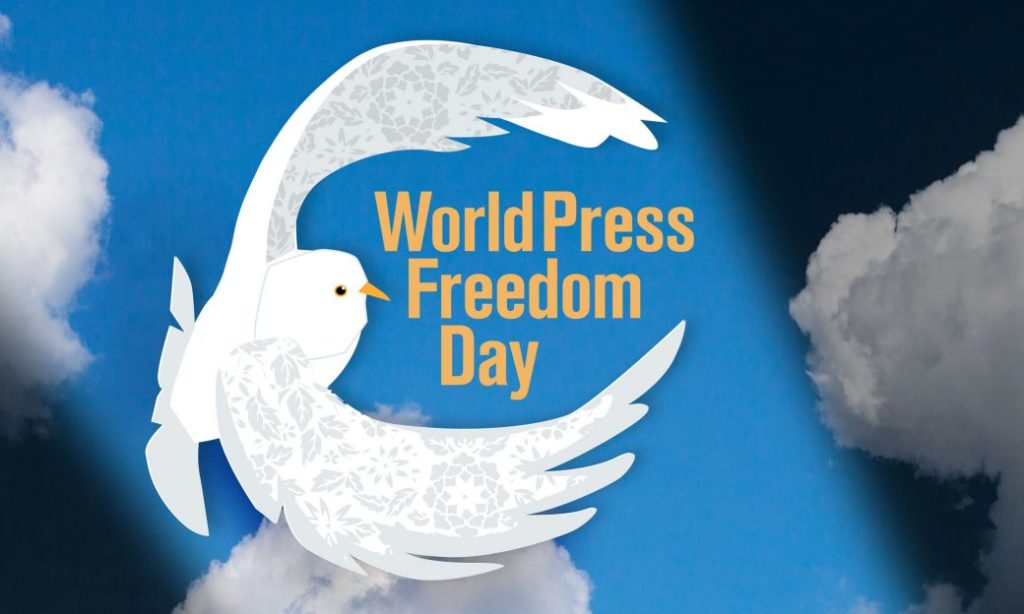 BBG Watch has drafted some questions which we hope former CNN correspondent Frank Sesno will pose to Broadcasting Board of Governors (BBG) CEO John Lansing at the World Press Freedom Day: A conversation with BBG & GWU on Monday, May 1. Frank Sesno is a journalist of many years who no doubt cares about his reputation and would not want the upcoming event at the George Washington University to be turned into a BBG public relations maneuver designed to mislead rather than to inform American public which pays almost a billion dollars a year for the Voice of America (VOA) and other BBG media outreach programs.
The BBG with its bloated bureaucracy costs American taxpayers more than the cost of the entire U.S. propaganda effort during World War II in today's dollars. The current BBG budget is greater than the annual budgets of the Voice of America (VOA) and Radio Free Europe (RFE) and Radio Liberty (RL) in today's dollars during most of the Cold War. In 2013, then Secretary of State Hillary Clinton called the BBG "practically defunct." The bureaucracy expanded even further under John Lansing who added to the already multilayer management structure the new position of VOA deputy director. Critics say that with so many managers in charge at the BBG and VOA, no one is in fact in charge, judging by multiple news reporting failures and various programming and management scandals.
1. The Voice of America has suffered a major blow to its reputation in China when VOA Mandarin Service journalists were forced to cut short an interview with Chinese businessman turned whistleblower Guo Wengui. They were ordered by VOA director and deputy director to shorten the interview and did so but only under a strong protest. This is a typical comment among thousands on social media in response to VOA's action, which happened after the Chinese government strongly objected to VOA interviewing Mr. Guo.
J. Zhang

When I heard Sasha Gong and Fred Wang say: "because of special reasons we must stop our interview…," my feeling was exactly as same as when I heard the announcement of the Chinese communist government on the eve of 04.06.1989 [Tienanmen Square Massacre]. Tears were in my eyes. I just don't know if it was for Mr. Guo's fate, the deaths of 04.06.89, or for the death of VOA –because VOA was my beacon through all the dark nights when I was in China.
QUESTION: What does Mr. Lansing have to say in response to thousands of such comments and how does he explain the actions of VOA director and deputy director?

2. Ann Noonan, Executive Director of the independent, nonpartisan NGO Committee for U.S. International Broadcasting (CUSIB – cusib.org) made recently the following statement to the BBG Board:
ANN NOONAN: Whether you are a Democrat or a Republican, a VOA reporter — who must be ALWAYS perceived as unbiased — is completely out of line telling in public a sexist joke about the First Lady, lampooning the President's daughter simply for being a woman, or calling Mr. Trump an F-word in a public Facebook post. Mr. Lansing should not have told NPR that, I quote, "we have the greatest respect for the President." End quote.

VOA's credibility and the agency's funding by taxpayers have been seriously undermined under his watch. Human rights defenders in Russia, China, and Iran will be the victims if bipartisan support for VOA and the agency completely evaporates as a result of such irresponsible behavior."
QUESTION: How does Mr. Lansing respond to Ms. Noonan's charge that he and the VOA director Amanda Bennett have allowed an unprecedented level of partisanship to infect Voice of America programs?
QUESTION: In light of some VOA reporters posting memes on their personal but publicly accessible Facebook pages showing Donald Trump with a Nazi swastika, as a sex organ, calling him an F-word and making jokes about him, his wife, and his daughter at a party in a VOA building while on official time, as well as attacking an independent dog watch website, does Mr. Lansing still maintain that they have the greatest respect for the U.S. President and for free media under his watch?

Ms. Noonan also made this statement:
ANN NOONAN: We would like the BBG Board to discover and report to the American public why countless BBG and VOA management elements and managers have, for years, followed and legitimized a VOA Persian Service Twitter account, which VOA now admits was fake and established by an impostor.

How is that possible at the agency that is supposed to exist as a counterweight to fake news?

Scores of BBG's own reporters as well as outside journalists were fooled by this phenomenal management failure.
QUESTION: Can Mr. Lansing explain how the head of the VOA Persian Service was for several years unaware of a fake Twitter account in her name that was followed by her own service, BBG and VOA managers, VOA reporters and many other journalists?

3. Ms. Noonan also made these observations:
ANN NOONAN: We were also stunned by the VOA director's Facebook post highlighting a blatantly false claim from a Somali pirate who told VOA that he was not a pirate. As someone observed, VOA used to take pride in interviewing Vaclav Havel who told the truth. It now takes pride in interviewing a hostage taker who told lies.

Equally baffling was the VOA director's post praising a VOA report which compared information being given out by the White House to the press to — I quote — "manure."

Other VOA reports we have seen imply, to poorly-informed audiences abroad, Stalin-like persecutions in the United States under President Trump. RFE/RL posts with anti-Israel themes from Iran border on being anti-Semitic. They all distort history and trivialize real human rights violations and threats to democracy.
QUESTION: How does Mr. Lansing respond to such charges?
QUESTION:How does Mr. Lansing explain that in the latest 2016 Office of Personnel Management (OPM) Federal Employee Viewpoint Survey (FEVS) while he was already in charge of the agency BBG federal employees gave the management even lower ratings in the categories of "Leadership" and "Employee Engagement" and the agency continues to be at the bottom of federal agencies in employee morale?
QUESTION: How does Mr. Lansing respond to a comment from a VOA English Newsroom journalist that VOA's own worldwide web traffic numbers for individual VOA news reports are so low that even a newspaper in a small American city would be ashamed if it had similarly low number of views?

Here is more information about the event for those who may want to register to attend it and pose their own questions to BBG CEO John Lansing and other panelists:


BBG Watch Commentary
On Monday, May 1, supporters of press freedom in China and in the United States may have an opportunity to ask Broadcasting Board of Governors (BBG) CEO John F. Lansing about the recent censorship of a Voice of America Mandarin Service broadcast to China in which an interview with Chinese businessman turned whistleblower Guo Wengui was cut short on orders of VOA executives while he was discussing corruption among Chinese Communist Party officials.
VOA executives, VOA director Amanda Bennett and VOA deputy director Sandy Sugawara who are both Obama administration holdovers as is Mr. Lansing, took this action after the Chinese government protested against Mr. Guo being interviewed by VOA.
VOA executives deny that they caved in to pressure from Beijing and insist that they were only concerned with protecting journalistic standards, but many Chinese were appalled by this action and see it as censorship.
Journalists in the VOA Mandarin Service strongly opposed the management's decision to cut the interview short and tried everything they could to continue the live conversation with Mr. Guo. They were forced to interrupt the live interview at the beginning of the second hour.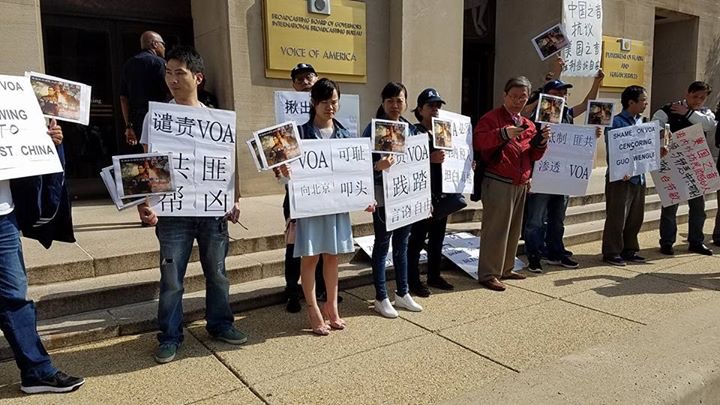 A protest demonstration by Chinese Americans, former Chinese dissidents and Chinese students was held in front of the VOA building in Washington, DC. They called the VOA director's decision shameful.
To participate in the event at which BBG CEO John Lansing is scheduled to speak, advocates of press freedom need to register following the instructions provided below.
###
BBG Announcement
Join the Broadcasting Board of Governors (BBG) and The George Washington University School of Media & Public Affairs for a conversation about the role of US international journalists, defending press freedom, and protecting journalists.
Date
Monday, May 1st, 2017
Time
8:15 AM – 9:00 AM (EDT): registration and networking breakfast
9:00 – 11:00 AM (EDT): program
Location
The George Washington University
Elliott School of International Affairs
City View Room, 7th Floor
1957 E Street, NW
Washington, DC 20052
Host
Frank Sesno, Director, GW's School of Media & Public Affairs
Keynote
Ambassador D. Bruce Wharton, Acting Under Secretary for Public Diplomacy and Public Affairs, Department of State
Panelists include:
John F. Lansing, CEO & Director, Broadcasting Board of Governors
Elise Labott, Global Affairs Correspondent, CNN
Michael Oreskes, Senior VP of News and Editorial Director, NPR
David Smith, Washington Correspondent, The Guardian
Maryam Bugaje, Multimedia Broadcaster, Voice of America Hausa Service
Setareh Derakhshesh, Director, Voice of America Persian Service
Mike Eckel, Senior Washington Correspondent, Radio Free Europe/Radio Liberty
Bay Fang, Executive Editor, Radio Free Asia
Omar Fekeiki, Managing Editor, "Raise Your Voice" Digital, Middle East Broadcasting Networks
Nada Alwadi, Assignment Editor of Community Managers, "Raise Your Voice" Digital, Middle East Broadcasting Networks
This #BBGWPFD event is free, but registration is required:
We hope you can join us.
For questions or further information, contact the BBG's Office of Public Affairs at
202-203-4400, publicaffairs@bbg.gov.
Broadcasting Board of Governors
330 Independence Ave., SW
Washington, DC 20237
END OF BBG Announcement