BBG Watch Commentary
@zhaoyan818 棺材上还有来自低于光之兄弟群体的星光层的存有:棺才上那个弧形的光源 pic.twitter.com/nO766Sp8AV

— Vivian (@wy513888) May 8, 2017
A group of Chinese Americans staged a mock funeral today, May 8, 2017, at the Voice of America (VOA) headquarters building in Washington, DC in protest against what they and many democracy supporters in China see as censorship and caving in to pressure from the Chinese communist government by the senior management of the U.S. taxpayer-funded media outlet run by the Broadcasting Board of Governors (BBG) federal agency.
An amateur video of the protest was uploaded to YouTube.
During today's protest, the demonstrators placed funeral wreaths in front of the VOA federal building and carried a mock coffin with an American flag draped over it. Protesting against the shortening of a recent VOA interview about corruption among Chinese communist officials, the demonstrators in front of the Voice of America building said that as far as freedom of the press and freedom of expression are concerned, in their view VOA is now dead in China.
美国之音安息了 pic.twitter.com/pTrztwq7gy

— 赵岩 (@zhaoyan818) May 8, 2017
Five Voice of America Mandarin Service journalists were placed last week on administrative leave with pay over the live interview with Chinese whistleblower Guo Wengui pending an investigation initiated by the senior management. Despite their protests, the Mandarin Service journalists were ordered to shorten the live interview on TV and Facebook by VOA director Amanda Bennett. They were reportedly told that they were not following proper journalistic standards by not asking Chinese communist officials for a response to any allegations in advance of the airing of the live interview.
VOA Mandarin Service posted Bennett's explanation of the incident in full. In angry comments left on the VOA website, Chinese web users referred to the official VOA statement as "Lies," "Shameful," and "Despicable" and used other sarcastic and angry phrases critical of the VOA management. One of VOA Mandarin Service journalists told Bennett during a meeting with the service last week that the damage to VOA's reputation in China as a result of the decision to shorten the pre-announced three-hour live interview with Guo Wengui was unprecedented and "unbelievable" in its scope. Senior executives deny being responsible for causing the crisis over the interview and are investigating the journalists instead.
Bennett also categorically denies that her decision to shorten the previously announced three-hour long interview was due to pressure from the Chinese government or ordered by the Trump administration. She, her deputy Sandy Sugawara, and their boss, BBG CEO John Lansing, have been appointed to their positions during the Obama administration.
Chinese Americans and others also staged a protest in front of the VOA building in Washington last week.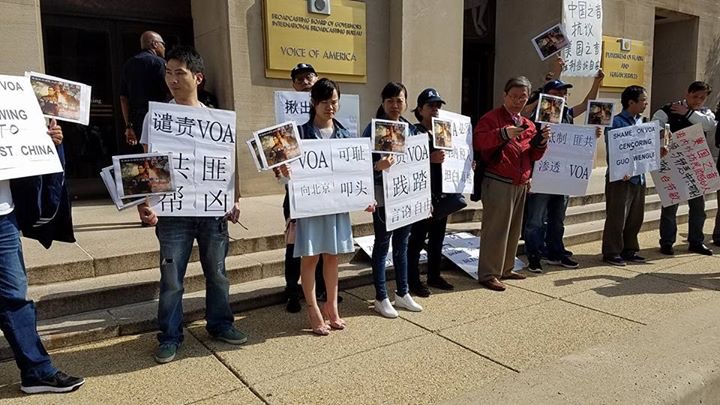 ###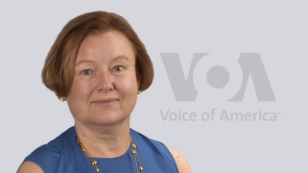 VOA STATEMENT ON GUO WENGUI INTERVIEW
From: IBB Notices Admin
Sent: Friday, May 5, 2017 11:42:47 AM
To: IBB Notices Administration
Subject: VOA Statement on Guo Wengui Interview
Friends,
As you may be aware, there has been a lot of attention to a recent interview conducted by VOA Mandarin. In response to media inquiries on the matter, the following statement was issued and also shared at a VOA Mandarin town hall earlier this week.
VOA Statement on Guo Wengui Interview
VOA Mandarin Service Chief Sasha Gong and four other Mandarin Service employees have been placed on administrative leave pending a full investigation. Scott Stearns, managing editor in the VOA Africa division, will be the acting Mandarin Service chief until further notice. The decisions regarding the interview with Guo Wengui were made by a group of senior VOA leaders led by director Amanda Bennett and included deputy director Sandy Sugawara, program director Kelu Chao, and East Asia division director Norm Goodman. At no time during the decision-making process was there any management consideration of not doing the interview, nor of cutting short an ongoing interview for any reason. The decisions were based on the journalistic principles of verification, balance and fairness that are standard industry practice and apply universally to all VOA services. There are no special exemptions for individual services to follow different practices. There was no input whatsoever from the U.S. government, nor would the firewall permit any such input. Pressure from the Chinese government played no role in any decision-making. VOA and the BBG have decades'-long histories of producing full fair and balanced journalism in the face of even the most extreme pressures.
My best,
Amanda
*************************
Amanda Bennett, Director
330 Independence Avenue, SW
Washington, DC 20237
END OF VOA STATEMENT
###
Statement of Sasha Gong, Dong Fang, Bao Shen, and Su Li

We, the four Voice of America journalists who have been placed on administrative leave pending a VOA internal investigation, believe that the incident regarding Guo Wengui's interview has seriously undermined VOA's integrity and credibility as a US media outlet, and damaged the US national interests.

We request the following:

An independent, fair, and comprehensive federal investigation on the incident of the interview with Guo, the Chinese businessman-turned whistleblower who intended to expose how Chinese state security agencies control huge sum of financial assets for ruling the country and injecting influence around the world.

We request the investigation by authorities independent from Voice of America to cover all parties involved in the incident, including the VOA top management.

The issues to be investigated should be:

Has the VOA top management caved in to the Chinese government's threat and demand to cancel VOA's original interview and broadcast plan. If so, how?

Is there a possibility of the Chinese government being able to exercise influence within VOA, especially the East Asia Division?

The Guo interview incident is only the latest example of a series of events and changes happened in the VOA Chinese Branch in recent years that have systematically undermined the effectiveness of VOA broadcasting to China and demoralized the staff in the Branch.


声明

美国之音中文部龚小夏、东方、宝申、李肃

我们四名美国之音中文部被以莫须有的罪名停职的记者发表声明如下。美国之音正在就郭文贵采访停播事件进行调查。我们认为,这次停播事件严重地损害了美国之音作为媒体的声誉,损害了美国的国家利益。我们要求:

联邦政府对爆料的原中国商人郭文贵采访停播的事件进行公平与全面的调查。在原定的采访中,郭文贵要暴露中国的安全机构如何为统治国家而控制了大量的财富,并且通过这些财富在全世界施加影响。

我们要求独立于美国之音的联邦机构来从事调查,调查的对象应该包括所有卷入的人员,包括美国之音的高层。
下面两个问题必须得到回答:

(1)美国之音高层是否屈服于中国政府的压力而取消了原定的采访与广播计划?如果是的话,具体是怎样操作的?

(2)美国之音,特别是其东亚部,是否被中国政府渗透?

郭文贵采访被中断的事件仅仅是最近几年美国之音中文部发生的一系列系统地损害美国对华广播、导致工作人员士气低落的最新例子。

END OF STATEMENT
###