BBG Watch Commentary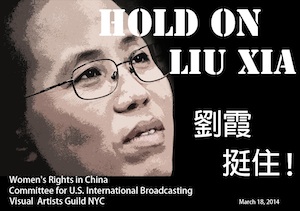 The independent Committee for U.S. International Broadcasting (CUSIB – cusib.org) is co-sponsoring "HOLD ON LIU XIA!" to raise concerns for Liu Xia at a special event at the Museum of Tolerance in New York City.
Liu Xia, a Chinese intellectual, painter, poet, and photographer, has been under arbitrary house arrest for three years under orders from China's government, solely due to the fact that her husband, Liu Xiaobo, was the 2010 Nobel Peace Prize Laureate. "Her health is deteriorating day by day as she suffers political persecution and human rights abuses under China's Regime," a press release from the sponsors of the event says. In addition to CUSUB, the other sponsors of the event are: Women's Rights in China and Visual Artists Guild New York Chapter.
CUSIB has been active in urging better news coverage of human rights abuses around the world by U.S. taxpayer-funded international media outlets, such as Voice of America (VOA), and other U.S. domestic and international media.
CUSIB Director Ted Lipien told BBG Watch that news reports by Voice of America, Radio Free Asia (RFA), Radio and TV Marti, Radio Free Europe / Radio Liberty, Alhurra TV, Radio Sawa and other media focusing on the plight of human rights prisoners can literally save lives.
BBG Watch has learned that CUSIB Advisory Board members were astounded that VOA has not yet reported online on its English-language worldwide news website on the U.S. State Department statement (Saturday, March 15, 2014) that "the United States is deeply disturbed by reports that rights activist Cao Shunli has passed away at a hospital in Beijing."
The State Department statement may have been reported by the VOA Chinese Service, but it has not been reported by the vast majority of VOA's more than 40 language services.
BBG Watch noted that VOA English news website failed to report on the State Department's statement that also said: "We continue to be concerned about the human rights situation in China and will continue to urge Chinese authorities to guarantee all Chinese citizens the protections and freedoms to which they are entitled under China's international human rights commitments."
VOA English news website had a short report on Cao Shunli's death but not on the U.S. State Department's reaction. Such news failures by Voice of America can literally cost other political prisoners in China and in other countries their lives because government officials and prison officials are not being made aware of the world's concern for these individuals, Lipien explained. Lipien is a former VOA acting associate director.
CUSIB PRESS RELEASE
FOR IMMEDIATE RELEASE

March 17, 2014

Independent Committee for U.S. International Broadcasting Co-Sponsors 'HOLD ON LIU XIA!'

HOLD ON LIU XIA!
Tuesday, March 18, 2014 from 3:00-5:00pm
Museum of Tolerance located at 226 East 42nd Street, New York, NY 10017

During Women's History Month, we celebrate the lives of women who have made outstanding contributions to the global Advancement of Women. Even more, we are concerned about women who are mentally and physically tortured under authoritarian governments.

Liu Xia, a women of conviction, has been under arbitrary house arrest for three years under orders from China's government, solely due to the fact that her husband was the 2010 Nobel Peace Prize Laureate. Her health is deteriorating day by day as she suffers political persecution and human rights abuses under China's Regime.

Women's Rights in China, the Committee for U.S. International Broadcasting, the Visual Artists Guild's New York Chapter, and other civil society NGOs in China and in the United States are organizing "Support Liu Xia" to raise concerns for Liu Xia at a special event at the Museum of Tolerance New York City. This event will include a video, photography slide show, and poetry readings.

Organizers and participants hope to raise international attention and gain public support for Liu Xia through this open and free discussion, so Liu Xia can break free from China's brutal regime and be allowed to live with dignity and basic human rights to which all women and all members of the human family are entitled.

For further information, please contact :

Jing Zhang, Executive Director of Women's Rights in China: wrchina2007@gmail.com
Ann Noonan, Executive Director of Committee for U.S. International Broadcasting:annnnoonan@hotmail.com
Peggy Chane, President of Visual Artists Guild New York Chapter chane@cpcentertainment.com