BBG Watch Commentary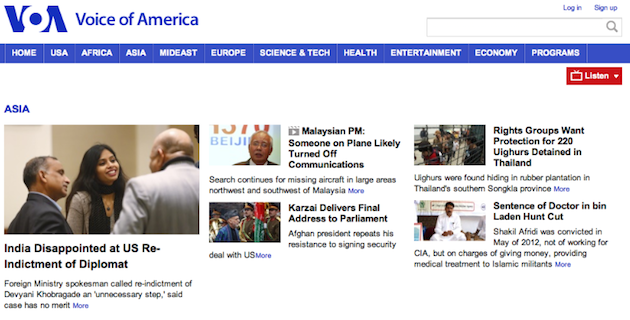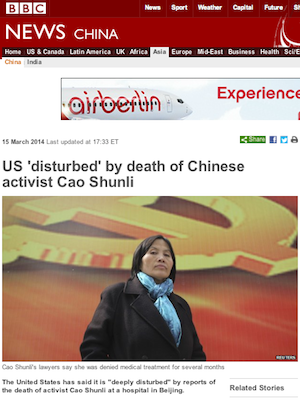 In yet another of many news reporting failures, U.S. taxpayer-funded Voice of America (VOA) has not yet reported on the U.S. State Department statement today (Saturday, March 15, 2014) that "the United States is deeply disturbed by reports that rights activist Cao Shunli has passed away at a hospital in Beijing."
As of 6:00PM EDT, the news of the U.S. State Department's reaction to the death of Cao Shunli does not appear on the VOA English news website. The news has also not appeared on the VOA Chinese news website. VOA had reported earlier that Cao Shunli had died.
The protest from the U.S. over the death of Cao Shunli has been a top news story on the BBC website.
US 'disturbed' by China rights death
Sat, Mar 15, 2014
Source: BBC World News (UK)
There have been multiple incidents of late and superficial news reporting by Voice of America, especially on its English language news website, but not only, in recent months and years.
It took Voice of America more than six hours Friday to report on Vice President Biden's planned trip to Poland and Lithuania next week to discuss Ukraine and NATO security issues.
The news of Biden's trip had appeared first on BBC and Voice of Russia websites several hours before VOA mentioned it only briefly for the first time. Voice of Russia and Vatican Radio devoted full-length reports to Biden's announced trip, while VOA posted only two sentences.
Voice of America also did not report Friday on the day's meetings and talks in Kyiv by a large U.S. Senate delegation led by Senators Dick Durbin and John McCain.
Despite numerous protests from VOA correspondents themselves, VOA management team, headed by VOA Director David Ensor and VOA Executive Editor Steve Redisch, has not developed an effective system for reporting news from the White House and the State Department after business hours and on weekends. News reporting in general has been neglected by these executives and poorly managed, frustrated VOA reporters told BBG Watch. They also complain of a hostile work environment and poor employee morale.
With resources being hoarded by VOA and International Broadcasting Bureau (IBB) executives, not shared with program producers and not directed to program production, a very small group of VOA newsroom and web employees is simply incapable of updating news despite their best efforts, sources told BBG Watch. In addition, managers in charge are hostile and do no listen to any constructive criticism from VOA journalists, sources also told BBG Watch.
Press Statement

Jen Psaki
Department Spokesperson

Washington, DC
March 15, 2014

The United States is deeply disturbed by reports that rights activist Cao Shunli has passed away at a hospital in Beijing. We offer our condolences to her family.

Chinese authorities detained Cao Shunli in Beijing on September 14 while she was on her way to participate in civil society meetings in preparation for China's Universal Periodic Review last October. We have repeatedly raised our concerns about Cao Shunli's detention, including her deteriorating health, with Chinese authorities.

We continue to be concerned about the human rights situation in China and will continue to urge Chinese authorities to guarantee all Chinese citizens the protections and freedoms to which they are entitled under China's international human rights commitments.