BBG Watch Commentary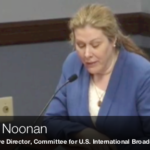 In an article published in the October International Edition of Radio World magazine, Ann Noonan, Executive Director of the Committee for U.S. International Broadcasting (CUSIB – cusib.org), calls for reforms of federally-funded media outreach programs overseas to better manage free flow of uncensored news to nations and groups that most need it.
The article describes management shortcomings at the International Broadcasting Bureau (IBB) and the Voice of America (VOA). Both are part of the federal agency known as the Broadcasting Board of Governors (BBG), which has a nine-person bipartisan board.
After a recent meeting with new Broadcasting Board of Governors Chairman Jeff Shell, Noonan expressed hope that he will undertake management reforms at IBB and VOA.
The front page of the October issue of Radio World has a photo of Jeff Shell's meeting with CUSIB Advisory Board members.
The article outlines some of the steps CUSIB belives are necessary to make the BBG more effective in its international media outreach. Noonan defends the mission of BBG's surrogate broadcasters, such as Radio Free Asia (RFA), Radio Free Europe / Radio Liberty (RFE/RL), and Middle East Broadcasting Networks (MBN).
Noonan's article in Radio World can be accessed at these links:
http://www.nxtbook.com/nxtbooks/newbay/rw_20131009/index.php#/28
http://www.nxtbook.com/nxtbooks/newbay/rw_20131009/index.php#/29