USAGM Watch Commentary
Ted Lipien, former Voice of America (VOA) acting associate director (2006), who during his 34-year international broadcasting career was also VOA Eurasia Division director (2003-2005), Broadcasting Board of Governors (BBG) [U.S. Agency for Global Media (USAGM) since 2018] Regional Marketing director for Eurasia based in Munich Germany and Prague, Czech Republic from 1993 until 2003, and VOA Polish Service chief from 1981 until 1993, wrote an op-ed for The Washington Examiner about past and current threats to security of VOA journalists. Lipien, who is also a co-founder of BBG – USAGM Watch, argues in his op-ed that a small group of current and some former VOA central English newsroom journalists are dangerously naive because of their poor knowledge of history and credulous notions about such countries as China, Russia, Iran, Cuba, North Korea and quite a few others.
According to Lipien, these countries ruled by communist, authoritarian or totalitarian regimes represent now a serious threat to the security of VOA journalists, particularly those working in foreign language services, which the 14 signatories of the August 31, 2020 letter to VOA Acting Director Elez Biberaj don't seem to take seriously. Several more current and former government agency employees signed the letter later, bringing the total number to about 40 among thousands of reporters, most of them foreign-born, who have worked for VOA with great distinction, often sacrificing their own and their families' safety. Very few VOA journalists born and educated abroad who are most vulnerable to threats from foreign governments have signed the letter originated by the 14 VOA central English newsroom reporters. Lipien argues that USAGM CEO Michael Pack is right in taking seriously warnings from the Office of Personnel Management (OPM) and the Office of the Director of National Intelligence (ODNI) that his predecessors at USAGM and VOA did not carry out proper security screenings for about 40 percent of agency's employees. "If they did" follow proper procedures, Lipien wrote, "VOA would not have hired a Russian TV reporter who had produced earlier anti-U.S. propaganda videos with anti-semitic conspiracy theories" and could have been spared multiple other scandals and damage to its credibility.
Dangerously naive VOA journalists make fools of themselves
In December 1953 the first Voice of America Chief News Editor and writer Howard Fast received the Stalin Peace Prize.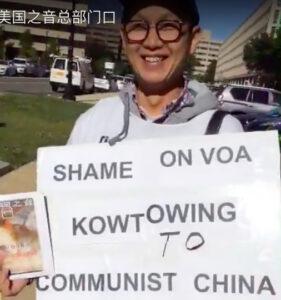 The partial photo shows a Chinese-American demonstrator holding a sign "Shame on VOA for Kowtowing to Communist China." He was protesting in front of the Voice of America headquarters in Washington, D.C.on May 8, 2017 against former VOA director Amanda Bennett's decision to cut short a live interview with a Chinese whistleblower who wanted to expose Chinese communist regime's intelligence and influence buying operations in the United States. Three VOA Mandarin Service journalists were subsequently fired for opposing the shortening of the interview. The VOA central English newsroom journalists did not come to their defense.