EXCLUSIVE BBG – USAGM Watch Commentary News
BBG – USAGM Watch was able to confirm that Jeff Shell, former Broadcasting Board of Governors (BBG) chairman, has resigned his position on the Board of Governors of the U.S. Agency for Global Media (USAGM). He resigned on September 30 by sending a letter of resignation to President Trump.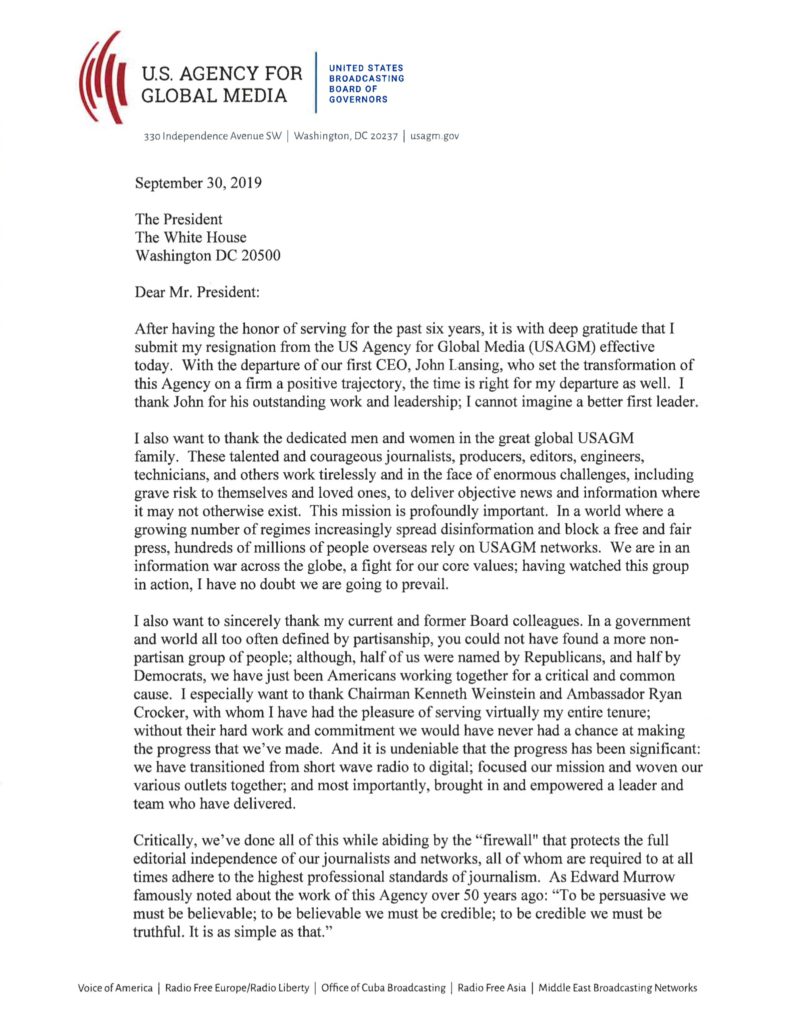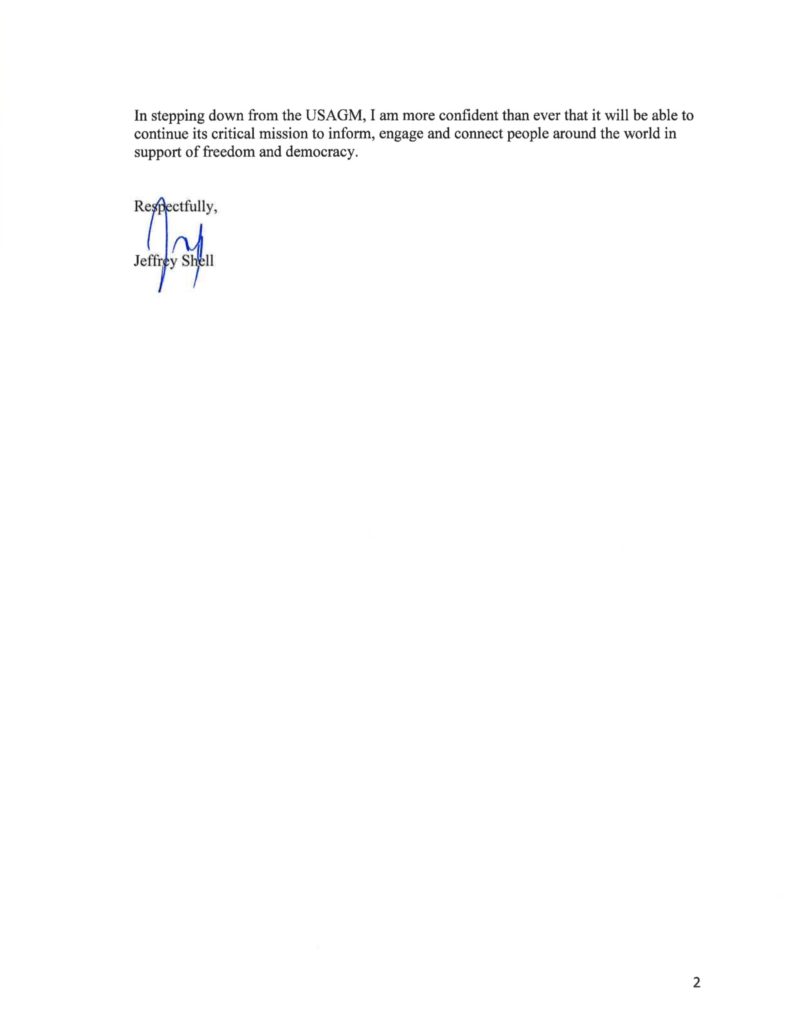 While serving on the BBG/USAGM board, Jeff Shell had and still has an important day job in the film industry in Hollywood as chairman of Universal Filmed Entertainment. The Broadcasting Board of Governors was renamed the U.S. Agency for Global Media in August 2018.
The official USAGM website now shows Jeff Shell as a former USAGM Board Governor, but the agency apparently has not posted an official announcement about his resignation. According to another well-informed source, Shell offered to resign numerous times over the past couple of years, but former USAGM CEO John Lansing and current USAGM Board chairman Kenneth Weinstein persuaded him to stay.
Shell apparently concluded that with Lansing's departure at the end of September, it was the right time for him to leave as well.
Shell has always expressed his full confidence in Lansing's leadership even after reports of multiple scandals at the agency, especially at the Voice of America (VOA) under VOA director Amanda Bennett and deputy director Sandy Sugawara working Lansing's watch. The Voice of America did not report on Shell's resignation from the agency's oversight board.
Some critics expressed reservations about Shell's business activities in China as a corporate film executive while the agency is in charge of Voice of America (VOA) and Radio Free Asia (RFA) broadcasting and other media outreach to China.
Several former BBG members had business interests in both China and Russia, which worried media freedom associates. Such business activities were permitted for BBG/USAGM board members under U.S. law.
The bipartisan board, which should have nine members appointed by the President and confirmed by the U.S. Senate, now has only six members. Only one of them, Secretary of State Mike Pompeo, was appointed during the Trump administration. The Secretary of State is the ex officio member of the USAGM Board of Governors.
The current bipartisan USAGM board, now has a clear Republican majority. If all members were still serving until they are replaced, the board would only have a majority of one member in favor of the party of the U.S. President.
Other than the Secretary of State, all other currently-serving members, both Democrats and Republicans, were nominated by President Obama.
The Assistant Secretary for Public Affairs usually serves as the Secretary's representative on the Board. It is currently Michelle S. Giuda, Assistant Secretary for Bureau of Public Affairs. The current Republican USAGM Board chairman is Kenneth Weinstein.
The current board, regardless of its now reduced size, continues to serve with oversight functions until the U.S. Senate confirms a presidential nominee to be the agency's new CEO and Director.
Michael Pack, an award-winning PBS film documentarian and former Worldnet Television director in the former U.S. Information Agency (USIA) who is President Trump's nominee, has been waiting for his Senate confirmation for many months, with some Democratic senators reportedly blocking his confirmation vote. Democratic critics fear right-wing bias if Pack is confirmed, but reports of scandals indicate unprecedented radical anti-Republican partisanship and violations of the VOA Charter under VOA director Amanda Bennett and her deputy Sandy Sugawara who were selected for their positions during the Obama administration under John Lansing's watch.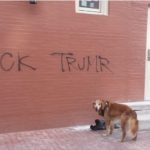 As Lansing was telling the National Public Radio (NPR) in a February 10, 2017 interview, "It's our job is to report all sides of a story and we have the greatest respect for whoever is the President, and their point of view is something that's newsworthy and we report that," social media posts and memes by some of VOA English newsroom U.S. federal government reporters showed Donald Trump with a swastika and as a sex organ, and described him with using F-words–something that would not be tolerated by most commercial U.S. media outlets, both conservative and liberal.
Lansing and VOA director Bennett were warned about such behavior months earlier but took no effective action to stop it completely.
During the 2016 U.S. presidential election campaign the service translated, produced and posted on the official VOA Ukrainian social media page a video by Hollywood actor Robert De Niro calling the then Republican Party presidential candidate Donald Trump "punk," "dog," "pig," "con," "buls**t artist," "mutt," "idiot," "fool," "bozo," and "blatantly stupid." The one-sided De Niro political video was later removed after critics wrote to Bennett, Lansing and members of the Broadcasting Board of Governors that it violated the VOA Charter, the 1976 U.S. law which requires VOA news to be accurate, objective and comprehensive and "represent America, not any single segment of American society."
Once the new CEO is confirmed by the Senate, the current or any future USAGM board will only work in an advisory capacity.
Grant Turner, who has no substantive media, journalism, foreign policy or public diplomacy experience, now serves as CEO and Director on an interim basis until the Senate confirms a CEO who would then be appointed by the President.
September 30, 2019

The President
The White House
Washington DC 20500

Dear Mr. President:

After having the honor of serving for the past six years, it is with deep gratitude that I submit my resignation from the US Agency for Global Media (USAGM) effective today. With the departure of our first CEO, John Lansing, who set the transformation of this Agency on a firm a positive trajectory, the time is right for my departure as well. I thank John for his outstanding work and leadership; I cannot imagine a better first leader.

I also want to thank the dedicated men and women in the great global USAGM family. These talented and courageous journalists, producers, editors, engineers, technicians, and others work tirelessly and in the face of enormous challenges, including grave risk to themselves and loved ones, to deliver objective news and information where it may not otherwise exist. This mission is profoundly important. In a world where a growing number of regimes increasingly spread disinformation and block a free and fair press, hundreds of millions of people overseas rely on USAGM networks. We are in an information war across the globe, a fight for our core values; having watched this group in action, I have no doubt we are going to prevail.

I also want to sincerely thank my current and former Board colleagues. In a government and world all too often defined by partisanship, you could not have found a more non-partisan group of people; although, half of us were named by Republicans, and half by Democrats, we have just been Americans working together for a critical and common cause. I especially want to thank Chairman Kenneth Weinstein and Ambassador Ryan Crocker, with whom I have had the pleasure of serving virtually my entire tenure; without their hard work and commitment we would have never had a chance at making the progress that we've made. And it is undeniable that the progress has been significant: we have transitioned from short wave radio to digital; focused our mission and woven our various outlets together; and most importantly, brought in and empowered a leader and team who have delivered.

Critically, we've done all of this while abiding by the "firewall" that protects the full editorial independence of our journalists and networks, all of whom are required to at all times adhere to the highest professional standards of journalism. As Edward Murrow famously noted about the work of this Agency over 50 years ago: "To be persuasive we must be believable; to be believable we must be credible; to be credible we must be truthful. It is as simple as that."

In stepping down from the USAGM, I am more confident than ever that it will be able to continue its critical mission to inform, engage and connect people around the world in support of freedom and democracy.

Respectfully,



Jeff Shell
Here is more information on former Democratic BBG Board chairman Jeff Shell from the official USAGM website. The date of his resignation from the USAGM Board is not listed but it is believed to be September 30, 2019.
Jeff Shell

(Former) Board Member

Jeff Shell is chairman of Universal Filmed Entertainment.

He previously served as chairman of NBC Universal International from 2011-2013 and as president of Comcast Programming Group from 2005 to 2011. Prior to joining Comcast, Shell held a number of positions, including CEO of Gemstar TV Guide International and President of the FOX Cable Networks Group. As president of the FOX Cable Networks, he oversaw the operations of FOX's entertainment and sports cable programming businesses. He currently serves on the board of the National Constitution Center. Shell earned a B.S. in Economics and Applied Mathematics from the University of California, Berkeley and an M.B.A. from Harvard University.

Shell chairs BBG's Advisory Committee and served as chair of the Special Committee on the Creation of a Chief Executive Officer.

He was confirmed to the board on August 1, 2013 and served as Chairman of the Broadcasting Board of Governors on August 1, 2013 and served in that position until January 25, 2017.
Here is more information from the USAGM website about now former USAGM CEO John F. Lansing. A 2009 graduate of Bellarmine University in Louisville, Kentucky, Lansing resigned at the end of September to take over as CEO of National Public Radio (NPR).
Lansing's appointment was not subject to Senate confirmation under previous rules. There were reports of many scandals at age agency under his watch. His right-hand man and chief strategic advisor, Dr. Haroon Ullah, pled guilty recently to stealing money from the U.S. government while working for Lansing who brought him to the agency. Lansing was apparently completely unaware of the crimes being committed by his close associate.
John F. Lansing
(Former) Chief Executive Officer and Director

John F. Lansing joined the BBG in September 2015 after nine years as President of Scripps Networks, where he is credited with guiding the company to become a leading developer of unique content across various media platforms including television, digital, mobile and publishing.

As President of Scripps Networks, Lansing was responsible for strategic and operational oversight of the $2.5 billion division of Scripps Networks Interactive, including the company's portfolio of six cable networks—Food Network, HGTV, Travel Channel, DIY, Cooking Channel and Great American Country—and the $100 million Scripps Networks Digital division. Prior to joining Scripps Networks in 2004, Lansing was Senior Vice President for Television in the broadcasting division of the E.W. Scripps Company, managing the company's portfolio of 10 network affiliated television stations. Earlier, he held various senior management positions at Scripps-owned affiliates, including WEWS TV in Cleveland, Ohio and WXYZ TV in Detroit, Michigan.

Most recently, Lansing was President and Chief Executive Officer of Cable & Telecommunications Association for Marketing (CTAM), a marketing association comprised of 90 of the top U.S. and Canadian cable companies and television programmers. There, Lansing oversaw the development of business strategies and marketing initiatives that position cable television companies for continued growth as they compete with emerging digital content platforms.

Lansing also brings a deep understanding of journalism from roles as an award- winning Photojournalist and Field Producer, Assignment Manager, Managing Editor, and News Director at several television stations earlier in his career. Lansing is currently Vice Chair of the Bellarmine University Board of Trustees and was named to the Bellarmine Gallery of Distinguished Graduates in 2010. He serves on the National Advisory Board of the Bellarmine University's Institute for Media, Culture & Ethics; National Council for Media and Public Affairs of George Washington University School of Media & Public Affairs; and is a member of the Quinnipiac University School of Communications Advisory Board.

Lansing began his career at age 17 as a news photographer at WPSD- TV in Paducah, Kentucky.
Here is more information from the official InsideVOA.com website about the Voice of America (some critics dispute accuracy of VOA's audience and impact claims).
FAST FACTS
HEADQUARTERS: Washington, DC
BUDGET: $250.06M (FY19)
EMPLOYEES: 982
LANGUAGES: 47
AUDIENCE: 275 million weekly MEDIA: Radio, television, mobile
and the Internet
PURPOSE: To broadcast accurate, balanced, and comprehensive news and information to an international audience
FACILITIES: 10 broadcast TV studios,
32 video editing suites, 21 radio broadcast studios including 3 designed for radio on TV, 7 for Facebook Live and 1 for live musical events. 20 radio production and
recording studios, 26 professional audio mixing and dubbing stations. Radio and TV facilities for master control, recording, scheduling, feed intake and graphic production.
HISTORY: Broadcasts began in 1942 as a response to the need of peoples in closed and war-torn societies for reliable news.
Here is more information about the U.S. Agency for Global Media from the USAGM official website (critics question accuracy of USAGM's audience and impact claims).
For Fiscal Year (FY) 2020, the U.S. Agency for Global Media (USAGM) is requesting $628.1 million to pursue its mission to inform, engage and connect people around the world in support of freedom and democracy.

USAGM's Role in U.S. Foreign Policy

Serving as America's civilian international media agency, USAGM is comprised of the Voice of America (VOA), Radio Free Europe/Radio Liberty (RFE/RL), Radio Free Asia (RFA), Alhurra TV and Radio Sawa (under the Middle East Broadcasting Networks – MBN) and Radio and TV Martí (under the Office of Cuba Broadcasting – OCB). These five dynamic, modern networks provide content through digital platforms, television, and radio in 60 languages to more than 100 countries.

The USAGM networks advance U.S. national interests and universal values of freedom by providing audiences in closed societies, or where free media is not yet fully established, with consistently accurate and compelling journalism and other content that opens minds and stimulates debate. U.S. international media demonstrates to the world the values of American society: freedom, openness, rule of law, democracy, and hope.