BBG Watch Commentary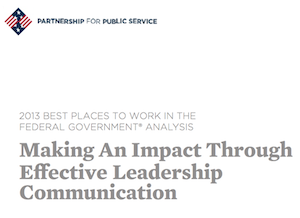 A just released study by the Partnership for Public Service found that the Broadcasting Board of Governors (BBG) managers, including Voice of America (VOA) executives, are again dead last among mid-size federal agencies in internal communication skills. SEE: Worst Agencies for Internal Communication, Ian Smith, FedSmith.com, July 31, 2014.
These are the same managers who are in charge of U.S. communication outreach to the world at the BBG.
They work for the BBG's International Broadcasting Bureau (IBB), a constantly growing bureaucratic and support division while broadcasts and media positions are being cut, the Voice of America, and the Office of Cuba Broadcasting (OCB) in charge of Radio and TV Marti. Non-federal and considered better-managed BBG media entities, which include Radio Free Europe / Radio Liberty (RFE/RL), Radio Free Asia (RFA) and Middle East Broadcasting Networks (OCB) in charge of Radio Sawa and Alhurra TV, do not participate in the survey.
Making An Impact Through Effective Leadership Communication
Executives at the Broadcasting Board of Governors have problems communicating not only with their employees. During testimony on January 23, 2013 before the House Foreign Affairs, chaired by Rep. Ed Royce (R-CA), then Secretary of State, Hillary Clinton stated that the "Broadcasting Board of Governors is practically defunct in terms of its capacity to be able to tell a message around the world. So we're abdicating the ideological arena and we need to get back into it."
A bipartisan bill now pending in Congress would abolish the International Broadcasting Bureau and reform the BBG.
In the Best Places to Work in the Federal Government study, "the Partnership for Public Service and Deloitte considered three questions from the Office of Personnel Management's (OPM) 2013 Federal Employee Viewpoint Survey to measure employee satisfaction with leadership communication in their agencies. The questions covered the communication of goals and priorities, the information provided to different work units and employee satisfaction with information they receive regarding what is taking place in the organization."
The scores for mid-size agencies range from 68.8 percent at the Federal Deposit Insurance Corporation (FDIC) to 41.3 percent at the Broadcasting Board of Gover-nors (BBG). "Low levels of employee satisfaction with leadership communication in 2013 go hand-in-hand with lower employee satisfaction scores across-the-board," the Partnership for Public Service reports.
The BBG board under its new chairman Jeff Shell has installed a new, three-person management team at the International Broadcasting Bureau. The new team (one person has since left the agency) is viewed as somewhat better, but there have been no replacements of key managers at the Voice of America, where employee morale is dismally low and journalists are deeply unhappy with senior executives, sources told BBG Watch. In a satirical "Dear John Letter from VOA Girl" posted on the BBG Watch site, an anonymous Voice of America journalist called on VOA senior staff to leave if they care what's best for the organization.
Best Places to Work analysis shows that employee satisfaction with their leaders' communication is low and has been dropping on average across the federal government. The 2013 government-wide leadership communication index score is 50.2 out of 100, indicating that only half of the federal workforce is satisfied with the level of communication it is receiving from those in leadership positions at their agencies. This score represents a 3.9 point drop since 2009. The BBG improved its own score slightly last year, but it continues to be at the bottom of the list.
The BBG is still rated as the worst mid-size agency for internal communication even though IBB and VOA executives gave employees time off and offered them other incentives, such as a bingo night at a federal building, to encourage employees to participate in the survey and to give the agency a better rating. They may have gotten a few more managers to rate themselves as being good, but that did not change the overall lowest score for the BBG among all mid-size federal agencies.
In an apparent attempt to improve employee morale, the BBG issued a contract to hire onsite personal fitness trainers while at the same time cutting many Voice of America, Radio Free Asia, and Radio Free Europe / Radio Liberty shortwave radio transmissions to Asia and the Middle East. VOA managers failed to inform VOA program hosts about these cuts. On August 18, the BBG plans to cut medium wave (AM) radio transmissions to Belarus, a country that lacks free media and is considered to be the last dictatorship in Europe. BBG STATEMENT OF WORK FOR ONSITE FITNESS TRAINERS.
Observers point out that the BBG's score would have been even lower if hundreds of full-time contract employees, who are poorly-paid and lack both benefits and legal protections, would be included in the survey. These contractors have been illegally employed by IBB and VOA managers, the Office of the Inspector General (OIG) and IRS concluded.
The OIG's September 2013 preliminary report concluded that the Agency's use of Purchase Order Vendors violates a prohibition in the Federal Acquisition Regulations against hiring "personal services contractors" without statutory authorization.
Contractors, known as Purchase Order Vendors (POVs) and Personal Services Contractors (PSCs) represent a substantial portion — 35% — of BBG's current workforce. Expenditures for contractors total approximately $36 million on an annual basis — roughly 70% of the Voice of America's annual general operating expenditures (independent of salary funds). The Voice of America relies on approximately 660 contractors to support program production in 45 language services, the English Central News function, and in technical capacities for broadcast Operations. In most circumstances, these contractors are performing the same mission critical work as federal employees. The majority of VOA's contractors work 40 hours a week, and some, roughly 15%, have contracted with BBG for 5 years or more.
The Internal Revenue Service (IRS) concluded in its 2010 tax audit of BBG's use of POV that the Agency should have treated its POVs as employees for tax reporting purposes, including withholding income and Social Security taxes from POVs.
Read more: Government media board facing inquiry over hiring protocol, Jim McElhatton, The Washington Times, May 3, 2014.
Also read: Independent Auditor's Report on the Broadcasting Board of Governors 2013 Financial Statements (AUD-FM-IB-14-14), OIG, February 19, 2014.
Also read: Management Letter Regarding the Audit of the Broadcasting Board of Governors (BBG) 2013 Consolidated Financial Statements – (AUD-FM-IB-14-15), OIG, April 1, 2014.
Also read: OIG alleges massive Anti-Deficiency Act violations by IBB officials, BBG Watch, February 10, 2014.
SEE: Gambling U.S. federal style – Bingo at Voice of America while Ukraine burns lacking U.S. news, BBG Watch, January 26, 2014.
Members of Congress who voted unanimously in the House Foreign Affairs Committee and on the House floor Monday to pass in a voice vote the United States International Communications Reform Act (H.R. 4490) to improve the missions, objectives, and effectiveness of U.S. international broadcasters. The bipartisan legislation, introduced on April 28, 2014 by Rep. Ed Royce (R-CA) and Rep. Eliot Engel (D-NY, includes the following finding:
SEC. 2. FINDINGS AND DECLARATIONS.

Congress finds and declares the following:

(…)

"The annual survey conducted by the ''Partnership for Public Service'' consistently ranks the Broadcasting Board of Governors at or near the bottom of all Federal agencies in terms of ''overall best places to work'' and ''the extent to which employees feel their skills and talents are used effectively.'' The consistency of these low scores point to structural, cultural, and functional problems at the Broadcasting Board of Governors."
ALSO READ: Voice of America wasted estimated millions on improper contract payments, Radio Free Asia gets clean bill of health, BBG Watch, May 3, 2013.