BBG Watch Commentary
With increasing demands for Republican presidential candidate Donald Trump to come clean about accusations against him of business ties to President Vladimir Putin's Russia, the same can be said about some past and current members of the bipartisan Broadcasting Board of Governors (BBG), the $777 million (FY 2017) oversight federal body in charge of Voice of America (VOA) and Radio Free Europe/Radio Liberty (RFE/RL) media outreach to Russia, China, and to other countries ruled by repressive governments which practice press censorship.
During the Cold War, VOA, RFE and RL played a major role in exposing and countering Soviet propaganda. No one in her or his right mind would have proposed then putting Armand Hammer, an American businessman known for his close business ties to the Soviet Union, in charge of U.S. funded broadcasts to countries behind the Iron Curtain.
However, a current, highly flawed law, passed in 1994 allows presidentially-nominated and Senate-confirmed members of the Broadcasting Board of Governors to be at the same time in charge of private U.S. companies that do business in Russia and China and make millions of dollars for these companies engaging in such business activities. Under this law, such business dealings in Russia or China may be perfectly legal, but they do raise serious conflict of interest issues, at least as far as U.S. government's and U.S. taxpayers' interests are concerned. The law was passed over 20 years ago when many still thought that the end of history had arrived and countries like Russia and China would fast become Western democracies. That turned out not to be true. In fact, Russia is now engaged in a major propaganda and disinformation offensive against the West, but the 1994 law has not been significantly changed to eliminate such real and potential conflicts of interest or to make the BBG effective in countering Putin's and ISIS' propaganda.
The Foreign Relations Authorization Act, Fiscal Years 1994 and 1995, Public Law 103-236, says:
"Members of the Board appointed by the President shall be citizens of the United States who are not regular full-time employees of the United States Government. Such members shall be selected by the President from among Americans distinguished in the fields of mass communications, print, broadcast media, or foreign affairs."Public Law 103-236, Passed Congress/Enrolled Bill: Apr 29, 1994. Download Public Law 103-236 (PDF).
This flawed law, because it does not contain any conflict of interest clauses, clearly allows and even encourages appointments to the BBG board of U.S. private sector media executives who may have substantial business interests in Russia or China. If this is a big problem for Donald Trump and/or his closest advisors, it is also a big problem for the Broadcasting Board of Governors.
The potential conflict of interest issue came to light most recently when current BBG Chairman Jeff Shell, who in his private business career is chairman of Hollywood's Universal Filmed Entertainment, was expelled from Russia while apparently going there using his regular passport to discuss or to do private business in the country known to be ruled by the business mafia beholden to the Kremlin and President Putin. Mr. Shell was apparently also planning to represent the Broadcasting Board of Governors and the United States government during the same visit to Russia.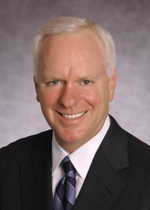 To make things worse, inexperienced in government service and foreign policy BBG CEO John F. Lansing, was traveling with Jeff Shell to Russia at the same time. Russian officials allowed Mr. Lansing to enter Russia together with longtime BBG executive Jeff Trimble and newly hired RFE/RL president Thomas Kent.
Mr. Lansing later issued a statement condemning Jeff Shell's expulsion. His statement could only be described as a coverup of Mr. Shell's real purpose of going to Moscow and of any role Mr. Lansing, Mr. Timble and Mr. Kent may have played in proposing and/or acquiescing to the ill-advised dual-purpose trip to Russia by the BBG chairman, and any role BBG officials and staff paid by U.S. taxpayers may have played in facilitating such travel.
Mr. Lansing, who has no prior experience in U.S. government service, international news media outreach, public diplomacy, foreign affairs or U.S. foreign policy, apparently could not conceive of the possibility of BBG Chairman being expelled from Russia in the current state of U.S.-Russia relations. Anybody with even minimal knowledge of U.S.-Russia relations who follows current developments would have known that such a provocation by the Russian government was more than likely after recent expulsions of diplomats and a beating of a U.S. diplomat by a Russian guard at the U.S. Embassy in Moscow. With their cavalier attitude, BBG officials were putting safety of a U.S. presidential appointee at risk, as well as their own safety.
Mr. Shell should have never traveled to Russia on private business. BBG bureaucrats should have, in any case, strongly discouraged his private business travel, urged him to use his official passport on any BBG/U.S. government-related travel, and applied for a diplomatic Russian visa for him in case such travel would be urgently needed. Russia is not a slightly lapsed democracy or a nearly democratic country until about four or five years ago; it is a major, autocratic power hostile to the United States and the West that has been ruled by President Putin and the ex-KGB/FSB mafia for many years.
In his statement, Mr. Lansing called Mr. Shell's expulsion "blatant aggression," but failed to mention that he himself was allowed to visit Russia at the same time along with Mr. Trimble and Mr. Kent. Mr. Lansing also did not mention in his statement that his agency managers apparently invited Russian Foreign Ministry officials to a RFE/RL reception in Moscow which Mr. Shell was reportedly planning to attend.
Not surprisingly, these Russian officials did not show up at the RFE/RL party in Moscow after Mr. Shell's expulsion, but the bungling of his trip to Russia by Mr. Lansing, Mr. Trimble and others at the BBG was nothing short of spectacular. Newly appointed RFE/RL president Tom Kent, also inexperienced in U.S. government operations, was apparently likewise taken for a ride by BBG bureaucrats in Washington. Their actions even put the U.S. State Department in an awkward position of not knowing how to explain why Mr. Shell was traveling to Russia and what he was planning to do there.

Mark C. Toner, Deputy Spokesperson, U.S. State Department, Daily Press Briefing, Washington, DC, July 13, 2016:

REPORTER'S QUESTION: Well, it's my understanding that he was supposed to go to a reception or to ceremony today marking the – an anniversary for Radio Liberty in Moscow. That would seem to me that he was doing this not in his private capacity at NBCUniversal but rather in his capacity as chairman of the BBG.

MR TONER: Again, I don't want to read too much into this and I don't want to – I just – all I'm trying to say, Matt, is I don't have full Privacy Act clearance to go any further. And frankly, we're still trying to sort through the details of what actually happened. As to why he was denied, that's really something for the Russians to speak to. Whether we raised our concerns with the Russians – we did.

Yet, there was nothing technically illegal about Mr. Shell wanting to either discuss or do private company business in Russia while also leading the fight to counter Russian propaganda and disinformation. It is, however, a classic conflict of interest issue which neither Mr. Shell nor Mr. Lansing wants to admit, but which the U.S. Congress should deal with as soon as possible to eliminate it and to reform the entire ailing Broadcasting Board of Governors. Hillary Clinton, when she was still U.S. Secretary of State and herself an ex officio BBG board member, called the BBG "practically defunct."

SECRETARY OF STATE HILLARY CLINTON: "Our Broadcasting Board of Governors is practically defunct in terms of its capacity to be able to tell a message around the world. So we're abdicating the ideological arena, and we need to get back into it. We have the best values. We have the best narrative." – Secretary of State Hillary Clinton, January 23, 2013, Testimony to the House Committee on Foreign Affairs (Watch the video here.)

By the way, Jeff Shell is not the first BBG member doing or wanting to do private business in Russia. At least three former BBG members were also believed to be engaged in doing private business either in Russia or China, or both, while they were still serving on the BBG board.
It is important to keep in mind that Mr. Shell, other BBG members, and Mr. Lansing are not bad or unpatriotic Americans. They have the best intentions. They are highly successful private sector executives, but they are not necessarily successful U.S. government officials in charge of U.S. government-funded programs serving U.S. government's interests. They may believe that there is nothing wrong with American companies doing private business in Russia, China, or Cuba. That may be true in some cases and in some types of business dealings, but not necessarily true when doing private business in countries with odious governments and being at the same time in charge of U.S. government programs in support of liberty and democracy in the same countries.
Some of these BBG officials are out of their depth when it comes to U.S. government operations, foreign affairs, foreign policy and public diplomacy. Conflict of interest may exists whether there are good intentions or not. The individuals involved may not be in the best position to judge it, especially if they do not have prior government service and foreign policy experience. One cannot serve two masters at the same time. Any further privatization of U.S. international media outreach as still proposed by some in the U.S. Congress, which may have looked appealing when the Cold War ended, is certainly not the right approach now. Mr. Shell's dual government/private sector role is also not good for Universal Filmed Entertainment stockholders. It is important, however, to preserve semi-independent, non-government status of the surrogate broadcasters such as RFE/RL and Radio Free Asia (RFA) or else they will suffer even more damage from the incompetent government bureaucracy. The semi-private, surrogate status for broadcasters other than the Voice of America is actually far better than anything the BBG can offer.
Chairman of the House Foreign Affairs Committee, Rep. Ed Royce (R-CA) and the committee's Ranking Democrat, Rep. Eliot Engel (D-NY), had introduced a bipartisan bill, H.R. 2323, approved by all Republican and Democratic members of the committee but not acted upon by the full Congress, that could have eliminated the Broadcasting Board of Government along with the conflict of interest problem and would have reformed U.S. international media outreach. BBG Chair Jeff Shell and BBG CEO John Lansing later went on the record opposing the key reform provisions of the bill. The BBG is now in such a bad shape that President Obama fails to refer to the agency when he makes public statements about the need to counter ISIS and Putin propaganda and disinformation. While taking about ISIS propaganda at his latest press conference last Friday, President Obama made no mention of the Broadcasting Board of Governors, Voice of America, or BBG's Middle East Broadcasting Networks composed of Alhurra TV and Radio Sawa. Experts on Russian propaganda and disinformation also stopped making references to BBG programs as being in any way successful in countering such Russian propaganda outlets as RT.
It appears more and more obvious with each passing day that BBG Chair Jeff Shell and BBG CEO John Lansing have ignored repeated warnings from members of Congress, congressional staffers, some former BBG members and others who had told them not to rely on the advice of the entrenched BBG bureaucracy but to seek counsel elsewhere. U.S. government and taxpayers are paying a steep price for such poor judgment.
The Broadcasting Board of Governors has been left behind in the digital media war with Russia and China. A recent Washington Post article on Internet censorship in China failed to mention the BBG even once. According to Voice of America Director (VOA) Ms.Amanda Bennett's figures, less than 0.0001% Mandarin speakers, 0.0004% English speakers, 0.002% Spanish speakers, 0.006% Russian speakers, and 0.03% Persian speakers watched VOA's live online streaming of Republican Party presidential candidate Donald Trump's speech at the Republican National Convention in Cleveland, OH. Essentially the same results were for the Democratic Party convention. We calculated these percentages based on population numbers or the number of speakers, but the BBG still managed to post a press release showing the raw numbers as a sign of success.
We post a link to the full text of the H.R. 2323 bill. Some of the numerous problems with the BBG are listed in the preamble.


###