BBG Watch Commentary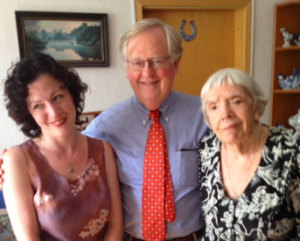 The International Republican Institute announced that its delegation to observe Ukraine's October 26, 2014 parliamentary elections, will be led by Ambassador Victor Ashe, former United States Ambassador to Poland and former Broadcasting Board of Governors (BBG) member, and Iveta Radičová, former prime minister of Slovakia.
Victor Ashe was confirmed by the U.S. Senate as a member of the bipartisan Broadcasting Board of Governors (BBG) on June 30, 2010 and served until August 1, 2013. Ambassador Ashe holds the distinction of being the longest serving mayor of Knoxville. During his time in office, from 1988 to 2003, he was the President to the U.S. Conference of Mayors from 1994 to 1995 and received their Distinguished Service Award for Leadership in 2003. Ashe served as the United States Ambassador to Poland from June 2004 to October 2009. In 2004, he was a Fellow at Harvard University's JFK Institute of Politics.
Established in April 1983, IRI is a nonprofit, nonpartisan organization committed to advancing freedom and democracy worldwide. IRI is not affiliated with the Republican Party, but it has prominent Republicans working for it.
IRI's Board of Directors is chaired by U.S. Senator John McCain and includes former National Security Advisor Brent Scowcroft, former Assistant Secretary of State for African Affairs Constance Berry Newman, former Chairman of the Republican Party Frank J. Fahrenkopf, Jr., members of the U.S. Congress, and individuals from the private sector with backgrounds in international relations, business and government.
IRI employs more than 400 people worldwide. In addition, IRI organizes hundreds of volunteers for international training and election observer missions.
IRI receives its funding through grants from the U.S. State Department, U.S. Agency for International Development, the National Endowment for Democracy, a number of European foundations and aid agencies and other Western countries, and the United Nations. Less than one percent of IRI's funding comes from private donations. IRI does not receive any money from the Republican Party.
###
IRI NEWS RELEASE
Washington, DC – The IRI today announced its delegation to observe Ukraine's October 26, 2014 parliamentary elections, will be led by Ambassador Victor Ashe, former United States Ambassador to Poland, and Iveta Radičová, former prime minister of Slovakia.

The October 26, 2014 parliamentary elections will see the country choose a new, post-Yanukovych parliament, and are an opportunity for the country to consolidate its democratic gains. Delegates will travel to Ukraine to monitor voting and ballot counting throughout the country. Following the voting, IRI will issue a statement on the findings of the delegation.

Other delegates who will observe the election are:

Nadia Diuk, vice president of programs for Africa, Central Europe, Eurasia, Latin America and the Caribbean at the National Endowment for Democracy;
Robert Kabel, lawyer with Fagr Baker Daniels;
James Kirchick, fellow at the Foreign Policy Initiative;
Gabrielius Landsbergis, member of European Parliament from Vilnius, Lithuania;
Anita McBride, executive in residence at the Center for Congressional and Presidential Studies at American University's School of Public Affairs and former chief of staff to First Lady Laura Bush;
Robert O'Brien, managing partner at Arent Fox, LLP;
Jan Pieklo, executive director of the Polish-Ukrainian Cooperation Foundation;
Daniel F. Runde, William A. Schreyer endowed chair at the Center for Strategic and International Studies;
Edward S. Verona, senior advisor at McLarty Associates; and
Olin Wethington, member of IRI's Board of Directors, founder and chairman of Wethington International LLC and former special envoy on China.

Prior to the election, delegates will be briefed by political party representatives and Ukrainian election officials. They will also be briefed on the rights and responsibilities of international observers and Ukrainian election law. Delegates will then be deployed throughout the country where they will observe polling stations and identify and evaluate strengths and weaknesses in Ukraine's election system, including campaign regulations, the balloting process, vote tabulation and reporting.

IRI has observed every election since Ukraine's independence in 1991, including the 1994, 1998, 2002, 2006, 2007 and 2012 parliamentary elections and the 1999, 2004, 2010 and 2014 presidential elections.

###