BBG – USAGM Watch Commentary
Domestic Propaganda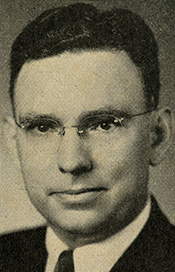 Cold War Radio Museum has posted on its website an article about early efforts by members of Congress to protect the U.S. taxpayer-funded and government-run Voice of America (VOA) from influence by Soviet Russia and from attempts by its journalists, who are federal employees, to engage in domestic partisan propaganda.
Rep. Howard H. Buffett

When Howard H. Buffett (R-NE), the father of the American billionaire investor, Warren Buffett, told the House of Representatives in 1947 that "the American people should have a free press and full information about the domestic-propaganda activities of their own Government," he was objecting to closed meetings, to which the State Department invited propaganda experts and representatives of private American organizations. U.S. media outlets were deliberately barred from covering these meetings.
The Smith-Mundt Act

Eventually, the U.S. Congress passed the 1948 Smith-Mundt Act which effectively prevented wide distribution of VOA broadcasts within the United States and to a large degree also prevented infusion of partisanship into VOA programs. Protections against biased journalism and partisanship were further enhanced with the passage of the 1976 VOA Charter.
However, some of the provisions of the Smith-Mundt Act and subsequent restrictive legislation were loosened in an amendment signed by President Obama.
Violations of VOA Charter

Since about 2016, the VOA Charter has been frequently ignored under the Obama administration appointees who are still in charge of the U.S. Agency for Global Media (USAGM). The agency was previously known as the Broadcasting Board of Governors (BBG). In 2013, the then Secretary of State Hillary Clinton referred to it as "practically defunct." It is still widely seen by both Republicans and Democrats in Congress as dysfunctional and poorly managed. One of its strongest critics was the former chairman of the House Foreign Affairs Committee, Rep. Ed Royce (R-CA).
Left-Wing Partisanship

While some of the left-leaning mainstream media has been reporting on the possibility of the Trump administration politicizing the Voice of America, the right-wing threat has not materialized. President Trump has not managed to get his nominee for USAGM CEO position to be confirmed by the U.S. Senate. One of the most under-reported stories about VOA is its partisan left-wing and anti-Trump radicalization under Obama administration appointees who remain in charge. Such partisanship has been unprecedented in VOA's history. More than 95 percent of the current partisanship represents extreme and often abusive anti-Trump rhetoric that violates both the VOA Charter and the VOA Journalistic Code.


VOA's Attacks on Trump

In 2016, the Voice of America versioned into a foreign language and placed on social media a pre-election propaganda video in which Hollywood actor Robert DeNiro called Donald Trump "punk," "dog," "pig," "con," "buls**t artist," "mutt," "idiot," "fool," "bozo," and "blatantly stupid." The video, which included no balancing content, remained online for a number of days and was only removed after outside protests were made to the BBG.
"Secret Voice of America Activity"

When Rep. Buffett told the House on June 9, 1947, a few days after members debated some of the provisions of the future Smith-Mundt Act, that Congress should investigate "home-front secret Voice of America activity" before it passes any more appropriations, such blatant violations of journalistic ethics and U.S. law were not tolerated, although VOA was guilty of promoting Soviet propaganda during World War II and failure to counter Soviet propaganda for several years after the war.
When he made his remarks to the House of Representatives in June 1974, Rep. Buffett was expressing long-lasting congressional concerns over possible misuse of VOA by the Executive Branch to propagandize to Americans. During World War II, the Office of War Information (OWI), where VOA radio broadcasts originated under various early names, was conducting domestic propaganda in support of the war. When members of Congress found out about it, they quickly eliminated most of the funding for the OWI's domestic branch even while the war with Japan and Germany was still continuing. The funding for overseas radio broadcasting was also reduced during the war but not as drastically as for domestic propaganda activities.
Fears of VOA being misused for domestic partisan propaganda continued after the war to a lesser degree than before. Members of Congress were eager to improve America's response to Soviet propaganda. They need to be reassured that VOA was no longer filled with Soviet and communist sympathizers as it was during World War II. Rep. Buffett also wanted to make sure that the State Department, where VOA was placed after the Office of War Information was eliminated in 1945, would not have any domestic propaganda role.
Rep. Howard H. Buffett (R-NE), June 9, 1947. "I would venture to suggest that Congress, before it passes any more appropriations for the State Department, or before it authorizes the so-called Voice of America, find out about this home-front secret Voice of America activity at the State Department. It may be that this iron curtain is small, unimportant, and justified but it is a bad sign."[ref]Howard H. Buffett, "State Department Meetings," 93 Cong. Rec. (Bound) – Volume 93, Part 5 (May 21, 1947 to June 11, 1947), June 9, 1947, 6621, https://www.govinfo.gov/content/pkg/GPO-CRECB-1947-pt5/pdf/GPO-CRECB-1947-pt5-13-2.pdf[/ref]
VOA Targeting Americans with Facebook Ads

Following the journalistic abuses by the Voice of America during the 2016 presidential campaign, an investigation conducted by the House Foreign Affairs Committee discovered that VOA illegally bought at U.S. taxpayers expense Facebook ads targeting Americans. The New York Times reported that Radio Free Europe / Radio Liberty (RFE/RL), which like the Voice of America is overseen by Obama-era USAGM CEO John F. Lansing, also engaged in targeting Americans with Facebook ads. The investigation was ordered by former Chairman of the House Foreign Affairs Committee, Rep. Ed Royce. He retired from Congress in January. The agency has seen in recent years an unprecedented level of violations of government rules and U.S. laws. Current VOA Director Amanda Bennett is an Obama administration era appointee. She reports to John Lansing.