BBG Watch Commentary
How do you call Donald Trump a pig in Ukrainian? U.S. taxpayer-funded ($224 million in FY 2017) Voice of America (VOA) will tell you in a specially versioned social media video with Ukrainian subtitles provided for the controversial comments made by actor Robert De Niro. De Niro's views of Trump are shared by many other Hollywood celebrities, but VOA did not bother to include in its video production any responses from any of Trump's political supporters, in particular the criticism of De Niro's attack by another actor Jon Voight. He is one of the few in Hollywood who defends the Republican presidential candidate. In its video, VOA Ukrainian Service also failed to explain which groups in America support and which oppose the Trump candidacy, and why, or the role of Hollywood celebrities and media in U.S. political campaigns. The way it was presented, the Ukrainian Service video was nothing more than an anti-Trump political hit piece produced with U.S. taxpayers' money by the U.S. government-run Voice of America.
Many current Voice of America journalists, former VOA editors and reporters and other outside observers, among them Republicans, Democrats and Independents, are appalled how this 100% U.S. taxpayer-supported government-run news organization has dropped its traditional, legally-mandated non-partisanship in reporting on U.S. presidential election campaigns and has become blatantly one-sided and biased under new, chaotic and inexperienced leadership of VOA director Amanda Bennett and Broadcasting Board of Governors (BBG) CEO John F. Lansing. The latest example of biased and partisan Voice of America election coverage is the VOA Ukrainian Service video with Ukrainian subtitles in which actor Robert De Niro calls Donald Trump "pig" and other names.
UPDATE: Since this BBG Watch commentary was published, VOA appears to have removed its De Niro-Trump Ukrainian video. BBG Watch has saved the video and this screenshot.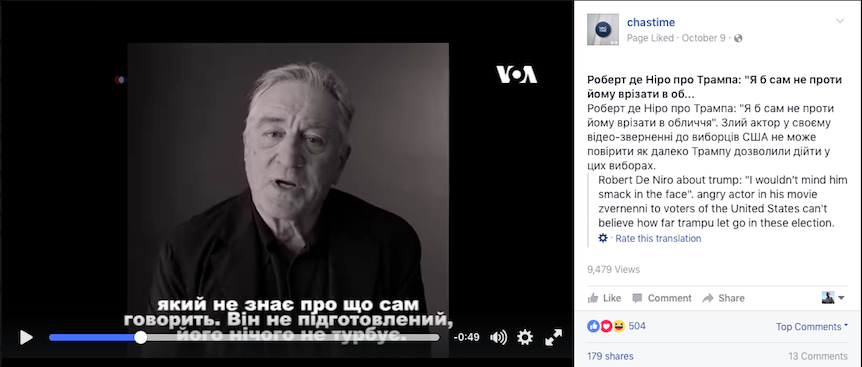 Even some fierce critics of Donald Trump among Voice of America's current and former employees, who strongly disagree with the Republican presidential candidate's expressed admiration for Russian autocratic ruler Vladimir Putin, have contacted BBG Watch to voice their concern that VOA's and BBG's management is dangerously undermining bipartisan support in Congress, and in the United States in general, for U.S. international broadcasting and other media outreach abroad. They object to partisan VOA reporting on serious issues, including legitimate criticism of Donald Trump, that can be and must reported on responsibly with balance and proper context for foreign audiences.
Even though by law the Voice of America is not supposed to target American audiences, since a significant portion of VOA's online traffic comes from the United States, biased reporting by VOA foreign language services and posting of political hit pieces can have an impact on voting by various ethnic groups in America. VOA English-language output also contains numerous one-sided political reports. About 50% of visitors to the VOA English news website come from the United States. Both Republicans and Democrats are concerned when the Voice of America engages in partisan reporting and undermines its credibility and effectiveness.
In 2013, Hillary Clinton, then U.S. Secretary of State and herself an ex officio BBG board member, had called the Broadcasting Board of Governors "practically defunct." BBG employees, including VOA journalists, have such a low confidence in the inexperienced Lansing-Bennett management team, that they gave them yet another low-mark on senior leadership skills in the annual OPM Federal Employee Viewpoint Survey (FEVS). As reported by Washington Post columnist Joe Davidson, "Broadcasting Board of Governors, another regular bottom-feeder that oversees the Voice of America and other government broadcasters…is going backward."

On October 9, VOA Ukrainian Service, in an apparent violation of the VOA Charter and its Journalistic Code, had posted online a political hit video without any context, countervailing balance or response. While it is understandable that many Ukrainians may dislike Donald Trump for his comments about Vladimir Putin, Russia and Crimea, the Voice of America cannot operate or be perceived as the voice of any single ethnic, religious or political group in the United States. This is expressly prohibited by the VOA Charter.
The Voice of America has become a much more chaotic place in recent months under Amanda Bennett and John Lansing, with VOA English newsroom and language services posting reports without any effective coordination and editorial control. While VOA Ukrainian Service has posted its anti-Trump De Niro video, our brief check on VOA Russian Service website and social media pages showed that the service apparently did not use the video, although we cannot be absolutely sure. Vladimir Putin and many Russians have a far more favorable view of Donald Trump than the Ukrainians.
We thought that VOA director Amanda Bennett was made aware of VOA's special legal status and obligations as America's voice to the world when she posted a comment on our website saying that "Like all American media, VOA is trying hard to cover the candidates and issues appropriately — neither pulling punches, nor exhibiting bias." The comment was somewhat questionable since almost everybody knows that not all American media are trying to be objective in their political coverage. Far from it, but some media outlets are trying to be fair. However, Ms. Bennett reportedly ordered anti-bias training for VOA journalists as a result of criticism from BBG Watch and others. She also said that "constructive criticism is always welcomed, as it helps us get better", adding that she welcomed any input that helps VOA "do a much better job in following our Charter's mandate to be impartial and fair." But since these promises were made, they were followed by posting of many one-sided VOA political news reports, some of which even received public praise from Ms. Bennett, thus contradicting her earlier promises and raising questions about her leadership and management skills. Neither Ms. Bennett nor BBG CEO and Director John Lansing has any prior experience in U.S. government operations, U.S. foreign policy or U.S. public diplomacy.
Since their arrival, VOA has been posting an increasing number of poorly produced "click bait" animal videos, some of them with misspellings in their captions. One of the most popular recent VOA videos was "Turtle Nesting in Mexico." Another popular VOA video, which was subsequently removed, showed a fat American cat. Another VOA video showed a 50 year-old giant tortoise eating watermelon on his birthday in Australia, all produced at U.S. taxpayers' expense. VOA journalists continue to complain about inexperienced leaders, poor management and low morale.
VOA Charter (Public Law 94-350) passed by the U.S. Congress and signed into law by President Gerald Ford on July 12, 1976 says that "VOA news will be accurate, objective, and comprehensive." It also says that "VOA will represent America, not any single segment of American society, and will therefore present a balanced and comprehensive projection of significant American thought and institutions."
VOA Journalistic Code says: "Whenever VOA reports a charge or accusation made by an individual or a group against another, or presents one side of a controversial issue, a response and/or balancing information will be included in the first use of a news item or feature containing that material."
By taking the video of Robert De Niro's attack on Donald Trump and producing its own report with added Ukranian subtitles but without any other content, explanation or balance, VOA Ukrainian Service appears to have violated both the VOA Charter and the VOA Journalistic Code.
As can be seen and heard in the Voice of America Ukrainian Service video posted on October 9 and in another VOA Ukrainian Facebook post on October 10, American actor Robert De Niro attacks Donald Trump, calling him "punk," "dog," "pig," "con," "buls**t artist," "mutt," "idiot," "fool," "bozo," and "blatantly stupid." VOA Ukrainian Service did not report at the same time that another Hollywood actor, Jon Voight, defended Donald Trump after De Niro likened him to a dog and also said that he wants to punch Trump the face.
I am so ashamed of my fellow actor Bobby DeNiro's rant against Donald Trump. What foul words he used against a presidential nominee. cont'd

— Jon Voight (@jonvoight) October 8, 2016
"Trump's words did not hurt anyone. Can you imagine if any Republican said words like Robert DeNiro used – against Hillary Clinton or Barack Obama? All hell would break loose," Jon Voight was quoted by The Daily Caller.
In response, De Niro called Voight "delusional," as reported by Britain's Independent and other media.
A review of the VOA Ukrainian Service website and social media pages shows that anti-Trump reports and posts are far out of proportion to the support Trump enjoys among a considerable segment of Americans and some of the conservative media. Jon Voight tweeted his comments on the evening of October 8. The Daily Caller report was online on October 9 at 10:35 am. VOA Ukrainian Service posted its video with Ukrainian subtitles of Robert De Niro's attack on Donald Trump on October 9 at 4:35 pm, many hours after content that could have provided some balance was available to its journalists.

Previous Violations of VOA Charter

On September 29, Voice of America posted a one-sided report about Burmese Americans which was highly critical of Republican presidential candidate Donald Trump and full of emotionally-charged accusations against him but offered no response or balance. The VOA report quoted highly critical comments about Trump, comparing him to military dictators, while also quoting comments praising Democratic presidential candidate Hillary Clinton. The VOA report did not include any statements or comments from any of Trump's supporters among Burmese Americans or any other ethnic groups in the United States.

Contradicting her own earlier advice to VOA journalists when she urged them to avoid political bias in their reporting on the U.S. election campaign and even ordered anti-bias training, VOA director Amanda Bennett in an e-mail she sent to staff a few days later (July 8) hailed a Spanish Service video report, which in a clear violation of the VOA Charter, presented only one side of the highly controversial illegal immigration issue in the United States.

Bernie Sanders supporters had complained last summer about one-sided Voice of America attacks on their candidate.
"VOA does not have the right to advocate for a particular candidate or even to attack one," political commentator Dan Wright wrote in an column titled, "US State Media Runs A Hit Piece On Bernie Sanders," posted last June on ShadowProof, a left-leaning investigative reporting website. "That is not within its charter, nor should any US citizen have to subsidize their own defamation," Wright added.
As BBG Watch commentators have said before, it is one thing for the Voice of America to present a roundup of differing U.S. media commentaries and other opinions as long as they are reflective of broader views within the American society and American media, or to have politicians or experts of different political persuasion participate in a single program–and quite another to commission or repost a single opinion article from any particular partisan individual or to translate into Russian or Ukrainian and post online an anti-Donald Trump campaign video without any attempt to provide balance within the same web space at the same time. The current VOA practice is journalistically unethical, unfair, politically dangerous, highly deceptive and confusing for U.S. domestic and foreign audiences.
BBG Watch commentators and many current and former VOA journalists have also said that if the current practice of posting one-sided political reports continues, VOA risks defunding of the organization by the U.S. Congress.
The new leadership and some of the newer reporters seem not to understand the VOA Charter, which is U.S. law, and VOA's special and delicate position among American media outlets. VOA is unique on the U.S. media scene. It is a U.S. government-run entity, funded by taxpayers ($224 million in FY 2017) to distribute programs abroad. But VOA's program content has been now widely available through the Internet in the United States for many years. America is a country with the Bill of Rights to the Constitution which says that the government shall not interfere with or restrict free press. Free press means media not funded by or controlled by the government. The Voice of America, which is 100% funded by Congress and run by government officials, must be extremely careful to remain non-partisan and unbiased, especially when it comes to U.S. politics, if it wants to survive and continue its noble mission abroad.
The U.S. Congress assigned to VOA an important role abroad, but the new BBG and VOA leadership needs to understand that while American taxpayers want VOA to be free of government censorship, they don't want to pay for one-sided commentaries on domestic politics in the United States and for producing or posting by VOA of political hit pieces.
Reporting all news — yes. Presenting a variety of opinions reflective of the American society and doing this in a balanced and objective way — yes. Posting campaign videos and commissioning hit pieces on American politicians — no.
"Slanted [Voice of America] journalism" on Trump, a reader from Russia posted a comment under a report on the VOA English news website.
Another Russian posted this comment on Facebook:

"Голос Америки, насколько законно с точки зрения законодательства США, что правительственный медиаресур, финансируемый американскими налогоплательщиками, участвует в предвыборной агитации?"

"How legal is it for the Voice of America, in light of U.S. legislation, that the [U.S.] government's media resource funded by U.S. taxpayers, is involved in the election campaign?"

The Russian Facebook user was reacting to the Voice of America Russian Service posting online, both Facebook and YouTube, of the recent Hillary Clinton's anti-Donald Trump campaign video with Russian subtitles. The VOA Russian video had no attached balancing material and was not paired with any other content. U.S. taxpayers paid for versioning the anti-Donald Trump Hillary Clinton campaign video into Russian and for posting it on the Voice of America social media pages which can be viewed in the United States.



One-sided coverage and politically biased coverage is found throughout the Voice of America. Commentator Sierra Rayne writing in American Thinker reported that "[o]ne of VOA's flagship programs is Issues in the News, where "[p]rominent Washington correspondents discuss topics making headlines around the world," has two American journalists who should be balancing one another but who are both strong critics of Donald Trump.
"During the GOP primaries, the [Voice of America English] program has repeatedly focused on the Republican nomination race, and in particular on Donald Trump," American Thinker commentator wrote. "To say the coverage and discussion of Trump has been less than flattering would be an understatement."


Also, Truth Revolt, a blog of the conservative David Horowitz Freedom Center founded by David Horowitz, has reported that the Voice of America, "a taxpayer funded news service" and part of the Broadcasting Board of Governors (BBG), a tax-funded "Government News Agency" is "Campaigning Against Trump."