BBG Watch Commentary
"The Force" is definitely not with U.S. taxpayer-funded ($224M FY2017) Voice of America (VOA), mismanaged by its own leadership and the Broadcasting Board of Governors (BBG), whose outgoing chairman, Jeff Shell, is, ironically, a successful Hollywood movie executive, and its CEO, John F. Lansing, is a former manager of a successful entertainment television cable company.
VOA was not only behind other international and U.S. media in reporting on digital mobile platforms on the iconic Star Wars actress Carrie Fisher's death; it could not even post its own report or an obituary of any length immediately after the death of the beloved American actress was reported by other media.
RT, SPUTNIK, DW, RFI and BBC immediately updated their mobile websites, pushed the story to the top of their homepages, and sent out announcements. VOA did not make any of these updates quickly and provided only minimal, third-party (AP) content.
All of these international broadcasters, even Russia's RT and SPUTNIK, had more of their own original content on the Carrie Fisher story than the Voice of America, which is charged with presenting American news and culture to the world.
UPDATE: RT vs VOA at 6PM ET December 27, 2016
RT – original RT post
VOA – AP post
RT – 34 Tweets
VOA – 5 Tweets
RT – 3 Video Tweets
VOA – 0 Video Tweets
RT – 21 Carrie Fisher Photos
VOA – 3 Carrie Fisher Photos
RT might as well be doing public diplomacy work for the United States.
BBC posted a lengthy obituary on Carrie Fisher almost immediately after the news broke with multiple photos. VOA still has no full obituary as of 6 PM ET.

Obituary: Carrie Fisher | BBC

BBC also went into Live Reaction mode with live updates.

Carrie Fisher dies – latest reaction | BBC

VOA seems, however, quite capable of having ready-to-use programs if its upper management really wants them. But most of the time, the VOA newsroom is understaffed and lacks good leadership, direction and resources. Under Voice of America's new director Amanda Bennett, VOA had not one, but two pre-written "Hillary Wins" reports on the U.S. election night. There were no pre-written reports on Donald Trump who won the U.S. Presidency, rank-and-file VOA reporters said. BBG employees have ranked their agency in 2016 as being the worst to work for among mid-size agencies in the federal government.
There is also such a leadership vacuum at the Voice of America and the Broadcasting Board of Governors, that a handful of VOA newsroom reporters, editors and managers amuses itself writing and performing a sex joke about future First Lady Melania Trump, coming up with demeaning remarks about Trump's daughter Ivanka and putting together other crude, sexist and hardly humorous content for a holiday party, which was held on government time at U.S. taxpayers' expense in a federal building. But when there is real news about Ivanka Trump, VOA fails to report it.
Experienced VOA journalists complained that a recent VOA report praised by the VOA director romanticized an ISIS terrorist.

Under its new CEO John Lansing, the agency also dramatically increased the number of fluff click-bait videos, such as a recently posted VOA "Russian Cat Tank" video. It was, however, a third-party Russian video, which Russia's RT and SPUTNIK had already used much earlier for propaganda purposes. VOA was apparently not aware of the video's propaganda value for Putin's Russia.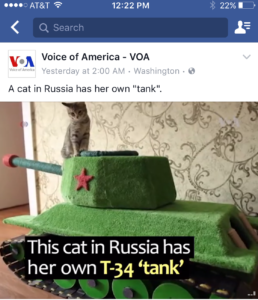 It is truly shameful at the time of increased propaganda and media competition, Russia's RT and SPUTNIK could immediately post multimedia Carry Fisher obituary reports, while VOA used a four-paragraph AP report and could not quickly update its mobile and full web pages to tell the world of the death of the American actress who played Princess Leia in Star Wars.
Russia's RT had its own multimedia story at 12:56 PM ET.
VOA reportedly posted a short AP news with one photo at 1:03 PM ET, but the post did not appear right away on VOA homepages. The VOA/AP report had only 4 short paragraphs and no inside photos. RT's first report had about 400 words and several photos and tweets.
RT updated its Carrie Fisher story at 1:11 PM ET and again at 1:48 PM ET.
The RT report at 1:48 PM ET, "Carrie Fisher, Star Wars' Princess Leia, dies at 60″ | RT, had multiple photos and Tweets from such actors as William Shatner, Steve Martin, and Stephen Fry.
At 2:06 PM, the Voice of America had none of this. VOA was still showing a short AP story with two AP photos. No reactions, no Tweets. By about 2:45 PM ET, VOA finally added four Tweets. They were placed inside the still AP story on the VOA website.
At 3 PM ET, VOA still had no obituary, no separate reactions report, and no other updated Carrie Fisher content.
Outdated headlines on Carrie Fisher having a heart attack and being in a hospital were still showing on VOA's "Arts & Culture News" page at 3 PM.
Hillary Clinton had described the Broadcasting Board of Governors in 2013 as "practically defunct." Her description is still valid.

Featured Carrie Fisher photo credit: By Riccardo Ghilardi photographer (Own work) [CC BY-SA 3.0 (http://creativecommons.org/licenses/by-sa/3.0) or GFDL (http://www.gnu.org/copyleft/fdl.html)], via Wikimedia Commons