BBG Watch Commentary
Message for Ukraine from Quincy Jones — New Year's Eve Demonstration in Turkey — But Nothing From Voice of America
"This evening, the whole world is going to celebrate the New Year. I would like to take a moment and express my admiration and convey best wishes to all who peacefully gathered on the Maidan in Kyiv and throughout Ukraine to stand up for democracy and freedom." – American musician Quincy Jones
Arrival of the New Year is not exactly unexpected news, but it traditionally becomes a main news story for many media organizations, at least for a few hours on December 31 and January 1.
It did for the Voice of America (VOA) as well, a taxpayer-funded, U.S. government-run journalistic outfit. VOA is charged by Congress with providing news about America and the world to international audiences, many of which cannot get uncensored news from their own media.
VOA released a video and a news report about New Year's celebrations around the world. But the report was completely bland as if made for an audience not concerned at all with anything political.
The VOA report also missed a special New Year's message to Ukraine from legendary American songwriter and producer, a winner of 27 Grammy Awards Quincy Jones — something that in the past VOA would have been the first one to report on, especially in light of the enormous contribution to cultural freedom made by VOA's former great music programmer and jazz promoter, the late Willis Conover.
Nothing like this happened this year. This is not the first such failure at VOA in recent months and years.
Even if they did not get the Quincy Jones story, one would think that in their yesterday's report, the Voice of America English news website would have paid at least some minimal attention to two very unusual New Year's Eve celebrations / protests — one in Kyiv, Ukraine and another one Istanbul, Turkey — in which tens of thousands of pro-freedom demonstrators participated. Certainly, news events worth noting even in a New Year's world celebrations roundup. Certainly something that VOA should have noticed and reported on to Iran, Russia, China, Tibet, North Korean, Cuba and other nations ruled by authoritarian or dictatorial governments.
But neither the video nor the text on the VOA English website had any mention of these New Year's freedom rallies, while the report focused on the usual, pedestrian celebrations in Australia, New Zealand, even the official reception in communist China, and just one New Year's Eve event in the United States, albeit the biggest one, in New York (video version).
But why nothing from VOA (except one photo in photo gallery at the bottom of the story) on demonstrators welcoming the New Year in Kyiv, and nothing on the large demonstration in Istanbul?
Only VOA's top executives can answer this question.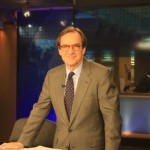 VOA Director David Ensor and his deputies claim insufficient resources to do more hard news, and yet VOA produced a New Year's video, only without any political or freedom themes, even though they were clearly in the news on that day and video of the Istanbul and Kyiv celebrations was available to VOA for its use.
Also, how difficult would have been for VOA to post a YouTube video of Quincy Jones' New Year's message, which Radio Free Europe / Radio Liberty (RFE/RL) Ukrainian Service did in a news report that also mentioned a message from Scorpions, a German rock band?
Like VOA, RFE/RL is also funded by American taxpayers and also overseen by the U.S. Broadcasting Board of Governors. Radio Free Europe / Radio Liberty is well managed by its CEO Kevin Klose sent there by the BBG a year ago, but it only broadcasts and offers news programs to a selected group of countries. RFE/RL's primary mission is different from VOA's. VOA is supposed to report on America and American reactions to world events, and on those world events as well. RFE/RL is a surrogate media outlet specializing in internal news in closed societies and nations without free media. Unlike RFE/RL's limited target area and specialized mission, VOA targets the whole world, including Iran, China, Tibet, Turkey, Russia, Cuba, and North Korea. VOA's mission is also to report to the whole world about America, which is not part of RFE/RL's congressional mandate.
RFE/RL reported on Quincy Jones' message in its programs to some countries. Media in France reported on it. Ukrainian-American organizations reported on it as well. VOA had a great chance to report on it to the whole world. Since the modification of the Smith-Mundt Act, which went into effect last year and permits VOA to distribute its programs upon request to U.S. media, VOA had a chance to produce a report about Quincy Jones that American media could also use. This was news. A news organization does not wait a day or two to report it. Once again, VOA has lost a chance to do what commercial U.S. media are unlikely to do.
Wouldn't it be proper and good use of U.S. taxpayers' money if pro-freedom Iranians, Chinese, Tibetans, Turks, Russians, Cubans, and North Koreans could find out from the Voice of America that famous Americans cultural figures like Quincy Jones, and earlier George Clooney, stand in solidarity with those who peacefully fight for freedom?
These freedom-deprived audiences did not learn this from VOA.
VOA's top executives claim that they do not have sufficient resources to do more.
Yet under their watch, VOA had posted, not one or two, but 27 separate news reports on the British royal wedding in April 2011, and five reports on the British royal christening in October 2013 (hundreds if translation by VOA's 43 language services are included).
Should VOA taxpayers who paid for these 27 and additional five reports be surprised?
These are indeed very strange priorities for managers of an American, taxpayer-funded institution required by law to report on American politics, society, and culture, in addition to reporting on world news.
We are not referring here to VOA employees or the absolutely amazing work the VOA Ukrainian Service journalists have done with limited resources, posting news reports around the clock and producing television programs with little sleep and rest for the last several weeks. They are exhausted while VOA executives went on their usual holiday vacations.
The institution is being undermined and mismanaged at the very top. In many cases, VOA journalists are helpless. Under its current managers, their agency has been rated for years by the Office of Personnel Management (OPM) at the bottom of all federal workplaces in terms of employee morale and good management.
VOA's Ukrainian and Turkish services are trying to do their best, but many days go by without any original VOA English reports on Ukraine, Turkey or even important U.S. foreign policy news from the White House, the State Department and the U.S. Congress. Even actions and statements on human rights and democracy by Vice President Biden or chief Republican foreign policy spokesman Senator John McCain do not warrant separate news reports by VOA these days.
VOA English website has not had any news reports from Ukraine for the last three days. That means that the vast majority of VOA's 43 languages services, except the Ukrainian Service, also did not have any news about Ukraine for the last three days.
VOA is not required strictly speaking to actively promote freedom and democracy abroad, but it is required to report news in line with its mission as outlined in the VOA Charter and other legislation. This kind of news reporting, if done well, was considered by Congress to be in itself supportive of freedom, certainly supportive of freedom of the press.
The mission statement of VOA's parent agency — the Broadcasting Board of Governors (BBG) — as well as the legislation establishing it — have direct references to supporting freedom and democracy. For VOA executives, who have to abide by the U.S. Charter but often don't, it is a matter of choice what kind of news stories they assign resources to for coverage. They obviously prefer to cover British royal events.
27 VOA English news reports on the British royal wedding (hundreds in translation) on VOA websites.
And yet these reports and many others that VOA executives prefer get very few Facebook "Likes" and Tweets — sometimes zero, sometimes four or five, rarely several dozen — while Al Jazeera, BBC, and RT (Russia Today) regularly get hundreds and thousands. These news organizations — as biased as some may be — focus primarily on covering news. They do very little fluff journalism.
If anything, from covering international news point of view, Kyiv and Istanbul were the most important ones on New Year's Eve.
Istanbul represents the clash between forces of freedom and constitutional democracy and forces of anti-constitutional and anti-freedom autocratic government supported by its pro-Islamist constituents.
Kyiv represents the clash of pro-freedom, pro-democracy and pro-Western forces on one side, and the oligarchs drawing their support from Russia's President Putin and the pro-Russia constituency on the other side.
The outcome of these clashes is of enormous importance not just to the Ukrainians and the Turks, but also to the Russians, to the Muslim world, and of course to the United States and its interests and national security.
On January 1, Al Jazeera posted one opinion piece and one news report on protests in Turkey. BBC did not have much on New Year's Eve celebrations anywhere in the world — it was BBC's choice — but it reported on January 1 that thousands of supporters of a far-right party in Ukraine holding a torch-lit procession through the capital, Kyiv. VOA English website did not have that news either.
Russia's international media outlet RT (formerly known as Russia Today) did not exactly dwell on the New Year's celebration-protest in Kyiv, but noted it nevertheless:
"In Ukraine, celebrations at the Maidan (Independence Square), where pro-European integration protesters continue camping out, saw an attempt by the crowd to beat the world record for the most people to sing a national anthem at the same time." RT
Quincy Jones' New Year Message for Ukraine was posted online on Dec. 31, 2013 by Ukrainian Democratic Alliance for Reform (UDAR), a political party in Ukraine headed by Ukrainian professional heavyweight boxer and the current WBC world heavyweight champion Vitali Klitschko.
Quincy Jones – Willis Conover – Voice of America
The fact that Voice of America news ignored Quincy Jones' New Year Message for Ukraine is especially sad since Quincy Jones has had a longstanding relationship with VOA and its broadcasters, going back many years to the time when Willis Conover was helping VOA to promote American music, particularly jazz, around the world.
Jazz columnist Mike Zwerin reported that Conover once played a word game with Quincy Jones during an interview. When Conover said 'jazz," Jones came right back with "Charlie Parker." Then Jones said; "At this moment, there are thousands and thousands of people around the world, who, when they hear the word 'jazz,' immediately respond: 'Willis Conover.'
Conover, with the help of great American musicians like Quincy Jones, was a mouthpiece to the world for American culture and American values of freedom of expression and artistic freedom. Dictatorial regimes were afraid of such radio music programs and tried to jam them but could not block them completely. In their view, they were American propaganda, when in fact Conover did not do political news. That was not his job. His programs, which he recorded a week or two in advance, simply reflected what Americans were doing and thinking about music and life in general. But VOA for sure would have immediately covered in its news programs such messages as Quincy Jones' appreciation for the peaceful pro-Europe protest in Ukraine.
American music is no longer banned in most of the world, but views and actions of Americans like Quincy Jones or George Clooney are still not exactly welcomed now by various autocratic and dictatorial rulers. That's why U.S. taxpayer funded media outlets like Radio Free Europe / Radio Liberty, Radio Free Asia (RFA), Radio and TV Marti, Radio Sawa and Alhurra TV, and the Voice of America are still needed if they do their job right. VOA also has an additional mission. It is America's multimedia voice to the world about America.
People in countries like Iran, Ukraine, and Russia, want to know what Americans think of their desire and struggle for freedom. It's hardly propaganda to tell them about it, or to tell them about Vice President Biden's statement om the lack of human rights and press freedom in China or Senator McCain's statement on Ukraine — two of many such recent news stories the Voice of America failed to post on its English website. Sometimes even White House statements do not get picked up by VOA English News. Foreign audiences learn about them from Al Jazeera, RT (Russia Today) or China's CCTV together with their biases and hidden agendas rather than from VOA.
May be it's because VOA Director David Ensor said in a recent media interview that "Voice of America is not a propaganda organization and it is not a mouthpiece of the White House or of anybody else. It is a proud journalistic organization more than seventy years old." Nobody except perhaps Mr. Ensor himself knows what he meant. It is a very confusing statement to make on such an important issue.
How not reporting legitimate news that VOA is required to report under the VOA Charter makes VOA a journalistic organization and protects it from becoming a propaganda mouthpiece of the White House or of anybody else?
Even if he meant something else, what an unwise thing to say for someone in charge of a taxpayer-funded institution. We can only conclude that Mr. Ensor has no objections in his program selection policy of VOA becoming a mouthpiece of the British royalty.
Thank you very much, but BBC can do that quite well and still maintain its high journalistic standards. How about more VOA reporting on U.S. foreign policy and more American reactions to news developments around the world? Is that asking too much?
How exactly is VOA supposed to carry out the third provision of its Charter?
"VOA will present the policies of the United States clearly and effectively, and will also present responsible discussions and opinion on these policies."
Not report at all on State Department statements on human rights violations in other countries or cover them in only one sentence — as it often does now? Would any more extensive reporting, even with counter claims from those who disagree with U.S. policies, make VOA a mouthpiece of the State Department and the U.S. Government?
As reported by UNN, Ukrainian National News, news agency, Quincy Jones said in his message that there is no more noble cause than fighting for justice and equality and quoted words by Matin Luther King, Jr. Link to UNN article.
"And if you continue to make efforts in this fight, you know that you are not alone and the world is watching you. As the great American champion of human rights, Martin Luther King Jr. said: 'Our lives begin to end that day when we begin to be silent about what is important'," Quincy Jones added.
There could be few better messages for the world from America on New Year's Eve 2013 and New Year's Day 2014 than what Quincy Jones had said to the people of Ukraine. His American cultural and public diplomacy message is perfectly in line with a journalistic provision of the VOA Charter, which says that "VOA will represent America, not any single segment of American society, and will therefore present a balanced and comprehensive projection of significant American thought and institutions."
Members of the bipartisan oversight board, the Broadcasting Board of Governors, have become aware of news reporting and management problems at the Voice of America. At the last BBG meeting last month, BBG Governor Matt Armstrong questioned sharply VOA Director Ensor about them. New reformed-minded BBG Chairman Jeff Shell expressed his strong displeasure with low employee morale. But with the holidays coming up nothing has been done so far to change the situation at VOA, although Shell already announced some personnel changes at the International broadcasting Bureau (IBB), the BBG's management and support structure.
What a shame that the Voice of America did not report on Quincy Jones' message or on the unique and inspiring 2013/2014 New Year's protest celebrations in Ukraine and Turkey.
Quincy Jones Video
Scorpions Message for Ukraine Video
BBG Watch reports a few weeks ago that even Russia's state international media outlet RT (Russia Today), posted on its English news website a George Clooney video in support of Ukrainian protesters, while the Voice of America (VOA) English news does not provide its own original reporting from Kiev but relies instead on Reuters reports. (VOA English News has been equally deficient in its reporting on protests in Turkey.)
George Clooney Video Message for Ukraine
"George Clooney, one of the greatest actors of our time, is also known for his humanitarian involvement. Clooney advocates worldwide for his liberal and political beliefs. Now, the two-time Oscar winner addressed a message directly to the Ukrainian people. He sent this video to Vitali and Wladimir Klitschko to participate actively in their movement for democracy in the Ukraine."
UPDATE: The portion of this report dealing with Willis Conover's programs on the Voice of America was updated with additional information. We want to thank VOA broadcasters for providing it to us.