BBG Watch Commentary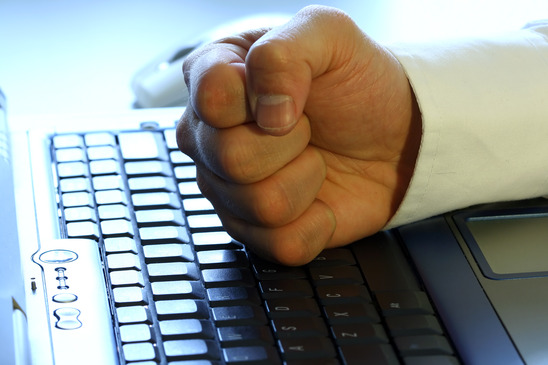 An inside source told BBG Watch that there has been no let-up in frequent and widespread use of obscenities by Voice of America (VOA) Newsroom managers, editors, news writers and reporters to describe President Trump in their daily personal conversations and discussions about news coverage despite a recent memo form a lower-ranking VOA manager urging staff to refrain from using obscene language at work.
A Voice of America reporter told us that in the last few days since the warning memo was issued, the reporter "heard the president called a pr**k, and as**ole and a f**king retard."
"I guess [the] memo didn't do much," the VOA reporter said.
The use of such obscene language with regard to President Trump seems to be especially common in the VOA English Newsroom. It is far less common among VOA's many foreign language services, but happens there as well. A program with some of the most insulting descriptions of Donald Trump was produced in 2016 by a VOA foreign language service.
The head of VOA's parent agency, Broadcasting Board of Governors (BBG) CEO John F. Lansing, an Obama administration holdover, denies there is a problem. Not yet replaced by the Trump White House, Lansing told NPR in February 2017, "we have the greatest respect for whoever is the President." The civility in the workplace memo sent out a few days ago by a lower-level Voice of America manager clearly contradicts Lansing's earlier claim, but it appears to have had no significant effect. To put a stop to such unprofessional behavior, senior BBG and VOA leaders would have had to have experience in managing federal workforce and would have had to provide strong leadership and issue proper guidance and warnings already in 2015 and 2016. They have no such prior experience and they have failed to do what was clearly necessary.
Another Obama administration holdover, VOA director Amanda Bennett, wrote in a recent Facebook post "here at VOA we are working hard to really reflect all the voices in this country and not just a selection of them." One VOA reporter who disagrees with such happy and soothing claims coming from the agency's senior leaders told BBG Watch "it seems that a significant majority … of managers and supervisors there [in the VOA Newsroom] are actively anti-Trump, pleasing those on top.
Inside and outside critics, including the independent and non-partisan NGO Committee for U.S. International Broadcasting (CUSIB – cusib.org) have warned that under the Lansing-Bennett watch, the Voice of America became more politically biased than ever before in its entire history, leading to multiple and unprecedented violations of the VOA Charter.
Critics, such as CUSIB executive director Ann Noonan, speak of unprecedented level of mismanagement, as well as partisanship in current Voice of America programs. In making her criticism public, Noonan told Obama administration officials who are still in charge of the Broadcasting Board of Governors and the Voice of America that she is a registered Democrat but considers partisanship and bias in VOA programs a distraction from the agency's critical mission and a serious threat to future funding for broadcasting in support of freedom, democracy and free press.
As reported earlier by BBG Watch, some of the more senior as well as some newly-hired newsroom reporters working for the U.S. taxpayer-funded ($221 million FY 2017) Voice of America have been overheard making what one VOA staffer who was not a Trump voter described as "the most personal insults" against President Trump while at work. Insults hurled at Trump by U.S. federal government employees, who are expected to be unbiased and professional journalists, have become so pervasive, according to several VOA newsroom sources, that some of their colleagues, including some who did not vote for Trump for president, became alarmed and started to complain among themselves and to their managers.
Their complaints were not only about unprofessional behavior of some of their colleagues but also about deep bias in many of VOA news reports with respect to the current U.S. administration or such Trump administration-related topics as immigration. After many months of F-words being heard in the VOA newsroom almost every time President Trump's name was mentioned by some VOA correspondents, news writers and editors, a lower-level VOA manager issued a "CIVILITY IN THE WORKPLACE" memo on July 11, 2017, which said in part:

"Should you disagree with a colleague, with the current administration, or with the actions of others, do not disparage or denigrate them in front of your co-workers. While we all recognize that nobody is perfect, let's practice some basic civility. Anything less than that is unprofessional."

While the Voice of America newsroom has been apparently overwhelmed by expressions of deep hatred and contempt for Donald Trump, a few VOA reporters went outside of the newsroom into the U.S. media and political scene, using F-words to describe him, such as "F*ckface Von Clownstick" on their personal but publicly accessible Facebook pages. At least one VOA newsroom reporter posted memes on Facebook for public viewing, showing Donald Trump with a Nazi swastika and Donald Trump as a sex organ.
Shortly before the U.S. presidential election, one VOA reporter wrote on a personal Facebook page: "if F*ckface Von Clownstick gets elected on Nov 8, I will not be able to say anything on Facebook against him anymore, as dictatorship will have descended on this land." The prediction turned out to be untrue. Some VOA newsroom journalists have not stopped using swear words at work to describe President Trump and continue posting blatantly biased news reports.
Apparently encouraged by e-mails from senior management during the 2016 election campaign praising one-sided news reports, such as the one in which an illegal immigrant described Trump as a man of "hate and prejudice," some VOA newsroom reporters, as well as far fewer of their colleagues among VOA's foreign language services, were posting before the November U.S. vote completely one-sided pro-Hillary Clinton messages, including one foreign-language versioned video in which a Hollywood actor called Donald Trump "punk," "dog," "pig," "con," "buls**t artist," "mutt," "idiot," "fool," "bozo," and "blatantly stupid." VOA did not attach to the video a rebuttal or a response of any kind. The video was eventually removed after the VOA and BBG management received criticism from U.S. citizens.
Partisan VOA managers and editors even allowed posting online of commentaries attacking Hillary Clinton's Democratic opponent, Senator Bernie Sanders and calling the liberal Democrat "undemocratic." This prompted a journalist who supported Senator Sanders to write in an article titled "US State Media Runs A Hit Piece on Bernie Sanders": "VOA does not have the right to advocate for a particular candidate or even to attack one. That is not within its charter [VOA Charter Public Law 94-350​], nor should any US citizen have to subsidize their own defamation."
VOA and BBG Obama administration holdover senior executives deny that Trump is being vilified by some VOA reporters or that much of VOA's U.S. political reporting is highly biased.
In one such rejection of criticism, a comment made to National Public Radio (NPR) by Broadcasting Board of Governors CEO John F. Lansing stands out:
BBG CEO JOHN F. LANSING ON NPR HEARD ON MORNING EDITION, FEBRUARY 10, 2017: "It's our job is to report all sides of a story and we have the greatest respect for whoever is the President, and their point of view is something that's newsworthy and we report that."
The BBG ($777 million in FY 2017), headed by John Lansing, is in charge of the Voice of America and other U.S. taxpayer-funded media.
VOA's Obama administration management was so confident of Clinton's victory that on the election night for the first time in VOA's history no biographical profile of the Republican candidate for president was prepared by VOA. VOA had two already written "Hillary Wins" broadcasts, and none for Trump.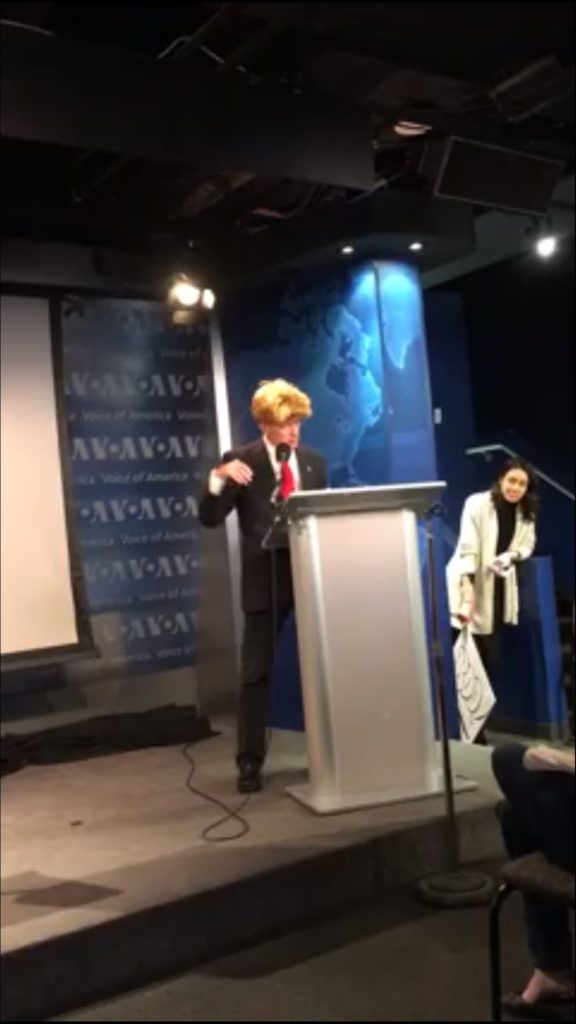 A few Voice of America reporters mocked Trump, his daughter, and his wife in a satirical performance at VOA newsroom holiday party which was at least in part streamed on Facebook. Trump was called "A Joke" and a joke of a sexual nature was told about his wife. "And the No. 1 top reason to love America: It's where a woman who posed naked for a men's magazine can be First Lady!," a VOA reporter said.
In the past, VOA reporters did not make similar fun of President Obama, his wife or their daughters. The party was held last December, but the holdover Obama administration Voice of America and Broadcasting Board of Governors officials did not take any effective to stop such insults or biased reporting.
One senior VOA reporter complained publicly of "being fed manure" by the White House. Another report by another senior VOA correspondent hinted that President Trump might be "mentally unstable" without providing any evidence to support a charge that could be highly alarming to poorly-informed foreign audiences already exposed to disinformation. Yet another VOA report implied to foreign audiences that Trump might become a dictator like Lenin, Stalin, and Mao and might start imprisoning journalists because of his tweets about "fake media" being "enemy of the American people." The comparison was picked up by the Washington Post, thus once again inserting VOA into domestic U.S. politics despite the fact that by law VOA should only be concerned with media outreach to foreign countries.
In fact, about half of the online traffic for VOA English news reports comes from the United States. These VOA reports get far fewer comments than reports from BBC, Russia's RT, or the Washington Post, but when they do, almost all of comments on VOA U.S. political stories are from Americans who are virulently anti-Trump, making VOA a number one anti-Trump confirmation bias platform funded by U.S. taxpayers.
With the charges of Russian interference in the 2016 U.S. presidential election, Hillary Clinton would almost certainly be opposed to VOA reporters violating the VOA Charter to post one-sided attacks on Donald Trump or Bernie Sanders, including one of her campaign videos versioned by VOA into a foreign language with attacks on Trump, and trying to help her win by this kind of questionable "reporting." That was not the kind of help that she needed, least of all from partisan and biased VOA reporters who are U.S. federal government employees and in some cases make six-figure salaries. As Secretary of State and herself a member of the BBG oversight board, Hillary Clinton described in 2013 the Broadcasting Board of Governors as "practically defunct."
Even President Obama agreed with some of the critics by signing a bipartisan legislation designed to reform the BBG in a limited way. But several months into the Trump administration, the BBG and the Voice of America, still in the hands of Obama administration senior appointees, are as dysfunctional as ever.
However, one of the holdover senior leaders, Voice of America director Amanda Bennett, a Pulitzer Prize-winning author, investigative journalist and a co-founder together with her husband, Donald Graham, former publisher of the Washington Post, of TheDream.US, which provides college scholarships to the children of undocumented immigrants, expresses enormous pride in what she believes is accurate, objective, fair and comprehensive VOA news reporting.

VOA DIRECTOR AMANDA BENNETT: "Anyway, here at VOA we are working hard to really reflect all the voices in this country and not just a selection of them. For one thing, it's our job. For another, we think it's the right thing."

We would be deeply relieved and grateful if it were true because Voice of America's continued existence and U.S. taxpayer funding for it depends completely on VOA being non-partisan, accurate, objective, comprehensive, reflecting U.S. polices clearly and effectively and focusing entirely on countries that don't have free media instead of trying to insult the President of the United States whoever he or she may be. BBG Watch contributors include current and former Voice of America journalists, both registered Democrats and Republicans, as well as registered independent voters, but as a group we have never seen such blatant partisanship, mismanagement and dysfunction at VOA as we see now.
A memo on civility in the workplace from a lower-level Voice of America manager after many months of inactivity from the senior management of both VOA and BBG is not going to have a desired result. It may, in fact, lead to more of biased passive-aggressive reporting, some of which had been observed in the past, for example during the change from the Carter to Reagan administrations when some former VOA newsroom reporters and VOA managers were deeply unhappy with President Reagan, but never to the degree seen today. What is needed is the right kind of strong leadership at the most senior level.

###
VOICE OF AMERICA


Subject: CIVILITY IN THE WORKPLACE

Colleagues,

News organizations are being examined and criticized like never before, but our journalism doesn't mean anything if we don't conduct ourselves with the highest degree of professionalism. The Best Practices Guide notes that "Professionalism and respect for your colleagues is absolutely vital to maintaining best practices. Whether in a newsroom, studio, control room or in the field, pursuit of a story is not an excuse for arrogance."

You are welcome to your personal opinions, but this job and this workplace demand neutrality, objectivity and civility. You can of course discuss policies, events, and other peoples' positions as they pertain to your work, but leave your own political arguments at home.

Should you disagree with a colleague, with the current administration, or with the actions of others, do not disparage or denigrate them in front of your co-workers. While we all recognize that nobody is perfect, let's practice some basic civility. Anything less than that is unprofessional.


Thanks,