BBG Watch Commentary
Unlike BBC, Al Jazeera, RT, DW and almost all other major international and U.S. news media outlets, U.S. tax-funded ($221 million in FY 2017) Voice of America (VOA) did not have a live feed on its Facebook VOA News English page or its VOA News English website from former FBI director James Comey's congressional testimony.
During his testimony, VOA News posted on Facebook a number of Comey-related videos and reports. In some of them, VOA correspondents seemed to be the major focus of the video, not the former FBI director or his answers to questions from members of Congress.
There is absolutely no indication whatsoever that anyone in the Trump administration had ordered VOA not to carry Comey's testimony live on Facebook or on VOA News website. High-level officials and executives appointed during the Obama administration are still in charge of the Voice of America and its "nearly defunct" (Secretary Clinton's 2013 description) parent agency, the Broadcasting Board of Governors (BBG).
In any case, VOA did cover the Comey testimony story extensively. It's likely that the VOA management and or VOA editors may have been concerned that a Live Facebook transmission of Comey's testimony could expose VOA's dismally small audiences for such feeds compared to BBC, The New York Times, or even Russia's RT audience for Live Facebook feeds.
Considering the major news value of the Comey testimony story and the fact that it also concerned the president of the United States and that the Voice of America is an American, tax-funded media outlet, VOA should have been in the forefront in news coverage and the size of the audience it should have attracted for such coverage on its website and its social media pages. There was, however, no live feed from Comey's testimony, and VOA's online audience was once again dismal during such a major U.S. news development.
Audience engagement for VOA News regular Facebook posts on James Comey's testimony has been also embarrassingly low compared to Facebook posts from other media outlets on the same story — both international like BBC, Al Jazeera, RT or Deutsche Welle (DW) — or U.S. news media, such as The New York Times.
Critics blame VOA's decline as a digital news provider almost entirely on the mismanagement by the Broadcasting Board of Governors. They mention the tremendous growth of the BBG bureaucracy at the expense of programs and programming jobs, poor hiring practices and the inexperience of BBG and VOA senior leaders appointed during the Obama administration and not yet replaced.
Under their watch, some VOA reporting has become highly biased in violation of the VOA Charter.
This one-sided attack video on Donald Trump (with commentary added later by critics of the VOA management) was posted on Facebook with foreign language subtitles by one of VOA's many foreign language services. It was later removed. In 2016, the Voice of America had posted one-sided attacks not only on Donald Trump but also on Bernie Sanders.
VOA also has lost recently much of its reputation and credibility in China as a result of a programming scandal involving the shortening by the management of a controversial interview. Critics blame this on decisions by senior BBG and VOA executives who strongly deny that they are doing anything wrong. Employee morale at the federal part of the Broadcasting Board of Governors is at record low, as measured in employee surveys by the Office of Personnel Management (OPM).
Voice of America's decline as a U.S. and international news provider under the current management of the Broadcasting Board of Governors federal agency ($748 million in FY 2017, including VOA) can be clearly seen from the screenshots of VOA and various other news media Facebook pages taken at about the same time on Thursday afternoon during former FBI director James Comey's testimony.
These various posts had been on Facebook between one and three hours when the screenshots were taken. VOA does not even come close to any of the other media outlets in the number of "Views," "Likes," "Comments," or "Shares."
BBC: 982K Views
RT: 47.8K Views
Al Jazeera: 188K Views
DW: 39.1K Views
NYT: 839K Views
VOA Facebook Post No. 1: 6.2K Views
VOA Facebook (non-video) Post No. 2: 323 Likes, 2 Comments, 1 Share
VOA Facebook Post No. 3: 1.9K Views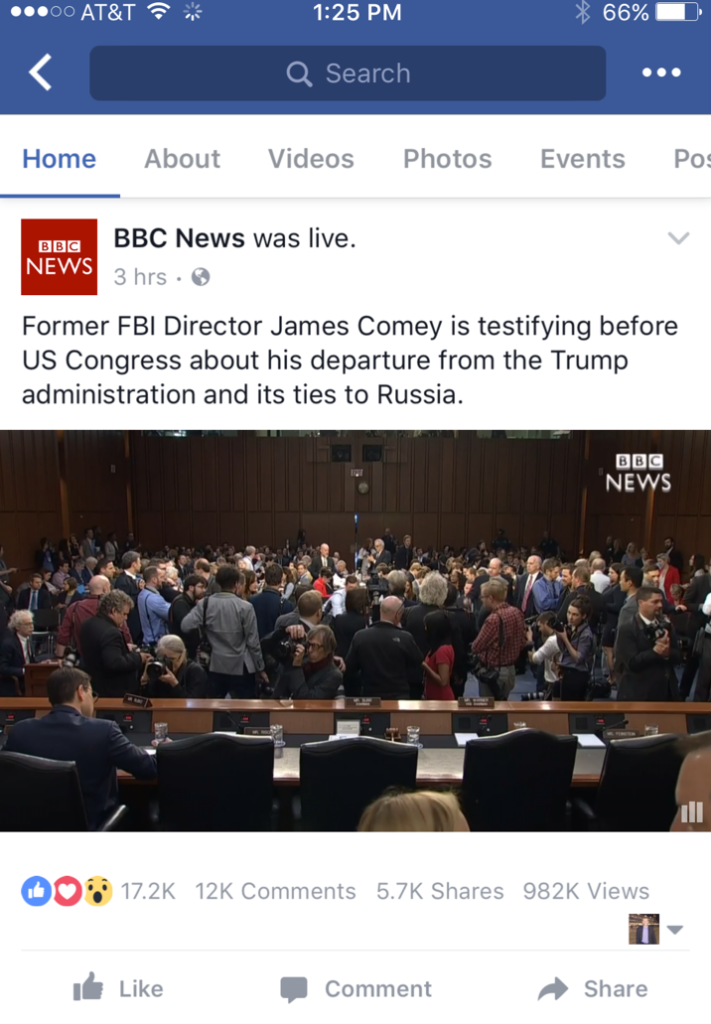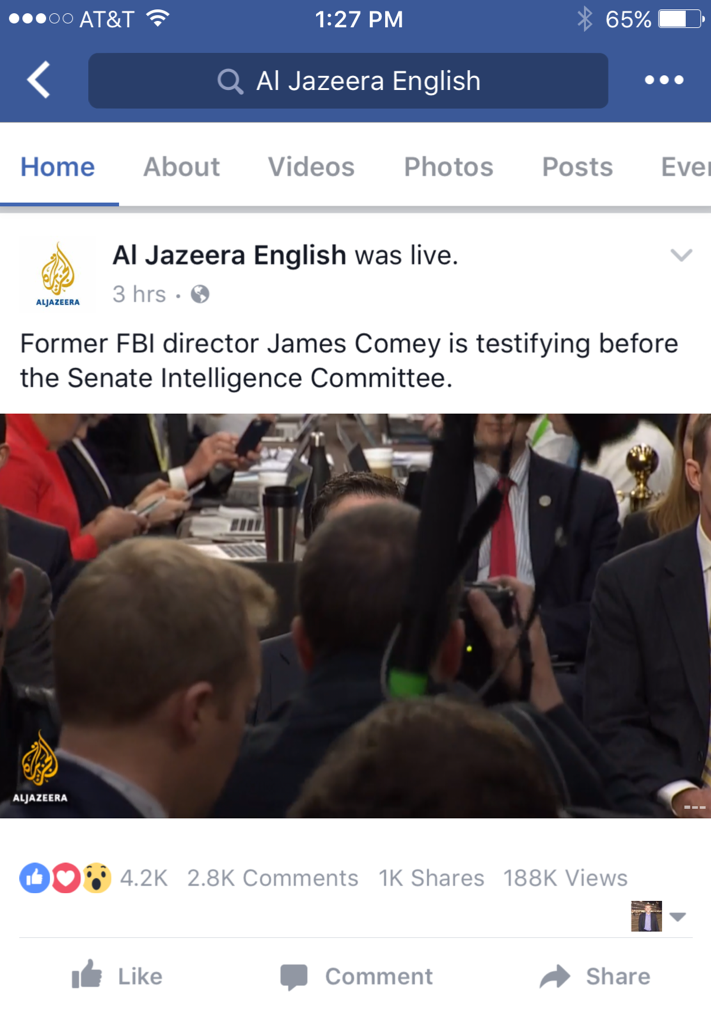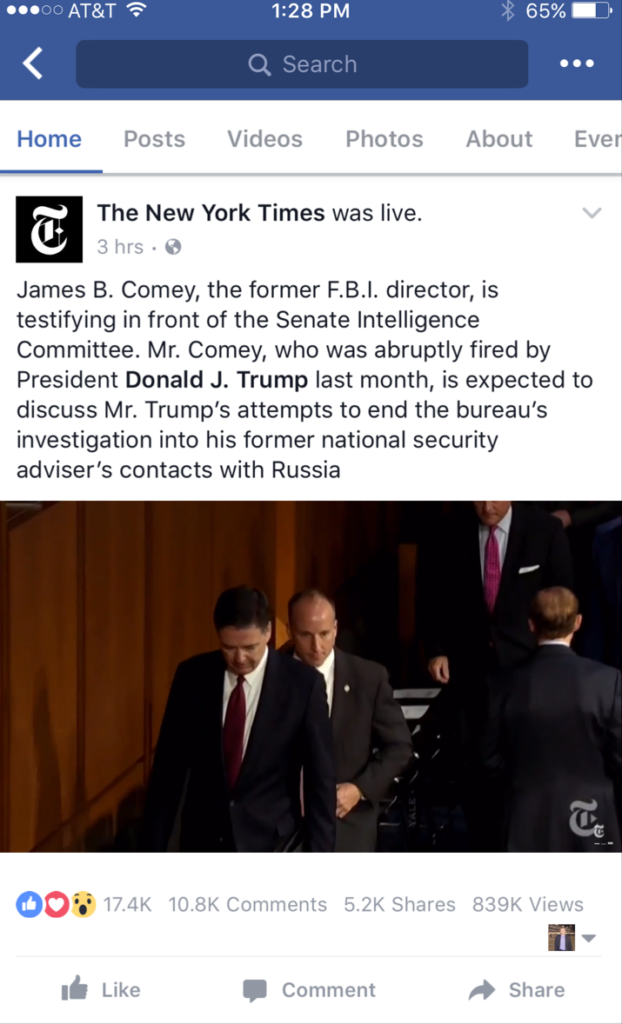 When the Voice of America actually did have a Live Facebook feed of President Trump's major foreign policy speech during his visit to Saudi Arabia, the number of Live Views on VOA Facebook page was equally dismal, considering the importance of the speech and the fact that Donald Trump is the president of the country which pays for VOA's operations.
Al Jazeera English had nearly 20 times more Live Facebook Views than VOA News English for President Trump's speech in Saudi Arabia on May 21, 2017.
Al Jazeera also had about ten times more Live Facebook Views than the U.S. government-funded Alhurra Television.
Alhurra is also managed by the BBG.
Radio Sawa, part of the same BBG network ($108 million in FY 2017), did not have a Live Facebook feed of President Trump's speech in Saudi Arabia.
Al Jazeera: 23,100 Live Facebook Views
Alhurra: 2,300 Live Facebook Views
VOA News: 1,200 Live Facebook Views
Despite of these facts, the Broadcasting Board of Governors claims in its press releases ("Alhurra and Radio Sawa aired extensive coverage of President Trump's first foreign trip" | BBG Press Release) that it has a successful outreach in the Middle East.