BBG Watch Commentary
INTRODUCTION: A young and successful Russian investigative reporter Anastasia Kirilenko is one of many who believe that the United States lacks a strategy for responding to Putin's propaganda war. After being dismissed last year by the previous management of Radio Liberty's Russian Service, even her name could not be used in new Radio Liberty Russian programs despite her impressive work to uncover the Kremlin's corruption secrets. Earlier in her work for RFE/RL, Anastasia Kirilenko interviewed Marina Salye, a Russian politician who in 1992 headed a special commission in St. Petersburg that investigated Vladimir Putin, then chairman of the city's Foreign Relations Committee, and accused him of corruption. It was one of Radio Liberty's major journalistic accomplishments. Now shunned by RL, Kirilenko is being published in the West and even by some of the more independent media in Russia. Her colleague, Kristina Gorelik, a highly respected human rights reporter, was also fired by Radio Liberty despite being a target of vicious anti-Semitic online attacks by Russian ultra-nationalists.
No doubt that in order to avoid scrutiny, President Putin has closed down virtually every media outlet of significance in Russia critical of his rule and many NGOs, but not the RFE/RL bureau in Moscow. Why has RFE/RL been spared? Observers of the weak U.S. response to Putin's propaganda offensive have been asking that question for years. Is it because the management of Russian Service of Radio Liberty plays it safe, practices self-censorship and fires its best reporters who might annoy Vladimir Putin? Allowing a weak Radio Liberty to have a bureau in Moscow may help the Russian government to protect its own much more extensive RT TV operations in the West.
UPDATE: While Anastasia Kirilenko is still unwelcome at Radio Liberty, and Kristina Gorelik, still has no job, since last week the Russian Service has a new director in Prague, the Czech Republic, where RFE/RL has its headquarters. Since September 2015, the Broadcasting Board of Governors has new CEO and director who has made some personnel changes in Washington. RFE/RL, however, still has no permanent president, and BBG has no strategy for responding to Putin propaganda, Anastasia Kirilenko told BBG Watch. But perhaps as a sign of new BBG CEO John Lansing's growing managerial influence, VOA Russian Service recently interviewed Anastasia Kirilenko while she was being ignored by Radio Liberty. The new director of RL Russian Service since last week is experienced journalist Andrei Shary.
In a wide-ranging online conversation Anastasia Kirilenko describes how, in her view, Radio Liberty lost its way.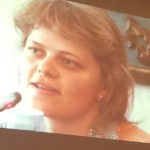 CONVERSATION WITH FORMER RADIO LIBERTY INVESTIGATIVE REPORTER ANASTASIA KIRILENKO – PART I
CONVERSATION WITH FORMER RADIO LIBERTY INVESTIGATIVE REPORTER ANASTASIA KIRILENKO – PART II
No Particular Radio Liberty Support For Interview With Putin's Accuser
QUESTION: How did you get started in journalism?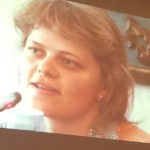 ANASTASIA KIRILENKO: After finishing my Master's degree program in French and in journalism, I participated in a short internship program in Paris at a French newspaper and even managed to publish an article about human rights in Russia. In 2007, after I had to return to Russia, I started sending e-mails to every liberal media outlet in the country. The style of state media at that time was already nauseous with headlines such us, "Russia With Its Big Soul Rejected By USA" or by the British, etc. I could not imagine myself for a second working for the state media. I also did not know anybody important. The only person who answered my emails was Lyudmila Telen. She was editor-in-chief of the website Izbrannoe.ru.
QUESTION: What kind of reporting did you do for the independent Russian news website?
ANASTASIA KIRILENKO: In 2007, there were parliamentary elections in Russia. I travelled often to Saint Petersburg because at that time protest activities there were more frequent there than in Moscow. Probably because I was what you might call "young and unafraid," I infiltrated a Saint Petersburg group that engaged in falsifying election results. It was easy to pretend that I just wanted to earn some money like everybody else my age. They made it possible for a single person to vote 30 times for Putin's party United Russia, and I recorded their training using a hidden tape recorder. There were many such teams of election falsifiers in Russia.
The transcript of my recording, showing how they went about their work, was published on Izbrannoe.ru, and also in France in a book on human rights. Back then I was not yet working for Radio Liberty, but Dmitry Volchek, a Radio Liberty host, called me to participate in his program and to talk about the election fraud in Saint Petersburg.
Marina Salye with Anastasia Kirilenko. Photo by Yuri Timofeyev. Courtesy of A. Kirilenko.
QUESTION: How did you arrange your most famous series of interviews with Marina Salye, a Russian politician who in 1992 headed a special commission in St. Petersburg that investigated Vladimir Putin, then chairman of the city's Foreign Relations Committee, and accused him of corruption?
ANASTASIA KIRILENKO: As I started to work with the deputy editor-in-chief of Izbrannoe.ru, Mikhail Shevelev, we were discussing what else could be done in the category of you might call "subversive journalism" in Russia. He asked me to track down and to get in touch with Marina Salye. I found her number and contacted her, I believe it was in 2008, but at that time she declined to answer any questions. I kept her number "just in case". Then, the website Izbrannoe.ru was closed down, but I still worked at the same time for Kasparov.Ru and "Caucasian Knot," 4 days for one, 3 days for the other, without any free weekends, so that I could afford to live in Moscow. The interview with Marina Salye did not materialize until I started working for Radio Liberty.
QUESTION: How did you get a job at Radio Liberty?
ANASTASIA KIRILENKO: In 2009 Lyudmila Telen was recruited by Radio Liberty and proposed that I join her, and I did.
QUESTION: Were you pleased with what you were doing for Radio Liberty? When did you decide to try again to interview Marina Salye?
ANASTASIA KIRILENKO: I was quite pleased, but after a few months I became a bit restless due to the lack of opportunities for doing reporting work outside of Moscow. Then in February 2010, I saw an announcement for a propaganda film on state TV, "Putin, The Student of Anatoly Sobchak, The Democrat." Sobchak was the first democratically elected mayor of Saint Petersburg, and a mentor of Vladimir Putin. I called Marina Salye, told her about the film and suggested that she watch it; and she said that she would. After watching the film, she was outraged but still hesitant about being interviewed. I said to her, "can I come to see you on your significant birthday?" She was then already 75. Being enormously perceptive, and with a good sense of humor, she understood what else I was trying to say. So, we eventually met. She asked for time to prepare her documents on corruption accusations against Putin, which she was hiding at a different place, not in her house.
QUESTION: How did you finally interview her?
ANASTASIA KIRILENKO: She lived in a very remote area, almost inaccessible because there was no proper road. Photographer Yuri Timofeeyev and I had to use a shovel to get out of a snow bank after our car got stuck on a forest road on the way to her house. It felt like being again in Siberia where cars fall victim to the snow all the time, but you usually can count on other people to help you get going. This time we were alone, but we somehow managed to get to Marina Salye's house and got the interview.
QUESTION: Was Radio Liberty's Russian Service management supportive of your idea to interview a harsh critic of Vladimir Putin who was accusing him of personal corruption in his early years in Russian politics?
ANASTASIA KIRILENKO: There was no particular support from Radio Liberty's management for the interview with Marina Salye. The management initially did not even want to pay for the photographer, who used his own money to travel with me and showed no great enthusiasm for the interview, but afterwards he was reimbursed. RFE/RL posted the interview and it became a big hit.
QUESTION: Were you not afraid that accusations of corruption leveled against Vladimir Putin in an interview you conducted could get you in trouble with the Russian authorities?
ANASTASIA KIRILENKO: I was not afraid. I learned from Marina Salye about such awful and widespread corruption that I wanted the whole world to know about it. Otherwise it would remain subject to "omertà," a code of silence about criminal activity, and I along with the rest of Russia would have become an indirect participant in the crime.
QUESTION: Did you receive any threats in connection with the interview?
ANASTASIA KIRILENKO: I received some threats, but only from online trolls, and on the phone. They were not truly serious. Marina Salye again went into seclusion in 2010-2011, but then I convinced her to author a blog on Radio Liberty's website. Later, other journalists visited Ms. Salye in her country exile. In 2012, she gave several interviews in connection with Vladimir Putin running for president and even went to a protest rally on her way to a hospital in Saint Petersburg.
QUESTION: How did Marina Salye feel later about renewing corruption charges against Vladimir Putin in an interview she gave you?
ANASTASIA KIRILENKO: Marina Salye herself and her family were pleased that I reached out to her. We remained in touch almost until her last day. Several days before she died from a heart attack in 2012 at the age of 77, she called me and said: "hope to see you again soon." Marina Salye and her family were happy about the interview because, as her sister told me, this talented former politician and former deputy of the legislative assembly of Leningrad had nothing to do but crossword puzzles and suffered from depression.
A person with such a bright mind as Marina Salye–a real democrat, not a fake one like many others, author of a great book on corruption in Russia since 1917 to the 1990s–should not have been forgotten. I hope that her "return" in media space made her feel better, as she wrote in one of her blog articles. She also wrote to me, "Anastasia thank you, you pulled me out of a horrible pit and you continue to do so."
Also, the interview inspired other people to go to the press, including the police investigator Andrey Zykov. These anti-corruption investigations were not publicized in the 2000s, but by 2010 this important story was out. Many of Marina Salye friends were also happy that my interview with her broke her silence.
QUESTION: Why did you decide to do investigative reporting rather than doing something else?
ANASTASIA KIRILENKO: I didn't think of it as anything special, I just wanted to do my work well. At the beginning, some people, especially witnesses of Putin's early career, amazed me with their accounts of corruption. I was astonished why Putin's links to the Russian business mafia were not well known. Why isn't this important for Russian media?, I would ask myself. Then I understood that from the very beginning that there was censorship in Russia about this subject. Much of the documentation was destroyed or was being destroyed it, and you had to spend a lot of time and effort looking for it.
CONVERSATION WITH FORMER RADIO LIBERTY INVESTIGATIVE REPORTER ANASTASIA KIRILENKO – PART III
Anastasia Kirilenko's mother, Natalia Kirilenko, as a young girl in 1970s. Photo courtesy of A. Kirilenko.



CONVERSATION WITH FORMER RADIO LIBERTY INVESTIGATIVE REPORTER ANASTASIA KIRILENKO – PART IV