BBG Watch Commentary
Taxpayer-funded Voice of America (VOA), now referred to as the official state broadcaster of the United States, apparently could not find a VOA central English news correspondent or writer who could have been requested, wanted to or dared to post a full-length report on the Oscar for "CitizenFour," director Laura Poitras' documentary about National Security Agency whistleblower Edward Snowden and journalists who have reported on the story.
Russia's RT posted two full-length Oscar-Snowden reports and collected thousands of social media responses and comments.
Snowden made comments Monday during Reddit's AMA (Ask Me Anything), an online question-and-answer session on Reddit, which VOA did not cover, although the Broadcasting Board of Governors (BBG), a bipartisan board in charge of VOA, mentioned the Reddit session in its Media Highlights as an example of an interesting Internet news media development. Is there a disconnect between the BBG and the VOA?
BBG Watch also could not find any full-length recent Oscars related reports about Snowden on websites of Voice of America Russian Service, Radio Free Europe/Radio Liberty (RFE/RL) Russian Service, or RFE/RL English language news website.
But at least in English, one online RFE/RL report had slightly more information about the Oscar for the documentary about Snowden (76 words) than what Voice of America had initially posted online (42 words). RFE/RL has a much smaller budget than VOA. Unlike VOA, RFE/RL does not have a specific mandate to report on U.S. news, but it does have a mandate to report on Russia and regional news. Snowden now lives in exile in Russia.
RFE/RL Russian Service posted four lengthy online articles about the 2015 Oscars, but none of them mentioned Snowden.
Unlike VOA, however, RFE/RL paid a lot of attention to the Best Foreign Film Oscar for "Ida" by Polish-born director Pawel Pawlikowski. RFE/RL's Russian Service addressed key historical themes in "Ida", some of which touch upon the Soviet domination of Poland after World War II.
Why VOA would pay so little attention to "Ida" is difficult to explain.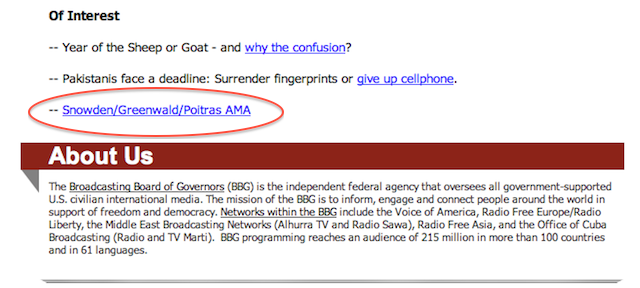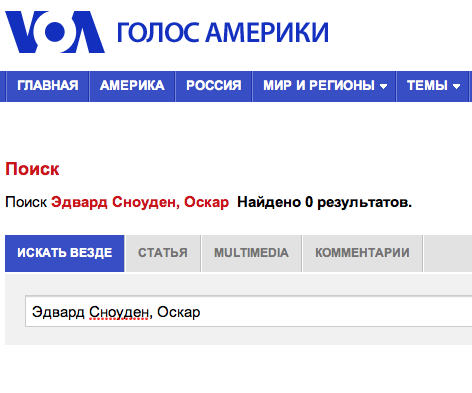 VOA As State Broadcaster?

February 2015
While VOA English news website mentioned the Oscar for "CitizenFour" briefly in one general news report about the 2015 Oscars posted online on Sunday night, Russia's RT devoted two full-length stories following the Oscar for "CitizenFour." RT did it in recognition of Snowden's international notoriety, and no doubt also in an attempt to score propaganda points against the United States, which VOA did not bother to address.
There is also some historical irony to VOA's, as well as RFE/RL's, lack of news curiosity on this story, because during the Cold War VOA and RFE/RL would have certainly covered at length, and did cover, any kind of major international awards connected with Soviet or East European artists and dissidents. One can think of Boris Pasternak, Alexander Solzhenitsyn or Lech Walesa. This is not to compare Snowden to any of these figures. For one thing, they did not flee their countries and were willing to pay the price for expressing their views with imprisonment and/or lack of freedom to publish. But one cannot deny that there are some similarities in these stories.

Whether one as an American enthusiastically approves what Snowden did or strongly condemns it, this was definitely a significant U.S. news story with international appeal that deserved more than just two sentences from the Voice of America in this VOA report, "'Birdman' Takes Most Oscars | VOA," which was posted on Sunday, February 23, last updated Monday at 12:52AM ET.
UPDATE: VOA issued a second report, "Oscar Speeches Get Political | VOA," on Monday at 5:14 PM ET, nearly 24 fours after the Oscars ceremony. That VOA report, which is not focused on Snowden, devotes five short sentences to "CitizenFour." There was no separate VOA report on the Oscar for the documentary about Snowden and any political controversy about it in the U.S.
Altogether, VOA English news website had 136 words on the Snowden Oscar in two reports that were not specifically about Snowden, but about the Oscars in general. The first VOA report had 42 words about Snowden. The second VOA report posted late afternoon on Monday had 94 words about Snowden.
DW and BBC

Germany's Deutsche Welle did not do a separate report on the Oscar for the Snowden documentary and did not report extensively on the Oscars ceremony, but the DW report still devoted 109 words to the Snowden film Oscar, more than VOA did in any single report, even though the Oscars are an American event, Snowden is an American, and his actions have to do largely with the U.S. government's surveillance policies.

03:51 BEST DOCUMENTARY – Laura Poitras' Edward Snowden film "Citizenfour" wins for best documentary. The film depicts Poitras' first meeting with Snowden and journalist Glenn Greenwald. Due to the sensitive nature of the material, Poitras filmed the feature under intense secrecy and edited it in Germany.

Greenwald stood beside Poitras during her acceptance speech.

"The most important decisions being made affecting all of us are made in secret. We lose our ability to check the powers that control," Poitras said upon accepting her award.

"Thank you to Edward Snowden for his courage and for the many other whistleblowers, and I share this with other journalists who are exposing truth."
BBC did not do a separate report on the Oscar for "CitizenFour" (it was mentioned briefly in several BBC reports), but BBC posted a four-minute video on the Snowden documentary a few days before the Oscars ceremony and provided links to it in later reports.
VOA Russian Service
We checked the Voice of America Russian Service website and could not find any full-length reports about the Oscar for the Edward Snowden documentary. Only one of three VOA Russian Service reports on the 2015 Oscars mentioned Snowden. It only mentioned him in one sentence.
In referring to the Voice of America as the official state broadcaster of the United States and complaining about the lack of resources to do more news in an organization laden with bureaucracy (the last point not mentioned), VOA director David Ensor recently told members of the Broadcasting Board of Governors (BBG) that VOA language services do a better job of covering news stories relevant to their target audience.
Edward Snowden lives in exile in Russia and his actions generated enormous interest abroad, perhaps much greater than in the United States. It would seem that the VOA Russian Service would have a special interest in paying close attention to Snowden in connection with the Oscars and otherwise.
RT makes sure that global interest in Snowden does not wane. Not paying much attention to the story by the Voice of America, is not going to make it go away. VOA simply misses an opportunity to raise questions and to show how Americans view this story in different ways. VOA does not need to engage in polemics. Telling the story from the American perspective — not just from the U.S. government or "state" perspective — might actually make America look good to the rest of the world. The U.S. Congress passed the VOA Charter and President Ford signed it in 1976 for that very reason.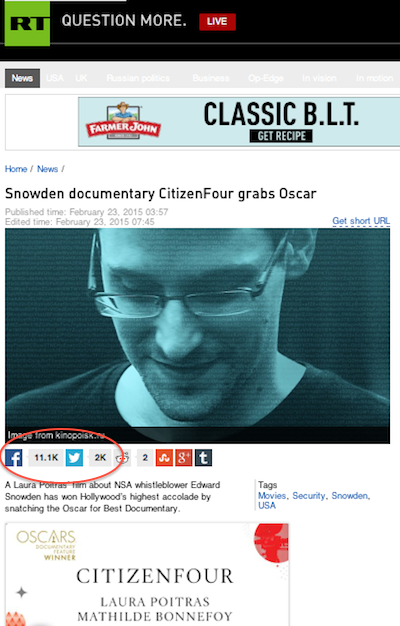 In contrast, Russian RT's first report exclusively about the Oscar for the Snowden documentary had 1,010 words, and the second report had 812 words. Both RT reports included Snowden-related and film-related photos, videos and Tweets.
A Teaching Moment

As former VOA director David Jackson might have pointed out, VOA has lost yet another teaching moment to show how diverse American views are about Snowden and how Americans at least talk about and in some cases advocate for and resolve such important issues as personal privacy, government intrusion and press freedom. Jackson had criticized earlier along these lines VOA's delay of a few days in reporting on the Brian Williams story.
BBG Watch would also point out that this was simply an important U.S. news story with a truly significant international interest and resonance attached to it. The fact that an RT report about the Oscar for the Snowden documentary had thousands of Facebook "Shares," Tweets and comments suggests that international audiences might have come to VOA for more details about this story if VOA were to offer it.
Even if VOA were a state broadcaster — which it is not — it definitely lost an opportunity to present all sides of the story, including the official U.S. side. Under its VOA Charter, the Voice of America is required to do both.
Instead, VOA may be creating an impression that it is somehow ashamed or afraid of the Snowden Oscar story. We saw the same kind behavior in Soviet media in the later years of the Cold War when they would sometimes report very briefly on a news development that may have been embarrassing to the Kremlin so that could not be accused of total censorship, but they would fail to provide any meaningful details. Look, we reported it, they would say.
That is not to say that VOA completely ignored the Snowden story in the past. It did not. But in this case, it nearly did, thus giving RT an advantage. Previous VOA coverage of Snowden was not all that effective either. It was not just lack of resources. It was a failure of leadership and management. It could have been something as simple and vague as calling the VOA a state broadcaster. Words and perceptions matter and they may influence the behavior of journalists and probably do.
With the combination of wrong understanding and wrong articulation of VOA's role and status, ineffective management and little appreciation for U.S. news as seen abroad, little wonder that RT beats VOA again and again in covering U.S. stories from its own "state media" perspective. RT is definitely a state broadcaster. It is Putin's broadcaster.
VOA and Foreign Film Oscar

VOA did not even post its own full-length report about the Oscar for the best foreign movie, which went to "Ida" by Polish-born director Pawel Pawlikowski. Several days ago, VOA had posted a Reuters report about "Ida." Reteurs is a UK-based international news agency.
We though that since VOA's audience is abroad, VOA would pay particular attention to this Foreign Film Oscar, especially since the movie incorporates in an artistic fashion important historical themes with contemporary significance, including rabid nationalism, anti-Semitism, totalitarian ideologies, the power of religion, foreign domination of a country by Nazi Germany and Stalinist Russia. Looking at "Ida" and comparing it to present day human tragedies, one could draw a conclusion that what Putin is trying to do in eastern Ukraine is not much different from what Stalin's Russia did in Eastern Europe.
NPR's Terry Gross recorded a fascinating 20 min. radio interview with Pawel Pawlikowski for her "Fresh Air" program and covered some of these historical and philosophical themes, as well as personal and artistic observations. NPR also posted a full transcript of the interview.
Where was VOA?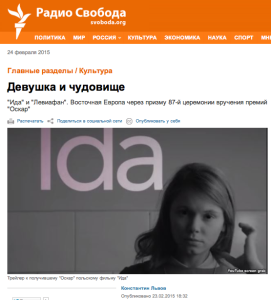 The Russian Service of Radio Free Europe / Radio Liberty paid a lot of attention to "Ida," posted a full-length report, and addressed key historical themes of the film, some of which touch upon the Soviet domination of Poland after World War II.
A VOA video report posted online Monday referred to some U.S. films with social themes, but it failed to mention "Citizen Four" or "Ida," — the two films with especially strong political and international themes.
Is VOA still an international broadcaster?
The Voice of America has missed yet another opportunity to show the United States as it really is by covering important U.S. and international news in which there is considerable interest abroad.
RT

If the Voice of America is not going to cover a U.S. news story, it's a safe bet that RT will, especially if it can score propaganda points. If VOA ignores such a story and does not attempt to explain some of the nuances, RT wins.

RT's full-length report is showing over 10,600 Facebook "Shares"/"Likes" and 808 comments as of Monday, February 23, 2015, 8:00 PM ET. A VOA report that mentions "CitizenFour" in two sentences is showing 299 Facebook "Shares" and 7 comments.
RT also posted a newer report. Snowden made comments Monday during Reddit's AMA (Ask Me Anything), an online question-and-answer session on Reddit. "Joined by journalists Laura Poitras and Glenn Greenwald, who helped break the first batch of stories based on his leaks, Snowden answered a number of questions from Reddit members," RT reported. VOA had no coverage.

Even someone at the Broadcasting Board of Governors concluded that Reddit's AMA online question-and-answer session with Snowden was "of interest," but no one at the Voice of America thought it was, or at least was not prepared to do anything about it. RT did.