USAGM Watch Commentary
There were no protests from the Voice of America (VOA) English central newsroom reporters, liberal media or most members of Congress when officials working for then Vice President Joe Biden in the Obama White House used VOA and its journalists for political publicity in Ukraine and in the United States with the help of the agency's former senior management. The agency was then called the Broadcasting Board of Governors (BBG). In 2018, BBG was renamed the U.S. Agency for Global Media (USAGM).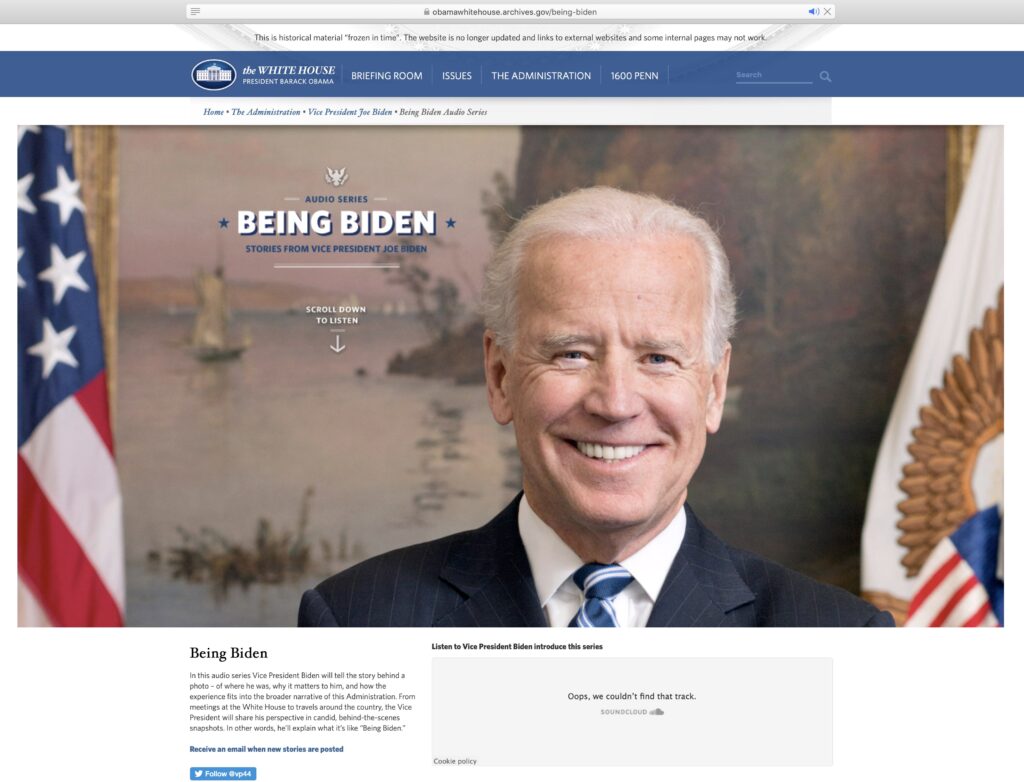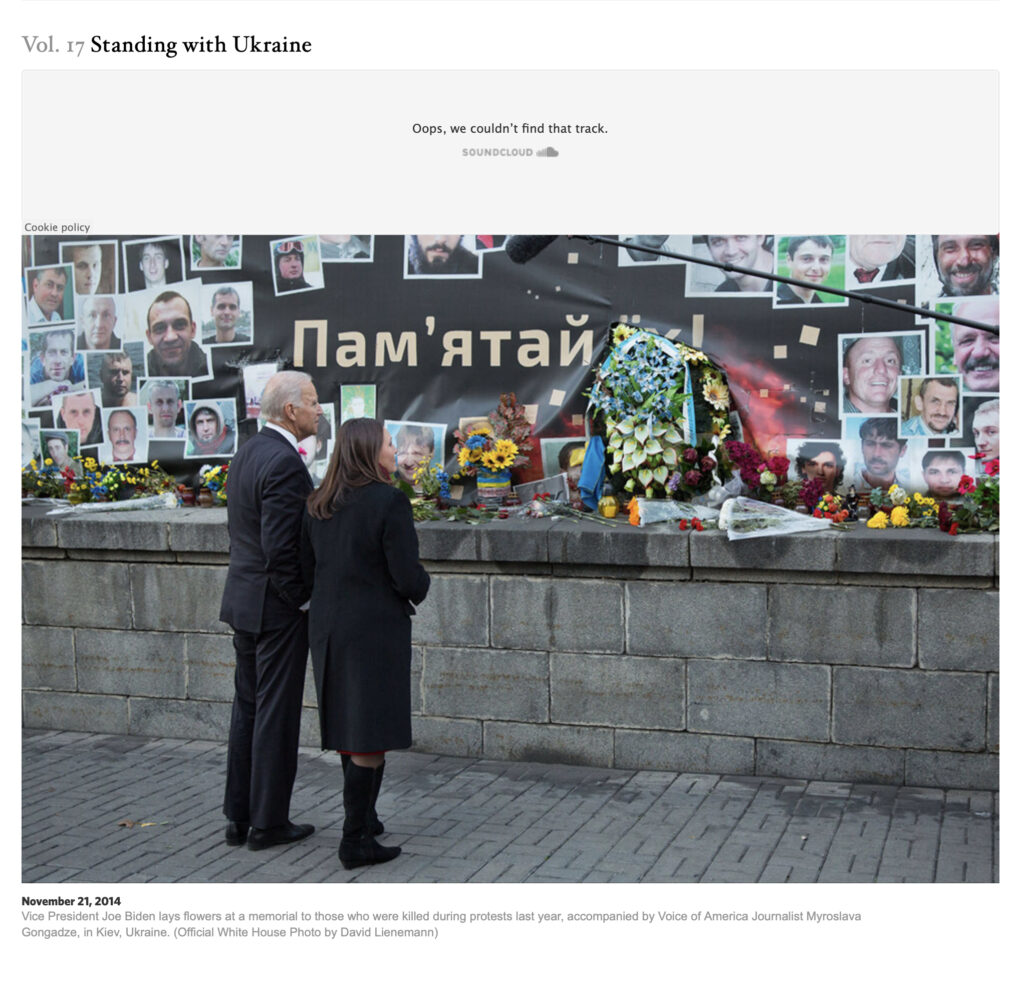 In some of the posts on the official Obama White House website a Voice of America Ukrainian Service journalist is seen participating with Vice President Biden in an official event during his November 2014 visit to Ukraine. The caption on the official White House photograph says "Vol. 17 Standing with Ukraine. November 21, 2014 "Vice President Joe Biden lays flowers at a memorial to those who were killed during protests last year, accompanied by Voice of America Journalist Myroslava Gongadze, in Kiev, Ukraine. (Official White House Photo by David Lienemann)."
The Obama-Biden White House posts are part of the audio series called "Being Biden." They are now archived and partially available online. Myroslava Gongadze is identified in Obama-Biden White House website, blog, and social media posts as either "Voice of America journalist" or "reporter and activist Myroslava Gongadze, who lost her husband more than a decade ago because he spoke out against a then-undemocratic government."
The former VOA and USAGM senior management [USAGM was then called the Broadcasting Board of Governors (BBG)] arranged for Gongadze to accompany then Vice President Biden to some of the official public events during his 2014 trip to Kiev, Ukraine, which Gongadze also covered for VOA. She posted photos with Biden on social media and called him a "good man." Some of these photos were later deleted.
A former VOA correspondent observed that "in 2014, while covering Vice President Joe Biden's visit to Ukraine, respected VOA Ukrainian Service TV personality, Myroslova Gongadze, used her Facebook page for what former and some current VOA reporters called blatant mixing of political activism into reporting." But blatant mixing of political activism with Voice of America reporting was also done by Obama-Biden White House officials and by Vice President Biden himself.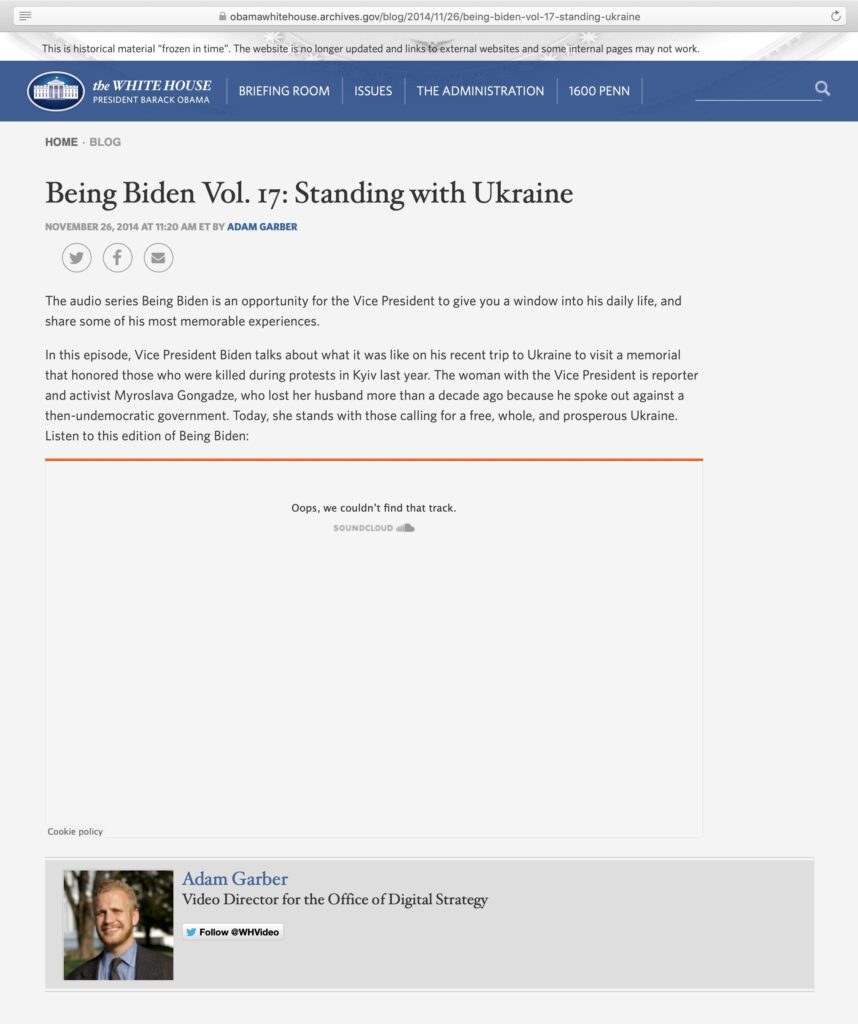 It seems likely that such comments and photographs with a well-known Ukrainian-American journalist could help Joe Biden win some votes among Ukrainian-Americans although the impact of U.S. tax-funded Voice of America news reporting and social media activities on the 2016 U.S. elections has not yet been investigated.
While Voice of America audience is primarily abroad, VOA websites and social media pages attract online traffic from the United States, although it is not huge. The VOA English-language content, however, gets a significant portion of its web traffic from the United States.
The Voice of America is 100% funded by U.S. taxpayers and is part of the federal government. VOA's budget in FY2019 was $250 million. USAGM's budget, which included VOA's budget but also additional support for VOA programs and funding for other USAGM entities, was $798 million in FY2019.
The VOA Charter, which is U.S. law, says that "VOA will represent America, not any single segment of American society, and will therefore present a balanced and comprehensive projection of significant American thought and institutions."
A month before the U.S. presidential election in 2016, the VOA Ukrainian Service posted a one-sided anti-Trump video which some inside and outside critics described as an unprecedented violation of the VOA Charter. The service added Ukrainian subtitles and VOA logo to a video, in which Hollywood actor Robert De Niro called Trump "punk," "dog," "pig," "con," "buls**t artist," "mutt," "idiot," "fool," "bozo," and "blatantly stupid" and condoned physical violence against him.
This may have been the first time in VOA's history that such a one-sided partisan attack on an American politician was broadcast by VOA without any balance or context. It may have also been the first VOA program in which physical violence against an American politician was condoned without any criticism or challenge. The video was eventually removed after outside critics protested to the Broadcasting Board of Governors and VOA management. These abuses and violations were almost completely ignored by mainstream liberal media outlets such as NPR, CNN, The New York Times, and The Washington Post which are now accusing Trump-appointed USAGM CEO Michael Pack of trying to introduce pro-Trump propaganda into VOA.
All of this happened under the former VOA and USAGM senior management. Some of its members departed before Trump-appointed Michael Pack took charge of the agency in June 2020 and some others were replaced by him shortly thereafter.
Michael Pack's arrival did not put a stop to all violations of the VOA Charter in favor of Democrats and Joe Biden's presidential candidacy. Even after Pack took over in June, the VOA Urdu Service produced a one-sided pro-Joe Biden presidential election campaign video composed of content originally created by Biden's supporters and designed to win votes for him among American Muslim. When the video, which violated the VOA Charter, was discovered, it was taken down by VOA's new interim management selected by Michael Pack.
But, as reported on June 25, 2020 by Alex Ward in VOX:
"If Joe Biden wins the presidency, he's promising at least one staffing change: firing the CEO of a US-funded global media agency who's accused of trying to turn it into a propaganda shop aligned with President Donald Trump's ideology. Andrew Bates, a spokesperson for the former vice president's campaign, said Biden will oust Michael Pack from his Senate-confirmed position at the US Agency for Global Media (USAGM) soon after entering the White House. The reason is simple: Biden believes Pack is trying to turn one of the world's largest media networks into something akin to Breitbart or Trump TV. 'Michael Pack is decidedly unqualified,' Bates said, 'and his actions risk hijacking invaluable, nonpartisan media institutions that stand up for fundamental American values like freedom and democracy in the world.' USAGM is a government department that oversees five media organizations: Voice of America, Middle East Broadcasting, Radio Free Asia, Radio Free Europe/Radio Liberty, and the Office of Cuba Broadcasting."
The head of US broadcasting is leaning toward pro-Trump propaganda. Biden would fire him.
Michael Pack, who oversees Voice of America and other US-funded global media, would lose his job if Joe Biden becomes president.