BBG Watch Commentary
At the Broadcasting Board of Governors (BBG) open board meeting on August 13 in Washington, DC, U.S. Under Secretary of State for Public Diplomacy and Public Affairs Rick Stengel said that Russia has outstanding messaging capabilities on social media and observed that this is an area the United States "should own, but we don't really own it."
Under Secretary Stengel represents Secretary of State John Kerry at BBG meetings.
In failing to arrange for on the scene coverage of the protests and riots in Ferguson, Missouri, and through numerous other management and news reporting failures, the top brass of the U.S. taxpayer-funded Voice of America (VOA) has shown Under Secretary Stengel exactly why Russia's RT (formerly called Russia Today) outperforms VOA online and in social media by a factor of thousands day after day.
U.S. Under Secretary for Public Diplomacy and Public Affairs Rick Stengel and White House Assistant to the President and Deputy National Security Advisor for Strategic Communications and Speechwriting Ben Rhodes expect Voice of America and other U.S. funded broadcasters to "own" social media in competition with Russia's RT and other foreign state-funded media outlets, but Voice of America's performance has been extremely disappointing in competition with RT due to poor management and lack of leadership. At the BBG meeting last week, Ben Rhodes spoke about the bipartisan House bill, H.R. 4490, to reform the BBG, which the White House supports in its broad terms, although it is requesting some modifications, according to Rhodes. Voice of America English News failed to report on his remarks, but Russia's RT did.
Management reform is desperately needed. Voice of America still has no reporters in Ferguson, although in the past Voice of America executives arranged for posting dozens of VOA news reports on the British royal wedding and the British royal baby christening. Today (Monday, Aug. 18, 2014), VOA managed to post on its English news website only one news report on the killing of Michael Brown and the subsequent protests which have attracted worldwide attention. Russia's RT posted Monday several multimedia news reports about the situation in Ferguson and blasted VOA out of the water in social media ratings on this news story and practically every other news story.
Not only VOA top executives took their vacations in August despite severe crises and news emergencies in Iraq, Syria, Ukraine and now in Ferguson, they also allowed many VOA reporters to go on leave and made no arrangements for news coverage of several major news developments.
As pointed out by Ann Noonan, the head of the NGO Committee for U.S. International Broadcasting (CUSIB – cusib.org), at the BBG board meeting, attended by Under Secretary Stengel and by Ben Rhodes through a video link, VOA and International Broadcasting Bureau (IBB) executives made no arrangements to help the VOA Kurdish Service at the moment of one of the most severe emergency and crisis for the Kurds. The service was not updating its website, Facebook and Twitter for up to 11 hours last week while tens of thousands of Kurdish speaking refugees were being pursued by the Islamic fighters, stranded without food on a mountain, and being supplied by the U.S. military in one of the greatest humanitarian tragedies of recent years.
It took VOA Kurdish Service a few hours to report online on President Obama's major statement on the humanitarian situation in Iraq — and when it did, it had only four short sentences.
Ann Noonan, CUSIB: "VOA English News had only one sentence on the meeting Deputy National Security Advisor Ben Rhodes had last week at the White House with members of the Iraqi Yezidi community to discuss the dire humanitarian situation in northern Iraq, particularly as it impacts the Yezidi community and other ethnic and religious minority groups, including Christians, Turkmen, and Shabak.

Every day, there are examples of VOA News failures, such as not reporting at all on the House Foreign Affairs Committee testimony last week by a former Syrian Army photographer about evidence of killings and torture by the Syrian regime. A meeting Deputy National Security Advisor Ben Rhodes had with the former Syrian Army photographer who documented crimes in Syria was not reported by VOA English News.

In another incident, VOA interrupted live radio transmission to Africa of President Obama's major speech about Africa and failed to report on critical comments on U.S. Africa policy from key members of Congress, including Senator Menendez and Congressman Royce.

…VOA English News reported inaccurately on the UN report about casualties in eastern Ukraine and gave a boost to propaganda from the Russian government by its inaccurate reporting.

This is happening at VOA again and again. There is a breakdown of leadership, management and editorial controls at the Voice of America and the BBG must take immediate steps to address this situation."
Almost two weeks into the riots in Ferguson, Missouri, VOA English News still has no one on the scene.
RT's several online multimedia news reports about the situation in Ferguson posted Monday, Aug. 18, received thousands of Facebook "Shares," retweets and comments. Voice of America's one report Monday on the VOA English news website, which was updated late and infrequently, received only several dozen "Shares" and retweets.
The U.S. State Department is performing nearly ten times better on Twitter with over a million Followers under Rick Stengel than VOA English News with slightly over 100 thousand Followers.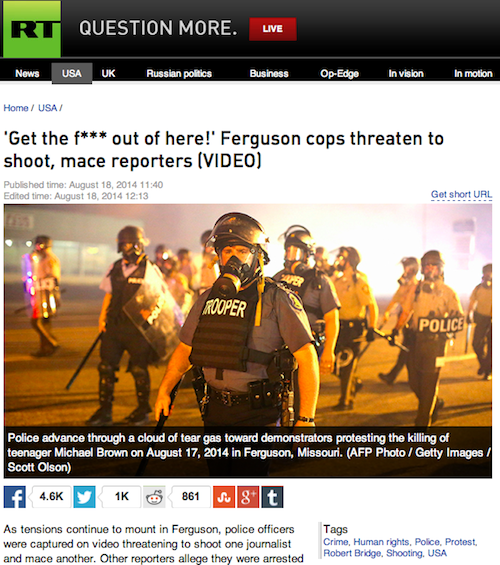 UPDATE
As of 9:00 PM EDT, Aug. 18, 2014, Russia's RT post, "Militarized US police face-off with Ferguson protesters LIVE UPDATES – RT," shows over 5,300 Tweets and over 4,000 Facebook "Likes" and 127 comments.
Monday's RT report, "Autopsy reveals cop shot Ferguson teen 'at least 6 times' – RT," shows over, 3,200 Facebook "Likes" and 662 Tweets, and 80 comments as of 8:30 PM EDT.
Another RT report posted Monday, "'Arrest the killer of my child': Brown's mother pleads after autopsy – RT," shows over 2,100 Facebook "Likes 282 Tweets and 367 comments as of 8:30 PM EDT.
Still another RT report, also posted Monday, "'Get the f*** out of here!' Ferguson cops threaten to shoot, mace reporters (VIDEO) – RT," showed over 4,600 Facebook "Likes," 1,000 Tweets and 226 comments as of 8:30 PM EDT.
Voice of America's only VOA English News online report Monday about the situation in Ferguson, posted from Washington with a late update on President Obama's statement, "Obama Appeals for Calm as National Guard Arrives in Missouri – VOA News" showed only 150 Facebook "Shares," 57 Tweets, and 6 comments as of 8:30 PM EDT, Aug. 18.
Germany's Deutsche Welle (DW) had a video report showing President Obama speaking Monday afternoon about the situation in Ferguson. Voice of America did not provide any video in its online report, which was posted late, about President Obama's remarks.
In an apparent violation of the VOA Charter, which requires VOA news to have balance, the Voice of America report today did not mention the Ferguson police department's claim that the victim was allegedly trying to attack the police officer and to grab his gun when he was shot and killed. Both BBC and DW reports mentioned this police claim. DW noted that the protestors in Ferguson do not accept the police story as true.