EXCLUSIVE OPINION for BBG Watch
Reform Radio Liberty or Continue to Lose Propaganda War with Russia
In times of communist dictatorship, Western-funded media targeting their audiences in the USSR and Eastern Europe had a simple task. They had a clear mission to represent democratic values and human rights, while their readers and listeners were keen to get access to any media free of censorship. To some degree, radio stations such as BBC, Voice of America, and Radio Free Europe and Radio Liberty enjoyed a monopoly for the truth. Millions of listeners around the entire communist world spent nights trying to tune to their signals and to find a frequency free of jamming. They looked there for something they had no chance of finding in their own national media, which was controlled and censored by communist regimes.
After the collapse of communism, this kind of information monopoly was gone. In many cases, Western governments discontinued broadcasting to new post-communist democracies where local media started to produce unrestricted and diversified content. Russia and the majority of post-Soviet republics were, however, a different case. Their newly-born democracies were extremely fragile, and in most cases soon replaced by autocratic regimes.
Liberal democracy has been destroyed in Russia, but even Putin's Kremlin doesn't attempt to restrict the media in the way that Communist regimes did. I often meet people who have never been to Putin's Russia and believe that Russian TV and print media are subject to censorship nearly as strict as in the Brezhnev era. This is simply not true. The reality is more complicated. But the Kremlin's clampdown on independent media is, in its impact in Russia and beyond, almost as threatening to peace and human rights in Europe, the Middle East and elsewhere as the communist monopoly on the truth was during the Soviet period.
Kremlin and other post-Soviet regimes are hybrid in their nature and use much more sophisticated methods to limit the influence of the independent media than blind censorship and brutal repression. Under the late President Boris Yeltsin, Russia developed a well-diversified media market, with TV stations, print media and online news services representing different views and ideas. Afterwards, Putin's regime imposed strict controls on major national television channels. But even now Russians have access to a variety of independent media outlets, some of which are still not afraid to criticize the Kremlin.
This means that such organizations as the American-funded Radio Liberty have to compete now with other Russian media and news organizations not always representing the official Russian point of view. In this respect, the Russian Service of Radio Liberty (Radio Svoboda) did rather well in the nineties. Its coverage of the dramatic Moscow events in October 1993, or of the First Chechen war, earned Radio Svoboda respect and credibility.
A lot has changed since then. Russian media sponsored by the West are not only losing the propaganda war with the Kremlin, they are also failing to compete with the independent media in Russia.
Kremlin's skillful and efficient propaganda ensures its position on a number of issues is accepted in the post-Soviet world. It is not only a question of Moscow using more sophisticated propaganda tools than the West. Russia still has some soft power left in influencing public opinion in the old Soviet republics. A degree of nostalgia for the Soviet times can be felt among the old generation. For some in Central Asian nations, life in the Soviet times had some advantages over the new free market economy. These republics were heavily subsidized and Moscow supported local cultural elites. Now, masses of Tajiks and Kyrgyz migrants in search of work end up sweeping Moscow streets and working on construction sites. Moscow's message for them is that their present misery has been caused by the collapse of USSR, and guess who was responsible for this: the United States and the West. Russian film and music stars are still popular in the entire post-Soviet world.
Russian television plays an important role too. Major Russian channels are produced by true professionals, who have proven their ability to deliver highly-polished content. The post-Soviet world is not only watching Russia TV news, but also popular entertainment shows, soap operas, serials, other programs. Viewers from the old Soviet republics, from Tajikistan and Armenia to Belarus and Moldova know well that their local TV stations lack the resources to produce something as good as Russian TV. Major Russian channels produce also news and political shows promoting Kremlin's point of view. Even now in times of economic crisis, Russian TV is oiled by big budgets and can afford reporting on a scale that the genuinely free Eastern European national TV channels can only dream of. Russian TV correspondents are reporting from all corners of the world. Their bosses spare no expense to cover Syria, Turkey, Iran, the European migrant crisis, and the American presidential election (of course the way they cover these stories is good for Russia's interests).
Better educated independent Moscow audience likes to boast of not watching these national channels, which they call "Goebbels TV". But Dmitri Kiselyov, Vladimir Solovyov, Dmitri Kulikov, Margarita Simonyan, to name just a few, learned well what has to be said and how for the majority of people to believe that Washington and NATO are responsible for Russia's problems, falling oil prices, the Ukrainian crisis, the Syrian war, European migrant crisis, etc. In various political talk shows, they condemn American puppet masters for organizing color revolutions, for bringing instability to different regions, for promoting Washington's own political agenda. A participants of one such talk show on Crimea maintained that it was America which deliberately pushed Russia into the Crimean crisis in order to be able to create a worldwide image of Russia as a dangerous enemy.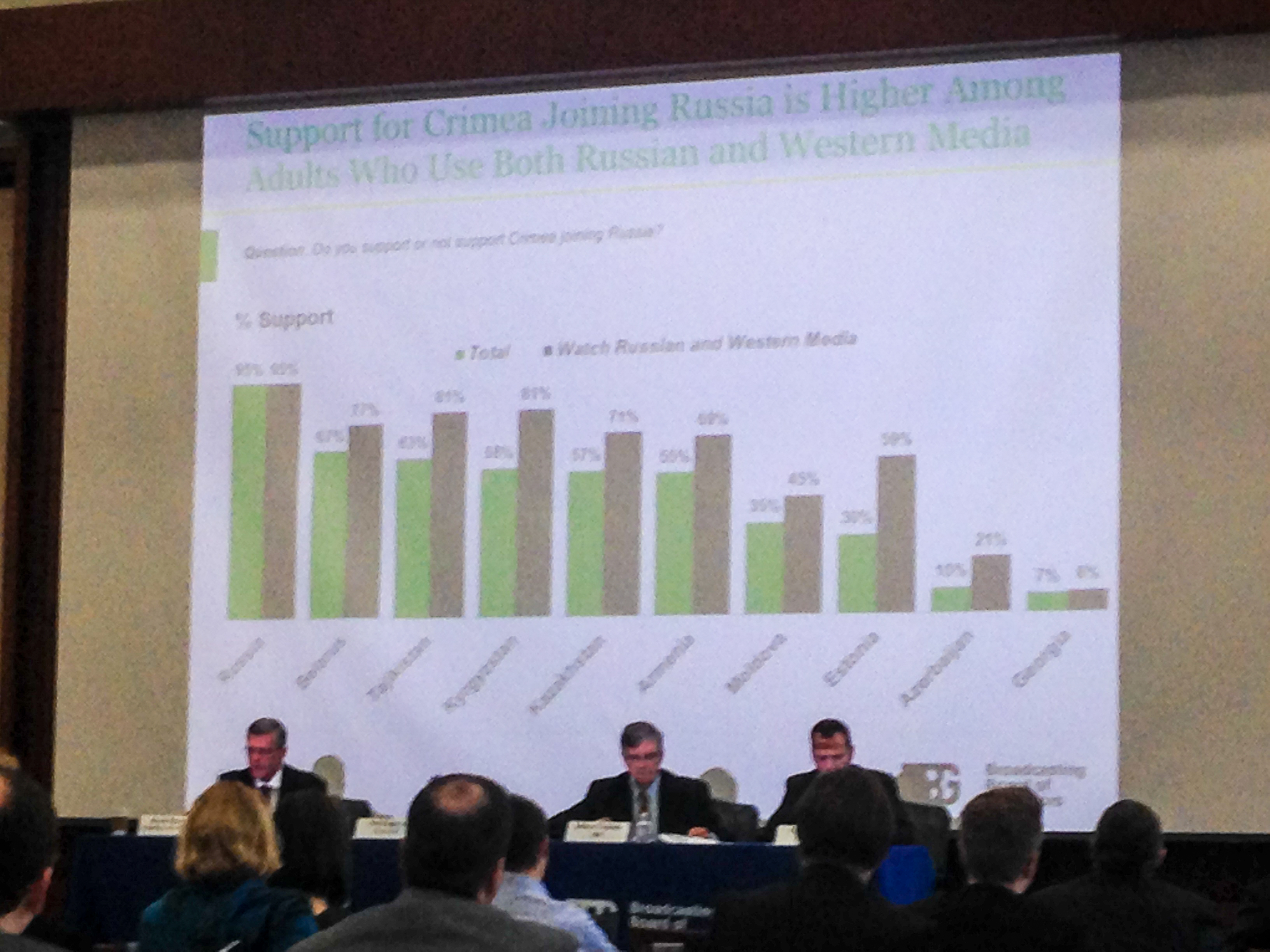 Longtime BBG executive and former RFE/RL acting president, IBB Deputy Director Jeff Trimble, listening to Gallup presentation, as reported by Voice of America: "Pollster: "Russia Winning 'Information War' in Former Soviet States | VOA News." BBG Watch: this independent courtesy photo suggests that some BBG programs may even have a negative impact for the United States.
The Western effort to communicate with the old Soviet zone has been very poor in comparison. Radio Liberty's Russian Service coverage of the current Ukrainian crisis provides a good example of an inadequate response. Pro-Kremlin Russian audience found the coverage offered by the state TV channels convincing. People believed Putin was right to annex Crimea. They believed that the demonstrations in Kyiv were controlled by extremist fascists groups. They became convinced that the Ukrainian authorities were pursuing U.S. interest and were responsible for the atrocities in Donbas. According to Kremlin's propaganda, the Ukrainian crisis was created by Washington.
Those Russians who disbelieved the official propaganda on the Ukrainian crisis were a minority, perhaps 10%, but Western-funded media such as Radio Liberty were not their first choice for news and opinions. Independent Russian media outlets working on tight budgets were able to provide reliable coverage of the Ukrainian crisis. On several occasions TV RAIN, Novaya Gazyeta, Kommersant daily, Lenta.ru broke major news stories which were later picked up by the international media. Their correspondents reported from Kiev, Donetsk, Lugansk, Odessa, Mariupol. They interviewed Ukrainian politicians, Donbas separatists. They produced evidence of the Russian Army's involvement in military operations in Eastern Ukraine (Yelena Kostyuchenko at Novaya Gazieta, Ilya Barabanov at Kommersant daily).
I remember well a book I read many years ago written by an American journalist Robert St. John. During the World War II, he worked as the Eastern European and Balkan correspondent for the Associated Press. Each time his agency failed to report the news ahead of their main rival, UPI, he would get a cable from his head office with a question which was also a warning:
"UPI 5 minutes ahead. How come?"
Timeliness was not the only problem. Radio Liberty's Russian Service coverage of the Ukrainian crisis was a sad failure in other respects. It was even a bigger disappointment for those who remembered Russian Service's correspondent Andrei Babitsky's heroic reporting from the First Chechen War (1994-1996).
Another example of Radio Liberty's Russian Service failure to compete successfully with the other Russian independent media outlets was the release of Mikhail Khodorkovsky from labour camp and his subsequent expulsion to the West. During the first few days of his stay in the Berlin Adlon Hotel, Khodorkovsky gave a number of interviews to different media, such as The New Times weekly, TV RAIN, and REN-TV, but Radio Liberty was not among them, even though Radio Liberty earlier had made a real effort to report on his two trials. Why the Russian Service did not send Maryanna Torocheshnikova to Berlin remains a mystery? She had done such an excellent job of reporting on Khodorkovsky's case and had befriended his parents. This could have paved the way for her to have access to the exiled oligarch, but Radio Liberty shown no initiative.
Even more frustrating is that the RFE/RL management has not drawn any conclusions from its Ukrainian failure. Just few days ago I watched a new edition of their new TV/video project, "Current Time." It is a news show anchored by Timur Olevsky, a former star of TV RAIN, now Russia's only independent TV station. Olevsky at TV RAIN was their war correspondent in Ukraine. Dressed in a bullet-proof vest he told viewers the cruel truth about the Ukrainian crisis, the contrast between his soft voice and gentle manners and the atrocities of the war only increasing the power of his message.
Radio Liberty brought Timur Olevsky to Prague and made him the anchor of "Current Time." They dressed him in a fashionable suit and tie. This is a different Olevsky; his old style is gone. He is now learning new skills of anchoring a news program, copying his successful and more experienced colleagues from his old TV RAIN station.
At a time when Radio Liberty could use such a compelling journalistic personality, it has, inexplicably, chosen to misuse one of its best. Olevsky should be on the Syrian-Turkish border now, talking to refugees fleeing the Russian bombardment of Aleppo, not sitting in a Prague studio dressed in a suit.
In its present shape, the "Current Time" program has a long way to go to win the audience. The way it looks now, it has no chance to compete with either the poorly-financed independent TV RAIN or the super-rich pro-Kremlin national TV channels.
The old Radio Liberty Russian Service is something different. It is still a strong brand. It still has great journalists. Some of its programs, debates, and interviews are done according to the highest professional standards. But overall, Radio Liberty seems to have lost the power and appeal it used to have in the past. Even the Kremlin, while accusing Washington of being the source of all major international problems, gives little attention to Radio Liberty funded by the U.S. Congress.
In communist times, it was a completely different story. Radio Free Europe and Radio Liberty were accused all the time of being the tool of ideological warfare. These days, the Kremlin accusations are directed at the local independent media, often presenting them as the "Fifth Column" against Russia. Various think tanks, Brookings Institution, Soros' Open Society Foundation, National Endowment for Democracy are accused by the Kremlin and its media of representing a real threat to Russia's stability, but not Radio Liberty.
Radio Liberty's problems are similar to those experienced in the past by Russia's major opposition newspaper Novaya Gazyeta. Its audience knew it was an honest media outlet. Its journalists, Anna Politkovskaya and Yuri Shtchekotchikhin paid for their courageous reporting with their lives. Putin critics agreed with the paper's position on most issues. But around 2010, Novaya Gazyeta became a dull, old-fashioned newspaper. At the same time Russian media world was full of the new talent. New print and online projects such as lenta.ru, Russian Esquire, Russian Newsweek, Snob.ru, Vedomosti newspaper, were creative, vibrant and appealed to the public. Their journalists would meet in popular Moscow clubs and cafes such as Jean Jacques or Mayak, exchanging ideas, holding professional discussions, looking for new ways to address the needs and concerns of their audience.
The Ukrainian war and the regime's autocratic development eventually changed the Russian media landscape. Some of the successful projects were either shut down (Newsweek Russia, old Lenta.ru) or lost some of their appeal (Ekho of Moscow Radio), but Novaya Gazyeta found a new mission. Joined by young journalists, such as Pavel Kanygin (another Ukrainian war correspondent) and Yelena Kostyuchenko, it underwent a very successful facelift. It is now again a vibrant newspaper and a strong voice attracting wide attention.
Radio Liberty needs this kind of transformation. The former Russian Service director tried to hire new talent. One of them was former REN TV channel star Roman Super. She employed also young journalists just starting their professional career. But in the absence of an effective overall strategy, neither Super nor these young journalists had enough guidance and fresh energy to ensure the kind of transformation that is needed.
Another lesson to be learned by the RFE/RL Russian Service is from the success of the Meduza online news project. It was founded by the former lenta.ru news service journalists and editors who quit their jobs in an unprecedented solidarity gesture following dismissal of their boss Galina Timchenko. She was fired by the lenta.ru's owner, oligarch Alexander Mamut who was acting on the instructions from the Kremlin. The authorities were mad at Lenta's coverage of the Ukrainian crisis
Having lost their old jobs, Timchenko and her colleagues did not give up. They found investors willing to support their new project meduza.io. Its head office is based in the Latvian capital Riga, but they have a network of correspondents and writers working for them in Russia. Meduza had the right approach. It is creative and flexible. It offers a great news service and attractive longer features. It provides innovative online solutions. Meduza has great stars among its writers such as Ilya Azar. Unfortunately compared to Meduza, Radio Liberty's Russian Service is an old, slow, retiring elephant.
For RFE/RL, loyalty to its heritage and continuity are as important as the need to modernize and to keep pace with the changing media landscape. Recent former directors did more harm than good. It seems that their priorities were not change, transformation and modernization, but staff reshuffles aimed at enforcing discipline and strengthening their own positions. Perhaps I am wrong. Perhaps it is also the internal mechanism of RFE/RL and Broadcasting Board of Governors organization which makes such changes difficult to implement. If that is the case, the Broadcasting Board of Governors and members of Congress must understand that reforming RFE/RL's Russian Service simply cannot be delayed any longer. Otherwise, there will soon be yet another conference in Washington or another congressional hearing at which experts will do more lamenting about U.S.-funded media losing the propaganda and information war with Putin's Russia.
Zygmunt Dzieciolowski is a Polish journalist who has covered USSR, Russia and other post Soviet states since 1988. His articles have been published by major European newspapers and magazines. From 2008-2013 he was co-editor of the online magazine openDemocracy Russia.