BBG Watch Commentary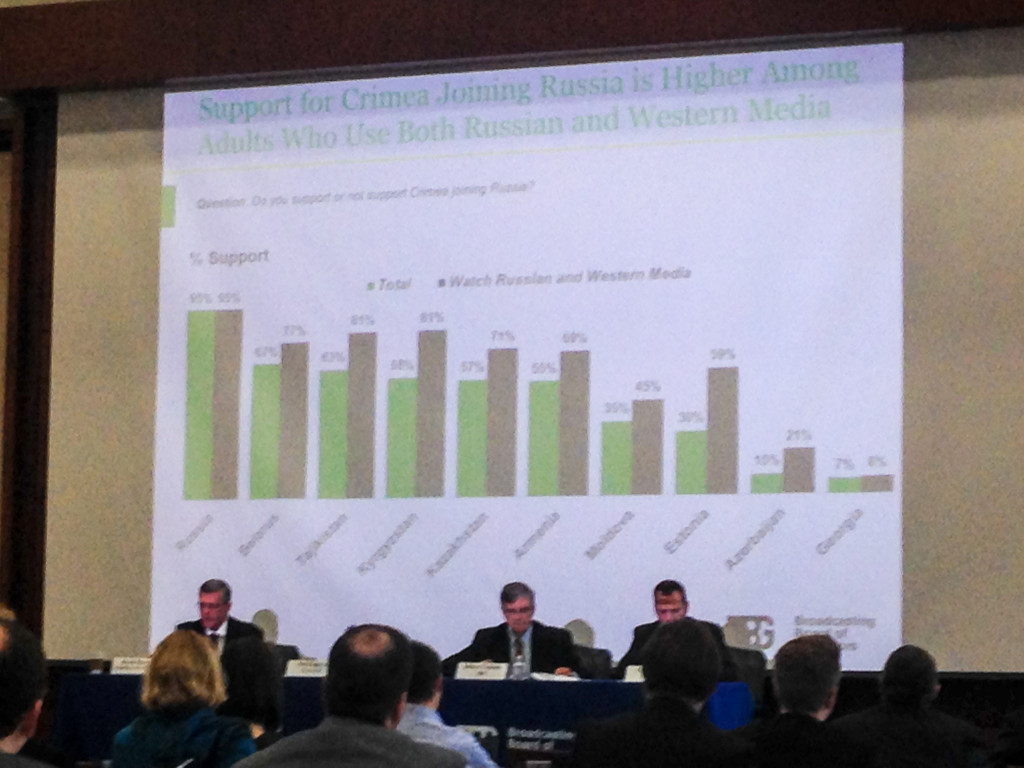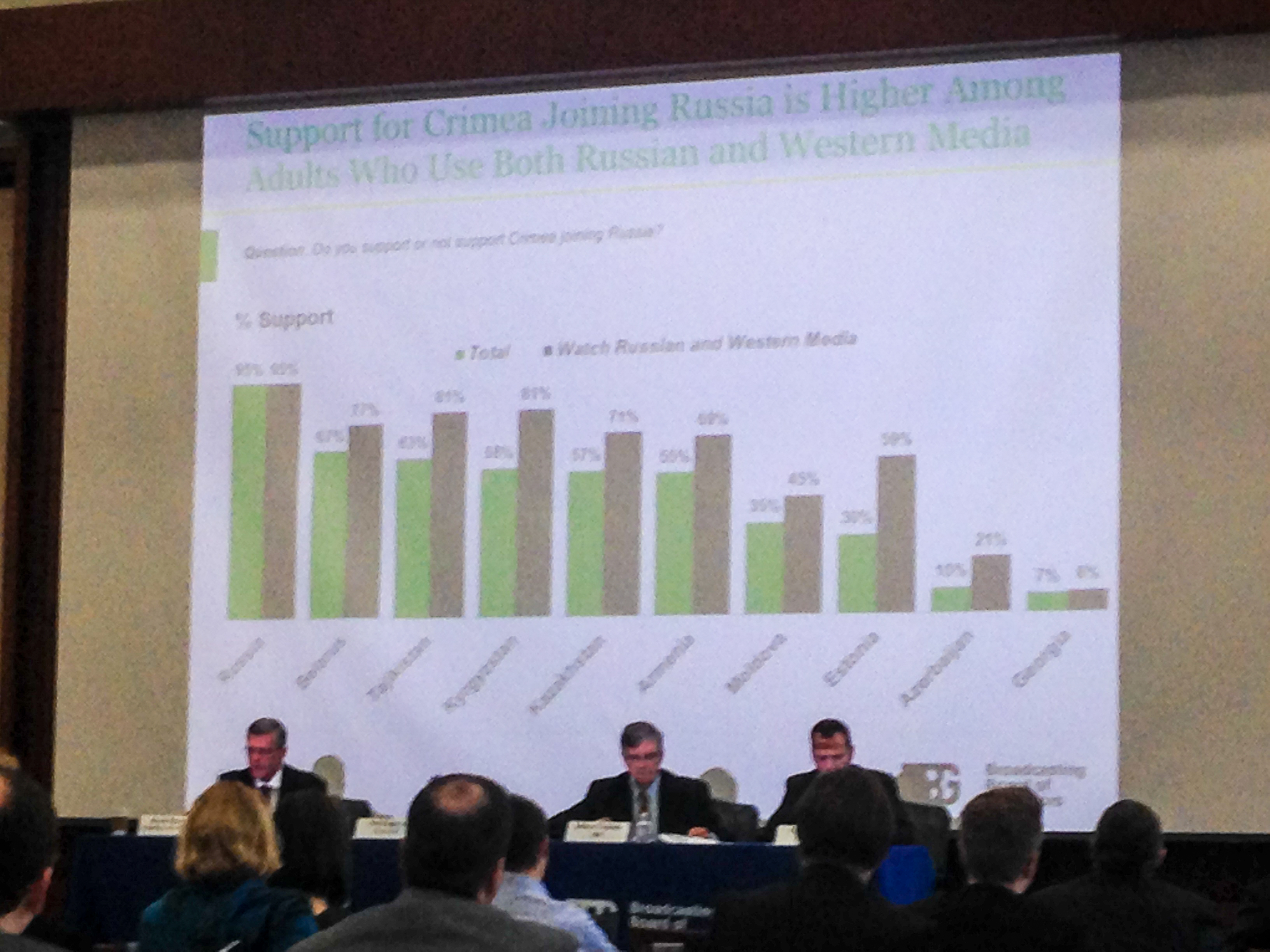 Broadcasting Board of Governors' (BBG) International Broadcasting Bureau (IBB) Deputy Director Jeff Trimble listening to a Gallup expert saying that Russia is winning information war in former Soviet states and that some BBG programs may even have a negative impact for the United States.
This could be a lesson in how the Kremlin-run Russian media operates. Some of the time, they offer content that is about 80 or 90% true, but it is the remaining 10 or 20 %, or the information that is excluded, that makes for effective Russian state propaganda and disinformation.
We were fortunate to have both Voice of America (VOA) and the Broadcasting Board of Governors (BBG) reporting on the same event in Washington, VOA in a news report, and BBG in a press release.
You would not have learned from the BBG press release, written by BBG's International Broadcasting Bureau officials, that BBG media programs targeting the former Soviet state may actually have a negative impact for the United States and that the United States and the BBG are losing the information war with Russia. Fortunately, the VOA news report and the photos obtained by BBG Watch make that point rather clear.
What is unfortunate is that BBG officials continue to misinform and mislead members of Congress, media and American taxpayers with their self-serving press releases.
Thank you Voice of America for giving comprehensive and balanced information in this report for VOA's overseas audiences.
Shame on BBG officials for engaging in Putin-like propaganda of success. You can't teach other nations how to practice "truth journalism" if you don't do it yourselves. VOA put you to shame, and rightly so.
VOICE OF AMERICA

News / USA



Photo Not Reposted

FILE – Colonel Sergei Storozhenko, commander of the military unit in the village of Perevalnoye, Crimea, talks to the media outside Simferopol, March 6, 2014, the day that Crimea's parliament voted to join Russia.

Jonas Bernstein

February 04, 2016 8:19 PM

Moscow's annexation of Crimea from Ukraine in 2014, and its subsequent support for armed separatists in the eastern part of the country, has been accompanied by a major Russian information campaign in support of those actions.

That campaign has targeted not only Russia's domestic audience but also audiences in neighboring states that receive Russian media and, because of having once been part of the Soviet Union, are home to a significant number of Russian-language speakers.

A group of experts held a conference Thursday in Washington to assess whether Russia is winning the battle for influence in neighboring countries. One of those experts, from a leading polling organization, stated unequivocally that it is.

The conference, "Assessing Russia's Influence in Its Periphery: Is Russia Really Winning an Information War?" was organized by the Broadcasting Board of Governors, the independent U.S. government agency that oversees all government-supported U.S. civilian international media, including Voice of America and Radio Free Europe/Radio Liberty; and by Gallup, the international polling and management consulting organization.

Presentations at the conference were based on what the organizers described as "the latest media consumption and attitudinal findings from Estonia, Latvia, Lithuania and Moldova," along with Gallup 2014 World Poll data from 12 countries that once were part of the Soviet Union.

The 2014 Gallup World Poll found that "a vast majority" of people in 12 countries that were part of the Soviet Union were following the news about the situation in Ukraine and Crimea very closely during the conflict in 2014, with more people considering Russian media as a more reliable source than Western media. Majorities of the respondents in Russia, Kyrgyzstan, Kazakhstan, Tajikistan, Belarus, Armenia and Uzbekistan deemed Russian media "reliable" for news about the situation in Ukraine and Crimea.

Warning to West

Gallup found that majorities in most of the former Soviet states supported Crimea becoming part of Russia, and that respondents who used Western media in addition to Russian media were even more likely to support Crimea becoming part of Russia than those who only used Russian media.

Neli Esipova, Gallup's director of research for global migration and the Gallup World Poll's regional director for 29 Eastern European and former Soviet countries, said at Thursday's conference that those 2014 Gallup World Poll respondents in the 12 former Soviet states who lived in urban areas and were better educated tended to be more supportive of Russia's policy in regard to Crimea.

"If the West wants to participate in forming the opinion of people in this region, it will clearly need to makes some changes in its communications strategy," Esipova said. "And those changes have to be made not only in the content, but in the tone of how people present information, how the West presents information. The uniqueness of this region is that people in this region have very strong ties to Russia, and the Russian media knows its audience, and knows how to appeal to it."

Esipova concluded: "In this round of the information war, the Russian media have won."

Another conference participant, Jeffrey Trimble, deputy director of the BBG's International Broadcasting Bureau, said the West must formulate a response to the enhanced media capabilities of both authoritarian states and terrorist organizations.

"The 21st century is seeing a new intensity and scale of media manipulation, psychological warfare and disinformation," he said. "The increasingly sophisticated use of media by authoritarian regimes, the advances in information war by Russia, China, ISIS, are throwing up new challenges, from technical questions about the power of social media through to deeply philosophical issues about the nature of truth and reality."

BBG Press Release


FEBRUARY 9, 2016

[A Chechen woman looks at a TV screen with Russian President Vladimir Putin. (AP Photo/Musa Sadulayev) – Photo not reposted.]
Washington, D.C. – Russian speakers in Estonia, Latvia and Lithuania rank Kremlin-backed media as the least trustworthy among international, Russian Federation and domestic news sources, according to research presented by the Broadcasting Board of Governors yesterday.

In addition, only those survey respondents who considered Russian-backed media to be credible showed a majority support for President Vladimir Putin's domestic and international policies. In the three Baltic nations and Moldova, consuming Russian-backed media did not correlate with support for Russia's policies.

The BBG data found that domestic media ranked first in trustworthiness in Estonia (80 percent) and Latvia (79 percent). International media took first in Lithuania (74 percent) and in Moldova there was a statistical tie between international media (45 percent), Russian-backed media (42 percent) and domestic media (42 percent).

The findings were unveiled at Thursday's research briefing conducted by the BBG and Gallup on the consumption and influence of Russian-language media in Russia's periphery.

Gallup's World Poll data, which was conducted in 2014 shortly after the Russian annexation of Crimea and hence over a year before the BBG data in the Baltics and Moldova was collected, examined how respondents in 12 former Soviet Union countries followed news about Russian actions in Ukraine and Crimea. Data showed the majority of respondents followed the events very closely and reported finding Russian media reliable. For some, that translated into support for some Russian policies. According to the 2014 Gallup findings, in seven of the 10 countries surveyed, the majority of respondents who consumed both "Western" and Russian media showed support for Russia's annexation of Crimea. "Western" media as defined in the Gallup World Poll survey did not specifically include or exclude U.S. international media, according to Gallup presenter Neli Esipova.

Since this survey was initiated, the BBG language services at Voice of America (VOA) and Radio Free Europe/Radio Liberty (RFE/RL) have added or expanded more than 35 new programs on multiple media platforms in Russian, Ukrainian, and other languages to reach new audiences in the former Soviet space and around the world.

Jeffrey Trimble, Deputy Director for the International Broadcasting Bureau, outlined the BBG's strategy in the region and highlighted the flag-ship program Current Time, a daily 30-minute Russian-language television news program produced by VOA and RFE/RL. Current Time is now on the air in nine countries via 25 media outlets. The European version airs in Ukraine, Moldova, Georgia, Lithuania, and Latvia, with segments of the program airing in Israel. A Central Asia version airs in Kyrgyzstan, Tajikistan and Kazakhstan. Weekend Current Time programs — "Itogi" by VOA and "Nedelya" by RFE/RL — are on the air as well. Current Time also reaches Russian-speaking news seekers worldwide via digital platforms curated by RFE/RL's DIGIM team, which was launched in September 2015 and which produces and disseminates innovative cross-platform digital content, promotes the Current Time brand in the digital space, and engages Russian-language audiences on social media.

Russian authorities do not allow placement of Current Time on domestic television stations.

Presenters at the research briefing cautioned that comparing the Gallup World Poll survey and the Gallup survey conducted for BBG was problematic, as the surveys targeted different countries, were conducted over a year apart and had several methodological differences, including question wording, context and sampling.

A video and briefing materials are available here.

###