BBG Watch Commentary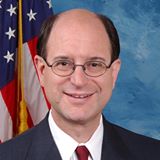 U.S. Rep. Brad Sherman (D-CA), the second Ranking Democrat on the House Foreign Affairs Committee, called for more Radio Free Asia (RFA) and Voice of America (VOA) shortwave radio broadcasting to North Korea amid concerns about VOA journalistic and managerial failures. Rep. Sherman proposed doubling the budget for RFA and VOA Korean broadcasts from $8 million annually to $16 million.
Rep. Sherman also sent a letter Monday to Sony Pictures CEO Michael Lynton offering to play the movie, which triggered the cyber attack on Sony, at the Capitol in a show of solidarity with the American film industry against "threats from a dictator in North Korea," The Huffington Post reported Monday.
Voice of America English news website had one sentence on Rep. Sherman's call for more money for RFA and VOA, but it failed to report on his proposal to play the movie at the Capitol.
We applaud Congressman Sherman's statement calling for more RFA and VOA broadcasts to North Korea, but he and other members of the House Foreign Affairs Committee should first review recent Voice of America news reports from and about North Korea. If they share our concerns, they should ask the Broadcasting Board of Governors (BBG) to carry out radical management reforms at the Voice of America at the most senior levels.
Former VOA acting associate director Ted Lipien said that in early December taxpayer-funded Voice of America played a key role in helping to spread North Korean disinformation, infecting not only its own audiences but also some of U.S. and international media with a false and one-sided message from Pyongyang on the cyber attack on Sony.
What VOA did was to contact a North Korean diplomat at the UN mission in New York who denied his regime's complicity in the Sony hack.
"Without questioning his statement in any way, without quoting numerous experts who concluded that it had been indeed a North Korean attack, without providing any explanations from Sony Pictures or its chairman Michael Lynton who is a former Broadcasting Board of Governors (BBG) member and former interim BBG chairman, and without mentioning the long history of Pyongyang's outrageous lies, VOA 'exclusive' news report prominently featured the North Korean denial no questions asked as if it came straight from Pope Francis or the Dalai Lama," Lipien said.
He pointed out that "in releasing its 'exclusive' news story on the North Korean denial without any challenge or background, Voice of America violated the VOA Charter (U.S. Public Law 94-350) and its Journalistic Code, both of which call for accuracy and balance."
Unfortunately, several major U.S. and international media outlets picked up the story from VOA. To their credit, many cast doubts on the North Korean denial–something VOA did not do at all in its exclusive news report–but some simply repeated the one-sided VOA news report and damage was done thanks to the Voice of America.
BBG public relations noted the names of some of the media without pointing out that they were carrying the North Korean denial thanks to Voice of America.
BBG "Media Highlights" -Citations of BBG Networks
Voice of America provided an unchallenged platform to the North Korean regime at U.S. taxpayers' expense and helped to spread its propaganda to its own audiences and to other media.
According to Lipien, Oscar-winning actor George Clooney would have done a better job if he were in charge of the Voice of America Newsroom.
In an interview with DEADLINE, Clooney was justifiably harsh on U.S media for how it handled the North Korean cyber attack on Sony Pictures. Clooney was also highly critical of entertainment industry executives in Hollywood who out of fear of being hacked all refused to sign a petition that Clooney circulated.
"A good portion of the press abdicated its real duty. They played the fiddle while Rome burned. There was a real story going on. With just a little bit of work, you could have found out that it wasn't just probably North Korea; it was North Korea," Clooney said.
While Clooney did not mention Voice of America by name, it was indeed taxpayer-funded VOA that played a key role in helping to spread North Korean disinformation to U.S. and international media.
Voice of America senior executives reject criticism from experts familiar with the agency. They recently made fun of it comparing critics to the North Korean dictator and a religious U.S. publication distributed worldwide in many languages.
At what was supposed to be a humorous skit at a holiday event attended by Voice of America federal employees last week, Voice of America Director David Ensor compared Committee for U.S. International Broadcasting (CUSIB – cusib.org) co-director Ted Lipien to North Korean dictator Kim Jong-un and our watch dog website, BBGWatch.com, which Lipien helped to launch and supports, to The Watchtower, a religious magazine published by Jehovah's Witnesses who are persecuted in many countries.
Director Ensor also lampooned former BBG member and former U.S. Ambassador to Poland Victor Ashe and former Voice of America senior correspondents who also had criticized his management of VOA. The Broadcasting Board of Governors and its chairman Jeff Shell have not commented on Director Ensor's unusual behavior. He made fun of an American watch dog media website and private U.S. citizens and taxpayers at a government holiday party organized at U.S. taxpayers expense, to which those being lampooned were not invited.
BBG Watch is not saying that VOA should not have reported the North Korean denial, but it should have reported it observing the VOA Charter. The Voice of America should have given equal time to Sony CEO Michael Lynton as well as cyber experts who concluded that the hack attack on Sony had been initiated by North Korea. VOA report should have also pointed out the long history of official North Korean lies.
Members of the House Foreign Affairs Committee and their staff should familiarize themselves with this Voice of America "exclusive" North Korea denial news report which found its way to some U.S. and international media.
We also encourage members of Congress and Congressional staffers to read a 2011 Voice of America press release and view a VOA video report from North Korea in which a Voice of America reporter describes Pyongyang, the capital of North Korea, as a city "vibrant and busy with activity."
In our view, Voice of America needs different managers and needs to go back to observing the VOA Charter before it can be trusted with more news reporting to North Korea and other parts of the world. That's why keeping the VOA Charter in the bipartisan bill, H.R. 4490, designed to reform the Broadcasting Board of Governors, is critically important.
END OF BBG WATCH COMMENTARY
###
VOA News Report, Dec. 4, 2014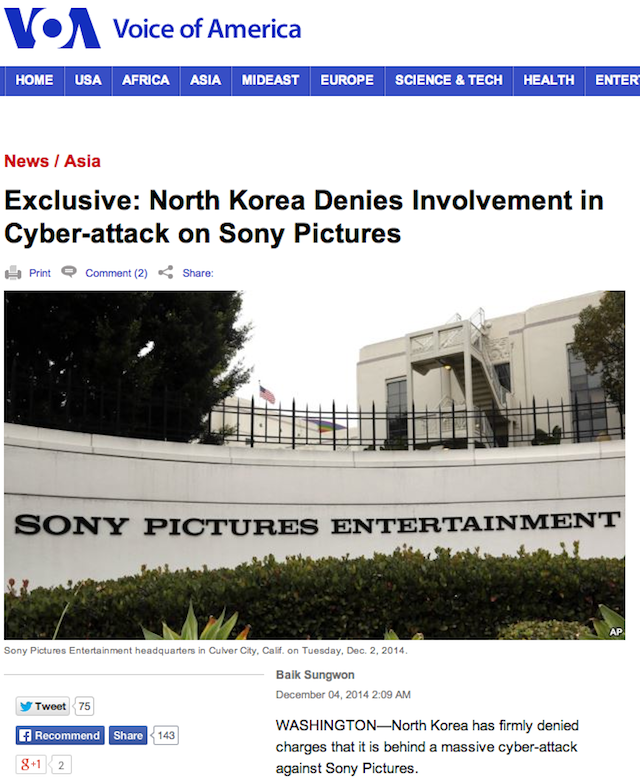 Baik Sungwon

December 04, 2014 2:09 AM

WASHINGTON—North Korea has firmly denied charges that it is behind a massive cyber-attack against Sony Pictures.

A North Korean diplomat in New York told VOA Wednesday his country has nothing to do with the cyber-attack that crippled the Hollywood studio's computer system last week.

"Linking the DPRK to the Sony hacking is another fabrication targeting the country," said the official, who preferred to remain anonymous.

"My country publicly declared that it would follow international norms banning hacking and piracy," the official claimed.

This is the first time the North has denied its involvement in the cyber-attack on Sony. Pyongyang has been largely silent on the accusation, sparking rampant speculation that Pyongyang might have sponsored the attack.

Some press linked the cyber-attack to Pyongyang's anger over Sony's upcoming comedy "The Interview," the plot of which involves an attempted assassination of the North Korean leader Kim Jong Un.

Earlier, the North denounced the movie and vowed to "mercilessly destroy" anyone associated with it. Pyongyang also sent a letter to the White House asking President Obama to stop the movie, calling the distribution of the film "undisguised sponsoring of terrorism."

The movie is scheduled for release on Christmas Day in more than 60 countries around the world, including the U.S.
END OF VOA DEC. 4, 2014 NEWS REPORT
###
2011 Voice of America Video Report from North Korea

Link to the video on YouTube.
A VOA correspondent report from Pyongyang includes a video which is devoted largely to repeating North Korean anti-American propaganda claims with almost no attempt to counter any of them in any substantive way.
A Voice of America (VOA) reporter described Pyongyang, the capital of North Korea, as a city "vibrant and busy with activity."
The Voice of America video shows well-stocked shops and well fed children of the elite without mentioning of starvation, political prisoners, and massive human rights abuses in North Korea. The reporter alludes only briefly to restrictions on contacts with foreigners. The video ends with a saleswoman dancing for the VOA reporter in a modern-looking store in Pyongyang.
###
VOICE OF AMERICA PRESS RELEASE
[One of the original Voice of America / Broadcasting Board of Governors press releases showed a photo of a well-stocked North Korean shop which was featured in the VOA video. A second photo in the press release is no longer loading from the VOA server.]
Officials appeared to be conveying a message that they want to improve strained relations with the United States.

A man reads the Rodong Sinmun, North Korea's official newspaper in Pyongyang.

Kyle King

September 27, 2011
Voice of America journalist Sungwon Baik, who just completed a rare reporting assignment to North Korea, says officials there appeared to be conveying a message that they want to improve strained relations with the United States.

Baik was granted access to North Korea earlier this month, after receiving an unprecedented written invitation by North Korean officials, to cover the 17th International Taekwon-Do World Championships in Pyongyang from September 6th through the 12th.

North Korean officials at the event said on a number of occasions that they were familiar with VOA broadcasts and that the news programs are well recognized. "The first time I thought they were just trying to be polite to me," Baik said, "but then it was like 6 or 7 times a day they would say that VOA is very important and you can come back."

In addition to his reporting on the taekwon-do championships, Baik was allowed to walk around Pyongyang and ride the subway, but always accompanied by an official. He describes the city (click here) as vibrant and busy with activity.

Baik, whose reports aired live on the VOA Korean Service during the taekwon-do competition, interviewed a North Korean member of the International Olympic Committee, Chang Ung, who expressed hope the event would be a turning point in relations with the United States and could pave the way for future cultural and sports exchanges.

For more information about this release or to arrange an interview with Sungwon Baik, contact Kyle King in Washington at kking@voanews.com. Visit www.voanews.com for more information in English or in any of our language services. END OF VOA PRESS RELEASE
###
STATEMENT BY REP. BRAD SHERMAN
Sherman: Double Voice of America Broadcasting into North Korea

Dec 22, 2014 Press Release

Washington DC – Congressman Brad Sherman (D-CA), the second Ranking Democrat on the House Foreign Affairs Committee issued the following statement:

"Kim Jong-un has used vandalism and threats of violence to suppress speech in the United States. The North Korean government has prevented millions of Americans from seeing a particular movie, at least during December. Importantly, these threats are now causing movie and television producers to delay or abandon "sensitive" projects.

"It is time to give North Korea a double dose of free speech. Currently Radio Free Asia and Voice of America reach North Koreans eleven hours each night, at a cost to American taxpayers of $8 million annually (or roughly one tenth of what it cost Sony to make and advertise "The Interview"). We should ramp this up to $16 million.

"Dictators like Kim Jong-un fear nothing as much as the truth and it is time to bring a maximum supply of truth both to the North Korean people, and to the elites which form the core of the regime's support.

"We also maintain websites aimed at North Korea, but we do not provide television broadcasts. Our web efforts should be aimed at undermining Kim Jong-un among these elites, who have internet access.

"The BBG Report on North Korea (issued December 8, 2014) shows that our current eleven hour per day stream of broadcasting to North Koreans falls a bit short of our own 12 hour per day goal. Though nighttime hours are more effective than daylight hours, we should be broadcasting 24 hours a day into North Korea. (The BBG, Broadcasting Board of Governors, is the US government agency which oversees the Voice of America and Radio Free Asia.)

"The Report also indicates that for medium wave (AM) we are dependent on leased transmission sites (usually leased from South Korean radio broadcasters). The Broadcasting Board of Governors is seeking to construct its own medium wave transmitter in South Korea at a location optimally suited to reach the North Korean people. This effort should be funded and expedited.

"We should explore using satellite television broadcasting. If television broadcasting into North Korea is practical, then later next year we should broadcast "The Interview" dubbed in Korean."

_____________________________________________________

Congressman Sherman also chairs the Entertainment Industry Caucus in the House of Representatives. He has also called for re-listing North Korea as a State Sponsor of Terrorism and he has asked Sony to provide a copy of "The Interview" for screening in the Capitol to Members of Congress. See Letter Here.

Attached is the Report of the Broadcasting Board of Governors (which oversees both Voice of America and Radio Free Asia) issued December 8, 2014, pursuant to the North Korean Human Rights Reauthorization Act.

Final Fact: Freedom House ranked North Korea dead last (out of 197 countries surveyed) for 11 years in a row in its annual Freedom of the Press Report.
###
LETTER FROM REP. BRAD SHERMAN TO MICHAEL LYNTON
Congressman Sherman Letter to Sony Pictures Entertainment

Dec 22, 2014 Press Release

December 22, 2014

Mr. Michael Lynton

CEO
Sony Pictures Entertainment
10202 West Washington Boulevard
Culver City, CA 90232

Re: Invitation to screen The Interview at the U.S. Capitol

Dear Mr. Lynton

I am extending an offer to screen The Interview in the U.S. Capitol facilities.

As Chairman of the Entertainment Industries Caucus, I believe we should stand in solidarity with Sony Pictures and the American film industry. Threats from a dictator in North Korea should not stop Americans from seeing any movie. We have a responsibility to stand up against these attempts at intimidation.

This is also about educating Members of Congress. Everyone is talking about The Interview. I think it's important for Congress to know, and see, what we are talking about.

Screening The Interview will demonstrate the U.S. Congress's support of the freedom of speech. This is about our right to live without fear, and knowing that our values will not be compromised by the idle threats of a despotic regime. Good or bad, Americans should not be deprived of the opportunity to see this movie.

It is now the responsibility of the U.S. government to allocate the necessary resources to ensure moviegoers' safety. We must help Sony Pictures, movie theater owners, and moviegoers regain the confidence to go see The Interview.

If you have any questions please contact Lauren Wolman at lauren.wolman@mail.house.gov or (202) 225-5911.

Sincerely,

Brad Sherman
Member of Congress

CC:

The Honorable Chris Dodd
Chairman
MPAA
Mr. Keith Weaver
Worldwide Government Affairs
Sony Pictures Entertainment