BBG Watch Commentary
This is not an April Fools Day Joke, as much as we wished it to be.
"Radio Free Kremlin" — because more and more frequently U.S. taxpayer-funded Radio Free Europe/Radio Liberty (RFE/RL) gives Kremlin propaganda free distribution worldwide without challenging Kremlin's false and misleading narratives. But while such free amplification of Putin's narrative by RFE/RL at U.S. taxpayers' expense happens, it is not characteristic of the media outlet's overall output. Still, RFE/RL's effectiveness has been significantly compromised in recent years and in recent months.
Even while under attack by Kremlin media for much of its still excellent work, it is also disturbingly true that RFE/RL serves with increasing frequency as an unwitting mouthpiece of Kremlin propaganda and even posts messages which may encourage terrorists to engage in violent acts.
Observers attribute these problems to lack of effective leadership and strategy, poor management, poor oversight, and hiring of inexperienced and inadequately trained staffers and contractors
RFE/RL is overseen, in theory, by the Broadcasting Board of Governors (BBG), a federal agency and a federal board in Washington, D.C. The BBG has allowed RFE/RL, which has been without a permanent CEO for over two years, to lose much of its former journalistic excellence and impact for which Radio Free Europe and Radio Liberty became famous during the Cold War and contributed significantly to the fall of communism in the Soviet block. The Voice of America (VOA) did the same with somewhat different programs during the Cold War.
That's why many people thought it was an April Fools Day joke when they saw today on the RFE/RL English-language news website a photo from the Kremlin's "news" agency SPUTNIK of Russian ambassador to NATO, Aleksandr Grushko, under the headline:


The report itself is nothing more than a completely one-side presentation of the Kremlin's point of view and Putin's key disinformation and propaganda themes. No balance, no opposing point of view, no context, no objective analysis from RFE/RL in this report. Nothing other than REF/RL presenting at U.S. taxpayers' expense the old Kremlin propaganda claim of Russia being threatened by NATO. Voice of America, another BBG entity overseen, in theory, by the BBG board, also repeats from time to time Kremlin propaganda with no challenge or balance.
We are not saying that RFE/RL should not have reported on Ambassador Grushko's statements. Indeed, RFE/RL had a journalistic duty to report and should have reported his comments. It was a splendid opportunity to show why U.S. taxpayers continue to pay over $100 million a year to fund RFE/RL by reporting Ambassador Grushko's comments and quoting in the same report countervailing Western responses that would have demolished his false narrative.
What RFE/RL should not have done was to post its report that had nothing but highly misleading statements from the Russian ambassador. His remarks should have been challenged in the same RFE/RL report by presenting the position of the United States, NATO and Ukraine. The same RFE/RL report should have included comments from Latvia, Lithuania, Estonia and other countries bordering Russia. These countries feel threatened by the Kremlin, its military, and Russia's "asymmetric" aggression.
In this RFE/RL report, there was not a word from the RFE/RL English newsroom about what might have provoked Western security concerns in the first place. There is no mention in this RFE/RL report of Vladimir Putin destroying the post-World War II security system by illegally invading and annexing Crimea, a territory belonging of another state. Not a word from RFE/RL in this report about Russia's military aggression in eastern Ukraine.
There is no doubt that these issues are covered at length in other RFE/RL reports, but they should not have been completely ignored in this report. As it is, this particular RFE/RL report was nothing but a propaganda piece for the benefit of the Kremlin.
It's important to point out that not everything from RFE/RL is repeating Kremlin-inspired propaganda and disinformation. The vast majority of RFE/RL content is not.
But such lapses, when they do occur, are inexcusable from this American-funded media organization with a splendid past. Most of RFE/RL's online content in English and in other languages is in fact still quite good — much of it excellent — although overall far from the sophisticated reporting and analysis of the earlier period before the BBG took over.
There are still, for example, powerful English language analyses by RFE/RL's Brian Whitmore his "Power Vertical" podcasts. His programs effectively expose Kremlin's lies. Unfortunately, not all of Brian Whitmore's podcasts have transcripts. Meanwhile, RFE/RL summarized the Russian ambassador's statement quite well.
The problem is that one can never be quite sure how well or how poorly RFE/RL or VOA services will perform at any given time on any given topic. There is no consistency. Coverage can be excellent or appallingly bad.
Many of RFE/RL's foreign language services still do outstanding reporting, despite poor labor relations on the part of the management and poor employee morale within the organization. Kremlin media is now exploiting these management shortcomings for propaganda purposes and even accusing RFE/RL managers of misappropriating U.S. tax dollars for private gain.
What is most disturbing is that under pressure from BBG bureaucrats to coordinate and consolidate, both RFE/RL and VOA are losing their specific identity and unique attributes and advantages that made each of them individually much more effective in the past.
Lack of management's vision and leadership can be clearly seen in the joint TV program of RFE/RL and VOA, "Current Time." Designed to influence Russian speakers in former Soviet states, "Current Time" "has all the personality and charisma of a U.S. government bureaucrat who might have designed it and does not engage with the audience," according to former VOA acting associate director Ted Lipien.
"This program has no brand identity, neither VOA's nor Radio Liberty's, looks and feels like state TV, and cannot possibly compete with well-produced Russian TV programs, whether they are well-funded Russian state TV or remnants of struggling independent Russian TV," Lipien said.
In the digital age, putting U.S. government bureaucrats in charge of of this kind of local or surrogate media outreach is a guarantee of failure. Had RFE/RL been allowed to develop its own surrogate response while VOA focused on programs consistent with the VOA Charter, the overall effect could have been far better.
Experts on hostile ISIS and Kremlin propaganda and disinformation all agree that local, non-governmental democratic media initiatives are far more effective in the digital age than U.S. government-run operations of this kind. RFE/RL had a chance to operate as a true surrogate media outlet, but BBG bureaucrats forced it to become part of a government media operation run from Washington.
"U.S. taxpayers would do much better by supporting independent Russian-language media in Russia and in neighboring states, which is what the recently introduced bipartisan Portman-Murphy bill to counter foreign government propaganda is trying to achieve, while another bipartisan Royce-Engel H.R. 2323 bill is trying to reform the BBG" Lipien told BBG Watch. Disclosure: Lipien is one of BBG Watch's co-founders and supporters.
Other critics point out that "Current Time" repeats from time to time Kremlin's propaganda themes and even contributes to Putin's personality cult. In their report from Cuba, VOA and RFE/RL almost celebrated USSR's/Russia's links with Cuba and Vladimir Putin's popularity in Cuba.
Despite the BBG's claims of program's alleged impact, "Current Time" has an online following many times below that of some of the remaining independent Russian media, such as Rain TV or Meduza, not to mention Russian state TV channels.
But according to the BBG, "Current Time" is doing extremely well.
BBG offered as evidence a statement made on the floor of the House of Representatives last week by Congresswoman Yvette Clarke of Brooklyn, New York. Congresswoman Clarke is not a Russia or foreign policy expert, does not speak Russian, and does not serve on the House Foreign Affairs Committee.
House Foreign Affairs Committee chairman, Congressman Ed Royce, reported that "'Current Time', was quickly taken off air in Latvia due to low viewership". He noted that the BBG "has been widely condemned as 'ineffectual', 'unprofessional', 'unproductive', 'useless and perhaps fatally broken'."
Secretary of State Hillary Clinton, who was also a BBG board member, declared the agency "practically defunct" in 2013 before warning, "we're letting the Jihadist narrative fill a void."
"This broken agency is losing the info war to ISIS and Putin," Chairman Royce said.
European journalist and Russia expert Zygmunt Dzieciolowski, often interviewed by Russian-language media, including Radio Liberty's Russian Service, described RFE/RL-VOA's "Current Time" as "a cocktail of news presented as fast food served with plastic fork and spoon, instead of a gourmet meal and real silverware." "And they don't even have a Big Mac on the menu, just tasteless no name burgers fried by inexperienced cooks," the European expert said. In an article, "Reform Radio Liberty or Continue to Lose Propaganda War with Russia," which has been liked to on the House Foreign Affairs Committee website, Dzieciolowski wrote: "In its present shape, the 'Current Times' program has a long way to go to win the audience. The way it looks now, it has no chance to compete with either the poorly-financed independent TV RAIN or the super-rich pro-Kremlin national TV channels."
Other Russia experts agree.
In a congressional hearing late last year, former director of Radio Liberty and former BBG member S. Enders Wimbush described BBG's response to Russia's aggression in Ukraine and Kremlin propaganda as "feeble." Former VOA Russian Service broadcaster and former BBG marketing director for Eurasia Enver Safir said that "comparing independent Russian online channel Rain TV to RFE/RL-VOA "Current Time" is like comparing U.S. media to media in a severely underdeveloped Third World country."
New BBG CEO John Lansing, who is not a Russia expert and does not speak Russian, relies on information he gets from BBG, VOA, and RFE/RL executives who designed and manage the "Current Time" program.
John Lansing reported that coverage of President Obama's trip to Cuba, "including reporting by VOA's Russian- and Spanish-language services, was shared with other language services at VOA, as well as OCB and RFE/RL."
According to foreign language speakers who followed the coverage, while it consisted of a few excellent reports by individual reporters, VOA was highly uneven, in some cases less than professional, not effectively challenging Castro's or Putin's propaganda, and in at least one instance promoting it.
According to John Lansing, "the BBG's coverage of President Obama's trip to Cuba exemplified how that greater coordination [between BBG entities] is paying off."
Critics have pointed out, however, that so far such coordination has not improved news reporting by VOA and RFE/RL and may have actually made it worse by imposing misguided ideas of BBG bureaucrats on what constitutes "balance" in news reporting.
Recently, RFE/RL posted a puzzling and potentially dangerous message on its Facebook page:

UNATTRIBUTED MESSAGE POSTED ON RFE/RL FACEBOOK PAGE: "I fear that by Europe instituting the same rules that Israel is instituting, it's going to lead down the same path that Israel has led down to, which is wholesale racism…"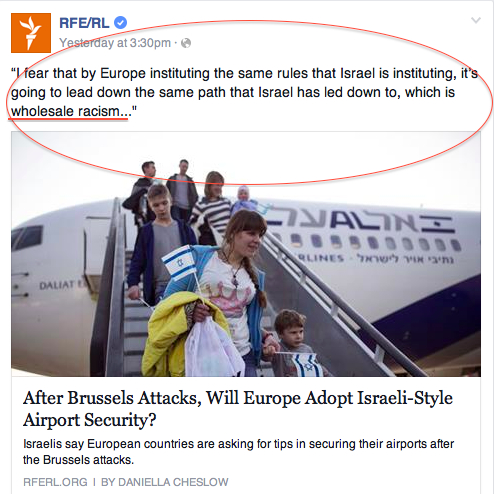 Little wonder that even before this RFE/RL Facebook post appeared, American media scholar Martha Bayles, in an article published on the Public Diplomacy Council (PDC) website, warned about mismanagement at Radio Free Europe/Radio Liberty and "poor judgment, and a degree of secretiveness, that is the exact opposite of what RFE/RL stands for."
She appealed to BBG board members to look to qualified outside candidates for the job of permanent president of Radio Free Europe/Radio Liberty.
The BBG's official position is presented in this quote:
OFFICIAL STATEMENT FROM BBG: "For decades, BBG programs like Voice of America, Radio Free Europe/Radio Liberty, Radio Free Asia, Office of Cuba Broadcasting, and the Middle East Broadcasting Networks, Inc. have served as the only credible, fact-based news source for populations around the globe with limited access to free and independent media. BBG broadcasters currently reach an estimated 215 million people worldwide on a weekly basis by radio, television, and the internet in more than sixty languages. These programs fill the information gap where local media is underdeveloped, and provide quality alternatives to state propaganda."
But according to a senior congressional staffer who spoke to BBG Watch on condition that his name will not be used, the BBG has become irrelevant in the war on terror and in countering hostile propaganda and disinformation.


SENIOR CONGRESSIONAL STAFFER: "The Portman-Murphy text reflects an accurate understanding of how states are 'weaponizing' information to undermine US (and our allies) national interests. The proposed creation of a new bureaucratic body to address this problem – while only making a passing reference to the Broadcasting Board of Governors (BBG) – speaks volumes about the BBG's foreign policy irrelevance.

The recent establishment of the Global Engagement Center and now the proposed Center for Information Analysis threaten to duplicate the raison d'etre of the BBG. The Senate and others are right to ask the question, "what are we getting in return for the $700 million in taxpayer money spent on the BBG?" Sadly, the answer seems to be very little these days.

I think the House's proposal to reform the BBG should be the preferred response – fixing a broken agency instead of building new bureaucratic structures to do what the BBG can't or won't."

A senior Washington analyst and Russia expert, who also talked to BBG Watch on condition of anonymity, had a similar reaction to some of RFE/RL's recent substandard news reporting and the introduction of the Portman-Murphy bill.

WASHINGTON-BASED RUSSIA EXPERT: "One struggles to know which is a stronger portent of the BBG's deteriorating condition, RFE/RL's skepticism that Russia and China actually engage in disinformation and propaganda–or the Portman-Murphy bill, which seeks to create a new capability in the space traditionally occupied by US international broadcasting. That the BBG no longer dominates that space is a symptom not just of dysfunction—well documented and ongoing—but of the absolute decline of a critical national asset. The BBG will of course persist in its illusory assertions that all well since the arrival of the new CEO, but the bipartisan Portman-Murphy bill, like the comprehensive approach to reforming US international broadcasting, the bipartisan HR 2323 currently awaiting Senate attention, show the emperor with no clothes. US international broadcasting will not be put right until it is reconstructed to function as a strong element in a larger strategy. HR2323 has to be the first stop on this journey. Portman-Murphy might well follow, but it would be senseless to append the BBG's flaccid structure to something so ambitious. The BBG is committed to no change except to improving current processes and practices, and then largely on the edges. This will not cut it. If we are to compete with the likes of Russia and China, we need to up our game. The old team in place at international broadcasting, even with constant coaxing and prodding from the new CEO, will never deliver the win."


We repost the RFE/RL April 1 article in full for educational and public service purposes because of its one-sided, pro-Kremlin propaganda content, not because we agree with anything this RFE/RL report says.
It's an example of how RFE/RL falls from time to time for Putin's propaganda. RFE/RL not only used a photo from Kremlin's "news" agency SPUTNIK, but even admitted that its report is "based on reporting by TASS and Interfax."
Our final comment: How about doing what U.S. taxpayers and U.S. Congress expect from RFE/RL and from the Broadcasting Board of Governors for the nontrivial sum of $740 million dollars (FY 2015)?
###
Radio Free Europe/Radio Liberty
Russia


April 01, 2016
Russia is preparing an "asymmetric" response to the increase in NATO troop rotation in Eastern Europe, and in particular the United States' military presence near Russian borders, Russia's ambassador to NATO said on March 31.
"Of course, our response will be completely asymmetrical. It will be calibrated to match our ideas about the degree of military threat, to be most efficient and not overly expensive," Alexandr Grushko said on Rossiya-24 television.
"We can see that the U.S. continues to increase its military presence in Europe with an emphasis on the Eastern front… We are not passive observers. We consistently implement all those military measures that are necessary to offset this totally unjustified increased military presence," he said.
Grushko added in an interview with the Izvestia newspaper that Russia views the troop rotation as a violation of a 1990s agreement between Russia and NATO not to deploy additional combat forces in Eastern Europe.
"We've said more than once that an indefinite rotation is in no way different from permanent deployment," he said.
Based on reporting by TASS and Interfax
###
We also repost as a public service an article written by BBG CEO John Lansing. (To view videos and photos, see the original article.)
JOHN'S TAKE

John F. Lansing


Last week, Barack Obama became the first U.S. president in nearly 90 years to visit Cuba as part of the renewal of ties between the long-time adversaries. More than one thousand journalists descended on Cuba to cover the president's three-day visit, including reporters from U.S.-funded civilian broadcast entities under the BBG.
The Voice of America, the Office of Cuba Broadcasting and the Middle East Broadcasting Networks generated comprehensive coverage in Spanish, English, Russian and Arabic on TV, radio and digital platforms to audiences around the world. Many of their reports were shared with other BBG networks, providing accurate and unbiased information for audiences from Russia to North Korea, Iran to Burundi, Venezuela to Egypt and of course for people in Cuba.
This is important for a number of reasons.
First, BBG's networks target audiences that live in press-restrictive environments — including Cuba, one of the most media-repressive regimes in the world. Without the BBG's coverage, Cubans and others living in press restrictive environments would have received limited or biased reports of the president's trip.
Second, we were able to broaden our reach more efficiently thanks in part to the hard work of the U.S. International Media Coordinating Committee (ICC). Under the ICC, leaders of the five BBG networks — the Voice of America (VOA), Office of Cuba Broadcasting (OCB — Radio and TV Martí), the Middle East Broadcasting Networks (MBN — Alhurra TV, Radio Sawa), Radio Free Europe/Radio Liberty (RFE/RL) and Radio Free Asia (RFA) — meet regularly to increase coordination of resources and content sharing.
The BBG's coverage of President Obama's trip to Cuba exemplified how that greater coordination is paying off. Journalists from VOA and OCB worked seamlessly together on the ground in Cuba, while those two networks showed amazing leadership and produced groundbreaking efforts that speak to the excellent work being done around here every day.
OCB tapped into its extensive network of independent journalists in Cuba and worked with international journalists in Havana to provide comprehensive on-the-ground reporting. Coverage by the Martís featured everything from scheduled events to the arbitrary detention of civilians and independent journalists, including Martí collaborators. The Martís also conducted live interviews with in-studio and on-island guests ranging from former U.S. diplomats, dissidents, religious leaders and citizens from all walks of Cuban life. TV Martí made history when it broadcast live from outside the Estadio Latinoamericano before the baseball game between the Cuban national team and the Tampa Bay Rays. Alan Gross, the American aid worker released in 2014 after being imprisoned in Cuba for five years, appeared as a guest on all three of the Martís' platforms.
A VOA team of English-, Spanish- and Russian-language reporters covered the three-day event and produced online, social and video reports on topics such as Internet freedom, small enterprise development, civil society, youth and Cubans' opinions of the trip. That coverage, including reporting by VOA's Russian- and Spanish-language services, was shared with other language services at VOA, as well as OCB and RFE/RL. The Voice of America also provided exclusive reports to OCB and dozens of stories to VOA affiliates.
MBN sent Alhurra's State Department correspondent to Cuba to provide its audiences with a first-hand account of the event. In addition to regular updates, the network's flagship talk show Free Hour examined the impact the president's visit will have on U.S.-Cuba relations.
The BBG networks not only kept their audiences up to date on the details of the president's time in Cuba, they provided important context and background, reaction from Cubans and analysis from political experts and human rights activists. The networks also covered the president and his team engaging with different sectors of Cuban society and speaking directly with Cuba's leaders and citizens, including business executives, youth, dissidents and human rights activists.
Kudos to all who made the BBG's coverage of the president's trip a huge success. On behalf of the millions of people around the world who were able to share in this historical event because of you — thank you.

On the Digital Front

During President Obama's visit to Cuba, OCB's Facebook Live broadcast posts were very successful in connecting with its audience, increasing from three to four million people reached in a week to almost nine million during the Obama trip. (Martí content on Facebook is not blocked in Cuba.) VOA Central News, Spanish and Russian Facebook posts — including Facebook Live broadcasts — reached several hundred thousand followers.
OCB also launched a media aggregator website called www.obamaencuba.com, which served as a one-stop-shop for all things related to President Obama's visit. This site will live on as a historical reference, offering stories published by various Spanish media outlets, including the Martís, of the president's visit to Cuba.