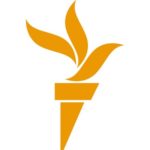 BBG Watch
In an interview with RFE/RL's Russian Service, Nadezhda Tolokonnikova, one of the members of the Russian performance-art group Pussy Riot released from prison on December 23 under an amnesty, said that any support while she was in prison was "like a miracle."
RFE/RL: While in prison, did you have a chance to find out about all the activities carried out in support of you? What would be your message to those who worked to help you while you and Maria Alyokhina were in prison?

Tolokonnikova: According to the Russian Penal Code it would seem that no one can prevent [a convict] from accessing information. However, prison guards do their best to make sure that not only is a prisoner physically isolated but also isolated from news coming from the outside world. The news that did reach me used to work like magic on me. Any support [while one is in prison] is always like a miracle. People whose conscience cannot be bought is probably the most precious thing in this world.
Read more: Interview: Freed Pussy Rioter Says Outside Support Was A 'Miracle', RFE/RL, December 23, 2013.
Read more: Операция 'Амнистия', RFE/RL Russian Service, December 23, 2013.