BBG Watch Commentary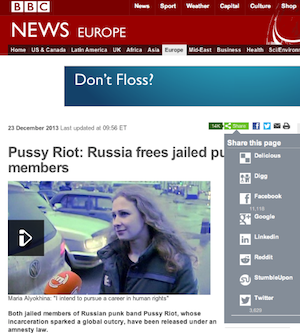 In terms of audience engagement through social media and the number of Facebook "Likes" for Pussy Riot release story, BBC English is by far the winner.
But in terms of in-depth coverage and and quality of analysis, RFE/RL may have the lead, although BBC's analysis is also excellent. One of BBC's most popular reports on the story included a short analysis by Sergei Zakin from BBC Russian Service.
RFE/RL's Russian Service recorded an interview with released Pussy Riot member Nadezhda Tolokonnikova. The Russian Service report, which included the interview, got over 700 Facebook "Likes." Before the release of Pussy Riot members, RFE/RL posted an excellent analysis by Brian Whitmore of Putin's pardons and his PR offensive.
RT (formally known as Russia Today) posted a remarkably objective report on the release of Pussy Riot members from prison, but — may be because it was objective and not presenting President Putin in the best light — it was quickly removed as one of the RT's lead news items yesterday. Had RT kept it on the homepage in a more prominent place, it would have probably had more than 2,900 Facebook "Likes" it got by early Tuesday morning. RT, better than others, tried to show how ordinary Russians may feel about Pussy Riot members and the punishment they received.
"The prosecution was viewed as a politically motivated trial by many critics of the Russian government. The girls were praised as artistic freedom fighters by some celebrities, including Madonna, Sting and Yoko Ono.

The majority of Russians, however, approved of the prosecution of the group. According to an opinion poll held shortly before their sentencing, only 15 percent of Russians said the band members should not be punished at all, while 42 percent agreed that they had offended Christian believers with their actions, and 53 percent said churches were no place for a political protest. But most of the people polled said the offence deserved a fine or compulsory communal work, rather than a prison term." — RT (Russia Today)
The Voice of America, especially its Russian Service, offered reasonably good coverage of the story from Russia, but had almost nothing on any U.S. reactions, which should have been both its strength and priority.
VOA Russian Service also did reasonably well in terms of Facebook "Likes." VOA English Service reports on the story got very few Facebook "Likes" and minimal audience engagement in terms of the number of comments from online readers.
Al Jazeera website (Middle East edition) did not offer particularly original or in depth coverage, but it still managed to get over 3,000 Facebook "Likes" for its news report.
Pussy Riot – Facebook "Likes" as of 12:05AM ET, December 24, 2013
1. Pussy Riot: Russia frees jailed punk band members, BBC – 11,118 Facebook "Likes"
2. Pussy Riot member urges Russia Olympics boycott, BBC – 7,552 Facebook "Likes"
3. Two Pussy Riot members go free in Russia, Al Jazeera Middle East – 3,085 Facebook "Likes"
4. Pussy Riot band members released from jail, call amnesty 'PR stunt', RT (Russia Today) – 2,900 Facebook "Likes"
5. Pussy Riot Members Freed, Call Amnesty 'Laughable', RFE/RL – 865 Facebook "Likes"
6. Операция 'Амнистия', RFE/RL Russian Service – 707 Facebook "Likes"
7. Vladimir Ilyich Putin, Conservative Icon, Brian Whitmore, RFE/RL – 298 Facebook "Likes" [A fine analysis from RFE/RL posted on Dec. 19 before the release from prison of Pussy Riot members.]
8. Мария Алехина назвала путинскую амнистию «профанацией», VOA Russian Service – 275 Facebook Likes
9. Pussy Riot на свободе, VOA Russian Service – 209 Facebook "Likes"
10. Pussy Riot Member: Release is PR Stunt, VOA – 90 Facebook "Likes"
11. Interview: Freed Pussy Rioter Says Outside Support Was A 'Miracle', RFE/RL – 42 Facebook "Likes"
12. Jailed Pussy Riot Members Freed, VOA – 34 Facebook "Likes"
13. Putin's Amnesties: Political Thaw or PR Stunt?, James Brooke, VOA – 15 Facebook "Likes" [This report appears to have been posted for only a few hours.]
All international media outlets reviewed for this analysis provided reasonably good coverage. BBC's and RFE/RL's offerings were most extensive, both in English and in Russian. The VOA Russian Service also offered good original reporting from Russia, but VOA had very little on any U.S. reactions to the story. Very few Facebook "Likes" for VOA English News reports may an indication that international audiences have abandoned the VOA English website due to its poor news performance in recent years. VOA English news coverage in this case was also rather thin.