BBG Watch Commentary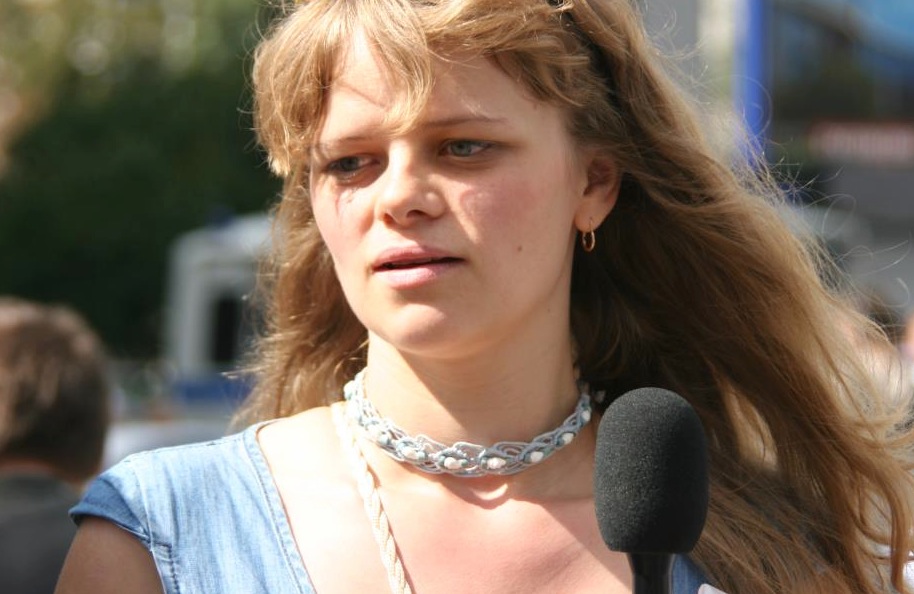 Anastasia Kirilenko, one of the most enterprising and fearless young Russian investigative reporters, has mocked the management of Radio Free Europe / Radio Liberty (RFE/RL) for censoring out her name from various RFE/RL news reports based on the work she had done previously for the U.S. taxpayer-funded media outlet whose mission is to promote "uncensored news, responsible discussion, and open debate."
Kirilenko, who now lives in Paris, reposted an RFE/RL Facebook post bragging about RFE/RL's contributions to a new documentary film about Vladimir Putin. Much of the material for the film was gathered by Anastasia Kirilenko, but the RFE/RL report does not mention her name. [UPDATE: After the BBG Watch article was published, RFE/RL English Newsroom inserted a sentence giving credit to Kirilenko described as "a former RFE/RL correspondent."] Kirilenko has run afoul of Radio Liberty Russian Service director Irina Lagunina. Her freelancer contract with RFE/RL was not renewed last year.
But while the Radio Liberty Russian Service management continues to snub Kirilenko and keeps her name out of the service's website, the Voice of America Russian Service has posted an interview with her about the documentary film which she helped to create while she worked for RFE/RL. She collaborated in gathering materials the film, "Who Is Mr. Putin," with filmmaker Valery Balayan.
While recent RFE/RL Russian Service reports did not mention her or her contributions to the film about Vladimir Putin at all, VOA Russian Service devoted a whole interview to her work on the film.

SEE: Анастасия Кириленко: «Хуизмистерпутин» – результат работы по проверке фактов – Фильм о «питерском периоде» нынешнего президента России посмотрели в интернете около полутора миллионов человек, Данила Гальперович, Voice of America (VOA) Russian Service, January 10, 2016
Banning an independent Russian journalist from Radio Liberty programs, including even her name, is unprecedented in RFE/RL's history. The fact that VOA would interview someone who has been censored by RFE/RL is also unprecedented. In the past, it was Radio Free Europe and Radio Liberty that would give a forum to Soviet and East European dissidents, some of whom were from time to time banned from Voice of America programs for reasons of U.S. foreign policy. RFE/RL has never before fallen so low with the exception of the mass firing of Radio Liberty journalists in Russia in 2012. Both RFE/RL and VOA are now overseen by the Broadcasting Board of Governors (BBG), a U.S. federal agency with headquarters in Washington, DC.
Kilrilenko was also interviewed about the movie by Radio France Internationale (RFI), but, needless to say, not by RFE/RL's Radio Liberty or RFE/RL English Newsroom.


Kirilenko's investigative reports are also being published by some of the most prominent Russian media outlets which still manage to maintain independence from the Kremlin, and in the West, but her new work and even her name have been effectively banned by the Radio Liberty's Russian Service management. A well-known Western journalist with many years of experience in reporting from and about Russia described the current management situation at RFE/RL as "pathetic."
When her recent investigative report about new charges of corruption being levied against Russia's President Vladimir Putin was published in Russia by the prestigious Novoye Vremya (The New Times) liberal magazine, an RFE/RL report summarized the article but did not mention that it was written by Radio Liberty's former reporter Anastasia Kirilenko.
Her colleagues in the Russian Service, who are equally unhappy about the management but are afraid to speak out for fear of reprisals, reached out to her in Paris immediately after the recent terrorist attacks and recorded a SKYPE interview, but they were told by the management that she is banned from Radio Liberty's programs.
After the recent RFE/RL Facebook post, Kirilenko wrote this comment and reposted RFE/RL post on her Facebook page:
ANASTASIA KIRILENKO: "So great to find this on Radio Liberty where my name is banned now. They pretend I have nothing to do with the movie for which I took the interviews, collected data, in German Spanish etc. Years of work. Really a 'pleasure'. Thank you, alma mater. I'm not afraid to be killed by Putin's people only because my 'colleagues' will do it better."
Kirilenko who speaks Russian, French and other languages, was most likely alluding in this comment written in English to her belief that Radio Liberty's management is afraid that investigative reports about corruption in the Kremlin might offend President Putin and lead to reprisals against RFE/RL, its news bureau and journalists in Moscow.
This profile of Anastasia Kirilenko, who resigned in protest from Radio Liberty in October 2012 after dozens of her colleagues were suddenly fired by RFE/RL's American management, was rehired when Kevin Klose became RFE/RL President in 2013, and was dismissed again in 2015, is reposted from the International Journalism Festival, Perugia, Italy.
"Anastasia Kirilenko is a young independent investigative reporter based in Moscow. Her most successful project looked into the alleged illicit activities of Vladimir Putin at St. Petersburg City Hall in the early nineties. Anastasia graduated in international relations (Novosibirsk University of Economics and Management) in 2006, and in journalism (French-Russian Master of Journalism at Moscow State University). In 2007 she studied journalism in Moscow and in Paris and in 2008 she worked at the Human Rights Center 'Memorial'. Her 2010-2012 Putin investigation was considered one of the best achievements of the Radio Liberty Russian Service in recent years. In December 2012 Kirilenko left Radio Liberty in solidarity with her colleagues, victims of the mass firings ordered by the station's American management. Her articles covering Russian espionage and corruption have also appeared in the media in Canada, Switzerland, UK."
But while RFE/RL's Russian Service management (as opposed to Russian Service journalists, her colleagues who have reached out to Kirilenko) continues to ban her and has snubbed a perfectly good SKYPE interview which had been already recorded by a Radio Liberty reporter in Moscow (apparently without first checking with the management), Dozhd, also known as TV Rain, a Russian independent television channel, interviewed Anastasia Kirilenko in a live broadcast.

Dozhd (TV Rain) Interview with Anastasia Kirilenko in Paris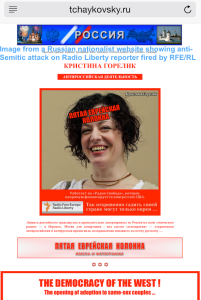 Another Radio Liberty broadcaster — Moscow-based journalist Kristina Gorelik who specialized in human rights reporting — was also fired by the Russian Service management which accused her of inadequate productivity. Gorelik is challenging her dismissal in a Russian court which so far has sided with RFE/RL officials who testified against Gorelik in Moscow. Leading Russian human rights activists, including Lyudmila Alexeeva, have written a letter to the Broadcasting Board of Governors in support of Gorelik.
Critics say that Russian Service and RFE/RL management have failed to provide adequate leadership, motivation, guidance, protection and friendly working conditions for its journalistic staff in Moscow and Prague. While being criticized in a Russian court by an RFE/RL manager and lawyers, Gorelik is also a target of vicious anti-Semitic attacks by Russian ultra-nationalists for her former reporting for Radio Liberty.
A Radio Liberty Russian Service reporter who is still employed by RFE/RL and does not want to be identified for fear of retaliation, wrote to BBG Watch: "Considering how already threatened any independent-minded journalists are in Putin's Russia, especially reporters employed by RFE/RL, a new wholly inappropriate management style has been introduced in Radio Liberty's Russian Service through questionable terminations, psychological pressure, and daily scandals on trivial grounds."
Another Radio Liberty broadcaster who has worked for the U.S. taxpayer-funed media outlet for the past 17 years was called recently by the Russian Service manager a week before his renewable contract was to expire and reportedly told: "perhaps it isn't worth it to continue our collaboration," because Radio Liberty "is moving forward, and you can't catch up with it."
The stunned broadcaster wrote in a farewell email to his colleagues of 17 years: "It was a pleasure to work with you all these years. Thank you!"
Sources tell BBG Watch that Radio Liberty journalists in Russia feel mistreated by their Russian Service management and abandoned by RFE/RL's American management and the Broadcasting Board of Governors in Washington which oversees U.S.-funded media outreach abroad.