BBG Watch Commentary
BBC, Russia's RT, and Al Jazeera reported that one person was shot in the head and two police officers injured after a gunman opened fire in a central Copenhagen synagogue, a second terrorist attack in Copenhagen in several hours.
But more than one hour after BBC reported on the second Copenhagen attack, there is still no new headline and no new report on the U.S. taxpayer-funded Voice of America (VOA) main news website on the new shooting.
UPDATE: At 8:52 PM ET VOA inserted these sentences into its old report on the first Copenhagen shooting. Never mind that this is a completely new development and just as horrific as the first one. Apparently it does not deserve a breaking news headline and a new report on the Voice of America website.
"Hours later, a separate shooting near Copenhagen's main synagogue left two police officers and another person wounded. The gunman fled on foot, and police warned people to be vigilant, follow the instructions of officers and remain indoors. It was not immediately clear whether the two shootings were related."
However, many visitors to the VOA website would have no idea that anything new has happened because the headline of the old news story was not changed. Only if they read the small print under the initial intro to the old news story would they realize that a new shooting had occurred.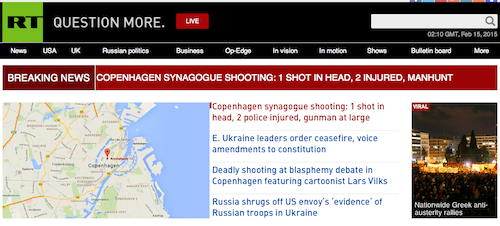 While the Voice of America still has no full new report on the second shooting in Copenhagen, the RT report on the second shooting is already showing 951 Facebook "Likes" and 1,400 Tweets.
Earlier, VOA was also more than an hour behind BBC and other media outlets in reporting on the first terrorist attack in Copenhagen and then providing only minimal amount of information. Delayed VOA report showed almost no audience engagement on social media or through comments.

As of 9:23 PM ET, Saturday, February 14, 2015, The VOA website still shows the old, first Copenhagen shooting report with only there new sentences inserted into the old story. The headline has not been changed.
Nearly all major international and U.S. media outlets have posted new reports on the second Copenhagen terror attack with breaking news headlines. VOA did not.
We can assume that there is almost no one working in the VOA central newsroom at this hour on the holiday weekend.