BBG WATCH COMMENTARY
In a rare comment from America's top diplomat about increasing programming and management controversies at the Voice of America (VOA), Secretary of State Rex Tillerson said in response to a question from Senator Marco Rubio (R-FL) at today's (June 13, 2017) hearing before the Senate Foreign Relations Committee that he would support an investigation by the the Office of Inspector General of the Department of State and the Broadcasting Board of Governors (OIG) of the VOA director's decision to shorten an interview with a Chinese whistleblower, "if it would seem there has been anything improperly done."
The Chinese government tried to influence VOA to cancel the entire interview, which was ultimately shortened on orders from VOA director Amanda Bennett. She denies that pressure from China or anything other than her concerns about journalistic ethics had influenced her decision.
Bennett also said that she had received no instructions from the Trump administration to shorten the live interview which was promoted by the VOA Mandarin Service to last three hours in a combination TV and Facebook live streaming broadcast but was cut short after about one hour and fifteen minutes.
In response to Senator Rubio's question, Secretary Tillerson also said that the proposed $4.5 million cut in Radio Free Asia (RFA) is not related to U.S. relations with China.
As reported by Bill Gertz in The Washington Free Beacon, Sen. Marco Rubio (R., Fla.) criticized the proposed budget cut. "China's propaganda and censorship efforts are growing, and now even reach into the United States," he said. "We need to smartly invest in countering these efforts so that China's authoritarians do not gain a strategic advantage in the battle of ideas."
The Washington Free Beacon also reported that Rep. Ed Royce (R-CA), chairman of the House Foreign Affairs Committee that oversees the Broadcasting Board of Governors budget, said he wants RFA to continue broadcasting in Mandarin.
"As long as Beijing's internet firewall blocks sites including RFA and VOA, we should continue funding Mandarin radio service," Royce said, adding that he would "rather see the BBG find cost savings by cutting bloated bureaucracy in DC."
Well-managed RFA was not involved in the Voice of America Guo Wengui interview controversy. The shortening of the Voice of America interview produced a tremendous drop in VOA's reputation and credibility among the Chinese and resulted in protest demonstrations by Chinese Americans in front of the VOA building in Washington, DC, including staging a mock funeral for VOA by the demonstrators because of alleged censorship.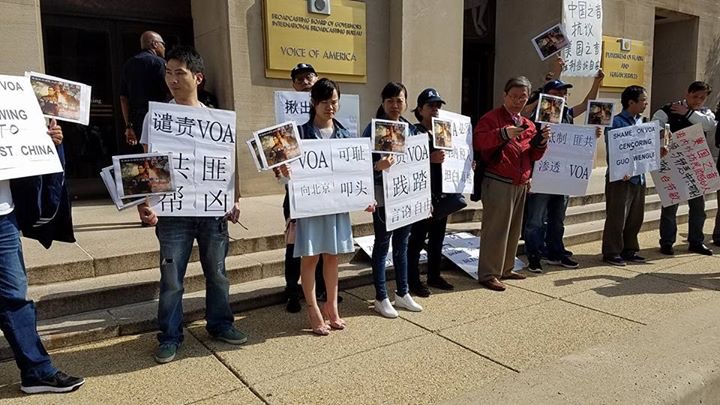 Secretary Tillerson Supports OIG Investigation of Voice of America China Controversy




Senator Marco Rubio (R-FL) asked Secretary Rex Tillerson about the controversy surrounding the Voice of America interview with Chinese businessman turned whistleblower, Guo Wengui, which was cut short on orders of VOA director Amanda Bennett. She later placed VOA Mandarin Service chief Dr. Sasha Gong on administrative leave pending an investigation as to why Dr. Gong allegedly resisted the order to shorten the interview.
Four other VOA Mandarin Service journalists involved with the Guo Wengui interview were also placed on administrative leave by the VOA director. Four of them said that a series of internal investigations ordered by VOA's parent agency, the Broadcasting Board of Governors (BBG), are designed to cover up the management's wrongdoing. They also said that their personal information was released to a Chinese citizen during one of the BBG-ordered investigations. They said that "such 'unmask' of VOA journalists with Chinese origin, who normally use pennames at work, is highly irregular and retaliatory."
Senator Rubio expressed a concern that geopolitical pressures from China may influence VOA's ability to broadcast the truth and asked whether Secretary Tillerson would support an investigation by the Office of Inspector General (OIG). Secretary Tillerson said that he would support an OIG investigation of the VOA China interview controversy if it seems that something improver has occurred.

SENATOR RUBIO: I want to start with the Asian continent news today or yesterday about a $4.5 million cut to Radio Free Asia. That comes on the heels of what I hope you are aware of, an article in "The Wall Street Journal" from May 23rd about an interview in the Mandarin language broadcast with a Chinese investment tycoon. The Chinese government got very upset about this interview. They issued a red notice on Interpol to try to wrap him up. Then, there is a dispute within the Voice of America. This interview was cut short. The person who conducted the interview, Sasha Gong, who I believe was the head of the Mandarin broadcast, is on suspension. There is this fight internally. The first question, the combination of cuts and the interview, could you assure us here today that our efforts to improve relations with China have nothing to do with the budget cut and/or the directive that was given to this reporter to cut the interview short?

SECRETARY TILLERSON: I can confirm that to my knowledge, it had nothing to do with our relations with China.

SENATOR RUBIO: Would you be supportive of an OIG [Office of Inspector General] investigation into this dispute that's occurring within that Branch between the head of the Voice of America and this particular reporter?

SECRETARY TILLERSON: I would like to get a greater understanding myself, but if it would seem there has been anything improperly done, we should call for one.

SENATOR RUBIO: The concern is we can not allow geopolitical pressures from China to influence our ability to broadcast the truth, particularly in that language, in Mandarin. Obviously, we want to understand whether that is what would happen or not.

SECRETARY TILLERSON: Strongly agree. Strongly agree.


VOA director Amanda Bennett denies that her decision to order the Guo Wengui interview to be shortened was done under pressure from communist China and insists that she was only concerned with upholding high standards of journalism. The VOA Mandarin Service journalists suspended with pay by director Bennett have asked for an independent investigation.

Amanda Bennett and Sasha Gong

The official Voice of America public relations website describes VOA Director Amanda Bennett as a Pulitzer Prize-winning author, investigative journalist and editor."
Amanda Bennett

AMANDA BENNETT A graduate of Harvard College, she held numerous posts at the [Wall Street] Journal, including auto industry reporter in Detroit in the late 70s and early 80s, Pentagon and State Department reporter, Beijing correspondent, management editor/reporter, national economics correspondent and, finally, chief of the Atlanta bureau until 1998, when she moved to The Oregonian. She has also been a contributing columnist for The Washington Post.

Amanda Bennett was named Director of the Voice of America in March 2016. According to the VOA website bio, "together with her husband, Donald Graham, she was a co-founder of TheDream.US, which provides college scholarships to the children of undocumented immigrants." A Google search shows that Donald E. Graham, a former publisher of The Washington Post and the lead independent director of Facebook's board of directors, is Chairman of Graham Holdings Company. A Google search also shows that one of the Graham Holdings companies is Kaplan, Inc. which operates businesses in many foreign countries, including Hong Kong and China.
Dr. Sasha Gong, a former political prisoner in China, is a historian, sociologist, blogger, and writer. The VOA public relations website still shows her bio from the time when she was VOA China Branch Chief.

DR. SASHA GONG Born and raised in Guangzhou, China, she came to the United States in 1987 to seek freedom. She studied at Harvard and obtained her PhD in sociology. Before Sasha came to VOA, she worked as a manger of Radio Free Asia's Cantonese Service for several years. Moreover, she ran for the Virginia House of Delegates in 2009. She wrote about her experiences and thoughts in her book "Born American: A Chinese Woman's Dream of Liberty."