OPINION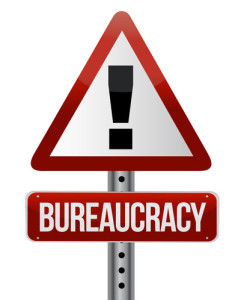 The Resistance
US Government International Media Information War: Lost and Corrupted
By The Federalist

Do a Google search for the following:
"Federal bureaucracy resist Trump."
You will find an assortment of links including:
Resistance from within: Federal workers push back against Trump…
An Anti-Trump Resistance Movement Is Growing Within the U.S…
Trump White House clashes with resistant civil servants | The Hill
Going rogue: Trump resistance gets creative – CNNPolitics.com
Rogue Federal Bureaucrats Threaten Trump's Agenda
"Resistance" to the Trump administration outside the Federal government is another way of describing riots, destruction of public and private property and assaults against private citizens by trained and financed anarchists and extreme Leftists. It is also aided and abetted by the rhetoric of political Leftists writing for U.S. media. These "journalists" are far more interested in reporting on Right-wing extremists, who also exist but are not as active as Antifa and similar far Left groups.
Inside the Federal bureaucracy, "resistance" is another way of describing what amounts to misconduct and insubordination.
According to the US taxpayer-funded Voice of America (VOA), there is virtually no extreme Left-wing "resistance" in the United States. If you do a word search for "resistance" (in its US political meaning) or for "Antifa" on the VOA news website, you might get one or two results. If, however, you do a word search on the VOA English news website for "far right," "fascist," "racist," or Alt-Right," you will see countless entries of VOA news reposts, which suggests to less than fully informed foreign audiences that America is full of "Right-wing" racists while nonexistent extreme Left-wingers are so well-behaved that they don't deserve regular VOA coverage.
We consider what we've seen from the Broadcasting Board of Governors (BBG), the parent federal agency of the Voice of America, as a prime example of going rogue and engaging in resistance within the Federal Government.
Even before Mr. Trump was elected president, the agency laid out anti-Trump views in some of its posts to its VOA English language news website, which — by the way — gets about half of its online traffic from the United States, thus having some influence on U.S. public opinion against the wishes of Congress which funds VOA and its agency with almost one billion dollars a year of U.S. taxpayers' money to do its work exclusively abroad. Americans and foreigners viewing personal but publicly accessible Facebook pages of some of the VOA Newsroom journalists saw depictions of Trump as male genitals and with a Nazi swastika imprinted on his visage.
There was also the coarse and crude video rant on the official VOA page by actor Robert DeNiro against Trump which was translated and subtitled by a VOA foreign language service during the 2016 presidential election campaign. Some of those who saw the video, which was not balanced or combined with any kind of response, were U.S. voters until the video was eventually removed after outside criticism became too strong for the agency's leaders.
Following the 2016 election, Trump and his family were pilloried in the annual "VOA Follies," a satirical event staged by the ultra-Leftists in the Voice of America (VOA) newsroom and streamed live on Facebook by some of them, while others posted short video clips and images from the performance in a federal building, which included a sexual joke about Mrs. Trump and lampooned Mr. Trump's daughter, on their publicly accessible Facebook pages. After that, BBG CEO John Lansing (see the photo taken in a VOA studio) famously told National Public Radio: "we have the greatest respect for the President." As late as last week, some VOA newsroom reporters were overheard calling President Trump "pr**k," "as**ole," and a "f**king retard," as reported by some of their colleagues who find such behavior appalling. A regular program moderator on contract with VOA was videoed last week making an obscene gesture to a group of anti-Iran regime demonstrators in New York who were upset over what they see as the VOA guest program host's long-lasting and continuing support for the rulers in Iran.
The tone and atmosphere inside the VOA newsroom is laced with a regular stream of anti-Trump vitriol in daily work conversations among some VOA reporters. Professional deportment no longer exists when it comes to Mr. Trump, his family, or the Trump administration.
All of this should be put in context:
Was any of this kind of conduct among VOA newsroom reporters, managers and editors present during the eight years of the Obama administration?
Absolutely not.
In short, some reporters in the VOA newsroom have become politically partisan and go out of their way to be so.
Consider a recent post to the VOA English website titled, "Some Cringe, Others Applaud Trump's War on Perceived Media Enemies."
https://www.voanews.com/a/some-cringe-others-applaud-trumps-war-on-perceived-media-enemies/3925922.html
The author of the piece, a VOA "White House correspondent," writes,
"Is the United States witnessing a titanic struggle in which a populist president fights back against a concerted media onslaught waged by liberal-dominated news industry giants supported by wealthy coastal elites?
Or are we seeing a mentally unstable and increasingly unpopular former reality TV personality lashing out at media critics with vicious, vulgar tweets in a desperate attempt to divert attention from his collapsing presidency?"
Let us be mindful of the VOA Charter, now seeming regularly ignored by the VOA newsroom "resistance" when it suits its interests:
The Charter reads in part,
1. "VOA will serve as a consistently reliable and authoritative source of news. VOA news will be accurate, objective and comprehensive…"
The headline may seem balanced, and the report itself seems more balanced than most other similar VOA reports, but overall, it nevertheless creates a strong impression for a foreign audience who is not familiar with the American political process and US media that the United States may be indeed falling apart under a collapsing presidency of a mentally unstable chief executive. The report does not answer what is the real state of affairs in America today, leaving foreign audiences to guess based on such VOA reports combined perhaps with similar but intentionally alarmist reporting they may have seen also on Russia's RT website.
We don't object to VOA reporting on criticism of the Trump administration, but such reporting must be done with international audiences in mind and must include the proper context and more explanations to be effective for intercultural communications.
We focus on the phrase "his collapsing presidency" describing the Trump administration.
What is this description?
Answer: It is subject. It is pejorative. It is falsely prejudicial. It is more opinion than fact. It certainly isn't objective. It is subtly attributed to Trump's critics, but such subtleties in the lead paragraphs are often lost on the readers, especially non-Americans.
And it gets worse:
To all appearances, this kind of statement is intended to create an image of widespread support for the views of the anti-Trump "resistance," when in fact the country is about evenly divided. The extreme Left wing is quite small, as is the extreme Right wing.
Worse, if VOA has any audience abroad (which we think is increasingly diminished and practically non-existent from an impact point of view), this description can result in a serious misrepresentation of the United States to foreign publics. It is the kind of writing that fuels miscalculation on the part of hostile regimes abroad to consider bold and rash action in the belief that the entirety of US Government is paralyzed.
Let's take this to another level:
The so-called BBG is still being managed by Obama administration holdovers. Indeed, one of those holdovers, Amanda Bennett, in a post on social media praised this report.
"Anyway, here at VOA we are working hard to really reflect all the voices in this country and not just a selection of them. For one thing, it's our job. For another, we think it's the right thing," Amanda Bennett wrote.
In effect, Bennett's remarks are a form of support for the VOA newsroom and, more broadly, the agency's current direction in general.
Hence, it should be no surprise that individuals in the VOA newsroom feel emboldened and empowered to conduct themselves as partisan political reporters, which is what most US media has become, rather than neutral professionals collecting US government salaries paid for by all Americans to provide accurate, objective and comprehensive reporting for foreign audiences lacking free media.
Praising alarmist reporting which lacks sufficient context for foreign audiences makes Ms. Bennett and, indirectly, BBG chief executive officer John Lansing enablers of "resistance," especially when John Lansing assures NPR listeners that agency employees have the greatest respect of the US President. It is abundantly obvious that quite a few VOA English newsroom staffers do not. Mr. Lansing should know this after many months on the job. Ms. Bennett should know this as well.
But it doesn't stop there.
When challenged on the content of this VOA story with a comment from Ted Lipien, a former VOA acting associate director, former VOA Polish Service director, co-founder and supporter of BBG Watch and NGO media freedom advocate, Lipien, an internationally published writer who has done journalism and intercultural communications for many years, was responded to by a Facebook user who identified as Donald Graham.
Who is Donald Graham?
It seems that this was Mr. Donald Graham of the Graham family which formerly owned The Washington Post.
At present, Mr. Donald Graham heads Graham Holdings.
What is Graham Holdings?
A listing of its many properties and entities can be found here:
http://www.ghco.com/phoenix.zhtml?c=62487&p=irol-ourcompanyprofile
For our purposes, among the entities owned by Graham Holdings are the following:
Kaplan, a leading global provider of educational services to individuals, schools and businesses, serving over one million students annually with operations in more than 30 countries. Its programs include higher education, test preparation, language instruction and professional training. [China is one of the countries where Kaplan does business.]
The Graham Media Group which includes seven broadcasting stations around the country (none in the greater Washington, DC area, the closest being in Roanoke, VA). Three are NBC affiliates, one is an ABC network affiliate, and one is a CBS affiliate.
The Slate Group which includes: Slate (a daily online magazine), Panoply (a podcast network) and Foreign Policy magazine.
While no one entity may have the power and reach of The Washington Post (Foreign Policy magazine being a notable exception), these media holdings nonetheless represent substantial power and influence.
And Mr. Graham himself travels in powerful elite circles in Washington as a matter of course, considering his and his family's reputation.
Last but not least,
Mr. Graham, if this is the same Mr. Graham who left a comment on Ms. Bennett's post, is — according to her official VOA bio — the husband of VOA director Amanda Bennett. Her official VOA bio says: "Together with her husband, Donald Graham, she was a co-founder of TheDream.US, which provides college scholarships to the children of undocumented immigrants." TheDream.US website lists as the founders of the charitable organization: Amanda Bennett – Pulitzer Prize-Winning Author and Investigative Journalist Director of the VOA and Don Graham – Chairman of the Board, Graham Holdings Company. VOA's name and her US government role as VOA director are included in Ms. Bennett's bio on the TheDream.US website.
In his reply on Facebook, Mr. Graham tried to undermine the argument in Lipien's comment: "Ted Lipien, go back and read the story. It should be obvious that the first and second paragraphs represent opposing exaggerated views of the president and the media. The first paragraph represents the views of Trump supporters, the second shows the world as Trump opponents see it."
Lipien responded: "What may be obvious to some Americans, is not at all obvious to many online media users abroad who are already exposed to propaganda and disinformation far more outrageous than what can be seen here in the United States. VOA is not a commercial U.S. domestic media outlet catering to Americans of one or another political persuasion, be it the Washington Post or Fox News."
Amanda Bennett's Facebook post and all comments can be seen here:
https://www.facebook.com/AMANDABENNETT98/posts/10155724450602345
Coming to Bennett's defense of her support of the VOA piece on the Trump White House should be a cautionary moment.
The self-righteous and sanctimonious hypocrites of the VOA newsroom who work for Ms. Bennett and Mr. Lansing are ever so ready to drape themselves in alleged "journalistic credibility and integrity" in defense of a so-called "firewall" against influence from any quarter, particularly within government. This latest incident demonstrates that there is no such thing as a firewall. When the VOA director praises a VOA news report and someone of Mr. Donald Graham's stature weighs in on criticism of Ms. Bennett's statement in praise of what critics see as a flawed VOA piece, VOA reporters, managers, editors, other federal agency employees and people outside of the agency, including members of Congress and congressional staffers, presumably take notice. Mr. Graham is no average American. He would likely admit as much. Ms. Bennett is also not an average American. So now influence of one political persuasion, not so much interference, represents its own breach of the imaginary "firewall."
Finally: Anticipate the Ambush
The Trump administration has not made a formal nomination as the next chief executive officer of the agency.
In a manner of speaking, it matters less who the nominee is and matters a whole lot more what longtime operatives in this rogue agency have in store for the individual.
The rogue operatives inside this agency have long established a pattern of attacking anyone they view as a threat to their business as usual of cash awards and promotions for what amounts to sitting atop a failed nearly billion dollar agency with a failed mission.
Political appointees are a favorite target. It would include the late Ken Tomlinson (former VOA director and later a chairman of the BBG). It would include Ambassador Victor Ashe, a former BBG member. It would include the two individuals of the Trump transition team.
Expect no less with the administration's nominee for chief executive officer. They will expend considerable effort to make things as difficult as possible for the nominee before she or he even sets foot inside the Cohen Building.
If the person is of sufficient fortitude, it won't take long to discover who "the usual suspects" are, including those surrounding Lansing and Bennett. Then the task becomes one of great interest.
We subscribe to the view that reform of the agency is not possible.
What is possible is reorganization.
Indeed, the US Government does not need a rogue agency ruled by a rogue bureaucracy. US taxpayers also do not need a rogue and renegade VOA newsroom. Agencies throughout the Federal Government have their own websites to provide informative content. Preserving VOA language services and those of Radio Free Europe/Radio Liberty (RFE/RL) and Radio Free Asia (RFA) and other grantee language broadcasts may come to have a much higher priority than the VOA English newsroom operation for news and information to foreign publics.
Eliminating partisan and biased VOA English newsroom reporting and restoring the VOA Charter would be most welcome and be a formative step in serious remedial actions for US Government international media.
The Federalist
July 2017