BBG Watch Commentary
Coming back from the dead does not happen often. When Russian opposition journalist Arkady Babchenko first reported dead by the Ukrainian authorities is later declared by them to be alive, it immediately became a big news story in Russia and worldwide. RT and other Russian government media promptly sprung to action and played it up to score propaganda points. At such a time, Russian services of Radio Liberty and Voice of America should have also had a major role in explaining how and why the unfortunate incident happened, but sadly they were once again not even close to being ready for such coverage on digital media platforms in the age of global propaganda wars.
These once great U.S.-funded media outlets, particularly their language services focused on Russia but also the VOA English News Service, were needed because, as former CNN Moscow correspondent Jill Dougherty pointed out in one of her Facebook posts today: "The faked 'death' of Arkady Babchenko is a disaster for real journalism."
It was obvious from watching their social media feeds, that U.S. taxpayer supported Broadcasting Board of Governors' (BBG) news entities — Voice of America (VOA) and Radio Free Europe / Radio Liberty (RFE/RL) — no longer play a major media role in the region as they once did during the Cold War. They failed to respond to this journalistic disaster in a way that would have attracted a large and engaged Russian-speaking audience. Long time ago they both in different ways had a pre-eminent position in the region. Under the management by the Broadcasting Board of Governors, RFE/RL and VOA have not had such a role for many years.
During the Cold War, Russian opposition journalists like Babchenko would have been working for Radio Liberty, known in Russian as Radio Svoboda. Today, some of the best regional journalists are not hired by RFE/RL. They prefer to work independently or work for other media outlets which give them more freedom and have better managers. Some of the best RFE/RL investigative reporters have left the organization recently and expressed publicly their deep frustration over conflicts with senior executives.
Watching media reporting on the latest incredible news on the "resurrection" by the Ukrainian secret services of the Russian journalist offers a good example of how BBG outlets lag behind others in digital media skills and are regularly put to shame even by some of the remaining independent Russian-language news channels, not nearly as well-funded as the BBG with its close to $700,000, 000 annual budget paid by U.S. taxpayers.
In the Facebook and Twitter screenshots (all times are U.S. Pacific) one can easily see the tremendous decline of relevance and reach of U.S. government-funded media, both in their Russian and English programs.
The independent Russian TV channel Dozhd, also known in English as TV Rain, shows live Facebook coverage and nearly 6K (5,900) live views. The Broadcasting Board of Governors' Radio Free Europe / Radio Liberty and Voice of America joint "Current Time" program shows a Facebook post that is 25 min. old and no sign on its Facebook page of live coverage or news updates of any kind by "Current Time" for nearly half an hour while the story was unfolding in Kiev and covered live on Facebook by TV Rain.
TV RAIN FACEBOOK – MAY 30
BBG-RFE/RL-VOA CURRENT TIME FACEBOOK – MAY 30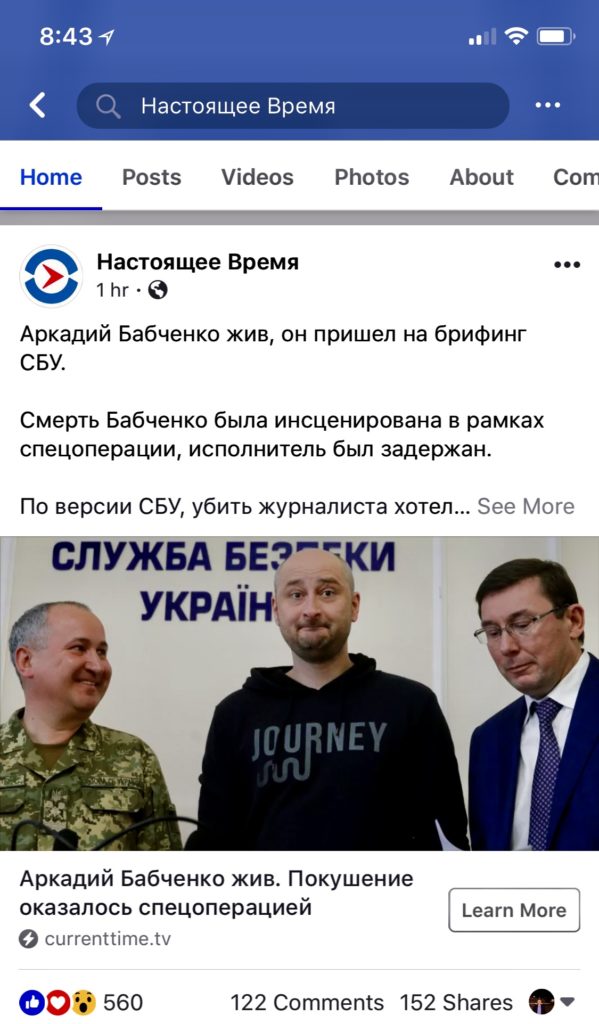 Nearly 6K live views for TV Rain is many times more than RFE/RL or VOA can get for anything live on Facebook, including Greta Van Susteren's new VOA TV show "Plugged in," which usually gets no more than 150-200 live Facebook views worldwide. That's how many among hundreds of millions of English speakers in the entire world including the United States watch her VOA program live on Facebook at any one time. We suspect that many if not most of these live Facebook viewers for Greta Van Susteren's program are in fact in the U.S., including BBG employees monitoring the show, even though VOA is supposed to be only targeting foreign audiences, both in English and by its many foreign language services.
VOA FACEBOOK LIVE WITH GRETA VAN SUSTEREN – MAY 18
The additional irony is that while the Babchenko story was unfolding, former and current RFE/RL and VOA reporters were liking and sharing the TV Rain Facebook post, not RFE/RL or VOA social media posts.
Also worth noting is that "Current Time" Twitter feed had not been updated for 18 min. when monitored earlier today. Several of the Babchenko "Current Time" tweets showed one or two "likes" and almost always zero "retweets." What this illustrates is both a lack of audience and a lack of audience engagement for BBG in Russia. It also shows a lack of skills in the digital age. Ultimately, it's a reflection of a lack of leadership and poor management by BBG, VOA and RFE/RL senior executives.
BBG-RFE/RL-VOA CURRENT TIME TWITTER – MAY 30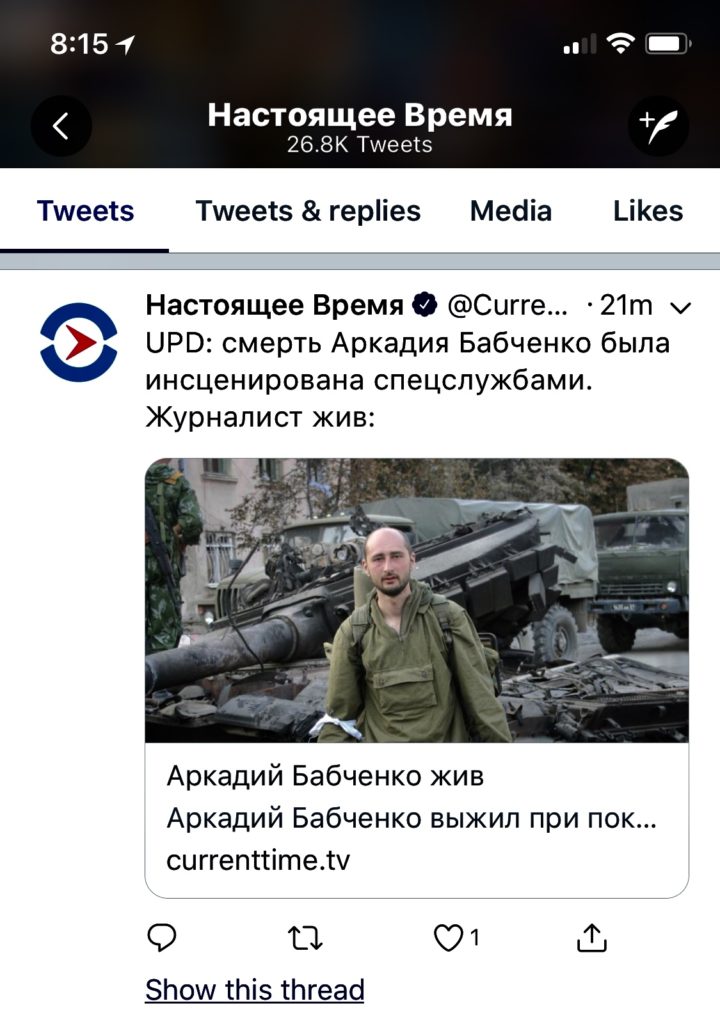 At one point earlier today, "Current Time" did not have a new Facebook post for more than an hour. "TV Rain" showed six posts during the same hour. At about the same time, a "Current Time" tweet on Babchenko was 56 min. old. "TV Rain" had ten tweets during the same hour.
Anyone can compare the final results for VOA, RFE/RL and "TV Rain" on Facebook in these screenshots.
TV RAIN FACEBOOK – MAY 30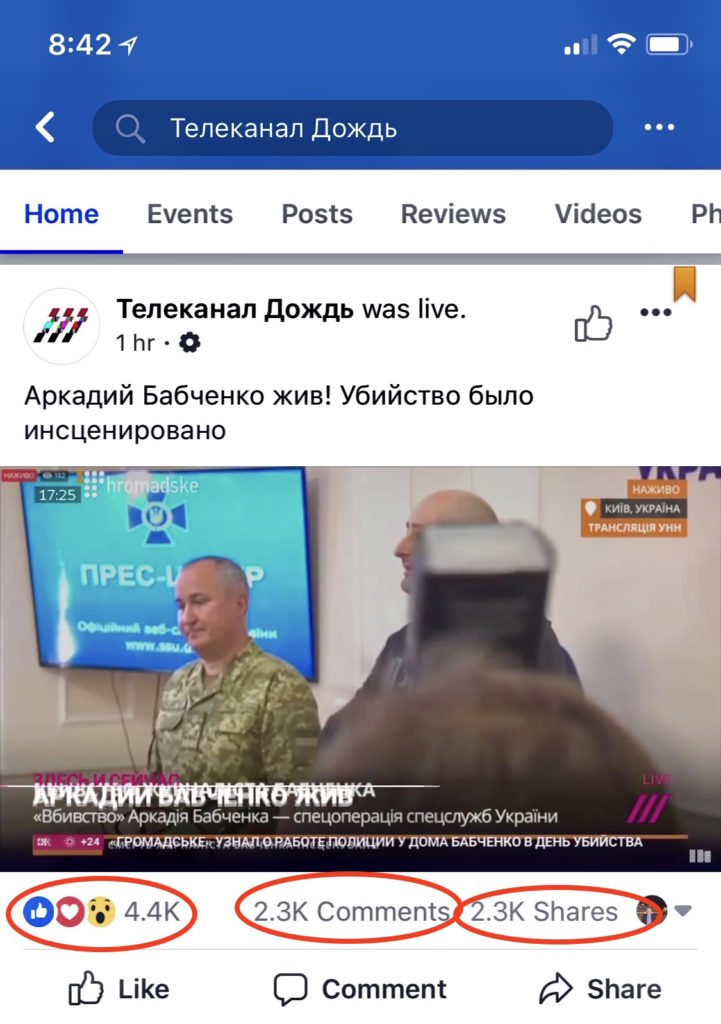 RADIO LIBERTY RUSSIAN FACEBBOK – MAY 30
VOA RUSSIAN FACEBOOK – MAY 30
VOA ENGLISH FACEBOOK – MAY 30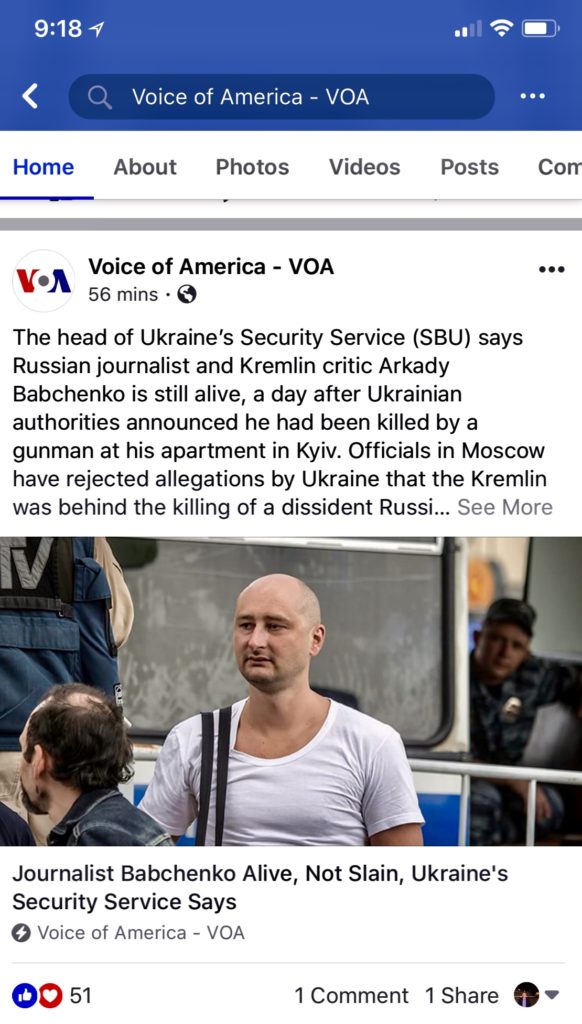 VOA ENGLISH-GRETA VAN SUSTEREN FACEBOOK – MAY 30